7:38 p.m. on January 6, 2019 (EST)
Phil Smith

1,310 reviewer rep
426 forum posts
I've been looking for people who wanted to do more advanced snowshoeing and finally did, he's an acquaintance named Clay from about 4 years ago who's done quite a bit of winter hiking in the Adirondacks. So, we made plans to tackle something biggish today. 
Boundary Bald Mountain is the tallest mountain near Jackman, with a 3638' main summit and 4 sub peaks along a mile-long ridgeline. The sub peaks range from 3300'-3500' in height. There are logging roads all over the area and they're kept plowed in the winter, so basically any 4x4 can get out there. I've done it in a 2WD pickup with tire chains. 
Our route was pretty simple: from a fork in the road (labeled 1850T) southwest of the mountain, follow a heading of about 60 degrees and go uphill. Weather was snow showers, with the sun peeking through every so often, and temps in the upper 20s. Wind was forecast from the NW @ 10-20mph. We went cross-country the entire way, about 1800' elevation gain and 1.8 miles or so.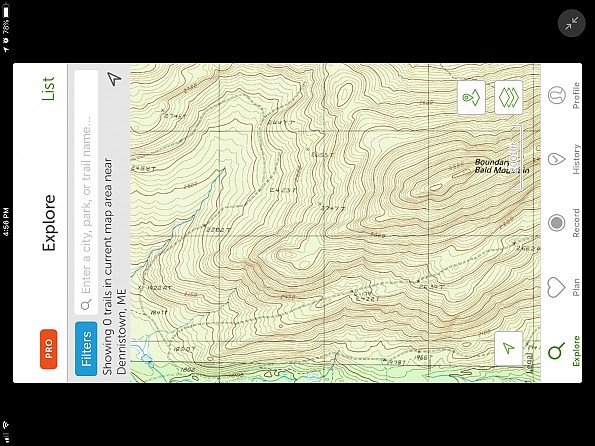 There was some bushwhacking involved as we got really close to the summit, due to the trees being very close together. A couple times we had to crawl on our hands & knees. Tree wells were a constant threat, I must have found knee-to-thigh-deep holes the hard way close to 2 dozen times but getting out was never a problem. Generally we were sinking 5-8", sometimes a little deeper since the snow wasn't wind-packed in the trees.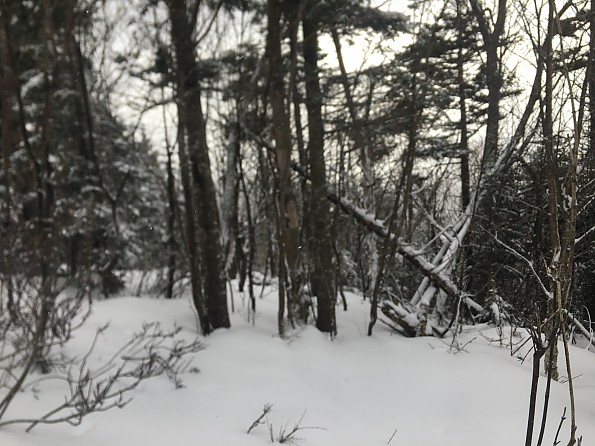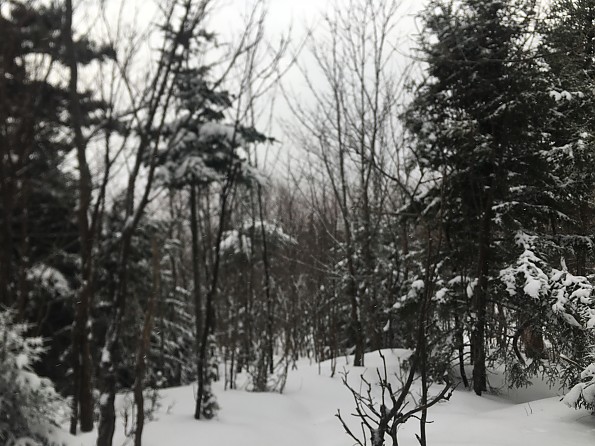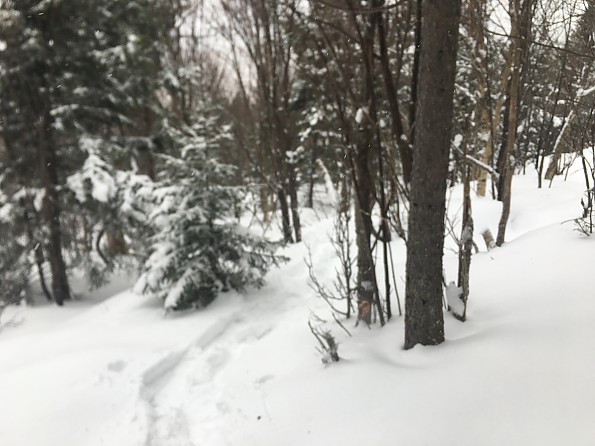 The hardwood forest on the lower 3/4 of the mountain was easy to snowshoe in, with adequate distance between trees. We kept a steady pace, stopping only to take pics or adjust layers. Then we came to an open area.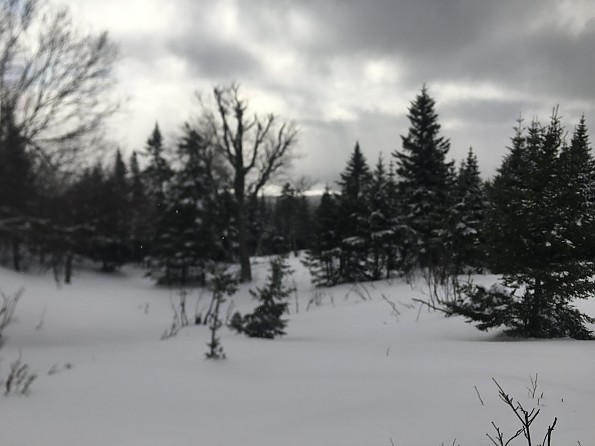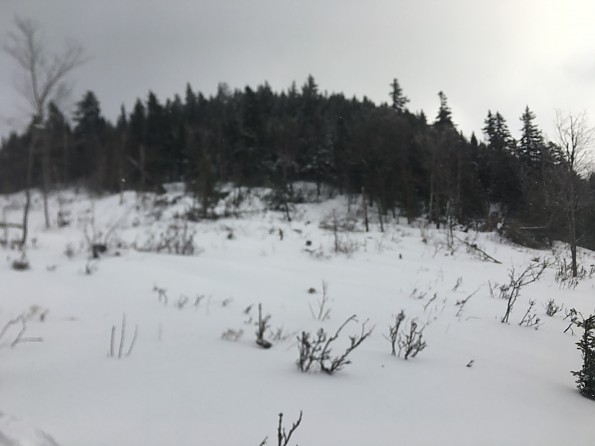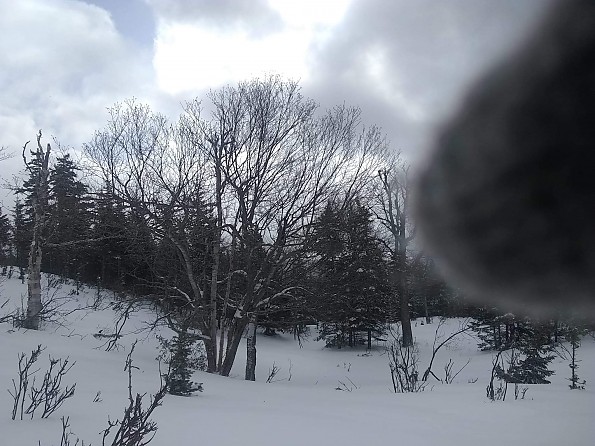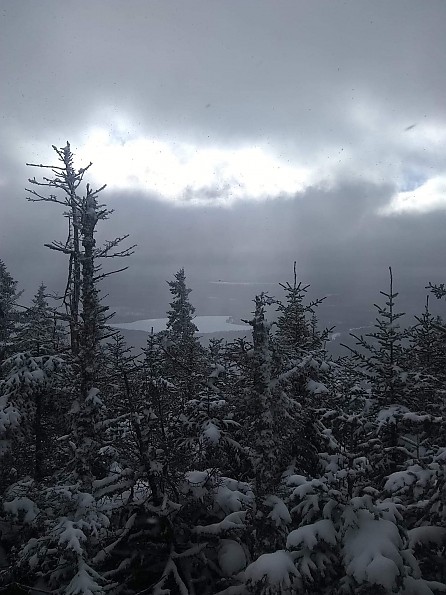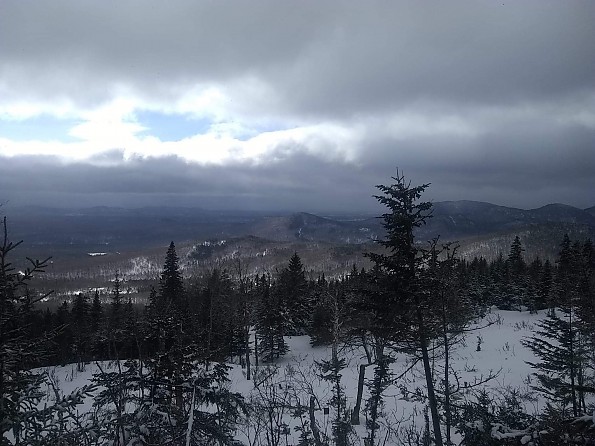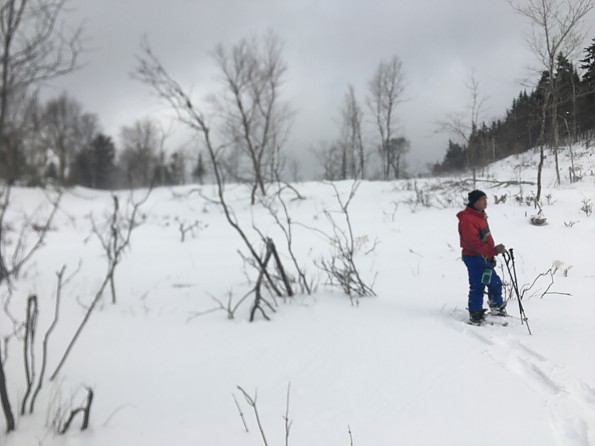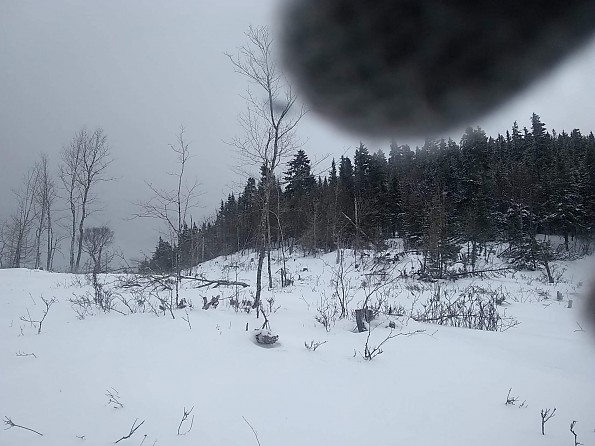 The wind here was brutal, blowing enough snow that our tracks were either covered up or blown away when we came back through about an hour later. I'd estimate them at 40ish mph. 

After fighting our way through densely-packed trees near the summit, we reached a spot that we were going to say was the summit because we couldn't see any higher ground through the extremely dense trees. A couple minutes to catch our breath and adjust our clothes, then we headed back down in our tracks. 
The trip down took a little more than an hour, less than half what the ascent did, mainly because it was about 1.8 miles of glissing. Before we even knew it we were at the stream we'd crossed almost as soon as we stepped into the woods, and minutes later we were at the Jeep. Total time on the mountain was a little less than 4 hours. We're definitely doing it again, maybe next time we can hike the ridgeline from end to end. It was nice to get back out there!