BigRed
TOP 25 REVIEWER
REVIEW CORPS
7,403 reviewer rep | 1,272 forum posts
11:20 a.m. on April 22, 2019 (EDT)
Ingrid, my wife's old friend from her college days and a close friend of both us since we married, has always wanted to do a hut-to-hut ski tour in Norway. She spent a high school exchange year near Oslo and another year on a farm in northern Norway so she's fluent in Norwegian and has visited us a couple other times over the years. She and her husband Eric we our companions on our 2016 canoe trip in Quetico, but Eric is not as solid on skis as Ingrid (she grew up in Stowe, VT) so he didn't join us on this one.

(Nancy and Ingrid in the Trondheim train station)
I'll spare y'all the blow-by-blow, but here's an overview. We made a 10-day crossing of the Dovrefjell and Trollheimen mountains, starting at Kongsvoll on the Oslo-Trondheim train line and finishing at Nerskogen, where we called to get a taxi to the train station in Oppdal so we could get back to Trondheim. We also ordered up a taxi to get us over steep and deep Sunndalen (valley) that separates Dovre and Trollheimen (I had planned a route that involved some kms of road and trail walking but weather and snow conditions ruled that out).
On the first day/night we met up with a group of 5 Canadians who were old college (Magill U) friends of Ingrid and Nancy and were finishing their own 12-day hut-to hut tour up from Lillehammer. They had a rough go because of weather and snow conditions but seemed in remarkably good spirits despite that. They headed back out to Kongsvoll while Ingrid, Nancy, and I headed onward.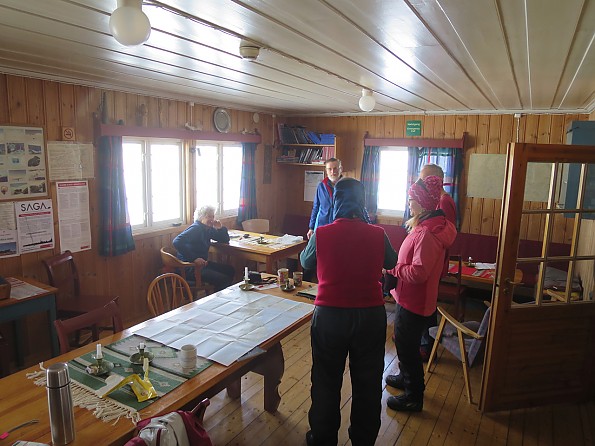 (Some Candians in Reinheim hut)
We stayed in 7 different huts, the first 5 self-service where we brought most of our own food, augmented with honor-system purchases from the hut food supply, and did our own cooking. We or our group were the only ones using four of these, the exception being a hut that we shared with a group of students that turned out to be classmates of of friend of ours in an outdoor leadership program.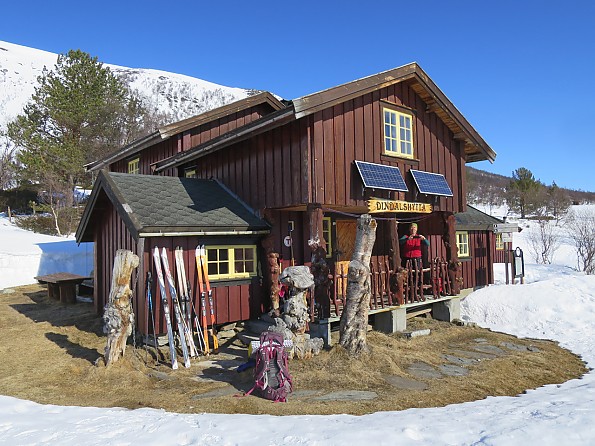 (Dindalshytta, our last hut in Dovre)
The last two huts were full-service huts with meals, hot showers, drying rooms, and the like, that open mainly for Easter week and in Easter but have a self-service annex for the rest of the year. We stayed two nights at each and reserved ahead because it was the first weekend of Norway's traditional 10-day Easter holiday week. Our daughter Zoe was working at the last one, Jøldlashytta, so we got a special family rate.
The first day offered up a tough headwind, and day 3 was GPS-guided across low-relief terrain in poor visibility, but after that it was full-on spring skiing, freezing nights and warm sunny days.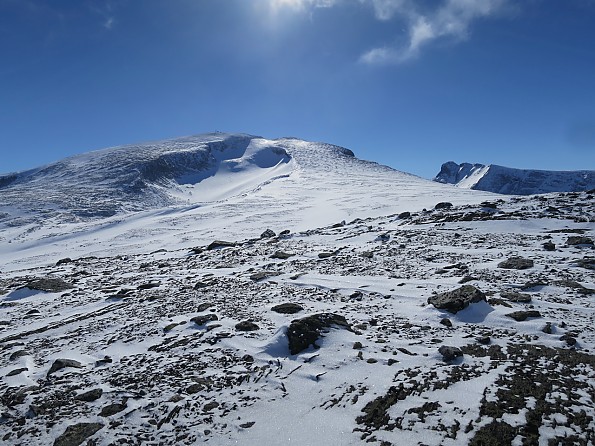 (The wind-scoured slopes of Snøhetta)
We saw a herd of about 150 wild reindeer on the way to our second hut, Åmotdalshytta, but tried to keep a respectful distance (and I didn't have my good camera with telephoto lens).


(all the little specks along the slope are reindeer)
I summited four peaks in Trollheimen, with Ingrid accompanying me on one and Zoe on another (my wife had a knee worry and is not as skilled on the downhills). The best was a fly-by ascent of Neådalssnota on the way between Vassendsetra and Trollheimshytta, making for a 33 km day with 1400 m of ascent. That was at least my 6th time in that one, but this time via a ridge I have done only once before, on my first time on the mountain in 2003.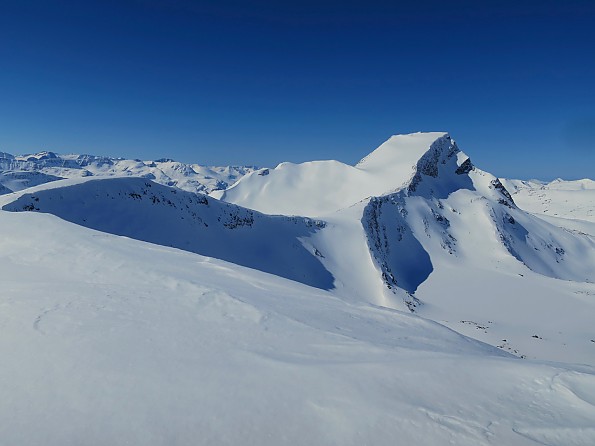 (Neådalssnota and the ridge route -- descent via the wide summit slope and bowl underneath)
We were using Norwegian style "mountain skis", a hybrid between xc and downhill skis, which are fun in good snow but require a lot more skill and work to drive on steeper ground and in more challenging snow conditions -- we had a healthy mix of both, ending up with some delicious soft-wet snow towards the end of the trip.

(here you can see our skis -- medium length and width on the spectrum from long, skinny xc skis to shorter and much fatter mountaineering skis)
It's been a while since we've done a long hut-to-hut ski tour because we've often been away at Easter time for one or another reason or have been doing more base camp style ski touring. Most of the time we were out of cell range and that was just fine with me. It's not quite as back-to-basics as a backpacking trip, but the huts allow for much lighter travel since you don't have to carry any of the usual camping gear. And for me there's nothing wrong with some creature comfort and the chance to dry out or even shower at the end of the day. Some of the self-service huts are funky old summer farm (seter) houses with a lot of character, usually with comfy chair or two and often a miscellaneous collection of old farm implements, photos and paintings, and old furniture. It can be a great way to do some mountain travel.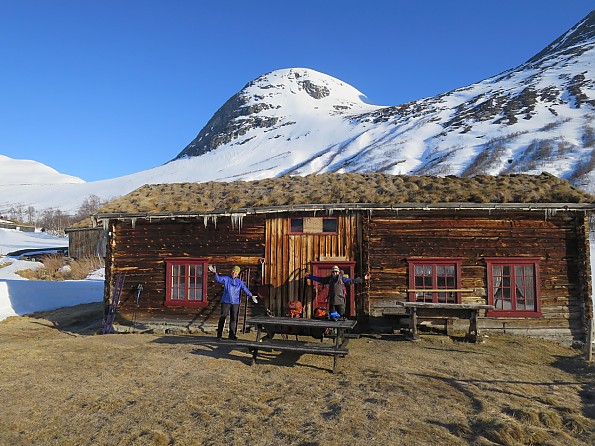 (Vassendsetra, an old summer farmhouse)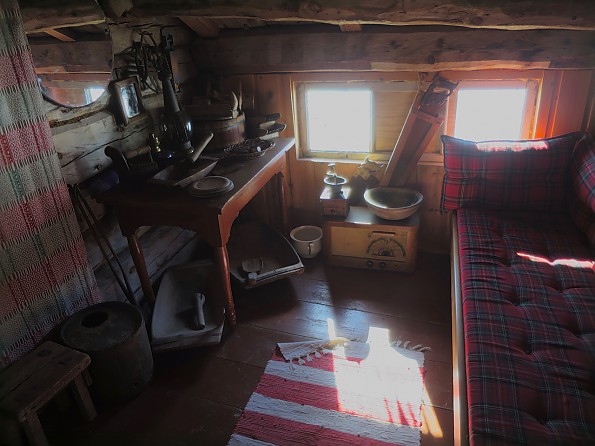 (Still life at Vassendsetra)
We had another four days of vacation time after we got back to Trondheim, so Zoe and I got a coop car (we don't own a car for the foreseeable future) and drove to Romsdalen to join my other daughter, Molly, who was sharing a rented house with a mixed group of skiers, runners, and kayakers, 11 in all, while Zoe and I shared a nearby cabin at a campground with two more of Molly's friends. My friend Christophe and his son Niels also showed up and were delighted to find that three of the 11 were French. This big group broke up into groups of two to about five for daily tours on the gorgeous mountains around Romsdalen, this time on full-bore ski mountaineering gear.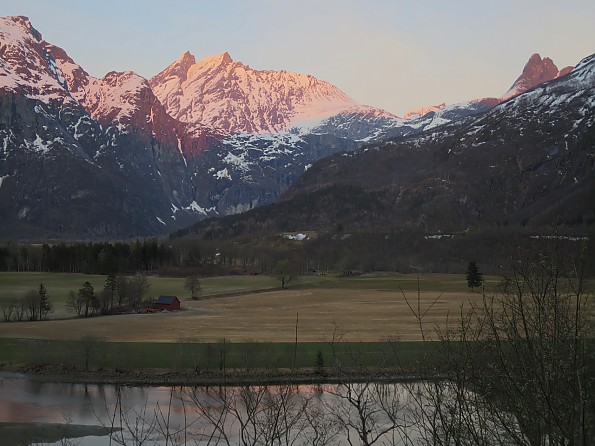 (Sunset light on Vengetind, left, and Romsdalshorn, right)
The daughters and I did a couple of tops, Hurrungen and Hesten, both new ones for me, with my hard-charging son in law Audun and one other along on the latter. These involve 900-1200 m of slow ascent using climbing skins, with the descent taking less than an hour.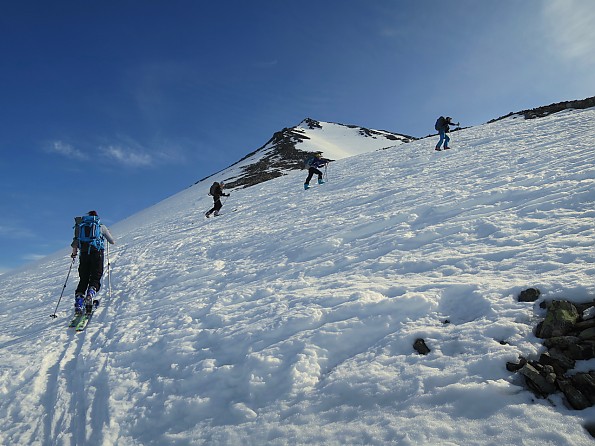 (on the way up Hesten)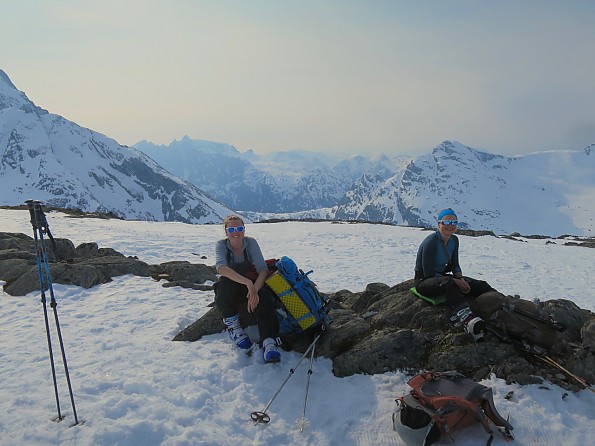 (Zoe and Molly on the way up Hurrungen)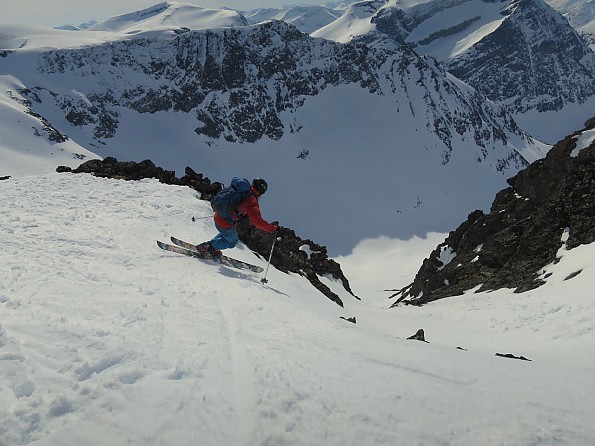 (Audun dives into the steep summit couloir on Hesten)
On the last day Zoe and I set off for Kjøvskartind but she had blister problems and so waited for me halfway up while I summited for something like my sixth time. All in gorgeous spring weather but increasingly slushy snow conditions because it was no longer freezing up at night.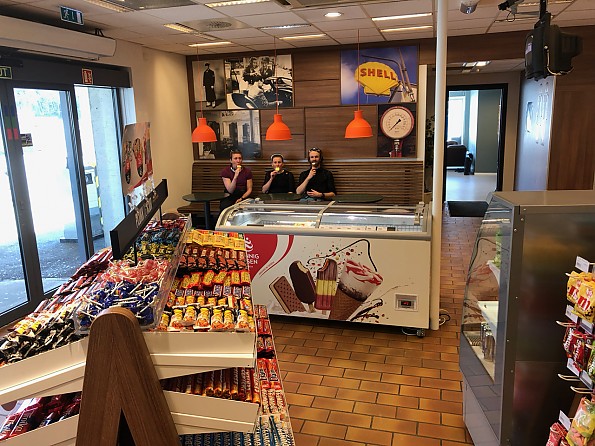 (just rewards after Hesten)
A stretch of good weather like this is rare in Norway -- although we are missing the superbloom in AZ and CA, we are glad to be here to enjoy probably the best Easter weather since our first year here in 2003.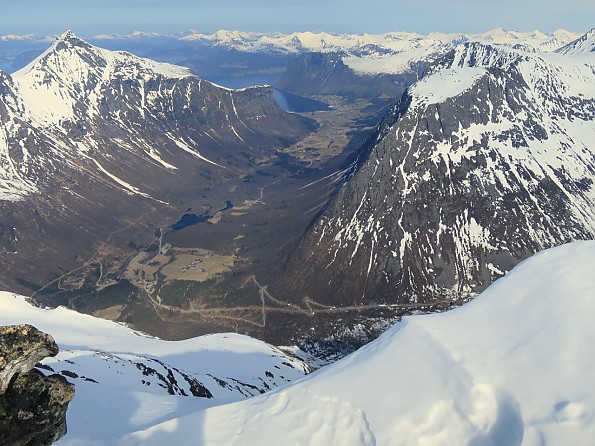 (view towards Innfjorden from Hesten)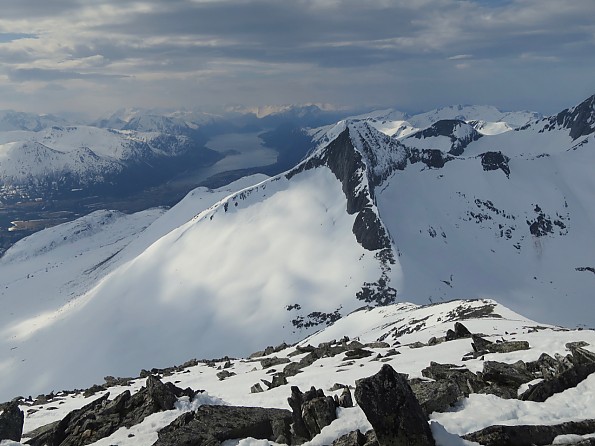 (Isfjorden and Kirkjetaket from Kjøvskartind. In a panorama from this summit I can see at least a dozen summits that I have been on, almost all on skis, and some as many as 7 times. Romsdalen is one of my favorite playgrounds, about a 4-hour drive from Trondheim so best to have a long weekend with good weather).