BigRed
REVIEW CORPS
7,561 reviewer rep | 1,301 forum posts
2:52 p.m. on August 6, 2019 (EDT)
(I have put the full photo selection for this tour in a Google Photos album)
My wife and I used our extensive Eurovacation for a 5-week trip to Iceland and the Faroe Islands. The main events were a six-day hike on the remote Hornstrandir Peninsula, the subject of this TR, and an eight-day hike on the beautiful but busy Laugavegur and Fimmvorđuhals trails (next TR), but we also did various day hikes in Iceland and a couple boat tours and day hikes in the Faroes.
Hornstrandir is a peninsula in far northwestern Iceland, just under the Arctic circle, that has seen very little in the way of human (or sheep) occupation over the years and so is a pristine arctic-volcanic landscape, with broad bays and beaches separated by sea cliffs and mountain passes carved out of basalt lava flows.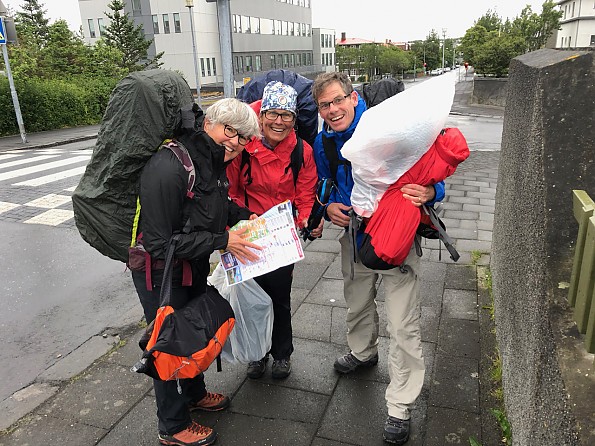 (Nancy, Pennie, Matt)
Matt and Pennie, two of our companions on our 2014 two-family hike on the JMT (as well as other adventures over the years) joined us for this one, flying in from Vermont. After a day in Reykjavik we got up early to walk the few km to the domestic airport for our 8 AM flight to Isafjordur, only to find it was postponed, first by an hour and then indefinitely, due to high winds at our destination. We were scheduled to take a rather pricey 1 PM boat out to the peninsula and had planned in a four-hour buffer (partly to buy gas canisters and last-minute food) and it looked like we were going to miss it. Waiting around the airport, we met a group consisting of two much younger couples from Germany and Austria, Max and Elena and Max and Franzi, that were basically on the same plan.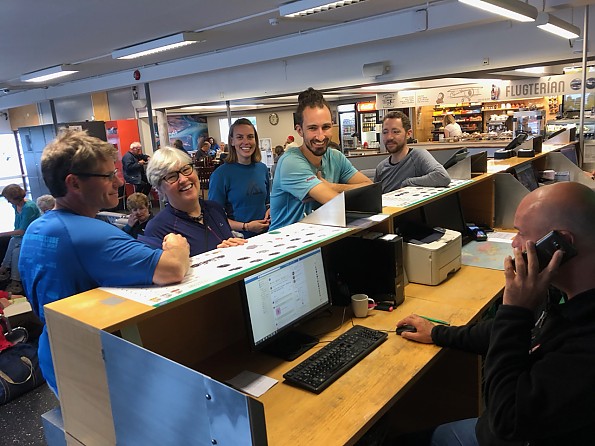 (Arranging the car rental; Matt, Nancy, Elena, Max, and Max)
I was the one that suggest we make it a Road Trip. In short order we all got our tickets refunded and rented an 8-passenger van right out of the airport for the seven-hour drive north to Isafjordur. There were enough of us that the boat company scheduled an extra, evening boat for us for a small surcharge, but in the we actually saved money over the cost of the flight, and less carbon to boot! The drive through rain and wind and clouds turned out to be a lot of fun. Matt supplied some tunes on his ever-present mandolin and we generally got to know each other.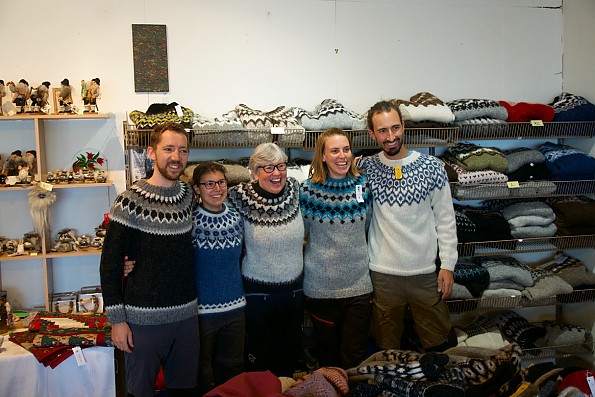 (Max, Franzi, Nancy, Elena, Max)
We pulled off the main road for a cup of coffee at a place that also sold crafts and no less than five of the eight of us bought hand-knitted Icelandic sweaters, which came in very handy in the episodically wet days to come. Our two groups ended up hiking on the same plan and camped and hung out together most nights and mornings.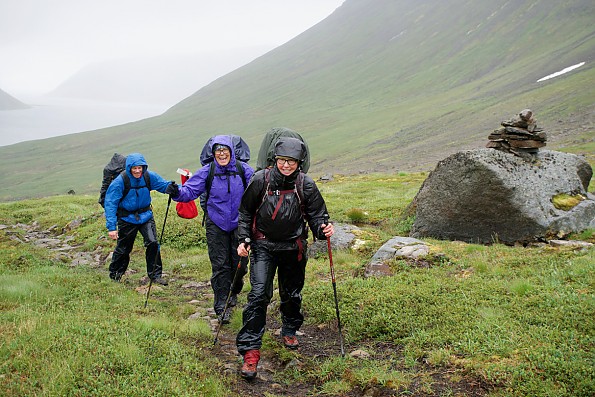 Hiking in the rain up out of Veiðileysufjörður, Matt, Pennie, Nancy)
The general plan was to do a counterclockwise circuit of the peninsula, starting at Veiðileysufjörður and ending at Hesteyri, two of the bays on the southern side of the peninsula, with a two-night stay at Hornvik (vik is bay in both Icelandic and Norwegian), after our first day's hike, so that we could take a day hike to the Horn, a charismatic and much-photographed sea cliff. But we had all-day rain on the first day and low clouds over much of the second, and we were a day behind due to the Road Trip, so we ended up bailing on the Horn and moved on.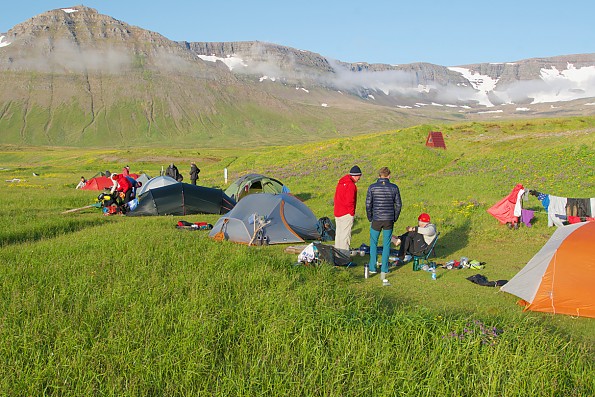 (Camp site at Hlöðuvik during the sunniest stretch of the tour)
We were required to stay at designated campsites in seven bays spaced around the peninsula. Although are some truly deserted bays in between and zero sign of human presence on the uplands, all the campsite bays had other human presence, mainly in the form of private summer cabins. There were also emergency huts intended for stranded sailors but also used by campers, including us on a couple nights, for shelter from wind and rain. At Latravik (fourth night out), Matt hosted a mandolin jam session with Nancy and others on percussion – Tennessee Stud was the big hit, previously unfamiliar to our Germanic friends.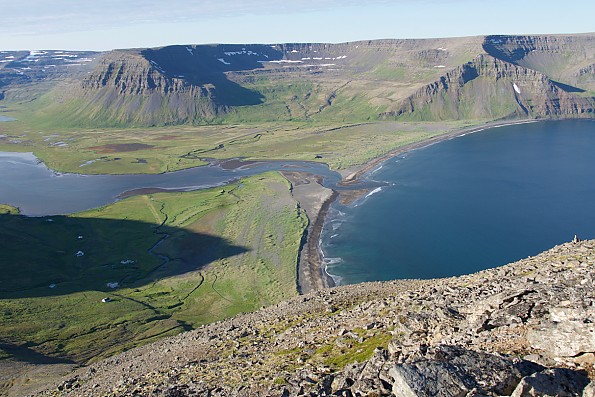 (Looking down on Atlavik)
There were a lot more campers at Hornvik than the other sites, because a lot of people do shorter tours focused on getting to the Horn. For one night the Road Trip Eight plus a Swiss gentleman named Matthias who also fell in step with us were the only ones at the campsite, but there wasn't a lot of tent space, so we ended up camping (happily) close together. We had some nice drying-out weather for our third afternoon and night at Atlavik (3rd night out). So it was far from crowded (as it is on Laugavegur) but a notch or two below the wilderness solitude we sometimes expect or at least hope for in the US.
(Marked with cairns, no clear path, frost polygons!)
The map classifies the routes between campsites by two criteria, whether or not they are marked and whether or not there is a clear path. They tend to be marked with cairns or sticks over the passes, which were sometimes in complete white-out, but often we were on the unmarked-no clear path variant, following scant trace of previous foot traffic over often rough and rocky terrain. I had all the routes on GPS just in case, and it came in handy in a few spots. 
(Leaving Atlavik)
The beaches provided some welcome relief.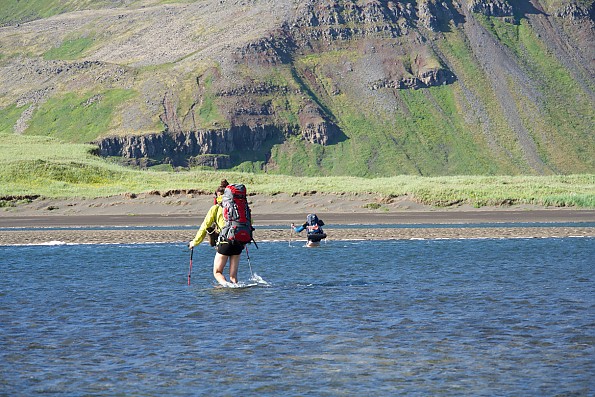 (crossing the big river at Latravik)
We had to ford a few of the bigger streams, mainly down near the beaches. We were all prepared for that with extra shoes, but my light hikers were soaked through most of the time anyway. One day I had just finished walking them dry when we had to walk about 5 km of trail-less marsh to get out to the campsite. Oh well. I think it would be better to go with quick-dry running shoes or well-greased full leather boots.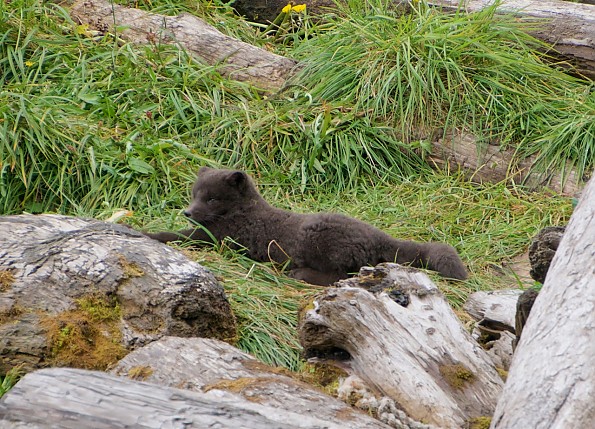 During the hike from Hornvik to Hlođuvik (day 2), the weather relented a little and we stopped for a break on a rocky beach by the mouth of a small stream, with thousands of kittiwakes circling overhead and out on the water. There was big pile of well-traveled driftwood logs – there are no big trees anywhere in Iceland – at the mouth of the stream, and one of us saw a fox kit pop up from among the logs.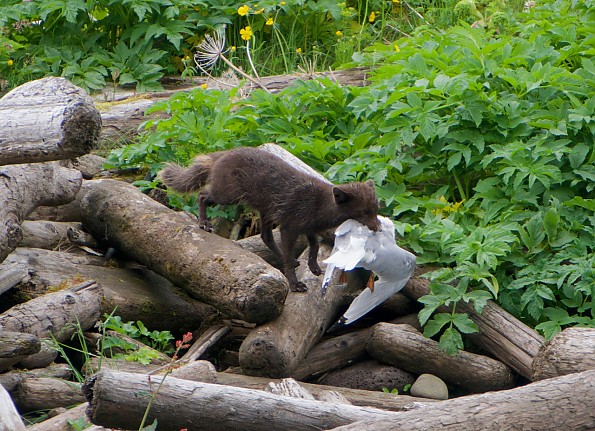 Not long after the mother fox came trotting over with a kittiwake in her mouth, which she passed on to here three kits that were hiding and playing among the logs. For the next half hour we watched from less than 50 meters away as she went out to the far end of the beach, disappeared among the rocks near all the kittiwakes on the water, and came back with two dead birds. She was all business, dropping off her kill and heading out for another, and she was back out for another trip as we moved on.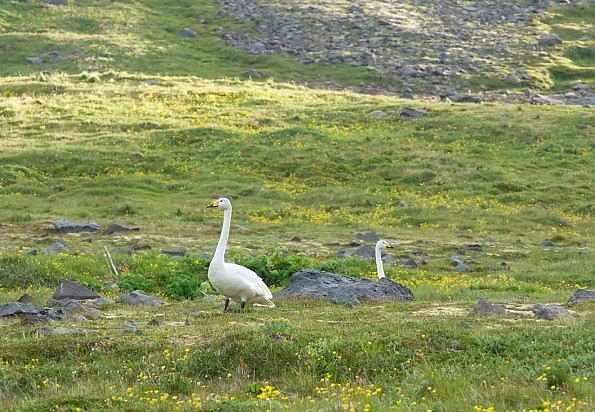 Other common birds were eider, fulmars, whooper swans, and snow buntings but we missed out on the puffins nesting on the Horn.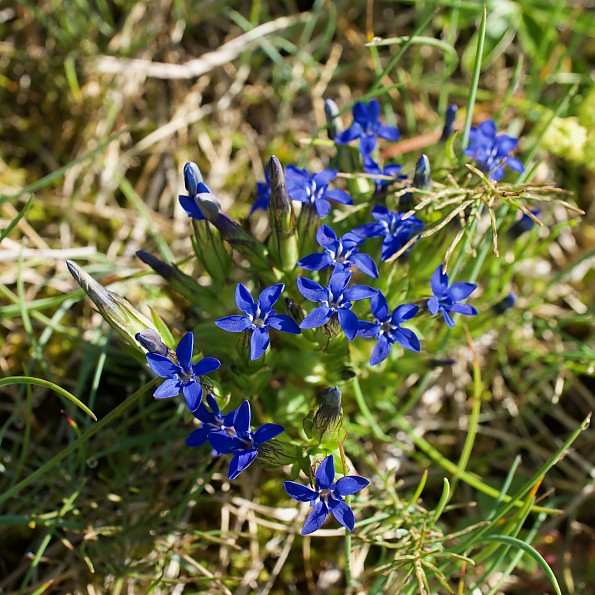 Alpine gentian, Gentiana nivalis)
I listed about 75 wildflower species in bloom during the course of the hike, mostly familiar arctic-alpine species from around the northern hemisphere but sometimes in odd combinations. 
Thrift (Armeria martima) is in my experience found only within about 100 meters of the coast in Norway, but it was all over the place here and in interior Iceland, mainly in rock and gravel areas where there wasn't much competition.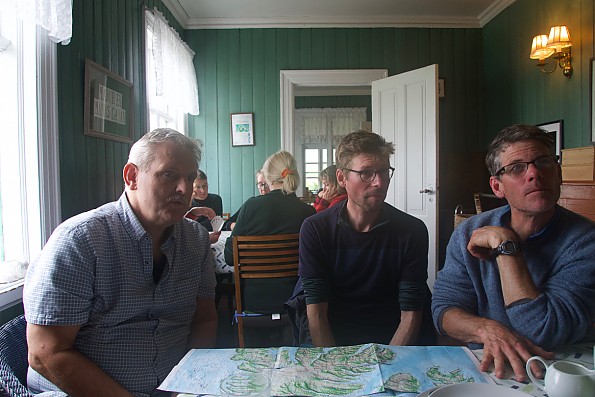 (Innkeeper Roland, Matthias, Matt)
I had wanted to include the southwestern most campsite, Sæböl, as our last night out on the tour, but to get there via the beach route we needed a low tide and would have had to wait for the late in the day, so we headed to Hesteyri and most of a day there before the boat picked us up in the evening. It's an abandoned whaling and herring fishing "town" with a scattering of old houses still standing including one that operates as a coffee house/restaurant/inn, run by a gregarious Dutch born fellow that married into the family that owns the place.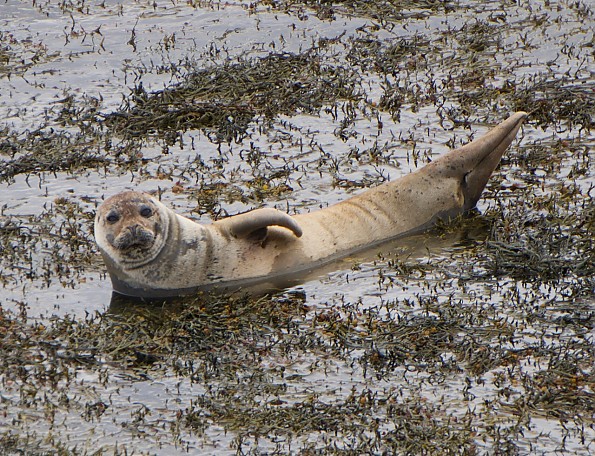 We hiked out to an abandoned whaling station, saw a few harbor seals along the way, but otherwise hung around the campsite and inn. "The Germans", as we called them, were taking the boat the following morning, so we all hugged farewell at the dock – some or all of them may turn up in Trondheim one of these years. May we meet again!
Gear notes: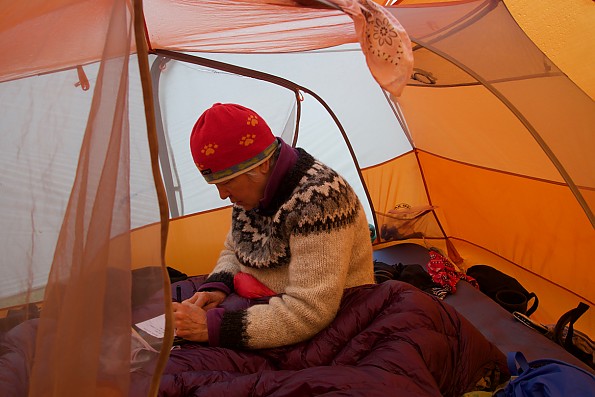 Our Big Agnes Copper Hotel 2, obtained gratis from BA via the Trailspace Review Corps, served us well with its giant vestibule. When it was rainy or windy I could sit in my Helinox Ground Chair and cook in the vestibule while Nancy lounged around inside on our new double wide Big Agnes Tent Floor Pad (review coming), kept warm by our EnLightened Equipment Accomplice double quilt, which was actually a bit too warm for me most nights. For cooking we had the MSR Windburner canister top stove, also a Review Corps item, with 1.8 and 2.5 liter pots (review coming for the latter) which served to keep all four of us supplied with hot drinks and shared meals mostly of the cook-in-pot variety. We're still using our his/hers Osprey Atmos/Aura 50 backpacks, already repaired once by Osprey and looking pretty beat up but still doing the job. Four things I never used during this tour: headlamp, sunscreen, sunglasses, and insect repellent. I'd still want to have the middle two but the other items were completely unnecessary.
I have put the full photo selection for this tour in a Google Photos album – comments welcome!