1:44 p.m. on August 9, 2019 (EDT)
BigRed

TOP 10 REVIEWER
REVIEW CORPS
5,734 reviewer rep
1,140 forum posts
Iceland II: Laugavegur and Fimmvörðuháls
(Full photo gallery with all photos in this report plus many more and in higher resolution.)
Our second multiday hike in Iceland was a leisurely 8-day through hike of the two most popular long trails in Iceland – popular for the good reason that much of the landscape they pass through is strange and beautiful and sometimes otherworldly. This time it was just the two of us on the team, although we certainly met a lot of other people along the way. Many of the people we met were traveling much faster, doubling up on some of our days and some doing the 25 km / 900 m Fimmvörðuháls in a single push. A more typical transit time might be four or five days, but we wanted time for a couple of rest/free days, to wait out bad weather or do side trips when the weather was good.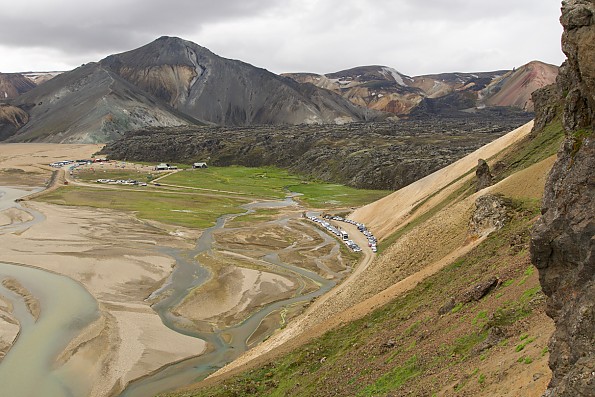 (Landmannalaugar)
Getting started
We mailed some extra clothing and gear ahead to Skogar, where we would finish the hike, and took a 5-hour bus ride from Reykjavik into Landmannalaugar, at the northern end of Laugavegur, with the last two hours slow going on rough dirt roads, arriving in early afternoon. Those same roads are open to private cars and rugged RVs, and while a 4WD might be the best bet, we did see some smaller cars that made it in, presumably very carefully, for day or camping visits without necessarily doing any hiking on Laugavegur. Consequently, Landmannalaugar is a very busy place, with a small hut, a big campground, toilets and showers, and a cook shelter covering a dozen or so picnic tables for tent campers to sit out bad weather. And then there was the Mountain Mall, a store based in an old school bus parked on site and selling coffee, snacks, freeze-dried meals, gas canisters, and other hiker's and camper's needs.
Landmannalaugar sits at the foot of the steep-fronted (a clue that the lava was viscous, relatively silica-rich rhyolite lava) Laugahraun lava flow, dating to 1477. A hot spring emerging from the base of the flow near the camp mixes with a little creek to create a shallow pool with a comfortable range of temperatures for soaking. That's one of the main attractions, the other being access to the amazing landscape of lava flows, colorful hills of weathered volcanic ash, and flat gravel floodplains sometimes grown in with grassy or marshy vegetation.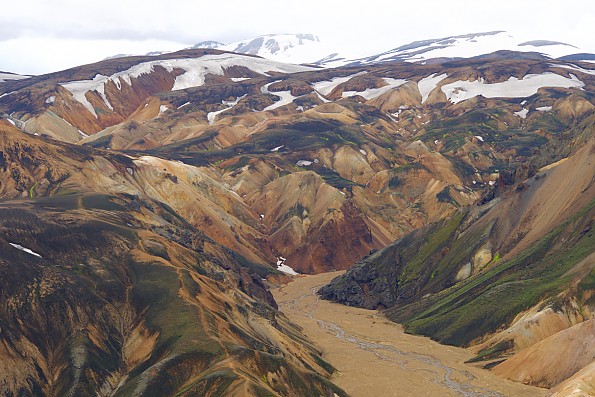 (view from Suðurnámur)
On our first afternoon, after setting up our tent, we took an 8 km day hike over Suðurnámur, a ca. 900m rhyolite mountain that gave good views and a sampling of the kind of terrain we would be traveling over for the next day and a half.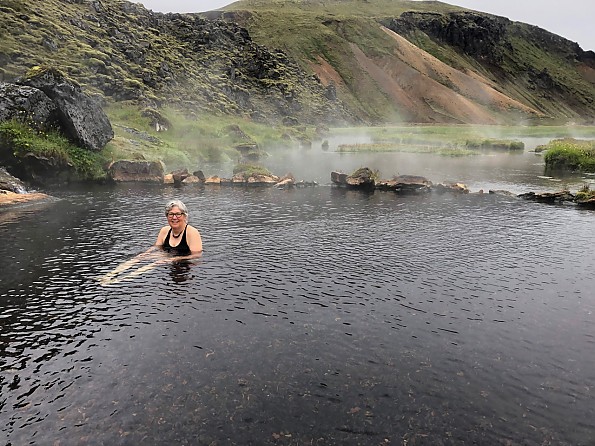 (early bird in the hot spring)
We went for a soak in the hot spring that evening while it was still quite busy, but then got up early and were the first ones in the next morning, with only one other early bird (a Polish hiker that was attempting a solo north-south crossing of Iceland) joining us during maybe 40 minutes in the pool. The water was not particularly sulfurous, so we never did use the showers. We had actually planned to spend two nights at Landmannalaugar and do another day hike, but it felt overcrowded and we wanted to get away from all the car people so we decided to move on and use the spare day elsewhere.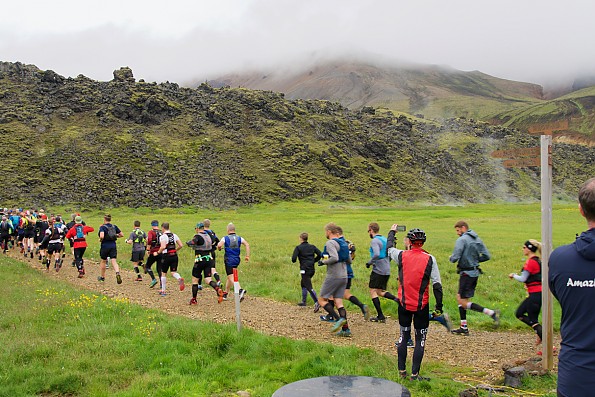 (They're off! The first wave, anyway)
That Saturday morning just happened to be the start of the 55 km Laugavegur Ultra Marathon, so we made sure the runners had a good head start on us before we got under way.
Camping and huts
As on Hornstrandir, hikers are required to camp at designated sites, and these are all associated with self-service (cook your own meals, bring your own bedding, etc.) huts. Although we are regular users of huts in Norway, we decided to camp because the Icelandic huts are generally less comfy and busier than most Norwegian huts, with common bunkrooms rather than the 2-4 bed rooms typical in our huts. The Icelandic huts are a bit pricey too, and coming from Norway that's saying something. But we did stay a night at Volcano Huts in Þórsmörk, where the two trails meet, and on our last night out at Fimmvörðuháls hut where we had heard there was no camping – there is, but it's very exposed so you might not want to if the wind is up.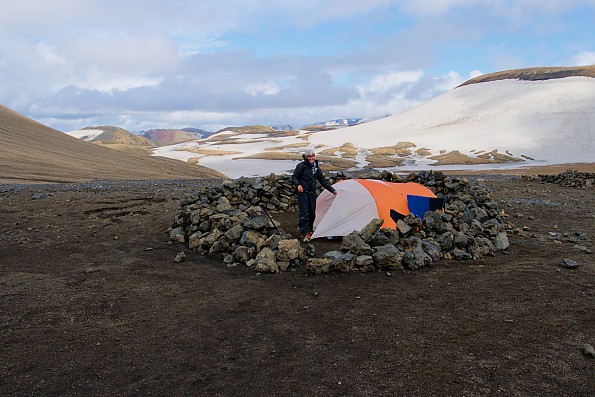 (campsite at Hrafntinnusker)
We had our share of wind, rain and low clouds, day and night, but things opened up often enough for us to get good views and photos of the amazing landscape. Over the first few days the volcanic grit combined with windy or wet conditions was an unpleasant challenge – the wind sometimes blew fine dust into the tent (Big Agnes Copper Hotel 2) or the wet made it stick to everything. We had packed a tent whisk broom for this contingency, but Nancy sent it around to Skogar to save weight.  At Hrafntinnusker, a (relatively) high-elevation hut/campsite one day out from Landmannalauger, there are rings of rocks, many of them big chunks of obsidian, to help keep the wind out.
Landscape and geology
Over the first day and a half the trail crosses the Torfajökull caldera, a landscape of rolling hills composed of multicolored, weathered volcanic ash and pyroclastic deposits, dissected by erosion gullies that coalesce into stream valleys with braided floodplains.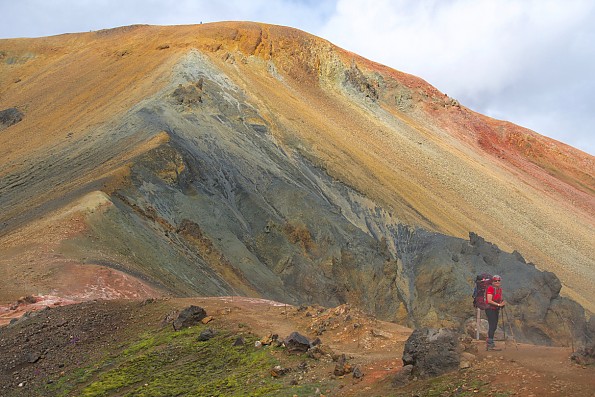 (Nancy under Brennisteinsalda near Landmannalaugar)
There is a lot of thermal activity, mostly in the form of fumaroles jetting steam out of the ground and small, bubbling hot springs that are both too hot and shallow for bathing.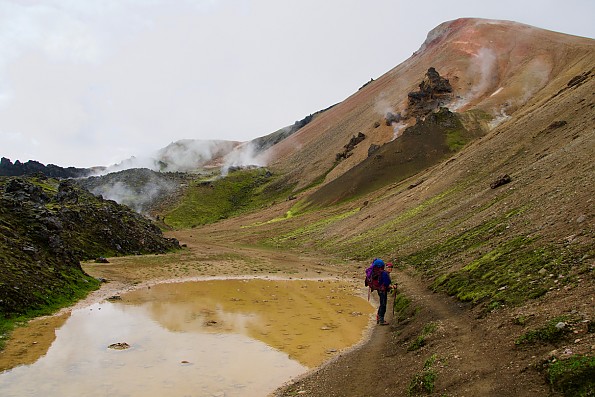 (near the thermal area under Brennisteinsalda)
I checked out one milky blue pool near some hot springs that was not particularly inviting but nearby I found some almost psychedelic mud cracks.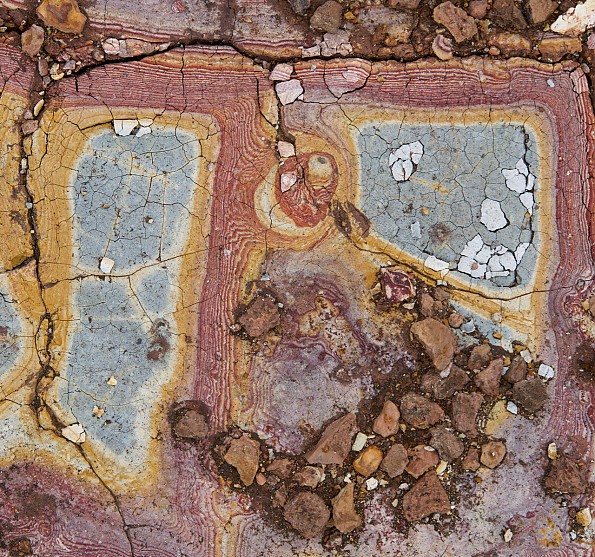 (fractal mud cracks)
On leaving the caldera, the trail drops down into (somewhat) greener country, old basaltic volcanic cones and ridges with grass and moss blanketing the slopes wherever they are stable enough to support vegetation. Along seeps in steep gullies and the wet margins of shallow streams there is a striking, almost day-glo green moss, Philonotis spp., that often stands out in contrast to the dark basaltic lava and ash.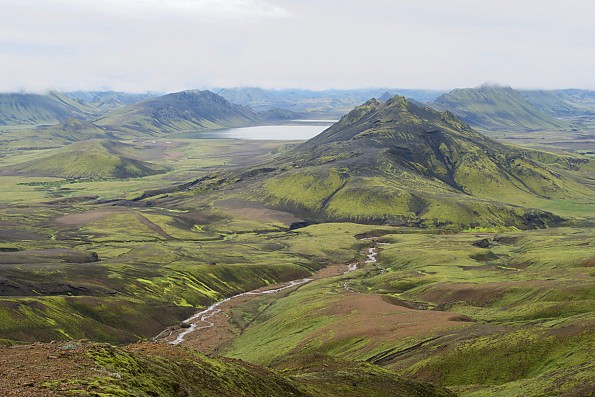 (Alftavatn valley, hut and campground on the near end of the lake)
I also learned how to recognize hylaoclastic deposits, formed when a basaltic volcano erupts under water or ice, by the yellowish color of palagonite, a mineral that forms as the hot basalt reacts with water and binds the larger particles together. We could glimpse a distant ice cap to the north when we were on high ground at Landmannalaugar, but now Myrdalsjökull, the second biggest ice cap in Iceland, and later Eyafjallajökull, which covers the volcano of the same name that erupted in 2010, started to come into view. By the time we reached Þórsmörk (say Thorsmork) a few days later we were getting almost up close and personal with some of the icefalls on the outlet glaciers flowing out of these ice caps.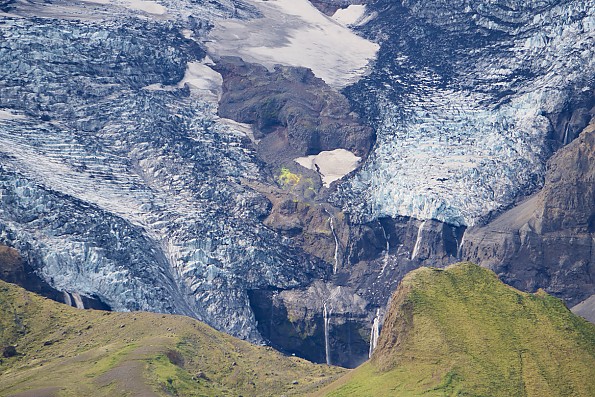 (Outlet glaciers of Eyafjallajökull above Þórsmörk)
Side hikes and trail encounters
Our shortest day was 4 km, between Alftavatn and Hvanngil, just for a change of camp and to get a jump on the next day, and that gave us time to do an afternoon hike together, up on a nearby ridge in a strong wind. From up on top we could see Myrdalsjökull in the distande and the wind whipping up a dust storm on the outwash plains.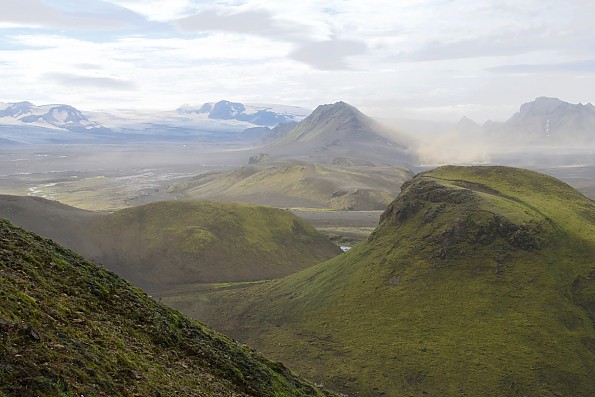 The hike onward from Hvanngil starts out over a basalt flow that could have been rough going but all the rocks had been pushed aside leaving a smooth treadway that continued over the wind-worked, rocky plains beyond. On this and other days we had to ford rivers up to about knee deep, had brought along water shoes (Sockwas in my case) for that purpose. I'd say about 80% of Laugavagur was pretty smooth sailing, somewhat less on Fimmvörðuháls.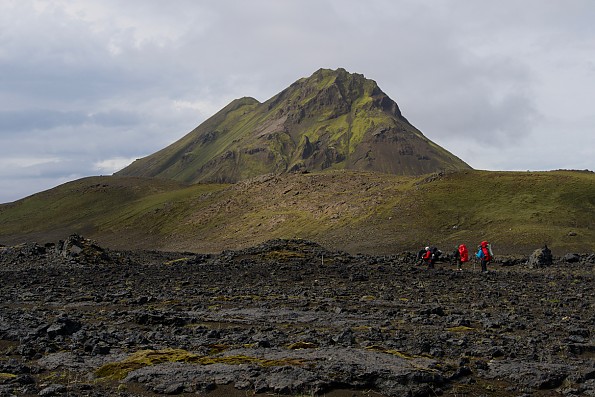 (Hikers crossing the basalt flow by Hvanngil)
At Emstrur we made the side trip to the Markafljot canyon, where the river has cut down through about 200 meters of varied and contorted volcanic deposits.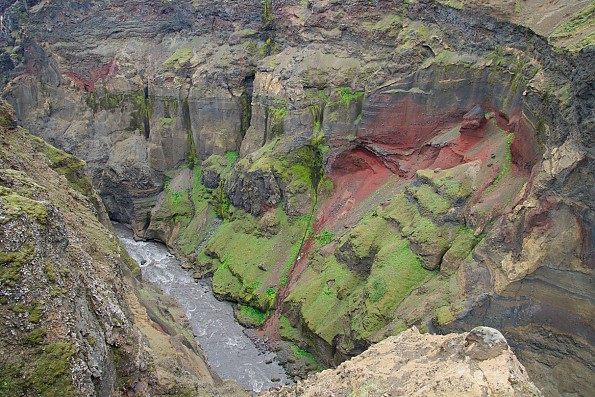 (Markafljot canyon)
The alternation of basalt flows and ash or pyroclastic layers often leads to the formation of shallow caves and strange, twisted formations. Comparisons to Mordor and Game of Thrones were an ongoing theme, and the word grotesque kept coming to mind.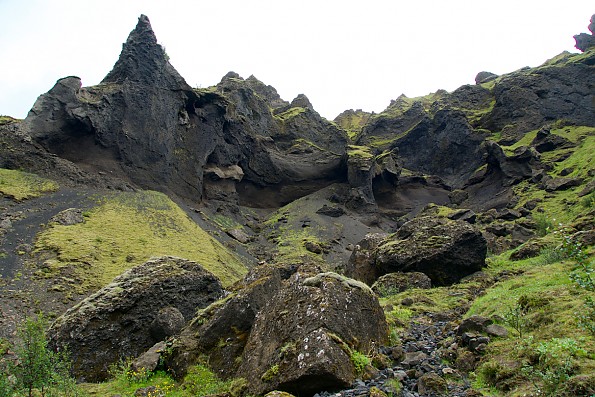 (Troll country)
Along the stretch between Emstrur and Þórsmörk we fell in with three other hikers who had met each other and bonded along the way. We also crossed paths with Francis, the genial south African fellow in the group, on our road trip after the hike.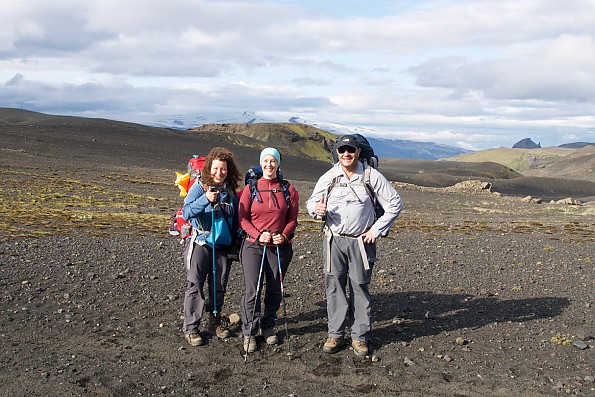 (Vanessa, from Germany, Kristin, American living in Germany, and Francis, South Africa)
Fresh lava and ice sheets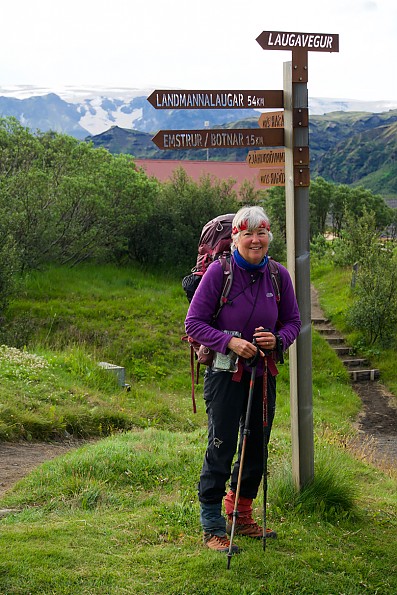 (Nancy at Langidalur)
Laugavegur officially ends at Þórsmörk, where we stayed two nights, one at Volcano Huts (where the geothermal pool barely qualified as lukewarm, very disappointing) and one at the very pleasant Langidalur campground, with a 12 km day hike in between. I could have spent another couple days there, in half-decent weather at least, to ascend a couple peaks that I found out about after we got there.
From Þórsmörk we crossed the wide, braided gravel floodplain of the Krossa river and started in on the two-day (for us) hike over Fimmvörðuháls (ð = th as in father), staying at the hut with the same name.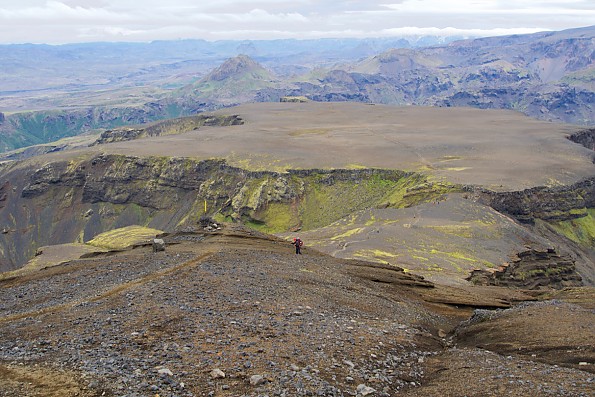 (a basalt plateau on the way up Fimmvörðuháls)
The trail crosses the high ground between the two ice caps and goes right by Magni and Moði, the pair of cinder cones that formed during the 2010 eruption. It's a short side trip to the top of each. Lots of fresh cinders and fresh, nearly black lava flows and some vents, spatter cones, lava tubes and collapsed lava blisters.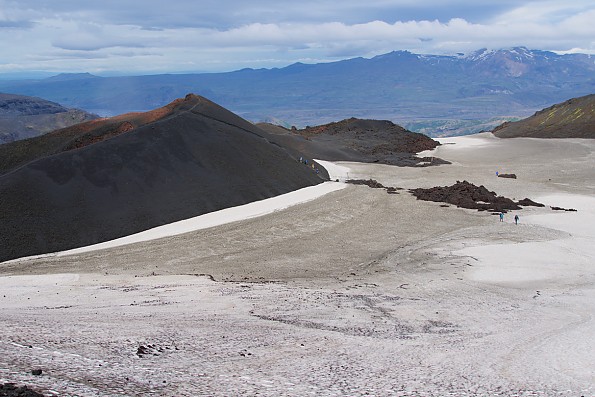 (Hikers on Moði as seen from Magni)
The hut is quite small and basically one room, but fortunately the only other guests were a German-Belgian couple that we had been leapfrogging with since Landmannalaugar and we finally got compare to notes with them – the only other similarly slow hikers that we were aware of.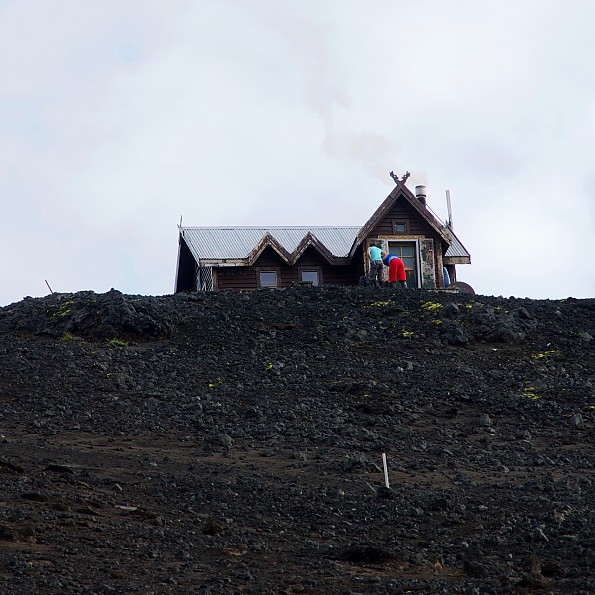 (Fimmvörðuháls hut)
The end of the trail
Skogar is just off the Iceland ring road and features a big, beautiful waterfall, the last and biggest of a couple dozen along the trail down from Fimmvörðuháls, some of which are quite striking in their own right. The big one is a must-see for tourists in busses, cars, and campers, and so a total zoo during the daytime and, even though the trails we hiked are pretty busy, still kind of a shock to arrive at. We stayed at a hostel there and made the best of it with a hot shower and a visit to a nearby museum.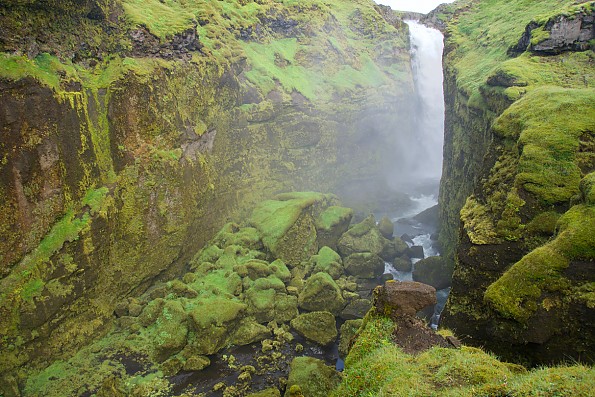 (Gorgeous gorge)
Aftermath
From there we rented a car, then drove to and stayed a couple nights with a day hike in between at Skaftafell, where the outlet glaciers are even closer, and proceeded east to Seydisfjordur, where we got on the boat to the Faroes and eventually to Denmark. We made stops along the way at a striking beachside columnar basal formation, another glacier front, a basalt canyon, an "iceberg lagoon", and a hot tub near the coast. The 565 km2 Eldhraun lava flow, from the 1783 Lakigigar eruption that affected weather over much of the northern end of the planet, is now completely pillowed over with wooly fringemoss (Racomitrium lanuginosum), with vascular plants only just now getting a toehold here and there, making for a truly strange landscape. It was moist and green when we were there but when the moss dries out it turns a uniform light gray color.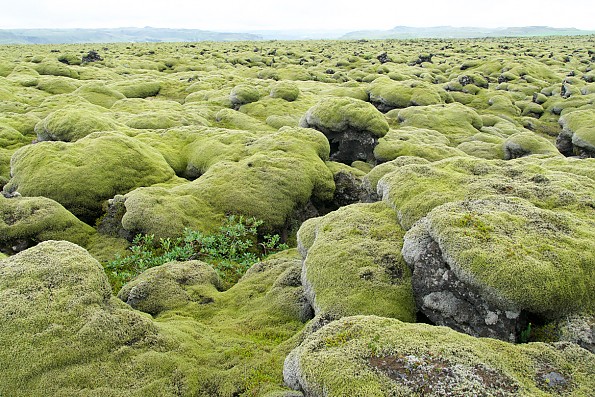 (Eldrhaun)
Guidebook and maps
As our main guidebook we took along "The Laugavegur Trail: A Hiking Companion to Iceland's Famous Trek" by geologist Brian Zimmer, with notes on some of the geological features along the way and suggestions for side hikes. At about 75 pages it doesn't weigh much and adds a lot to the experience. We had a booklet of 1:50,000 maps of the trail corridor put together by Uwe Grunewald and published (in Germany, I think) by Unique Iceland, and also a 1:100,000 trekking map of the region published by Mal og menning in Reykjavik, with a 1:50,000 map focused on Fimmvörðuháls on the flip side, along with some natural history notes. I haven't included any of my usual flower pictures in this report but there are a few in the full photo gallery.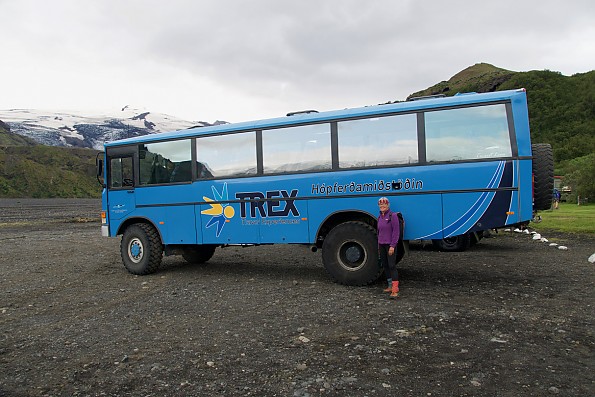 (High clearance bus for fording deep rivers to get into into Þórsmörk)
Parting thoughts
I think the main season for doing these hikes is pretty short, at least when it comes to bus access, but they may be a little quieter outside the peak month of July. Looking at the map, there are other trails and 4WD roads that cross the main trails so it may be possible to put together an on- or maybe partly off-tail route that avoids some of the crowds but still samples the landscape (might involve some river crossings). At Þórsmörk we met a group of Weegies that were crossing Iceland north to south on foot, a pretty ambitious project but they seemed to be having a good time. But if you can adjust your expectations to include close encounters with a lot of other hikers from all over the world and don't mind camping at the designated sites, the main trail really is an amazing hike.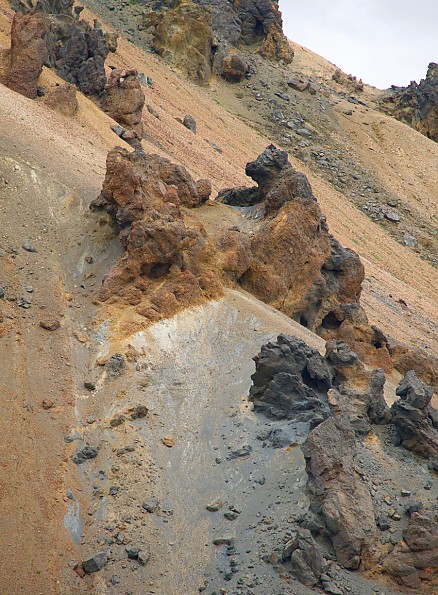 (Name this rock!)