lambertiana
0 reviewer rep | 448 forum posts
7:16 p.m. on September 15, 2019 (EDT)
When it came time to do the five day trip, several of the scouts dropped out so we only had two go.  The others missed out.
The original plan was to go over Timber Gap, then down all the way to Redwood Meadow, then up to meet the High Sierra Trail at Bearpaw, which we would follow over Hamilton Lake/Kaweah Gap and then turn south down Big Arroyo.  The ranger at Mineral King (I had never seen her before) told us that the landslide above Hamilton Lake (which had already appeared in some reports) was so bad that it was practically impassable.  It turns out she was wrong, but at the time that was all we had to go by, so we opted for route B, most of which should look very familiar to Patrick.
When we got to the trailhead in Mineral King, it was drizzling (Patrick, does that bring back memories, going over Timber Gap in a drizzle).  We made good time over Timber Gap, but the lighting conditions were not good for pictures looking north: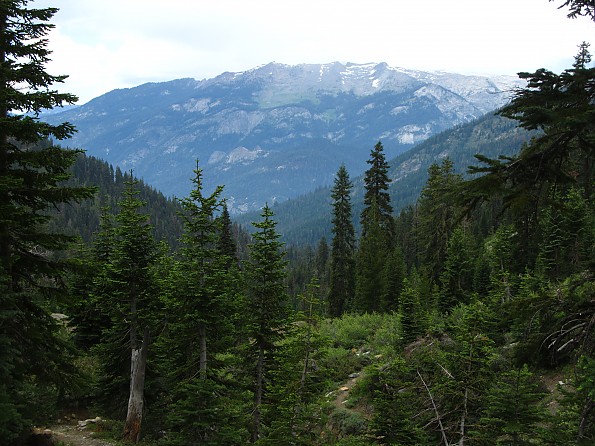 When we got down to Cliff Creek, it was very obvious that it was a very wet year.  I normally can rock hop across Cliff Creek, but this year it was a wading crossing in very cold fresh snowmelt water:
From there we headed up Cliff Creek.  The view of the waterfall below Pinto Lake was as good as expected: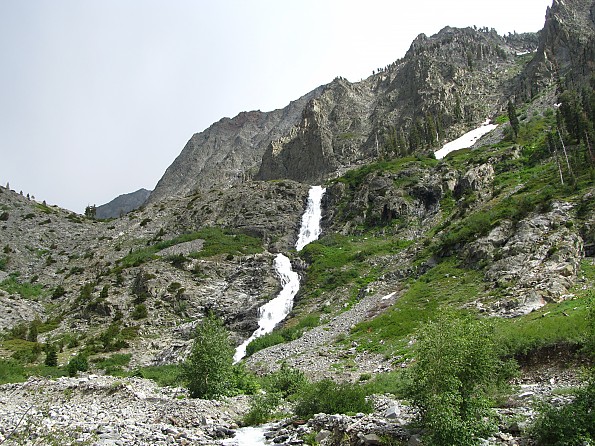 After we got to Pinto Lake it rained for a while, but cleared up for some good pictures at sunset.  And the mosquitoes that had been mysteriously absent for the dayhike to Mosquito Lakes finally made their grand entrance, attacking with a vengeance.  From that point on, they bothered us incessantly except when we were on the high passes.
Looking toward the first challenge of the next day - Black Rock Pass, the high ridge on the far left:
The next morning we were greeted by clear skies, and headed up to Black Rock Pass.  When we got higher we were treated by great views:
The first snowfield crossing:
And finally at the top of Black Rock Pass, with the Kaweahs in the background.  Note also the gathering clouds: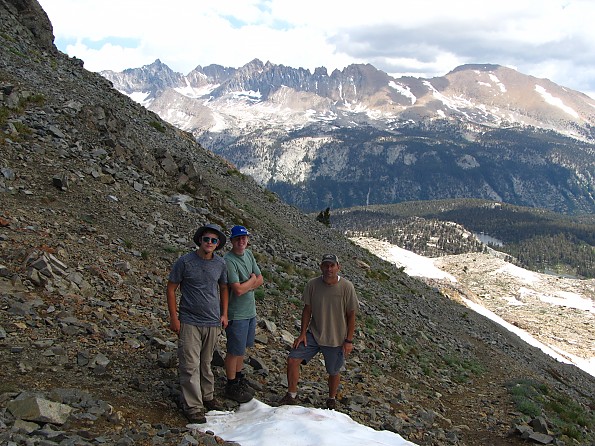 We went down to Little Five Lakes for the night.  After we got camp set up, it rained for two hours.  But then it cleared for pictures: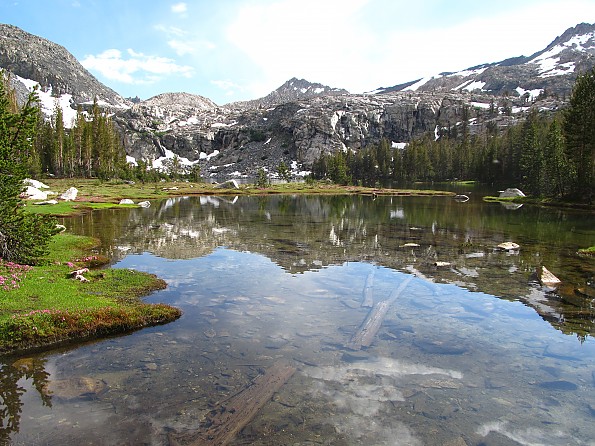 One of my favorite Sierra views is looking across the lowest of the Little Five Lakes toward the Kaweahs: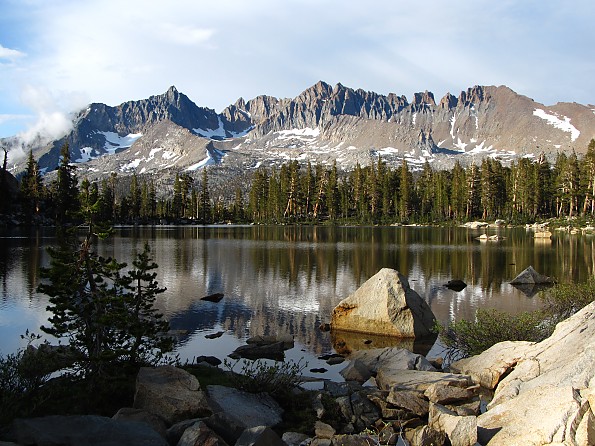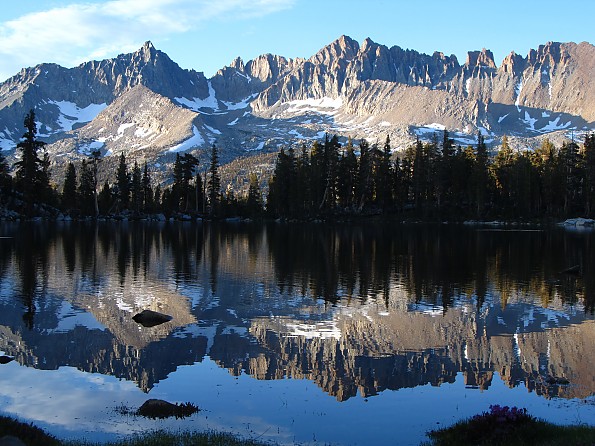 The next morning when we got up it was already threatening rain.  From there our plan was to descent to Big Arroyo and go down Big Arroyo and then up the trail to Soda Creek, as Patrick and I did in 2013.  The ranger stationed at Little Five Lakes happened to come by, and when he heard our plans he told us that the stream in Big Arroyo was a raging torrent and one experienced group had turned back rather than do what we were planning.  I found his report believable because I had just cross one tributary of the Big Arroyo Creek (at Little Five Lakes), and what I had been able to rock hop over the year I went down Big Arroyo (and still had to wade Big Arroyo Creek that year) was this year running really high and we had to wade across.  With all of the tributaries running that high, it made sense that the Big Arroyo crossing below Soda Creek would be a very difficult crossing, and not something that we should attempt with other people's children.  So we changed plans again and took the shorter route to Soda Creek via Big Five Lakes.  I was disappointed because Big Arroyo is seldom traveled and you get a real sense of solitude there.  But safety is the more important consideration.
At the lowest of the Big Five Lakes the clouds were building:
By the time we got to Soda Creek it was starting to drizzle.  We went up Soda Creek for a while and then stopped to set up camp just when the rain started.  It then rained for three hours.  Afterward, I got this pic of Soda Creek at camp (again think of this being just one of many similar tributaries of Big Arroyo Creek, reaffirming the wisdom of not going that way):