Bill S
REVIEW CORPS
4,582 reviewer rep | 6,037 forum posts
8:49 p.m. on January 1, 2020 (EST)
Barbara and I made our traditional New Year's day hike to the top of Black Mountain (near Palo Alto California).
California has seen a lot of changes during the year, with a lot of problems with fires in some of the most beautiful areas where many of us spend lots of time in the mountains. Unfortunately, we had large fires in northern California that resulted in way too many deaths of people. The climate has been changing, leaving large areas in the hills with dry wooded areas, yet wet areas that got brought down by the dry areas. One of the major problems resulted from problems in a particular company which had many serious problems that produced electric power lines that produced the large power line fires. Even in our neighborhood, we had problems with unexpected fires.
Much of our weather had head high winds during the visit to the Summit of Black Mountain, within Monte Bello Open Space Reserve. Black Mountain has several ways to get up to the summit of Black Mountain, ranging from trails to driving up a road that has a parking area that sits on top of the San Andreas fault line from several years ago.The summit is about 2812 feet. Our house is at 8 ft above Sea level
Over the past year, Barbara and I made a 2700 mile trip from the SF Bay area where we live. That trip took us from San Francisco to Nevada, Utah, Arizona, New Mexico, and Colorado, Denver, Wyoming, and more. This sounds like too much "civilization".  However, we covered a lot of beautiful outdoor land. Plus, the climate covered a very wide range of beautiful wilderness and mountainous areas. The trip took us through a number of snowy lands, plus visits with relatives.
As you will note in the pictures, the area of Black Mountain was provided with a bit of fog around parts of the mountain during the day blowing in from the ocean as shown in the photographs.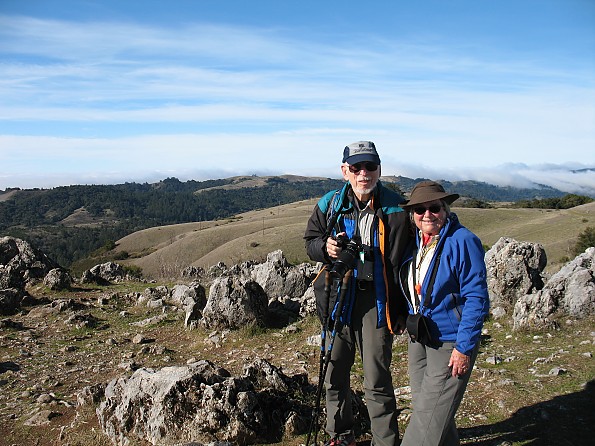 You can see the fog rolling in from the ocean in the background.


The bench mark is one of several in area. The altitude is a bit worn out.