BigRed
REVIEW CORPS
7,508 reviewer rep | 1,294 forum posts
4:57 a.m. on June 18, 2020 (EDT)
As for most people around the globe, it's been an unusual spring here in Norway, what with the Easter holiday week basically cancelled -- it was forbidden to stay in privately owned huts outside of your own city/town, and the public huts were all shut down. But the outdoors were otherwise open, and I got in a number of day and overnight trips, as well as a lot of good backyard xc skiing, despite all the limitations. My main partners in crime (we stretched the rules just once by camping outside of our home area early on, before things loosened up) were my wife, Nancy, on some of the more mellow trips, and my daughter Molly and Son in law Audun, sometimes with other young friends, on the steeper and deeper ones. Herewith a photo or three from each of these several trips.
A snow stability test on the way up and then the final approach to the windblown summit of Dronningkrona (the queen's crown), a backcountry classic, in late March, and Audun's photo of yours truly enjoying the powder on the way down. We camped in the valley and summited nearby Smisetnebba in very windy conditions -- almost turned around -- the following day.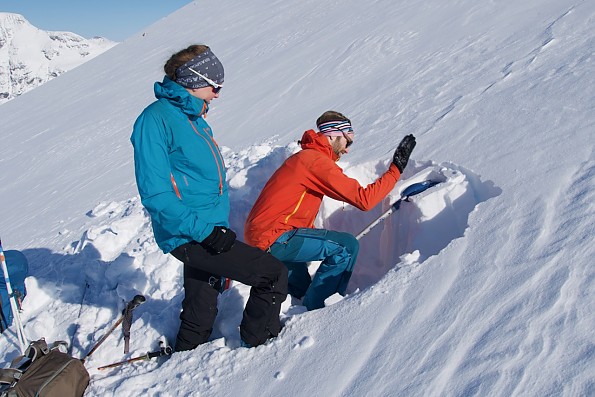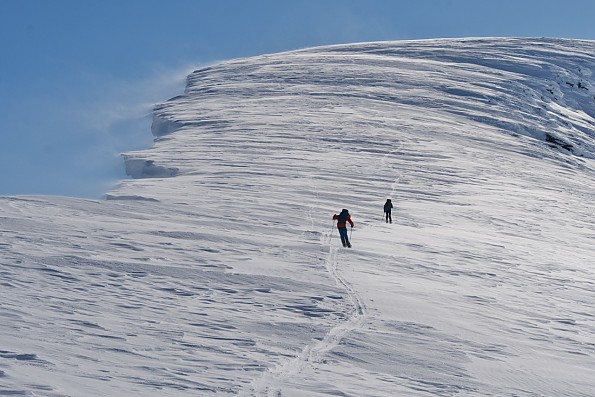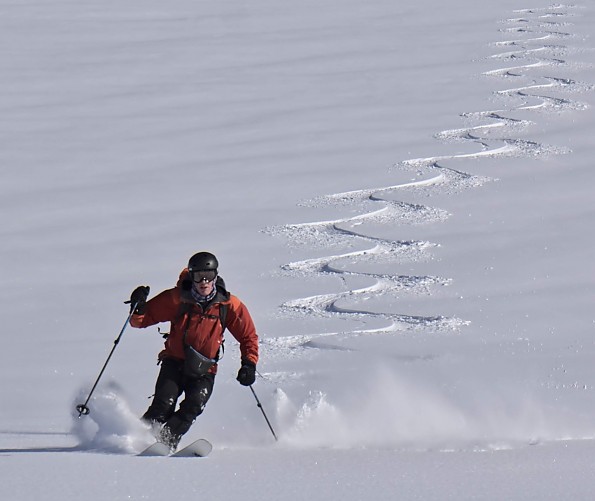 A long, easy tour to Storskarven in the relatively low mountains northeast of Trondheim.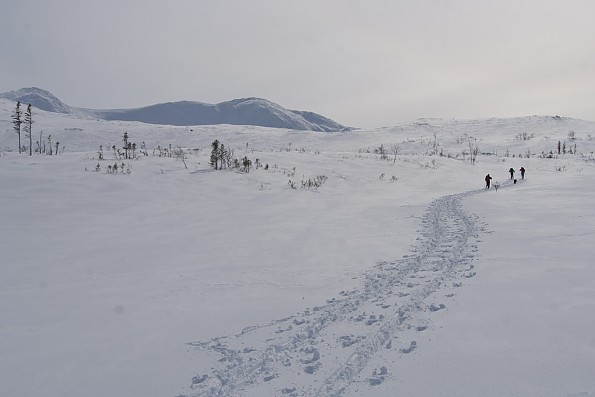 A day trip to Nordviksula, often done as a half-day effort on the way to or from something bigger, where we were joined by Audun's mom Marianne (on left with Audun in the photo below).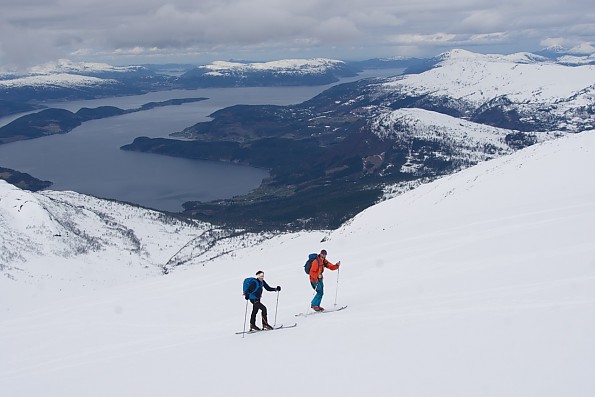 A long, 30 km day ski into Rindhatten with Nancy and our dog Harley, much of it on groomed xc trails but with some "real snow" on the mountain itself. A snow bridge that we used on the way in collapsed while we were on the mountain, so we had to find a place to rock hop across.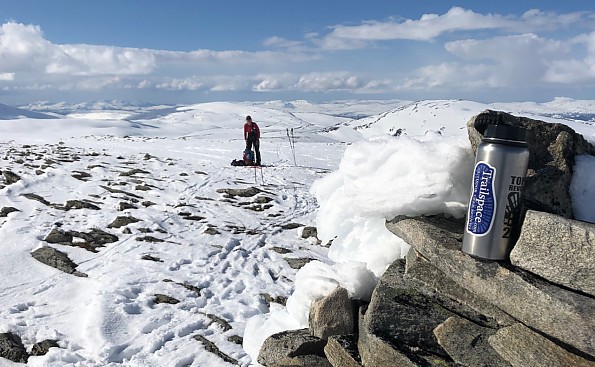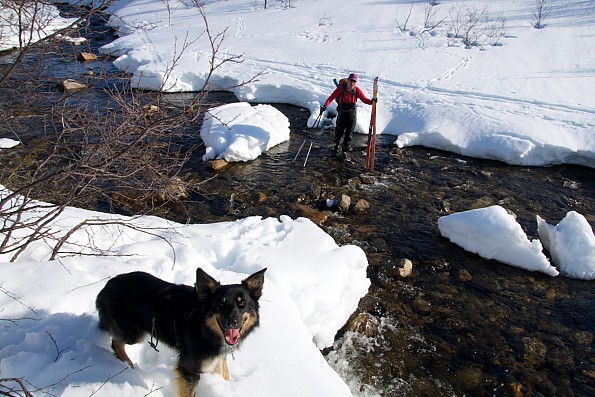 A big group trip to Leirdalen in Jotunheimen with Molly, Audun, two other regular partners Ben (harmonica) and Steffen (guitalele) a.k.a. the Teleswingers, and some significant others and friends. Long drive, three-day weekend and we got shut out of doing any peaks by white-out conditions, but got in some powder-on-glacier skiing and had a good time hanging out at base camp.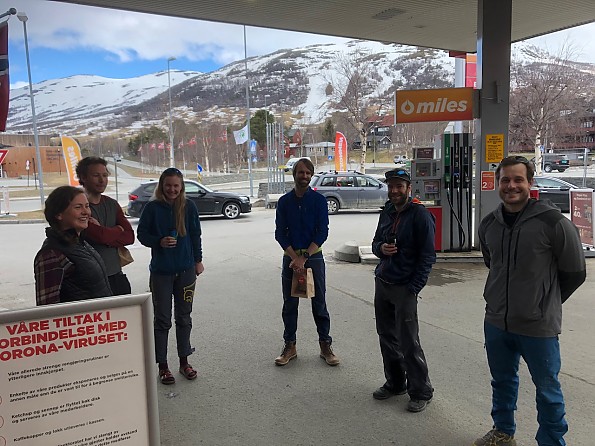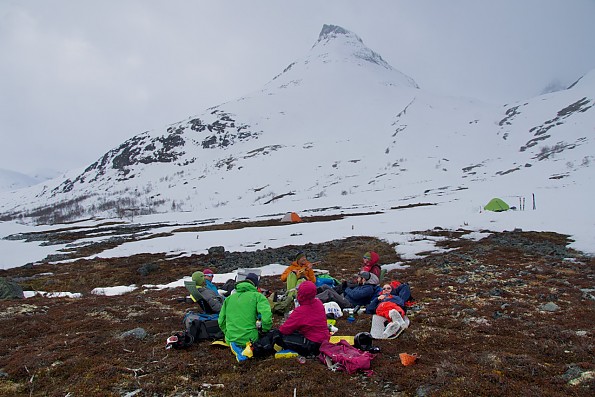 A two-night stay at Gammelsetra, a summer farm converted to a tourist hut. Nancy, Harley, and I were the only ones there for the entire weekend. The winter quarters are in an old barn, but even in the old farmhouse all the doorways are 5 feet or less. Attempted a nearly 1900 m peak nearby but turned around due to high winds and threatening clouds. Mid May.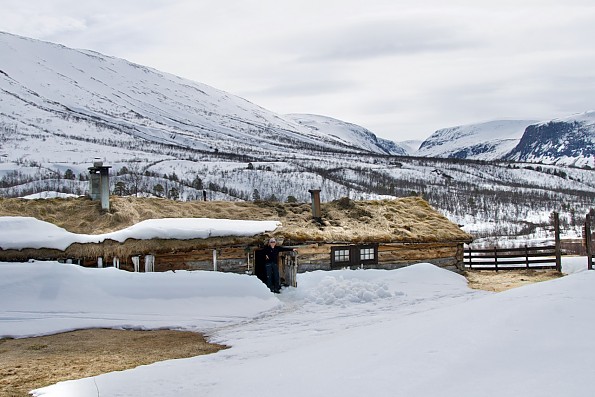 A trip to the outer coast islands near the small city of Molde, trying to get away from snow for a change. We camped a short walk from harborside parking at Kråkholmen, spearted from the North Atlantic only by a scattering of skerries and so good for a sunset. Hiked over Sjuvarde and Melen, a pair of peaks connected by a ridge with sweeping views of the blue expanse on one side and the Romsdal mountains on the other.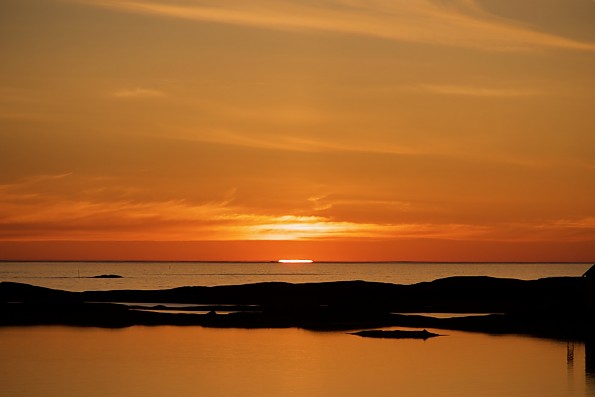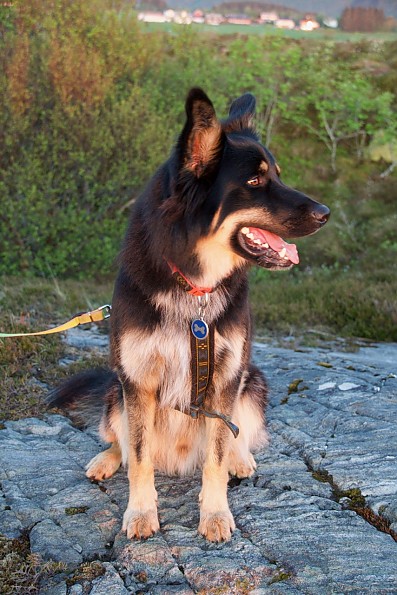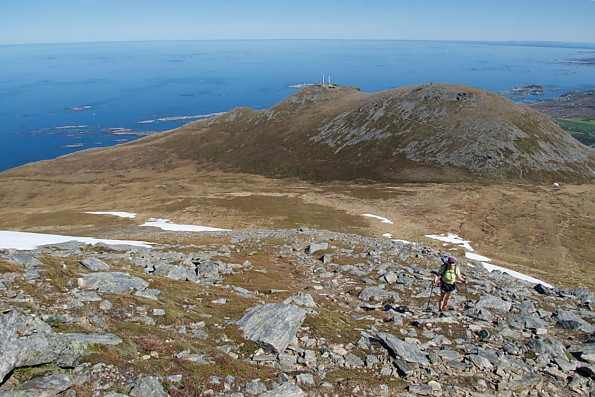 (Vengetind, a personal favorite, off in the distance)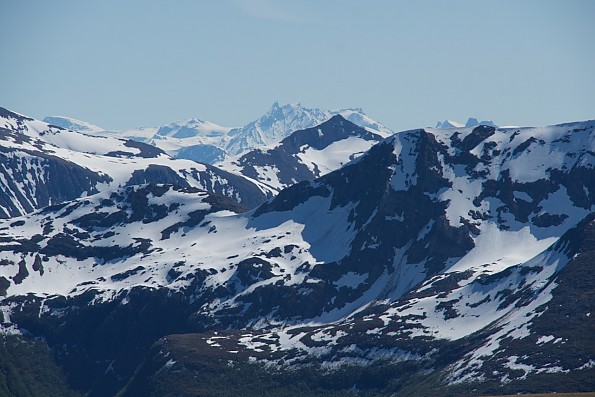 Speaking of Romsdalen... the weather on my birthday weekend (first weekend of June) was not great, but with full-on spring conditions the next weekend Molly and I headed down. The opening of the famous Trollstigen road had been delayed indefinitely due to plowing and repair, but we found out at the last minute that it was due to open on the Saturday. We arrived late Friday night at a favorite campground under the awesome Troll Wall (no need for headlamps to set up camp -- it doesn't get dark this time of year), and on Saturday drove up to the snow and linked up Finnan and Alnestind, wearing shorts and t-shirts for most of the day (work that sunscreen!). On Sunday I solo hiked-skied to Nonstind while Molly went on a 38 km training run (she was set to do the UTMB in the elite women's class, but it was cancelled so she's training up for a 150k in the Rondane region). Great way to finish the season, but there's enough snow on Trollstigen to where I might have to go back in July just to say I did...