BigRed
REVIEW CORPS
7,508 reviewer rep | 1,294 forum posts
11:35 a.m. on June 30, 2020 (EDT)
As a slightly belated birthday present, my ski-buddies Steffen and Ben, who are also heavily into rock climbing, offered to guide me up Romsdalshorn, a charismatic peak that I have admired from many angles ever since my first visit to Romsdalen in 1984.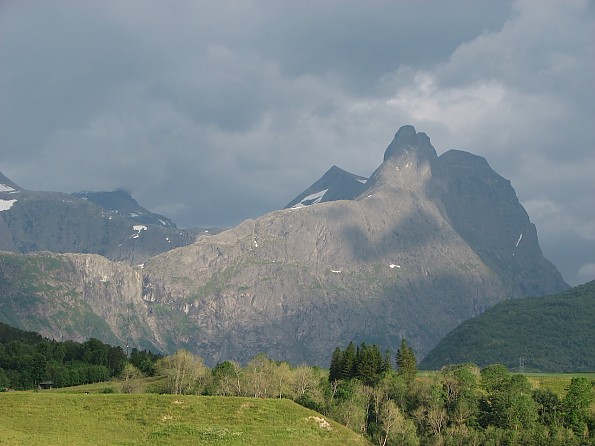 The climbing on the normal route is a mix of class 4 and easy class 5, so doable for me -- I never really got very far with rock climbing technique but have basic rope skills and personal gear.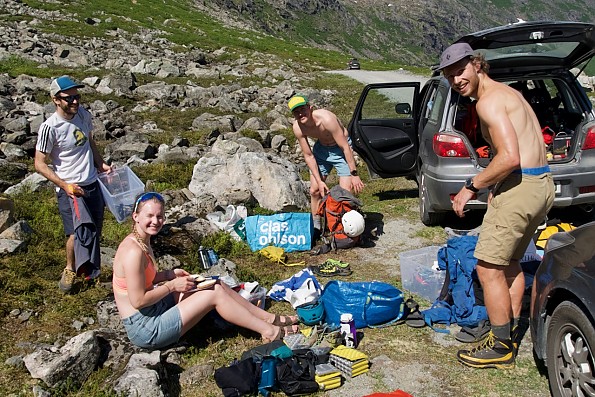 Our fourth was Hilmar, a friend of the other two. Steffen has training as a mountain guide and so led me on one rope, while the other two traded leads on a second rope. Steffen's partner Kari did not join us on the climb.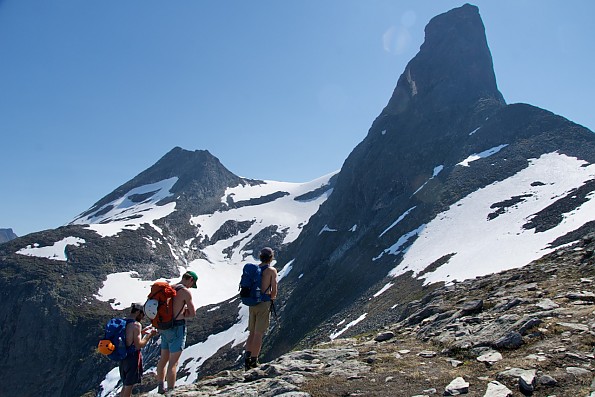 With the face in shadow it looked steep and intimidating during the approach, but the lower and upper pitches are actually low-angle and broken enough that we simulclimbed them, leaving only about 3 pitches of easy class 5.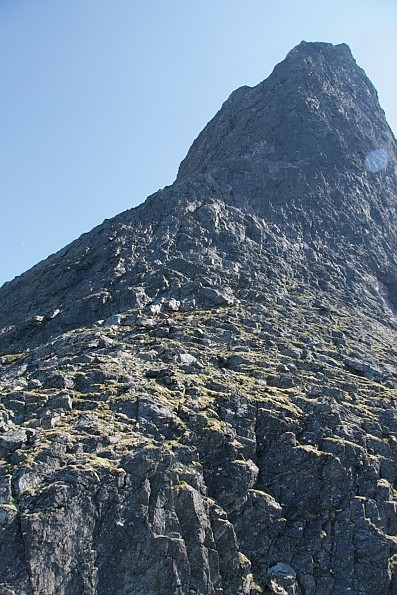 I stashed my camera in my pack and so didn't take any pictures during the climb.

We crossed paths, and occasionally ropes, with a few other parties, including this family with a professional guide.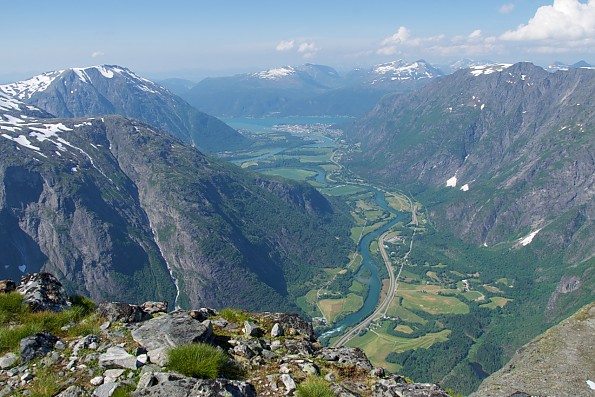 Romsdalen ends in the fjord-side town of Åndalsnes.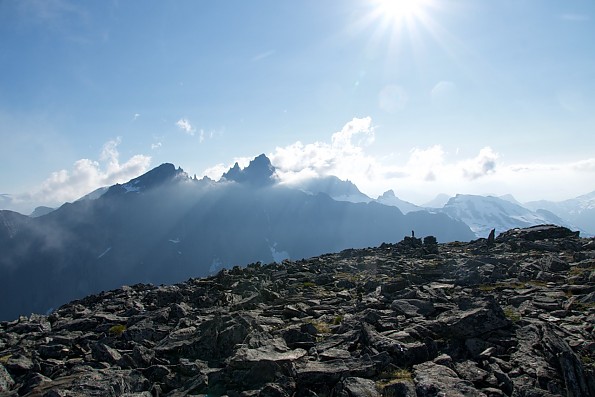 The jagged Troilltindane ridge and Troll wall is directly across the valley from Romsdalshorn.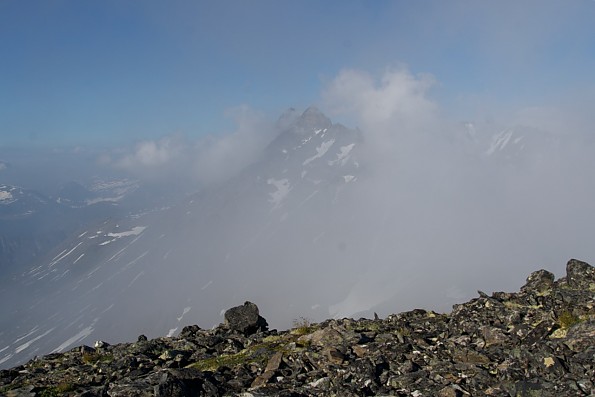 Vengetind is the highest and most alpine peak in this part of Norway, with a fine ski route up a central couloir that I have reported on previously.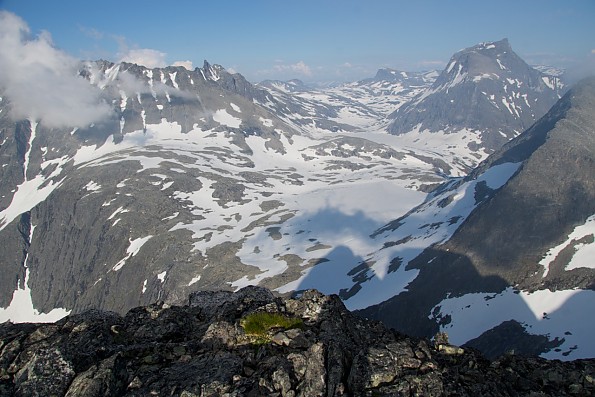 The distinctive shadow Romsdalshorn with a puffy cloud floating over it.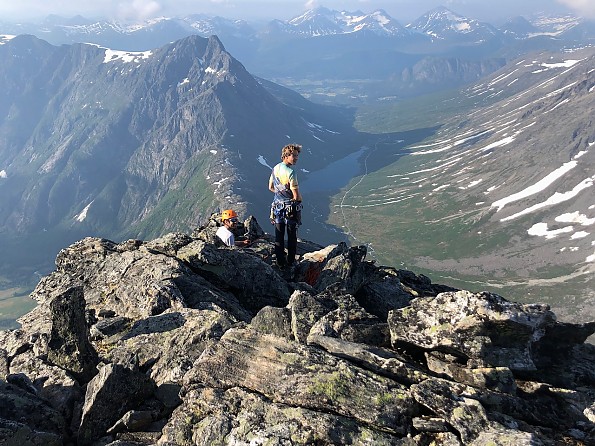 Ben and Steffen looking out over Vengedalen.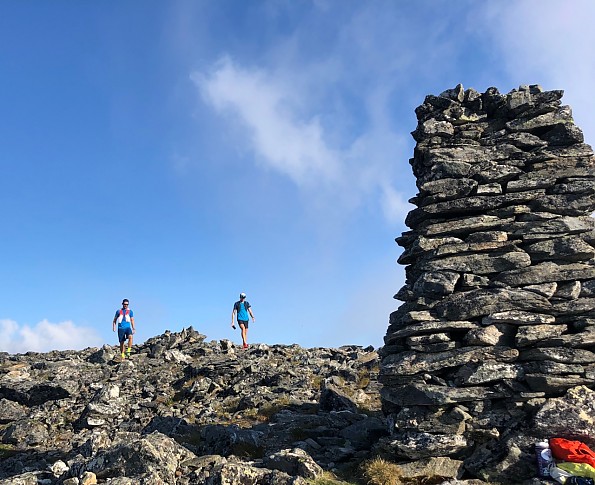 These two ultrarunners showed up while we were on the summit. They came up a different, easier route but met up with two others that free soloed our route in running shoes, then all four headed down the somewhat easier way.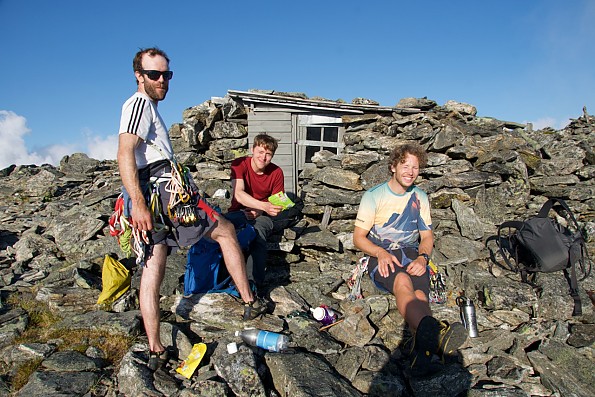 Ben, Hilmar, and Steffen at the crude emergency shelter on th broad summit.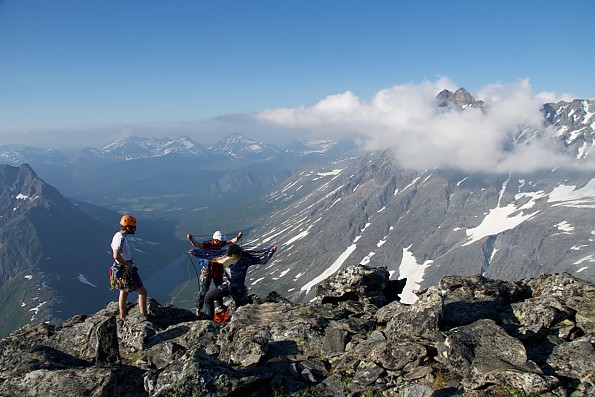 Coiling ropes for the first rappel.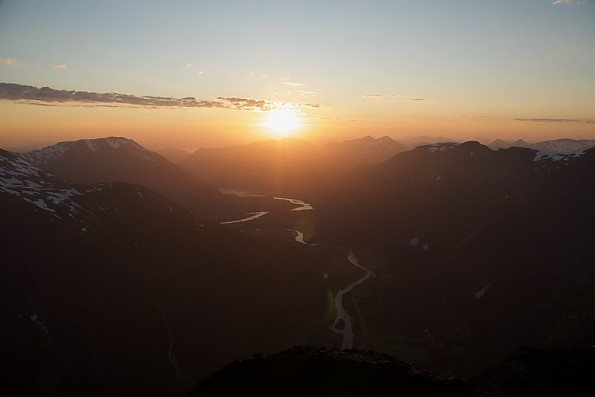 Because we drove down from Trondheim, we didn't actually get started from the car until mid-afternoon, and so got back down to the ridge at nearly 11 PM, with more than a half hour still to go until sunset, and no need for headlamps anyway because it doesn't get dark this time of year.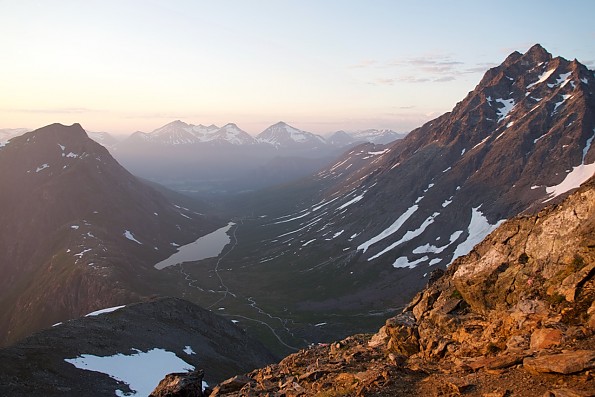 Vengedalen in late evening light, Blånebba on the left, Vengetind on the right, and the Kirkjetaket group off in the distance. Over the years I have skied most of the peaks you can see in this photo, some of them as many as 7 or 8 times. In summer there is a fine hiking route around those distant peaks and onward to the northeast.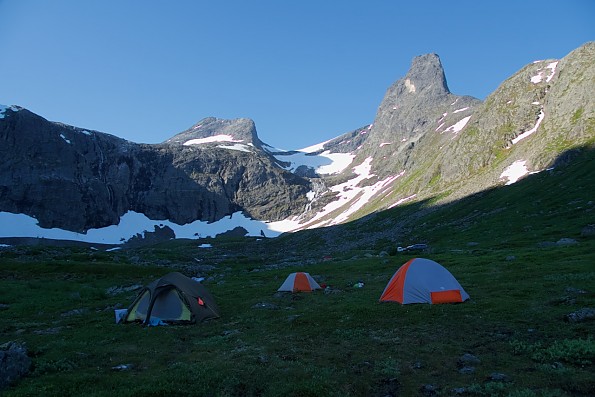 We camped in Vengedalen, getting to bed at about 1:30 AM. After a lazy morning, we drove over to Trollstigen and met up with a couple other women for an afternoon tour up Alnestind, just two weeks after I skied it with my daughter Molly (who on this day was off setting an FKT on a 120 km trail run that crosses Norway at its narrowest).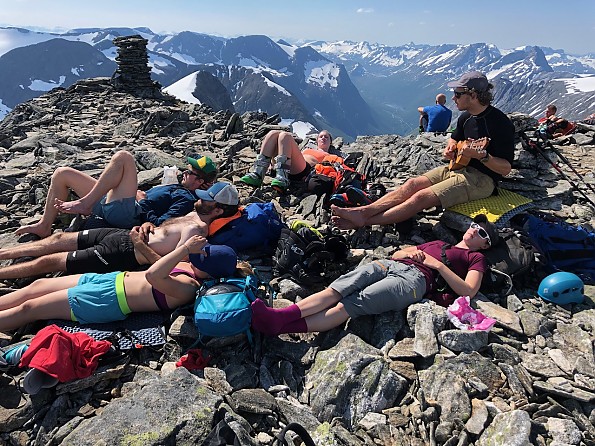 Ben and Steffen, a.k.a. the Teleswingers, provided music during our lunch break and summit siesta (Ben usually plays harmonica, but in this case he seems to be snoring).
All this went down in gorgeous summer weather, but record-breaking heat in the towns and valleys, that finally shifted to more normal cool, rainy weather as we drove back to Trondheim. A weekend for my personal record book!