Phil Smith
1,456 reviewer rep | 503 forum posts
10:46 p.m. on May 30, 2021 (EDT)
After a couple weekends of putting it off for one reason or another, I went up Boundary Bald Mountain just outside Jackman, Maine, yesterday afternoon and camped overnight. I'd actually planned on going up after work on Friday (I get out at 1400 then), but a week of turning wrenches on trucks, trailers, and logging equipment had me too tired and sore. So Saturday it was!
The previous time I hiked it, almost 2 years ago, you were able to drive farther up the dirt trail to the trailhead. The timber company that owns the area blocked the trail a mile down from where it used to be, so the hike was a little longer.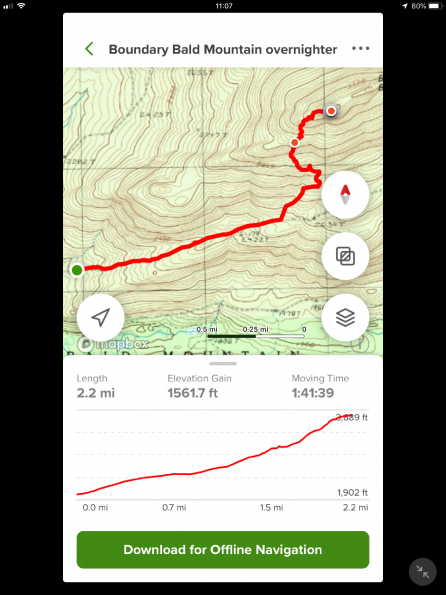 Temps were in the upper 50s, with plenty of sun and bugs. They were bad enough that I put on insect repellent, which I almost never do. 
The trail is very primitive and minimally-maintained, when you reach the treeline and the trail is all ledge and large rocks it's easy to lose the path. Cairns aren't always visible due to turns in the trail, and you definitely don't want to bushwhack through this stuff.
Even with the much lower than average snowfall we got this past winter, the wet and muddy spots were still there. There are several springs on the way up, which is probably where the water comes from. Some flowed down the trail, making the rocks nice and slippery in places.
Maybe halfway to the summit, I wonder when it'll be melted?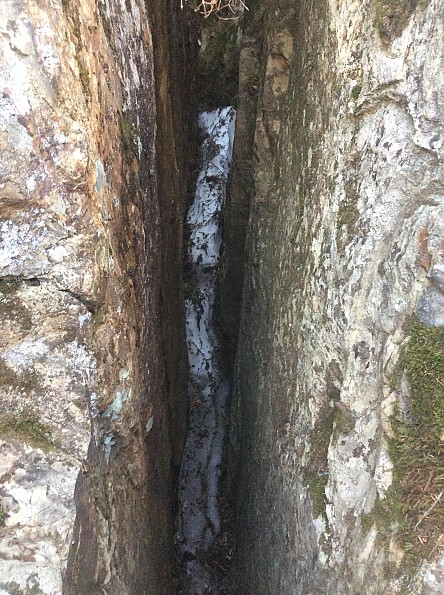 Starting around this spot the trail starts getting much steeper, and with about a 25lb pack it was definitely noticeable. I did better than I expected after not hiking a trail like this in a long time. 
One thing I was really impressed by is that I didn't see one single piece of trash on the entire trail. It's not a busy trail, but still. Thank you, hikers!
Anyway, after a couple hours (1900ish) I got to the spot I camped my last time up, set up camp, and boiled water to rehydrate my dinner. Temps were forecast to be around 30F overnight, thankfully without much wind, and had already dropped to around 40. My shirt had dried off while setting up, so I put on my merino baselayer and down jacket, and before long the rain jacket went on because the wind that was blowing was cutting right through. It was around 2000 when I finished eating, I took some pics and sat down to relax for a while.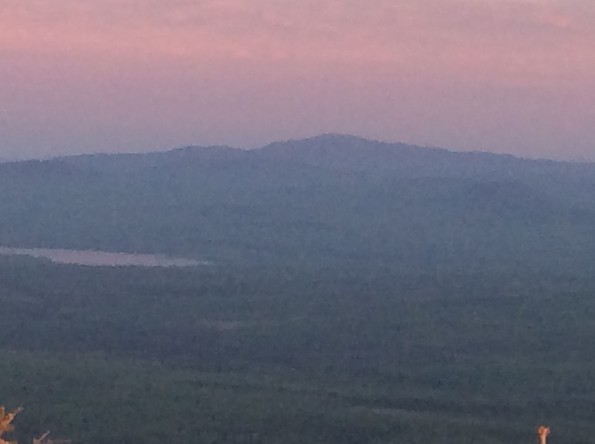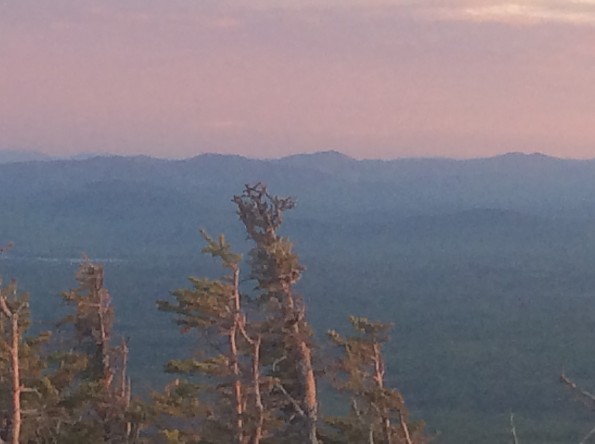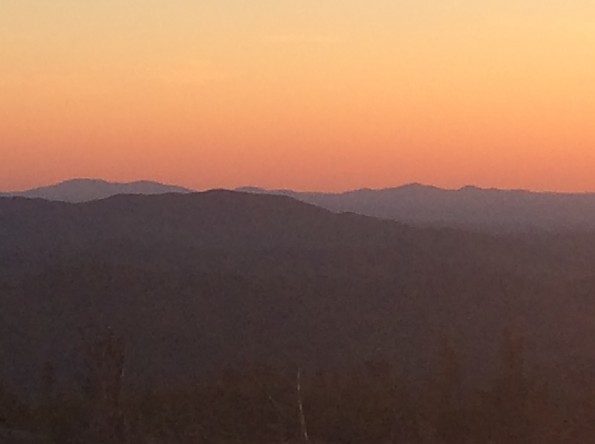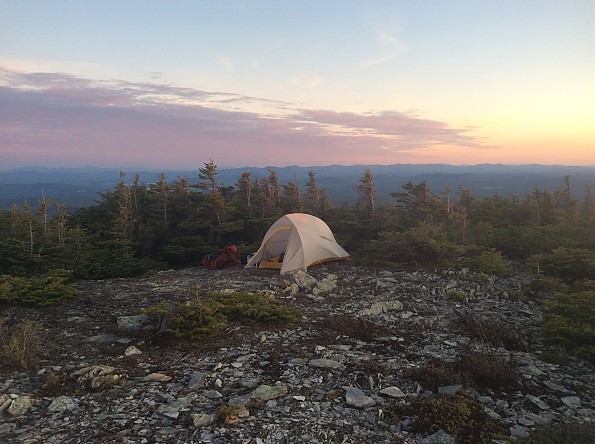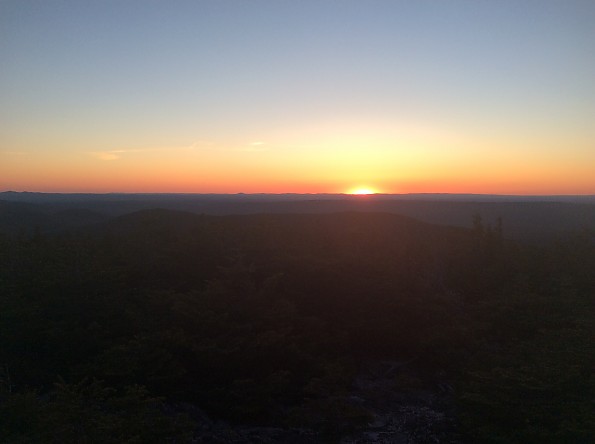 Around 2100 I hit the sack even though there was still enough light to see it through the tent fly. I chatted with a couple friends via Facebook Messenger but then lost my LTE signal completely and went to sleep. 
 This morning I woke up with the sun well off the horizon, and after getting dressed got breakfast rehydrating and broke camp. Took a few more pics, including this one of a huge wind farm not far (I think) across the border at Saint-Robert Bellarmin in Canada. Though it could be the Kibby Wind Farm north of Eustis  I didn't shoot an azimuth to it.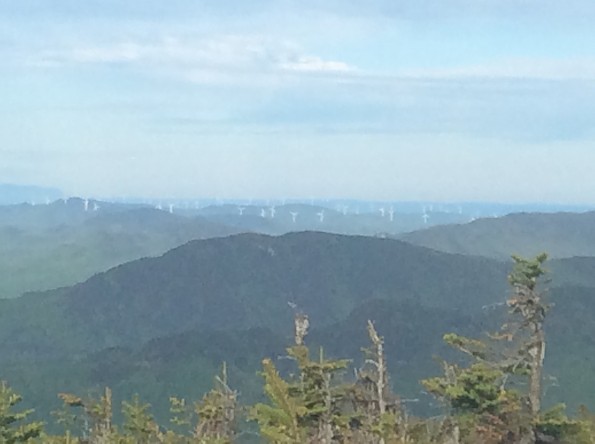 Around 0715 I started down, running into 7 people on the way (in 2 groups.) I got a few 😳😲 when I said I'd camped overnight LOL With my knees still a little stiff and sore from the hike up and being still while I slept, it took a little longer to get down. I haven't been able to be still for very long today, when I am they stiffen up quickly. Tomorrow I have some yard work to do when it's not raining, so I'll get them lubed up a bit that way. Maybe I'll take a walk to work more of the stiffness out. 
I'd wanted to try out my new Osprey Kestrel 38 pack on this hike, but the forecasted overnight lows required that I use a sleeping bag (Sierra Designs Mobile Mummy 800) that was too big to fit comfortably in the bag. So my old standby Osprey Atmos AG 50 came along instead. My guess is it weighed around 25lb, which it carried very well, but I think I could have dropped about 4-5lb. 
First, I knew I was only going overnight but I had 2 days worth of food. Second, I brought a full 1l water bottle and my empty Katadyn BeFree 1l from my ROTM prize pack (thanks again, Alicia & Dave!) Knowing how much water there is on the mountain, packing 2lb all the way up doesn't make much sense. Next time I'll bring an empty bottle and fill it and the BeFree at the last spring before the summit. Lastly, with no bugs at the summit I can leave the tend body at home and just "fast pitch" the footprint & fly. Plus there'll be the weight savings of the Kestrel over the Atmos.
It was also the first real hike with my new Oboz Sawtooth Low BDry hiking shoes and Outdoor Research Rocky Mountain Low gaiters. I've been wearing shoes in place of boots more and more, and they performed perfectly. Between the waterproof shoes and tight-fitting gaiters, stepping in water and mud 3-4" deep didn't result in any getting through to my socks. 
I have a lot to do this summer, but I'm hoping to get out hiking and camping at least every other weekend this summer.