Phil Smith
1,456 reviewer rep | 504 forum posts
6:50 p.m. on July 24, 2021 (EDT)
I'd love to do a 2-3 day backpacking trip, but between work and stuff I have to do at home it's not happening anytime soon. An overnight is rarely a problem, though, and for the past couple months I've been doing one almost every weekend. 
Last night I went up 3717' Coburn Mountain for the 3rd time in 4 weeks. It's about 15 miles from town as the crow flies, and at 1.75 miles & 1330 feet elevation gain it's short and pretty easy. In the late 60s and early 70s it was the site of the Enchanted Mountain Ski Area, and I think the main trail to the summit might have been a ski trail 50 years ago. It's actually a snowmobile and (private) ATV trail now, the highest snowmobile trail in the state. I wouldn't recommend hiking it when there's enough snow for snowmobiling. 
About halfway up the trail there's a radio relay tower, and maybe 100' past that there's a shortcut that knocks about 1/2 mile off the hike. It's a very steep footpath or animal trail, ascending about 500' in 1/4 mile, but it's a very fun climb. The blue line is the approximate shortcut.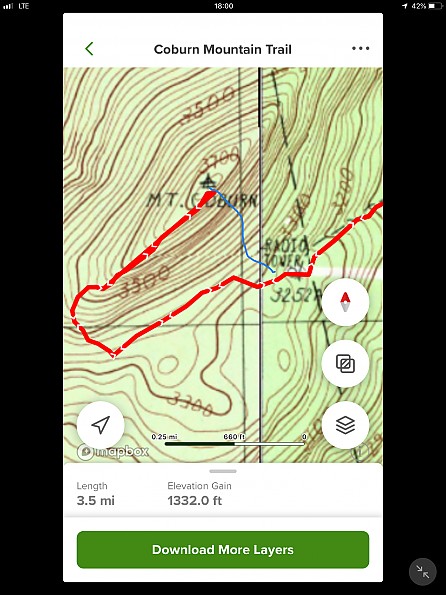 On the summit there's a another radio relay tower (that I think my company owns), a 10-12 foot high viewing platform, and rocks. Lots of them. If you move some smaller rocks there are 2 or 3 spots with room to set up a 1P or 2P tent aligned with the wind.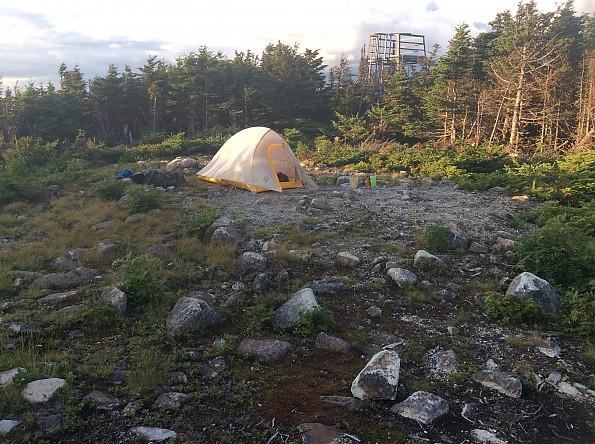 My trusty Big Agnes Fly Creek HV UL1, it does the job in rain and wind but I think a cat would have trouble turning around in it!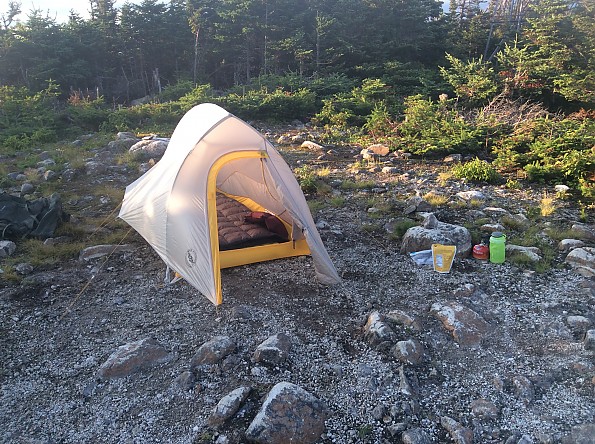 A few random pics to the north.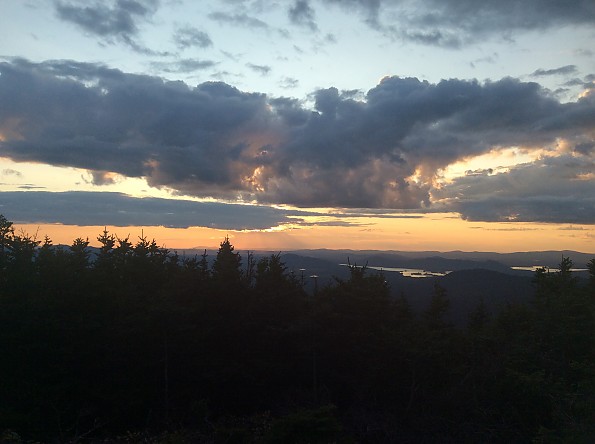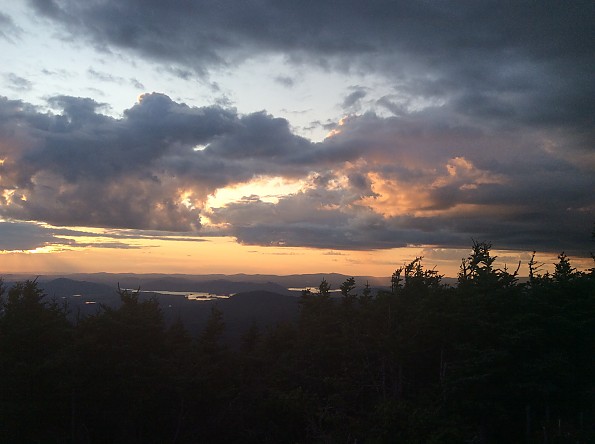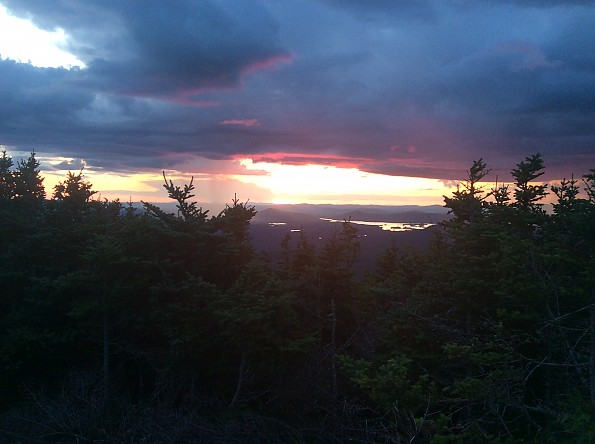 A nasty storm just to my east. About an hour later part of the fringe hit me, I'd seen it coming and had everything either in my tent or in the pack with the rain cover on.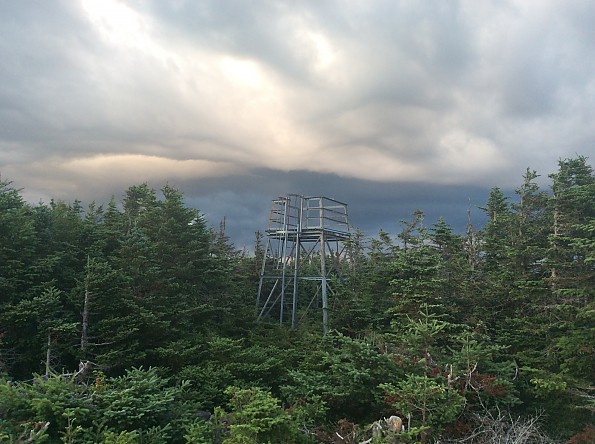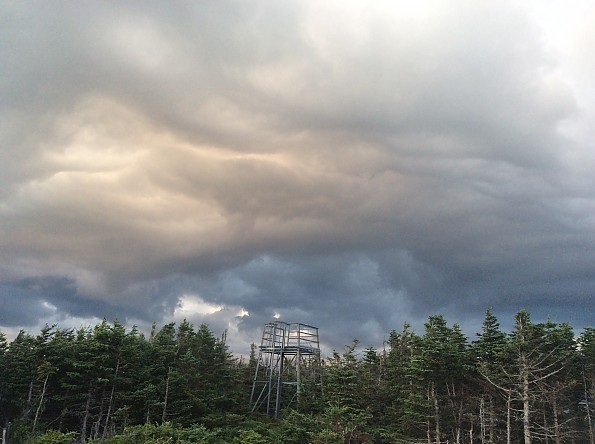 Rain falling on Jackman. On the left is Attean Pond, Wood Pond on the right. Most of Jackman is on the east side of Wood Pond, behind the island in the pic. (View is to the north.)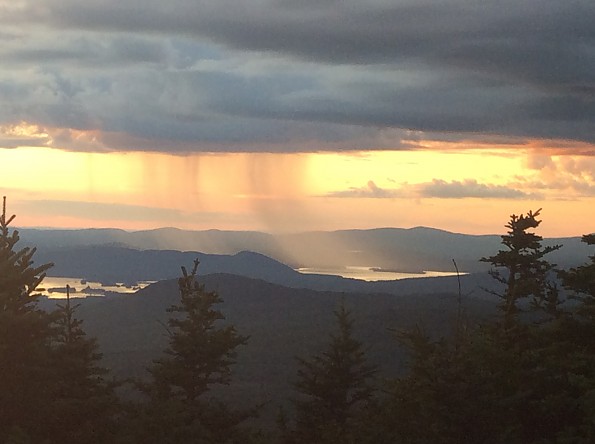 I actually had a pretty miserable, chilly night due to a tiny leak in my air mattress. About every 45 minutes I'd wake up from a rock poking me in the hip or shoulder and the cold from the ground, roll onto my stomach, and blow the mattress back up. Around 0530 I'd had enough and got up to this view to the southeast. That's not a lake.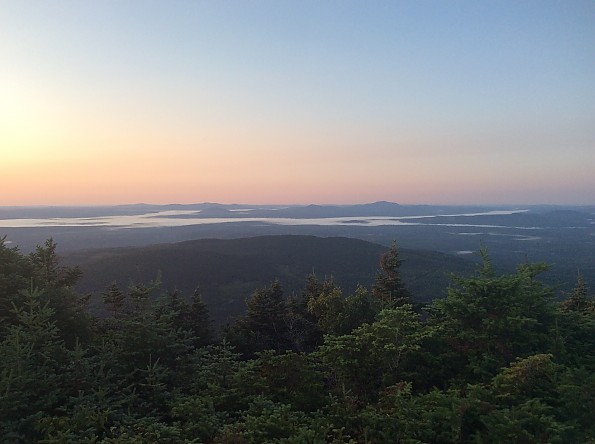 While my breakfast (Trailtopia Egg Scramble, it says to add cold water and fry but boiling water and eating from the pouch worked just fine) was reconstituting I leisurely packed everything into stuff sacks, shook out the wet tent fly and put it in the shove-it pocket, and let the tent air out a bit. After I finished eating it took about 10 minutes to get ready to head down.
I took the main trail down, wearing my rain pants because it has knee-high vegetation for the first half mile. The sun being up in a mostly cloudless sky made it very humid!
Hiking about once a week, even short hikes like this, seems to be doing the trick with my knees because 95% of the pain I felt every day is gone. Even spending a day climbing up and down ladders or getting on the floor and back up again doesn't bother me. I have to twist or bang it for that, and it doesn't last very long. It sure beats knee replacement!