BigRed
REVIEW CORPS
7,508 reviewer rep | 1,292 forum posts
5:26 a.m. on August 14, 2021 (EDT)
The island of Senja (sen-ya), North of the Arctic Circle, is sometimes described as Norway in miniature because of its rugged, fjord-incised west coast but relatively rolling east side, much like big Norway. Its highest peak, Breitind, stands just 100x m (and the only one over 1000 m), half the 2000 m cutoff used to distinguish Norway's highest mountains.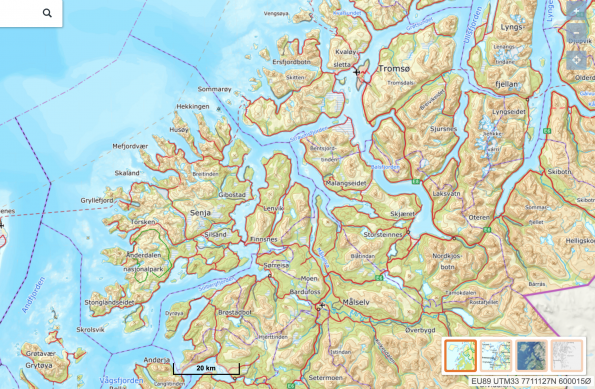 Our daughter, the Amazing Mollycule, signed up for the 100 km Sans Senja Ultra in July, so we the family converged on Senja to support her for the race and more generally explore and enjoy the island. Nancy and I jumped at the opportunity to visit some of northern Norway, and made stops at various places of interest along the way. Molly and her husband Audun now live here in Trondheim (and we are selling ours and moving to the other side of the city to be nearer to them), and drove up separately to accommodate the last week or so of Molly's training schedule. Our other daughter Zoe and her boyfriend Endre live just north of Senja in Tromsø and so drove south the the rendezvous. We -- six adults and three dogs -- base-camped in an Air BnB house near the southern end of the island. 
Our first stop on our way north was the long, narrow island of Alstenøya, home of the Sju Søstre (Seven Sisters), a line of mostly bare granite peaks in the 900-1000 m range that form the backbone of the island. To do all seven in one go takes maybe 15 to 20 hours, 26 km with 3525 m of vertical, a bit much for me both time and fitness wise, so I settled for doing the northern five (solo -- way too much for Nancy) in about 8 hours.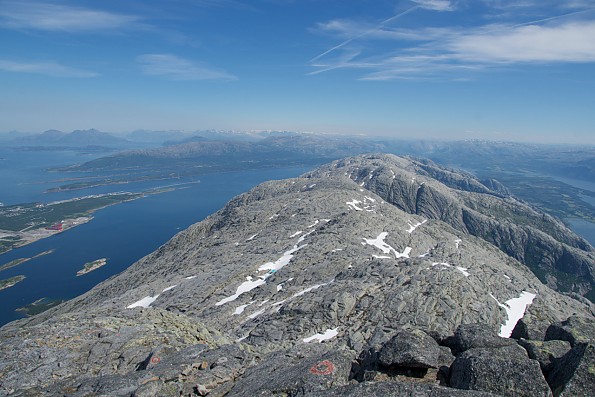 Continuing north back on the E6, the main north-south highway, we digressed for a short hike to Marmorslottet (the Marble Castle), a little gorge with nicely sculpted walls and potholes carved into marble bedrock.
We made a coffee stop at the touristy Polarsirkelsenteret where the E6 crosses the Arctic circle. What caught my fancy was the sliced and smoothed block of "rainbow marble" from Fauske a little further north, that served as the plinth for the little monument marking the Circle (here with colors pushed).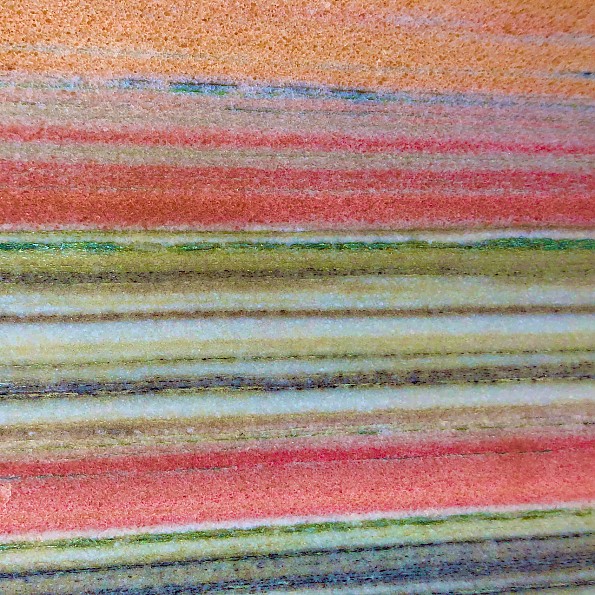 Molly was the first of a dozen or so women to finish the race, and fifth overall, meaning that she was faster than a far larger number of men (proud father speaking). We met her at various road crossings along the way, feeding her and changing socks and powdering her feet, then sending her on her way. There were whiteout conditions at the higher elevation through most of the day, making for some navigation slowdowns on the lightly marked course.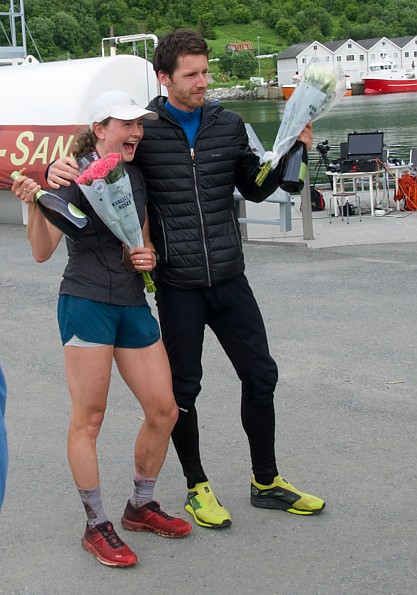 Molly's next race (unless Covid somehow blows it up again), by the way, is the 160+ km Ultra Tour de Mont Blanc (UTMB), which has been her ultimate goal for some years now. She was supposed to run it last year but it was cancelled for obvious reasons. Nancy, Audun, and I are all going down to Chamonix at the end of the month to crew for her.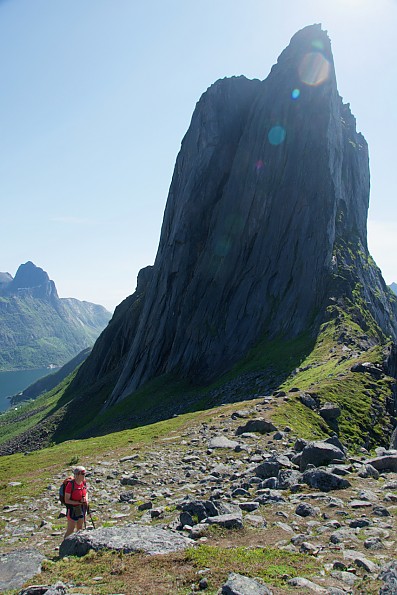 On the day after the race, Nancy and I drove back to the northern part of Senja for a modest ascent of 558 m Hesten (the Horse) which gives great views of Segla (the Sail, in dialect), the fjord below, and other striking peaks to the north and east, including Keipen and Grytetippen, which I did the next evening. Segla (640 m) rises straight up from the fjord and looks impossible, at least as a hike, from north and east, but the south slope is more forgiving, so I power hiked it in a few hours on the same day and met Nancy back at the car.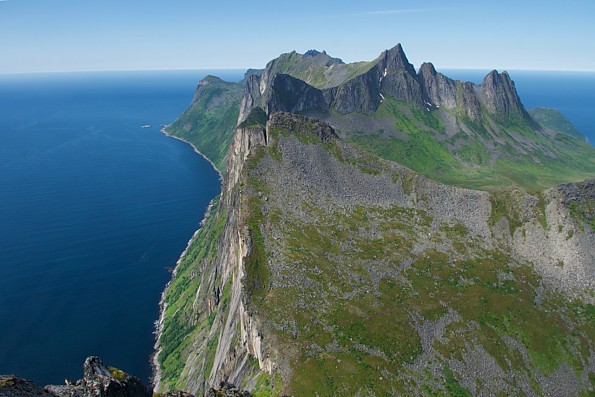 Like so many places, Senja has been "discovered" in recent years and these relatively easy but dramatic hikes are seeing a lot of traffic, pretty much all Weegies in these Covid summers, so there is lot of soil compaction an ersosin going on. There aren't really built trails, so on Segla and other places there is a braided network of paths. It will take some funding and some good trail work to clean up.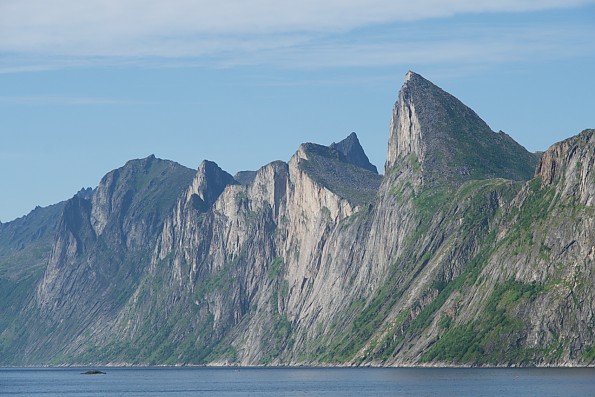 The morning overcast the next day never really cleared as forecast, so I waited until evening to take on Keipen (938 m) and Grytetippen (887 m), joined by a ridge so easy enough to do in one go, in my case in only about 4 hours getting down at 10 PM. Here in midnight sun country, a few hikers were just starting up as I was finishing. There might be some wisdom in trying to reset the body clock to do more "night" hiking and enjoy the midnight sun, but as it is I have strong biorhythms, usually waking up at the same (very nearly exact) time every day without the aid of an alarm clock, so I get pretty messed up when I get off schedule. Oh well.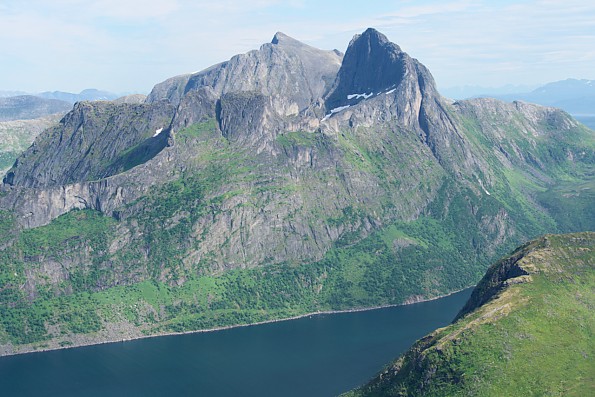 We continued north to rejoin Zoe and Endre and their puffin dog puppy Pippin in Tromsø, where Zoe and I ascended a clouded-over Tromsdalstind. We encountered some domestic reindeer on the way down.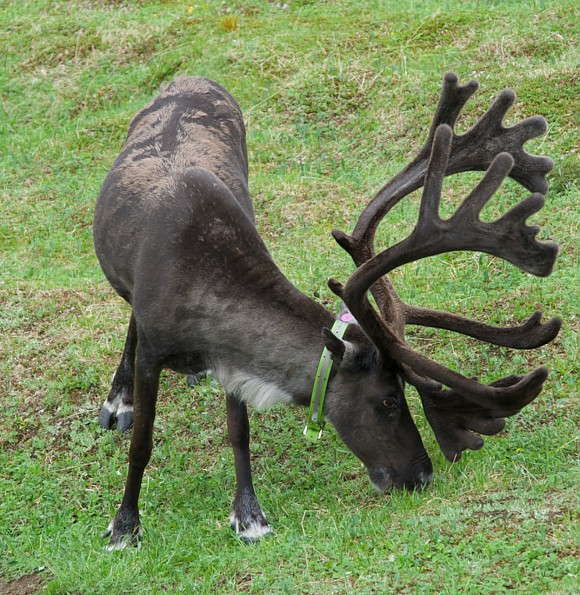 We also visited a superb alpine plant garden at the university (where Zoe finished her Master's in space physics a few year ago; she now works for a Norwegian satellite communications company). We then hustled south, completing the 16-hour drive in two days, to get back to readying our house for sale.
I see I haven't filed a trip report in over a year. I ended up working the Norwegian medical system pretty hard (for me at least) in 2020 and on into the first part of 2021. In June 2020 I slipped and banged up an elbow while descending an easy hike, and it got infected, resulting in 5 days in the hospital on IV antibiotics. On my first backyard xc ski of the season in late November, I took a fall and broke my right wrist. When it failed to heal on its own after about 6 weeks, they put a screw in it, and it took 8 more weeks for that to heal so I was skiing one-handed and trying to take it easy for much of the winter.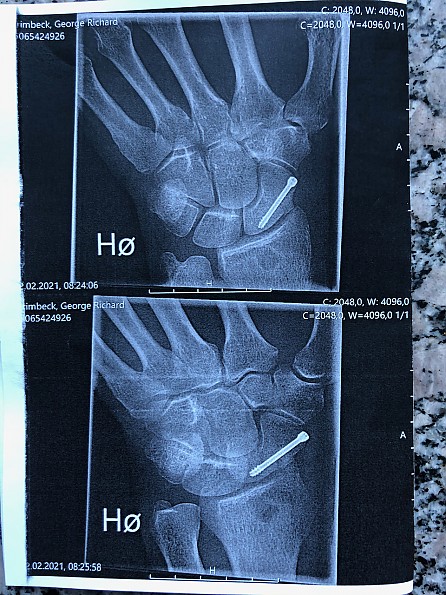 With my hand back in action I had a reasonably productive spring ski season, getting in a few new summits as well as some old friends and a couple 2000m days, Molly and Audun, my buddy Christophe, and friend Steffen.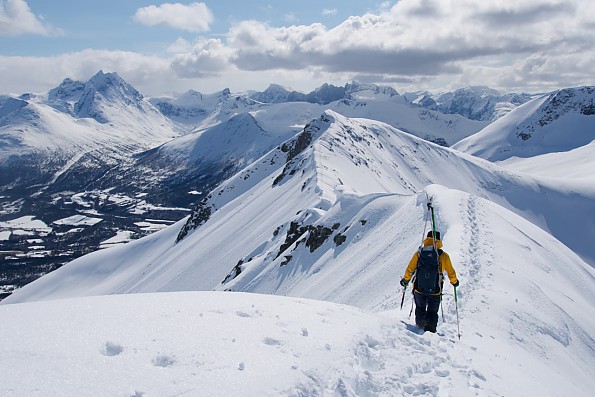 In late May Nancy and I got in a three-day kayak trip in the island maze off the west coast of Hitra, a big island a bit southwest of Trondheim. We finally bought dry suits, a big safety and confidence booster in cold water. And sprinkled in amongst my more ambitious outings we have done various day hikes together and an overnight hut tour here and there.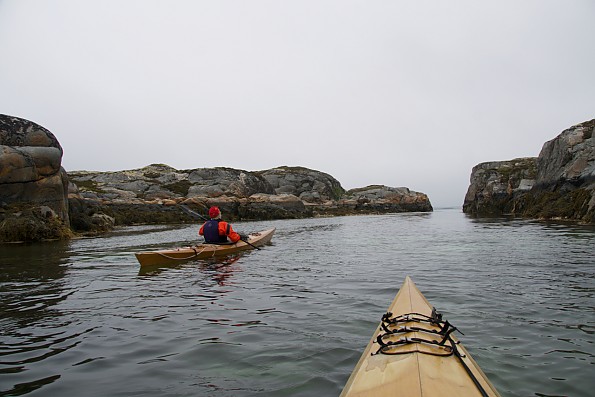 Now on this rainy Saturday we are just a few days away from concluding our house sale, after spending much of my summer vacation time doing all the little and big improvements I should have done over the 16 years (minus 1.5 years' worth of sabbaticals) the we have lived here.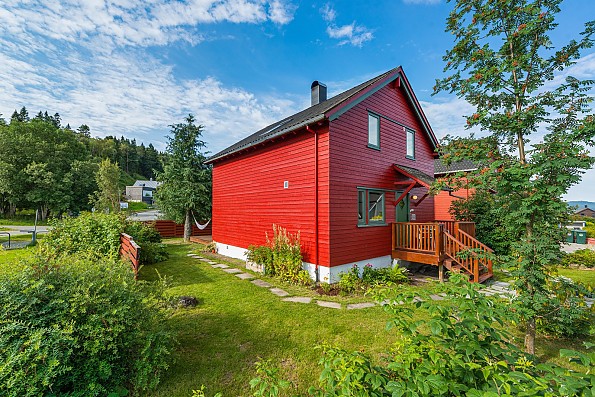 Rather than the dreamed of house in the woods (needs a lot of work), we bought a roomy "terrace apartment" on the west side of the city, right on the boundary of Bymarka, the city's other forest area, which has a much larger It's 1.6 km as the crow flies from Molly and Audun's house so we can walk or bike rather than drive for 25 minutes to visit. As we say in Norwegian, "Vi har det godt!" ("We have it good!").