BigRed
REVIEW CORPS
7,508 reviewer rep | 1,294 forum posts
2:02 p.m. on September 2, 2021 (EDT)
Results first: Mollycule (my amazing daughter) was 16th of 111 women and 108th of over 1500 total runners that finished in this year's Ultra Tour de Mont Blanc. She covered the official 172.1 km and over 10,000 meters of elevation in about 30.5 hours, arriving back in Chamonix at 11:30 PM on Saturday night, a little over 8 hours behind winner Courtney Dauwalter.
My wife Nancy, son in law Audun, and I were her support crew, following her around the course to provide her with food, sock changes, and some much-needed encouragement. She went in super confident but that wore off pretty quick and she needed support and a little push now and then to keep going.
We had four days of gorgeous weather in and around Chamonix. Nancy and I hiked up to Montenvers above the Mer de Glace (much diminished compared to when we hiked the TMB as a family 15 years ago), then across a section of the Grand Balcon Nord and back down to Chamonix, without taking the train or telepherique to help us along.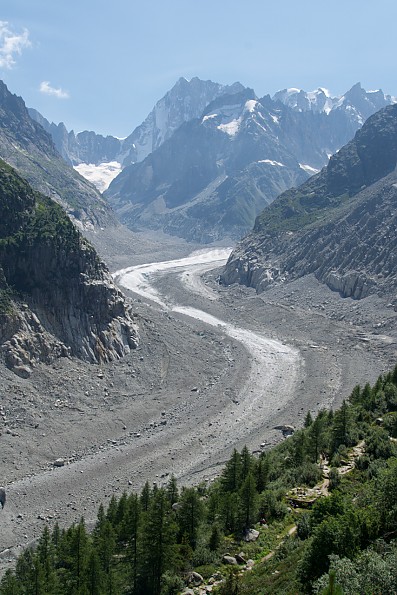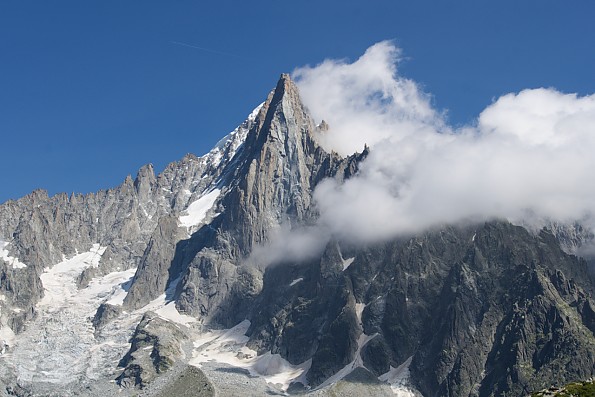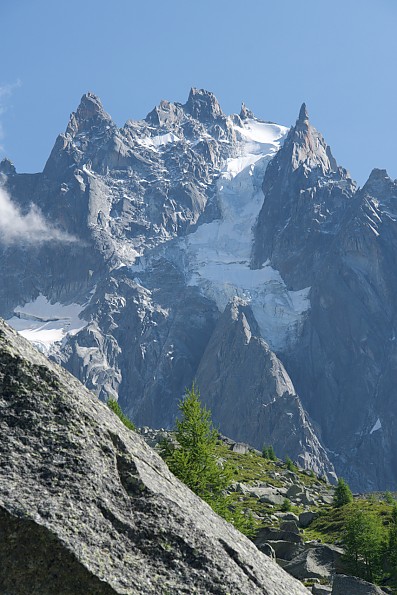 On Friday, Molly was due to start at 5PM, so I went for a solo power hike up to La Jonction, were a big icefall splits in two on either side of a ridge, one side becomeing the Glacier des Bossons. I rode a chair lift on that one to get a head start and make sure I got back in time.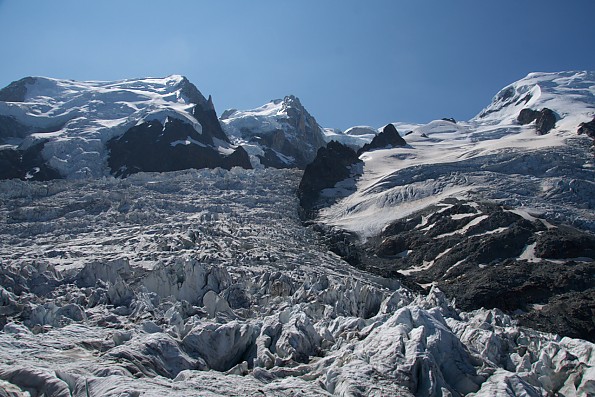 We took UTMB buses to follow Molly to the aid station at St. Gervais, where we watched the lead runners come through. (We had a rental car but the traffic was pretty bad.) Then on to the aid station at Les Contamines just as it was getting dark.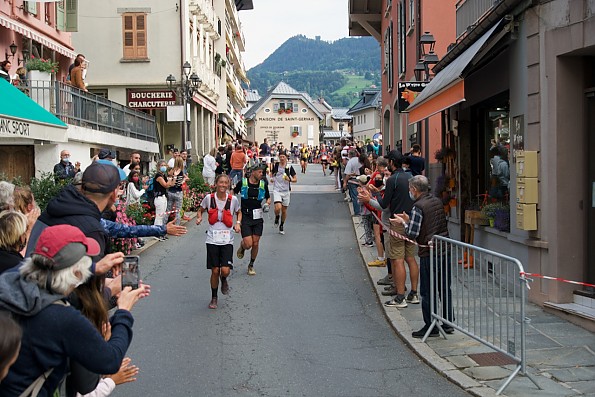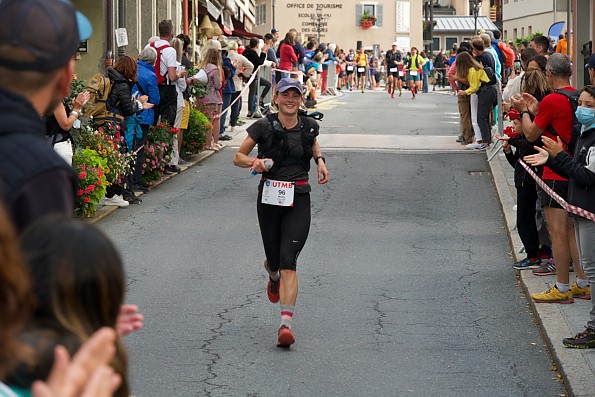 On Saturday morning I took a two hour bus ride to La Fouly in Switzerland to run Molly in after her long night out (Audun slept in the car at Les Courmayeur in Italy to meet her in the wee hours). Various combinations of us rendezvoused with her at other points along the course, the last in the evening at Col des Montets before the final 16 km including one last big climb.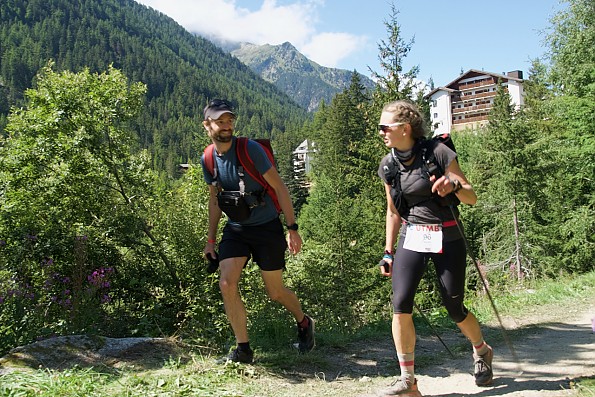 Audun accompanies Molly into Champex Lacs
To honor Molly's effort, Nancy and I returned to Col des Montets on Sunday morning and hiked the race course up to the Grand Balcon Sud, as some of the last runners were coming through. We left the course to detour to Lac Blanc for coffee and crepes. As we came down in late afternoon, we met part of the "clean up crew", a jolly couple in our age range who were taking down the course markers.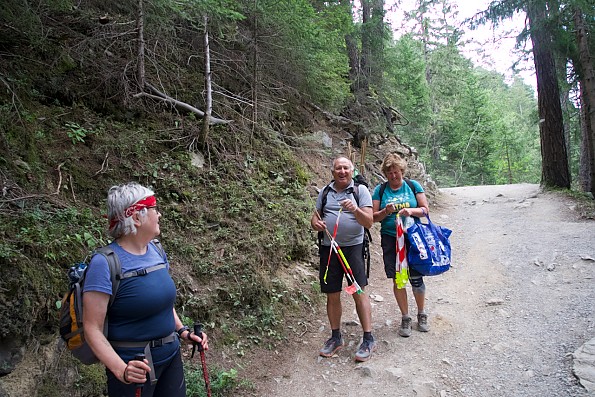 We all stayed in a little apartment close to downtown, and had a few meals out.
Chamonix is crowded and crazy and surrounded by crazy beautiful mountains and glaciers. There were hordes of people not only in town but at Montenvers, where a cog railway takes people up to the Mer de Glace viewpoint, and at Lac Blanc. I think of it as a kind of anti-national park, what Yosemite might be like if it were wide open to development. It's an "anything goes" thrill center, with parapentes circling above the valley all day long, at least on these nice days.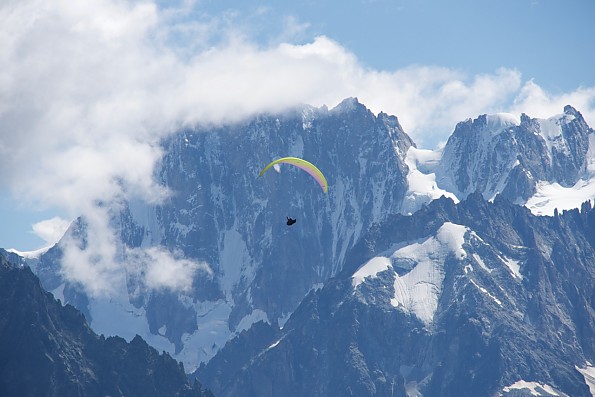 I know some TSers think of the Alps as a place to stay away from because of the crowds, and my friend Christophe left it all behind to live in Norway. But it is what it is, and I surely don't mind spending an intense long weekend there, especially if it's to help my daughter achieve a life goal.