whomeworry
171 reviewer rep | 3,795 forum posts
8:55 p.m. on December 7, 2021 (EST)
Did another fine trip to Joshua Tree, over the weekend leading up to Thanksgiving.  The landscape was drier than ever!  We camp in the high part of the park.  The only plants that didn't appear stressed were the barrel cacti, Echinocactus polycephalus.  Particularly hard hit were the beaver tail cacti Opuntia basilaris, Opuntia chlorotica and Opuntia phaeacantha.  I have witnessed some of these beaver tail cacti specimens grow from single pad small fry over the prior 36 years, only to stress and completely die off in the last 5 years.  The Joshua Trees are losing crown mass, many dying off, with insignificant numbers of new Joshua plants replacing the dead ones.  Even the mistletoe is dying off, yet in many instances their hosts are still eking it out.   The creosote and other chaparral are putting out minimal but otherwise healthy growth and does not look diseased.  We had some bats around our camp, saw and heard a few small birds, and detected signs of predators digging up burrows, but otherwise saw nor heard any other fauna, particularly the owls that have patrolled the nearby ravines for decades.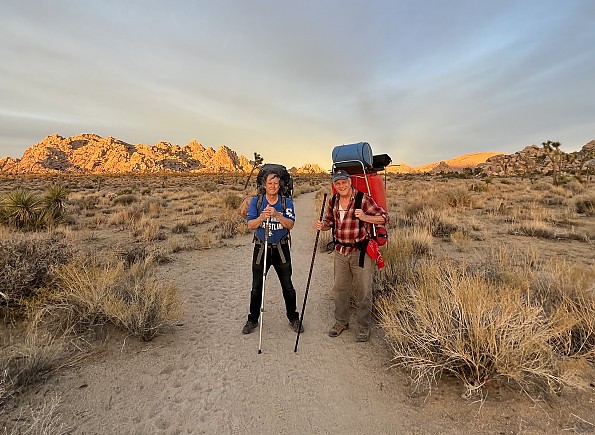 Above: Old college friend, Eric, and I, as we take in a very beautiful Josh sunset.  This vista has only 10% the number of Joshua Trees that once dotted the area 35 years ago.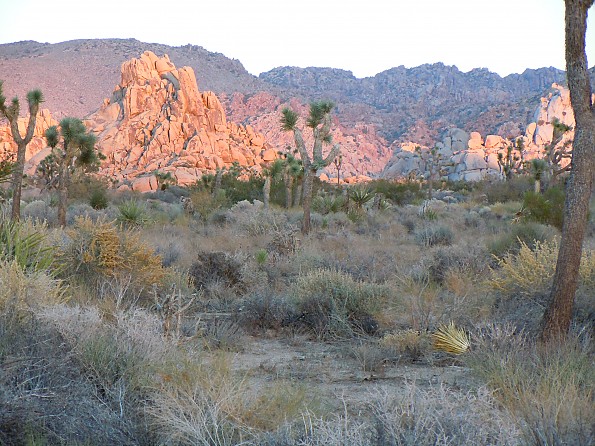 Above: Compare this image  taken six years ago at the same time of year to the prior image.  Both are from the same area.  Compare the dramatic difference in the number of Joshua Trees and the density of the chaparral.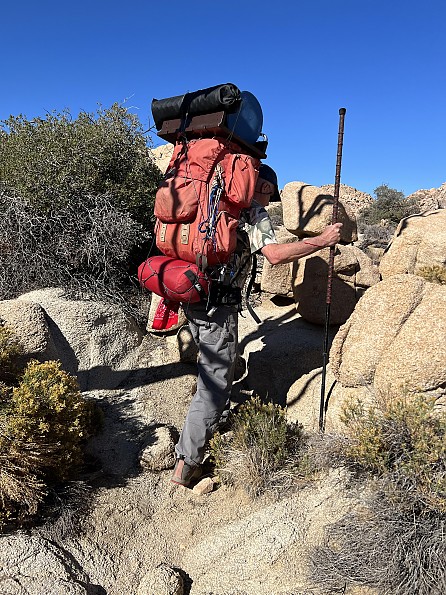 Above: Trudging XC on the last mile to our camp.  As the terrain alludes, it is unlikely others will discover our camp.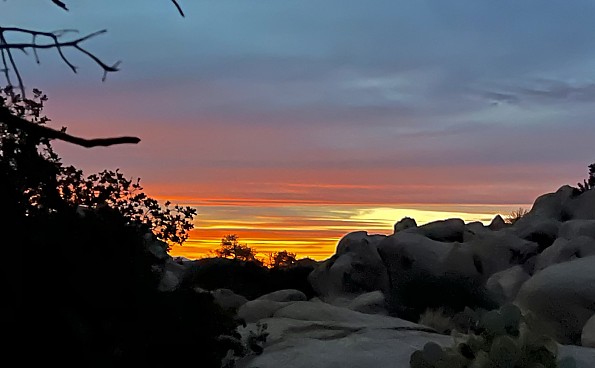 Above: We got to camp, right as the sun set over the horizon.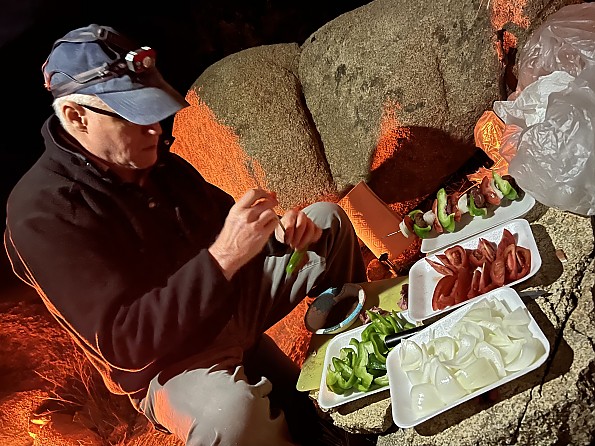 Above: Prepping the first night's dinner.  Since each person must carry 20 + pounds water for a 3 day stay at our dry camp, and the moisture in fresh food counts, we eat quite well at our Josh camp.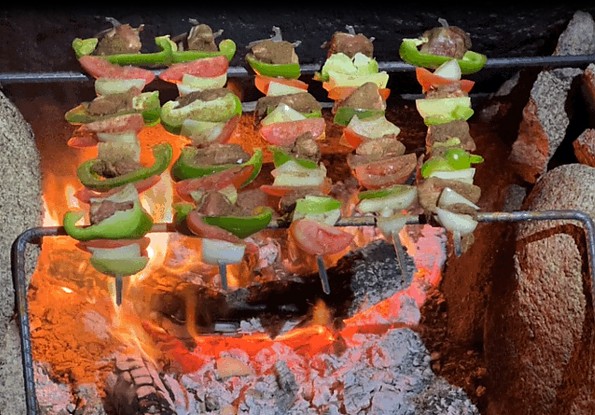 Above:  Moroccan spiced shish kabobs.  A middle eastern style dipping sauce of yogurt and herbs accompanied the kabobs.  The next evening we enjoyed roasted chicken tacos with pico de gallo sauce and avocados.
Ed