10:09 p.m. on February 24, 2009 (EST)
Tom D

38 reviewer rep
1,902 forum posts
This is the TR from my little trip to Yosemite. The "Jim" referred to here is Jim Shaw, who Bill knows.
I left LA at 4 am on Tuesday morning, the 10th and by about 9:15 was at the Wawona gate. R2 chain controls were on from the gate, but I have 4wd, so no need to chain up. A good idea though as I found out later.
Got to Badger Pass around 10 am, got my permit and headed down the Glacier Point Road on skis towing my sled. A pretty easy ski to the Dewey Point trail, where I turned off. The trail was pretty well packed down by snowshoers, but a little narrow, so the sled was dragging a bit-not the sled so much as my duffle bag on it. After a while, I realized I should have put my skins on before going off road, so I stopped and did that-big difference.
I went about 3/4 mile or so-almost to the end of the big meadow and then dragged my sled through about 2 feet of powder until I found a little clearing about 25 yards or so off the trail. It took me a good half hour or more to stomp down a platform for my tent, the snow was so deep and fluffy-not a lot of water in it.
I had plenty of daylight, so not a problem. Got the tent set up, dug out a footwell and kitchen area in front of me, put all my gear away and took a nap.
Long story short-it snowed on and off from Tuesday through Saturday. I didn't really go anywhere else-just fiddled with my gear, did some reading. Spent a fair amount of time digging out the tent each morning. My camera was acting up, so didn't take a lot of pics either.
Saturday I heard from some dayhikers that the weather was supposed to really get bad and I was supposed to meet friends that night at a cabin we had rented at Wawona, so I decided that I might not get out without snowshoes, since the snow was so deep and my skis weren't likely to float enough.
So, I skied with just a light pack back to Badger Pass, rented snowshoes, skiied back, packed up my gear and snowshoed back to the road. The track was actually packed down pretty good, so it wasn't as hard as I though it might be, all things considered. I snowshoed back until I got to the downhill part of the road, switched to skis, then skiied the rest of the way. I had to dig out my car a bit, and wound up packing up in the dark. By the time I got to the cabin, I was pretty knackered, but my friends were surprised to see me since I'd called one of them and told her I thought I might not get out until Sunday.
That's about it, really. A few observations:
Next time, I'm bringing skis and snowshoes-off trail, skis just don't cut it;
My Coleman stove worked great-one little flare-up that I attribute to snow or ice on the burner;
Always have your shovel handy-in the vestibule and no further away. Don't leave home without it;
An overbag is a pain in the ***, but it worked. I was toasty warm and it got pretty darn cold. I used by parka as an additional "blanket;"
My big parka is also a pita to carry, but well worth it; my GoLite pants worked great too; I pulled them on over my rain gear most of the time when I got cold;
I wore a Serius balaclava I got last summer-worked pretty well, I wore it most of the time instead of my fleece beanie, which was rubbing my forehead raw for some reason;
If you are cold, eat something, works wonders, also drink plenty even if it means getting up a couple of times at night;
Having a cabin full of friends to go to right after solo camping is a nice treat;
Hitting the brakes on a 4wd with no chains turns it into a 4000 lb snowboard really quickly-not a good idea;
You can get along with just wool gloves and mitt shells unless it gets really cold; I like the wool gloves even better than my synthetic ones. Unfortunately, one finger has a tear, so I need to figure out how to fix that;
My plastic ski boots worked pretty good, but the liners were a bit too tight, still my feet came through with no blisters after giving them a rest for a couple of days between skiing;
I took too much stuff, as Jim keeps telling me, I'll pare down the load next time;
A pair of mukluks would have been nice for just around camp or for wearing with snowshoes.
Here are some pics-the weird one I'm putting up just to show what my camera was doing-the chip is dying.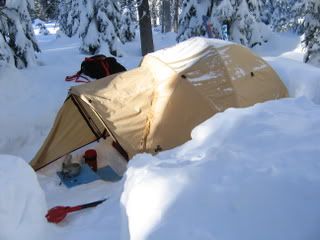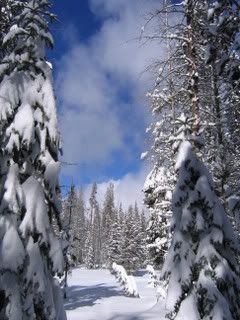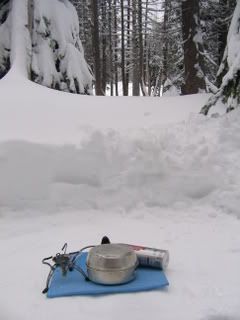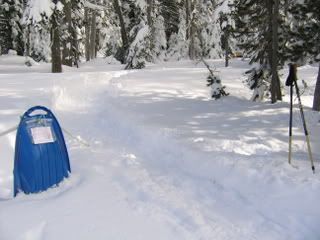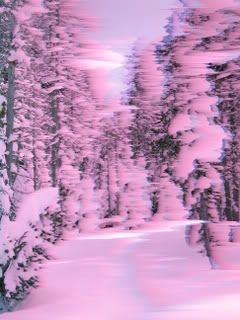 The drive out on Monday. I had met my friends Saturday night and stayed at the cabin till Monday morning. Heavy snow and ice on the road. The Grapevine was closed (the direct route to LA), so we had to drive to the coast-added an extra 180 miles and turned a 6 hour trip into a 14 hour drive because of the extra miles and stops, including a blown tire on another car in our group that I stopped to help.