2:11 a.m. on August 28, 2009 (EDT)
Gary C.

22 reviewer rep
210 forum posts
It's taken me a while to put this report together and I still don't know how to describe the experience. It truly was awesome and I say that because I was full of awe for almost the entire trip. I had planned on doing a lot of fishing on this trip but by the third day it just didn't seem that important anymore. Partially because I was usually very tired but mostly because it was so nice to just relax and enjoy the never ending beauty of the Yosemite wilderness.
There were five of us on this adventure from Tuolumne Meadows to the Yosemite Valley. We hiked about 6.5mls the first day(Saturday). These are a couple shots along the trail on the way to our first nights camp at Booth Lake.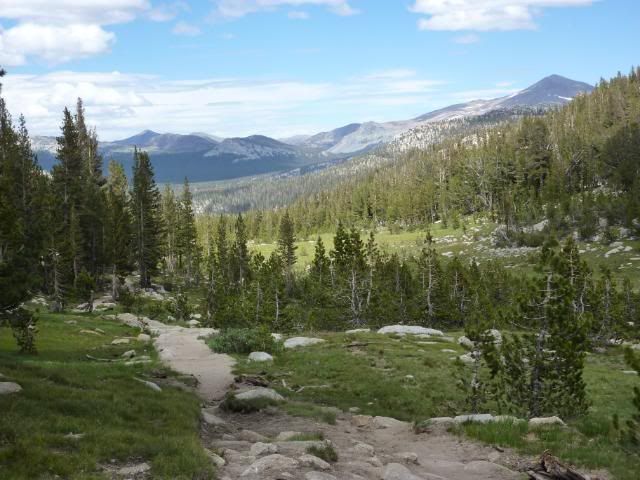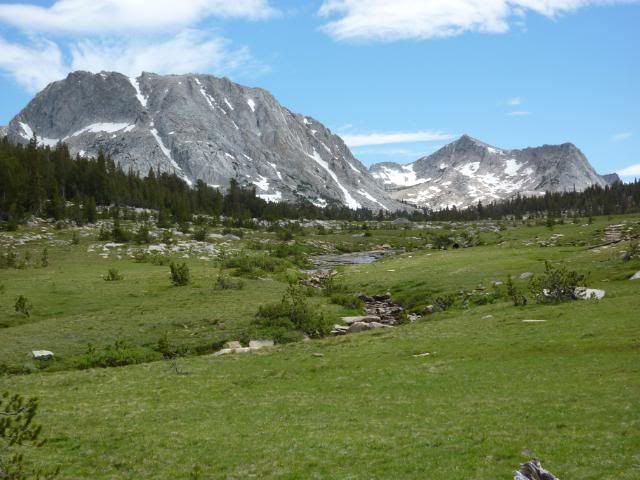 We set up camp at Booth and soon found out that we had the entire lake to ourselves and it remained that way until we left. The skeeters were medium bad but a breeze and the fact that our camp was on a nice saddle kept things tolerable. We caught lots and lots of little brookies while we were there.
Our campsite at Booth.

Sunday after fishing we packed up and started for our second night's destination, Bernice Lake. This was suppose to be a easy day except that we knew it would be tuff going over Vogelsang Pass which is well over 11,000ft. By the time we got over the pass and down into the next valley we all decided that we didn't feel like climbing the 2mls and 2,000ft it would take to reach the lake. We ended up just following the main trail towards the Merced High Sierra Camp about a mile and made camp for the night.
Vogelsang HSC

Going over the pass.

From our break area near the top of the pass.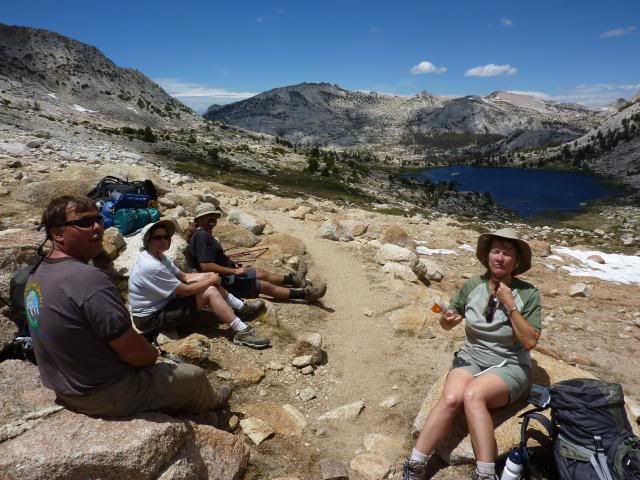 The view going down the west side of Vogelsang Pass.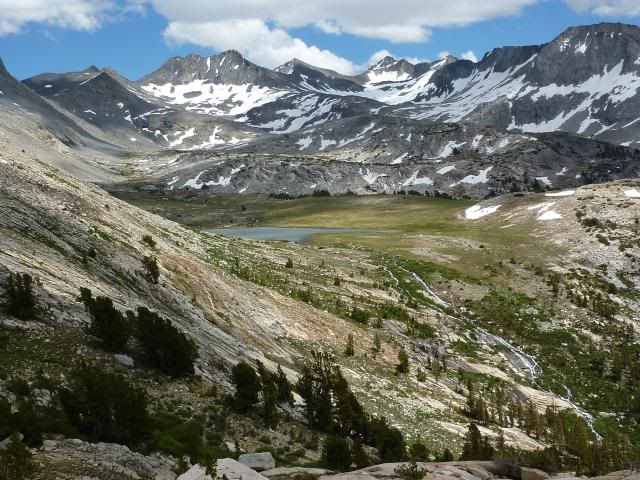 Our camp on the second night and 14mls into the journey.

Our motley crew, myself, Debbie, Marshal, Tanya, and Vince and some of Mondays scenery. I can't tell you how fortunate I feel to have a woman like Debbie that is willing to do a hike like this with me. We were headed for Washburn Lake to camp for two nights with a layover day to fish the lake. Markskor had recommended this lake because of its beauty and good fishing. We figured that we would be ready for a rest day by now for sure.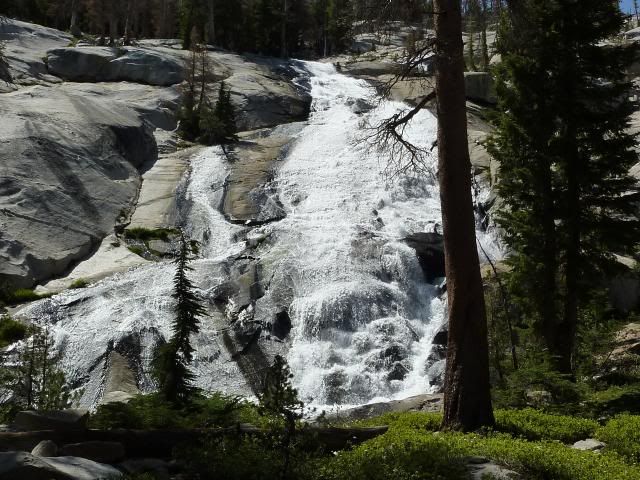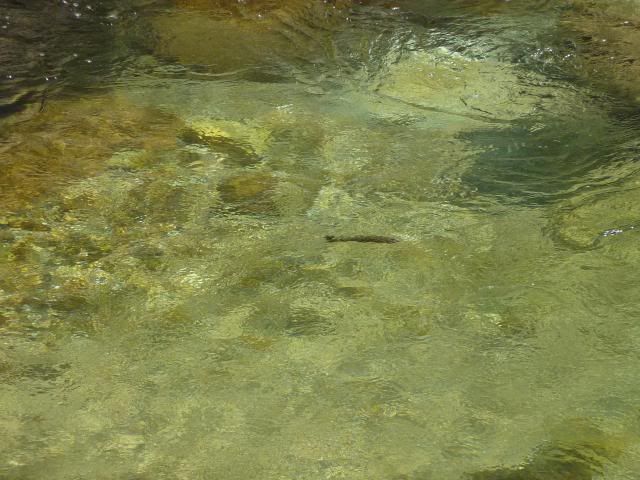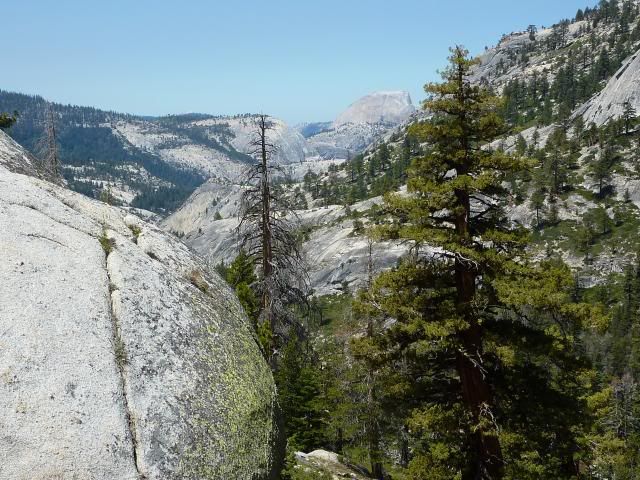 On our way to the cutoff for Washburn we got our first glimpses of Half Dome and Merced Lake in the foreground.

The Merced River along the way to Washburn was beautiful with a lot of fish to be seen.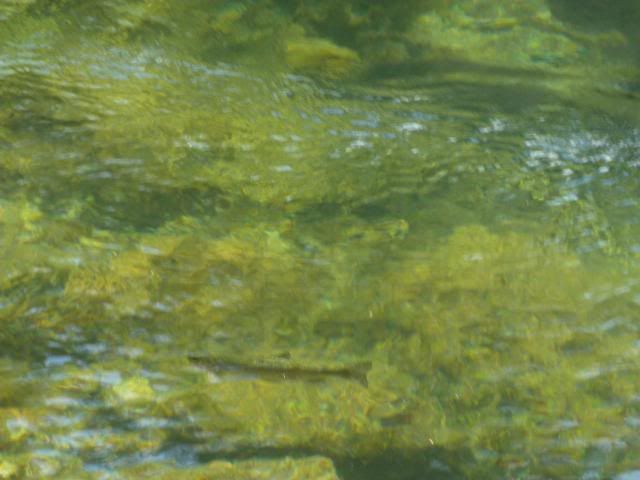 Washburn Lake was every bit a beautiful as we had been told but the good campsites were near the inlet and outlet surrounded by marshes and filled with mosquitoes so we had to camp in an area that we were not really suppose to camp. Marshal and Vince did very well fishing a fly and bubble but it I had a hard time because of trees and brush along the bank. I managed a few small fish from the lake and a couple of nicer Bows from the Merced right below the lake.
Marshal with a little Brookie. Washburn Lake was another place that we didn't see another person the entire time we were there.

Me fishing the outlet.

Washburn Lake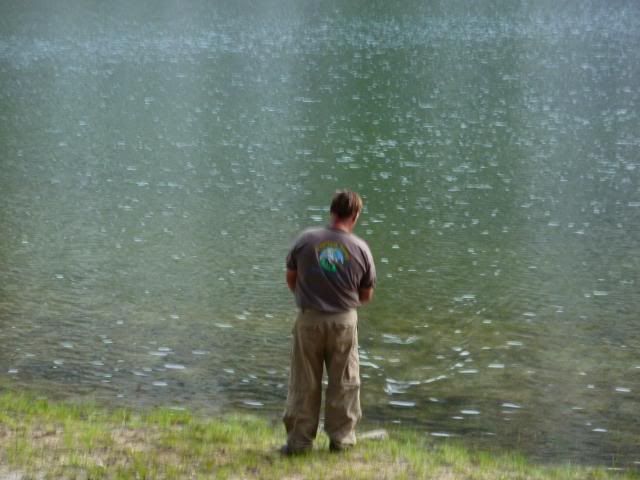 Tuesday morning we decided that rather than stay another night we would hike down to the Merced HSC to camp and rest up a little. It would also mean that we would not have as far a hike on Wednesday to our campsite above Half Dome.
Campsite at the Merced HSC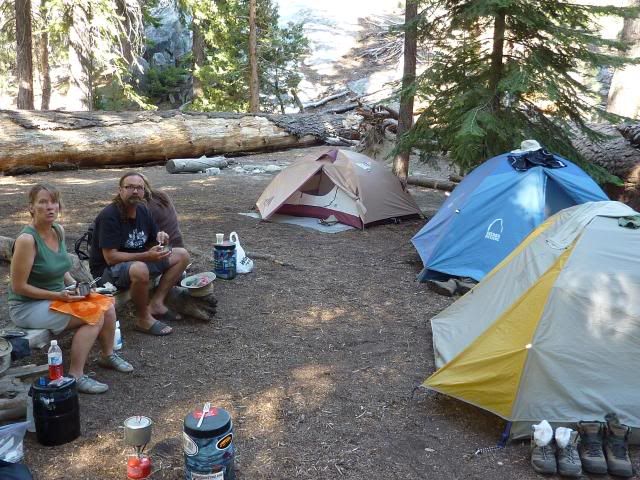 The hike to our campsite before Half Dome was a killer but again very beautiful with a lot of wildlife. We had seen a lot of deer but these two were the nicest bucks of the trip.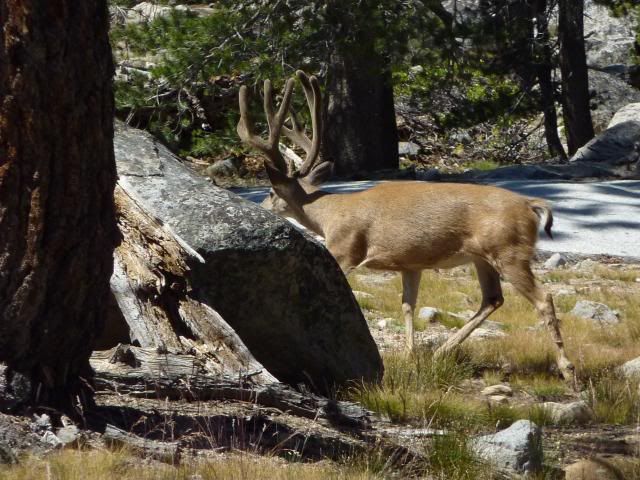 A non-typical mule deer, check out all his spikes.

Sage Grouse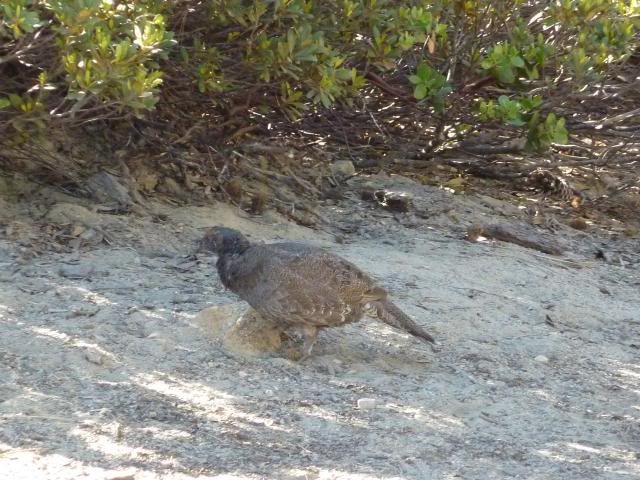 Rattle Snake at almost 8,000ft

Thursday we got up and started for Half Dome. Here is a picture of Vince on the sub-dome before we started up the cables. This is around 8am before the crowds from the valley started to arrive.

From the top of Half Dome.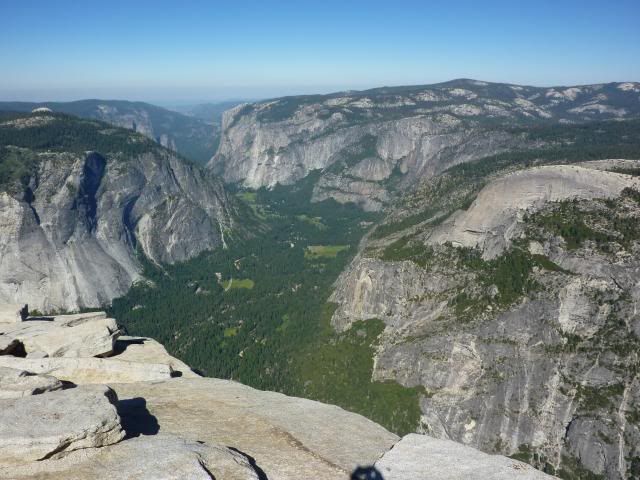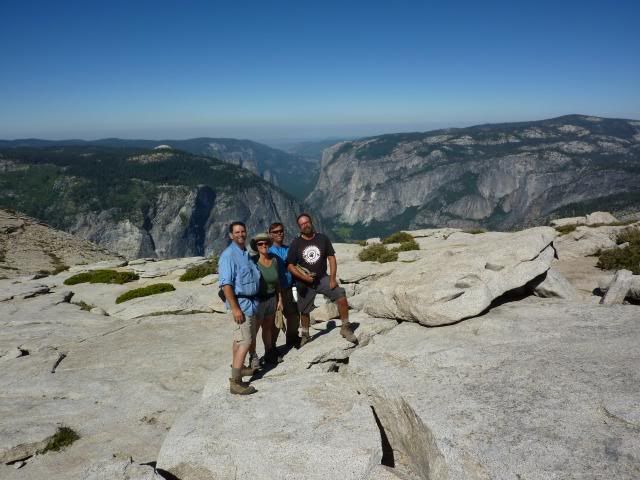 Debbie and I after coming back down the cables. You can see that the valley folks are starting to show. Later that afternoon we heard that they had closed the cables to do a rescue on a woman that passed out half way up the cables. The climb up was much harder than any of us expected that is for sure. I couldn't believe how many people hiked up there from the valley unprepared and without water, just crazy. As you can see the masses were starting to arrive about the time we came back down the cables.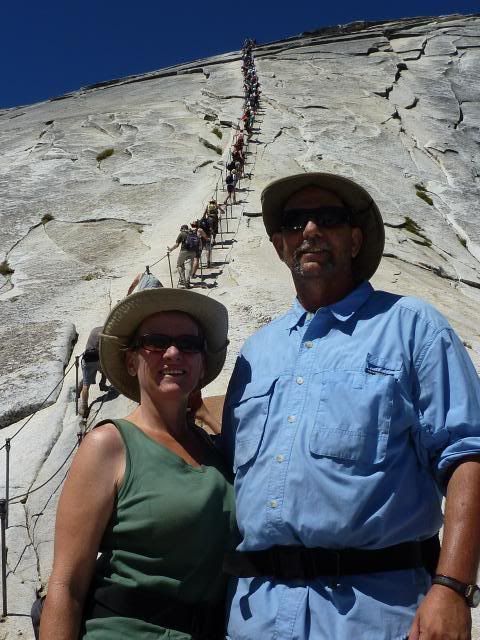 Five happy hikers about to leave on there final leg down to the valley past the beautiful falls and lots and lots of people. We had seen very few others until we got to Half Dome but from here on down it would be a madhouse. Higher up all of the rangers and HSC employees kept referring to the "type of wilderness experience we had been been having" but I really didn't understand what they met until we got to Half Dome, now I do. There were so many people without what I would call an understanding of just how great this place was it made it feel more like Disneyland than the "type of wilderness experience we had been having". I didn't even feel much like taking pictures the rest of the way down.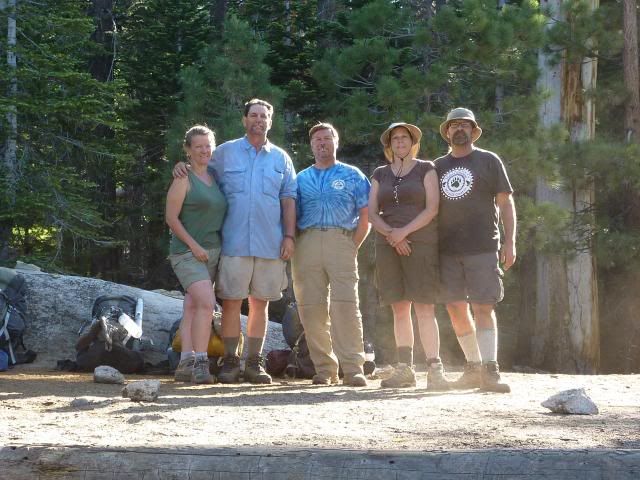 Nevada Falls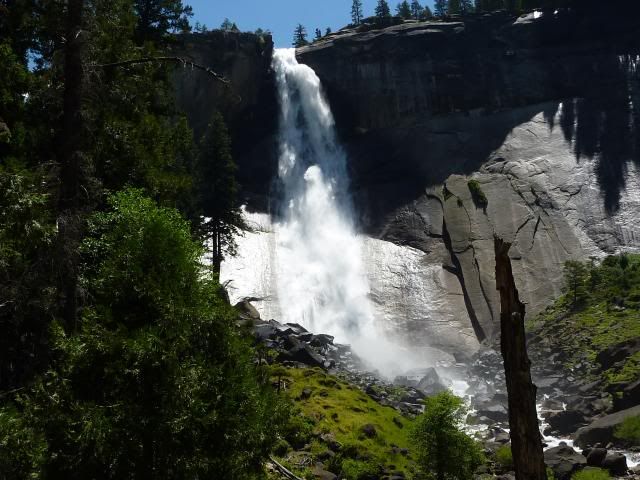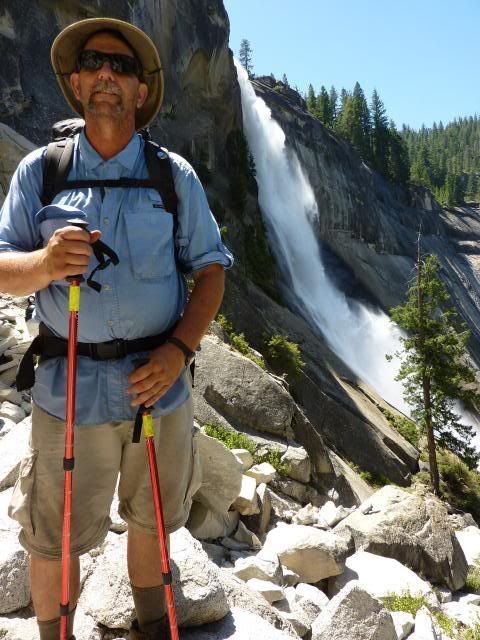 Vernal Falls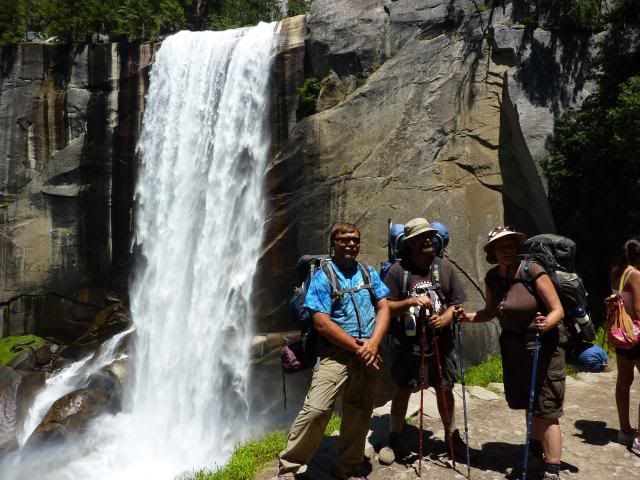 I know this wasn't the best TR but it was all about being there for me. How can I desribe a 45+ mile journey through heaven. It was much more than I expected and a very spiritual experience by the time it was done. I can't wait to go back and explore some more. I think I'm helplessly hooked on the Yosemite backcountry. The people I went with, the sites we saw, and my first long distance BP trip made it all unbelievable.
Gary C.