Tipi Walter
295 reviewer rep | 1,445 forum posts
1:22 p.m. on February 14, 2010 (EST)
I just got back from a neato backpacking trip in the mountains of Tennessee and so here are some of the fotogs:(Feb 2010)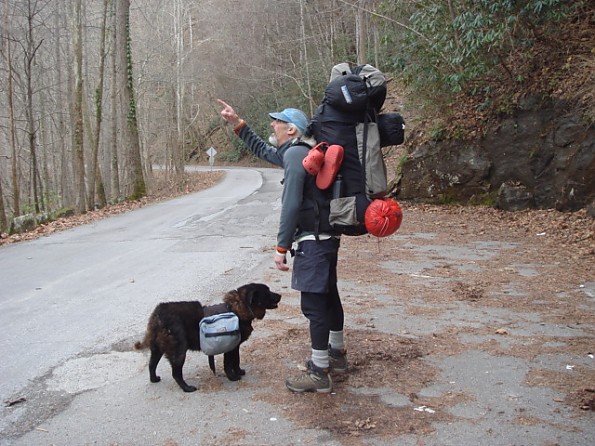 My GF drops me off at the Bald River wilderness trailhead and I'm loaded down with 15 days of food and winter gear. The red thing's my tent and the top high sac is my third overflow food bag. Shunka dog also has some weight.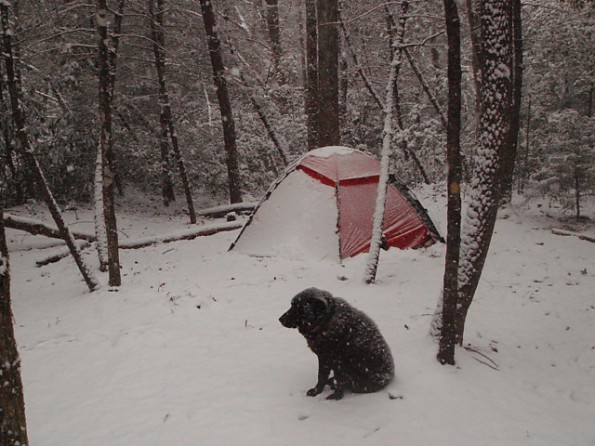 I set up in the wilderness and my first snowstorm of the trip begins. There will be two more before the trip is over. My tent of choice is a Hilleberg Staika.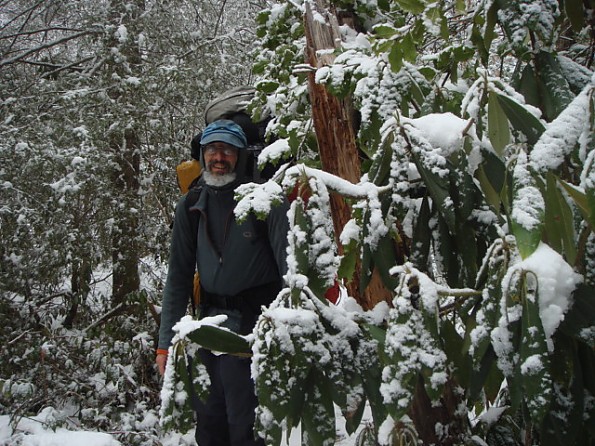 I leave the wilderness at this Cow Camp trail junction and tie into the North River and a northeast trail called the Hemlock Creek trail #101.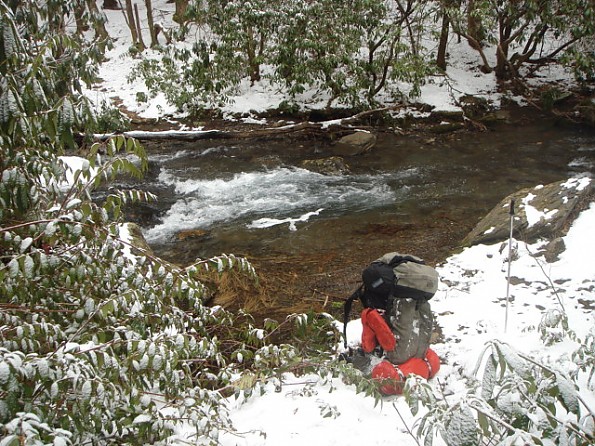 I get ready to change into Crocs and have 7 total crossings of the creek but after the 4th crossing I reach a fine campsite for the night. For some reason these crossings kicked my butt and made my feet overly cold.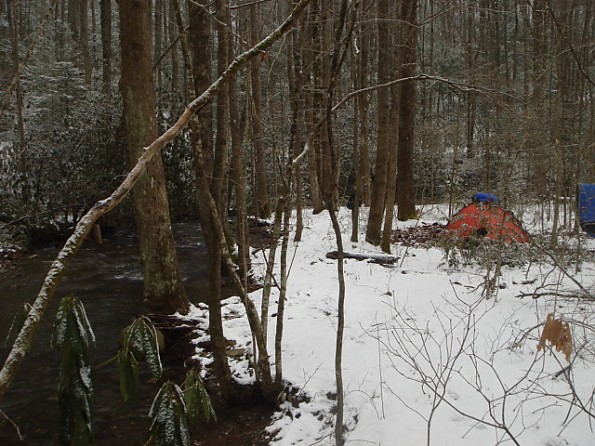 I call this place Snaketooth Camp cuz it reminds me of another campsite in NC called Lost Valley. You can see Hemlock Creek to the left.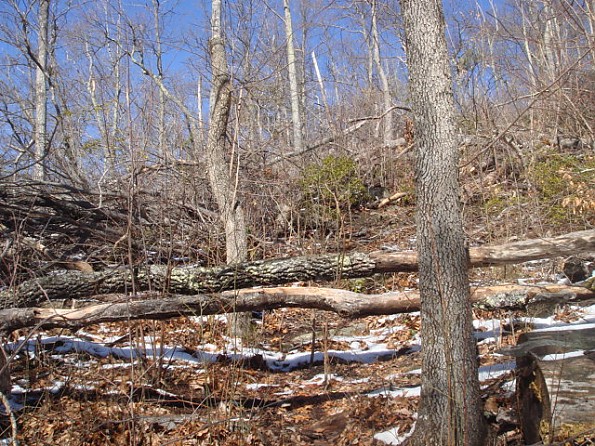 Here's the trail up the ridge. I leave camp and pull 3 more crossings and then hit a 50 degree ravine climb which really kicked my butt and then I was faced with an unmaintained ridge walk with neverending blowdowns. It becomes the Poison Hemlock Trail. Yes, the trail goes straight up into that mess.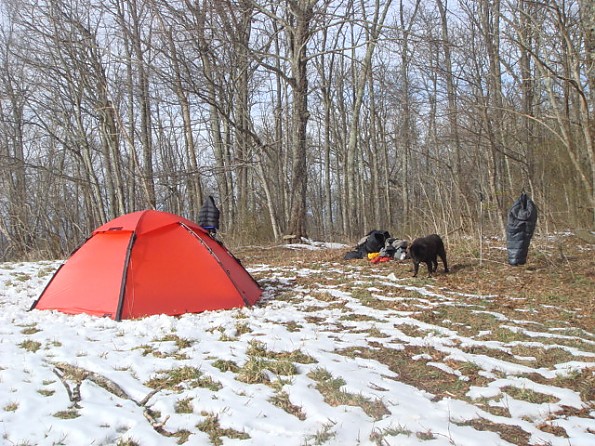 After pulling the Poison Hemlock trail I tie into the 6.2 mile Flats Mountain trail and decide to set up at the first clearing I find. Check out the nice WM down pants.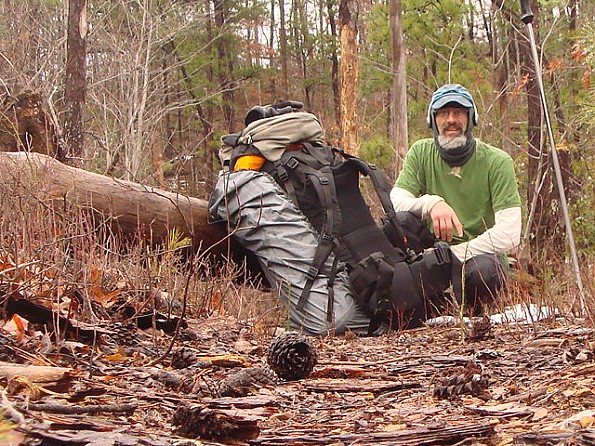 The Flat Mountain trail is a great way to tie in Brushy Ridge with the Citico wilderness and so here I am on the lower section by Beehouse Gap(see Hootyhoo's Brushy Ridge trip report). There's a lot of blowdowns all along this trail, but thankfully not many across the trail.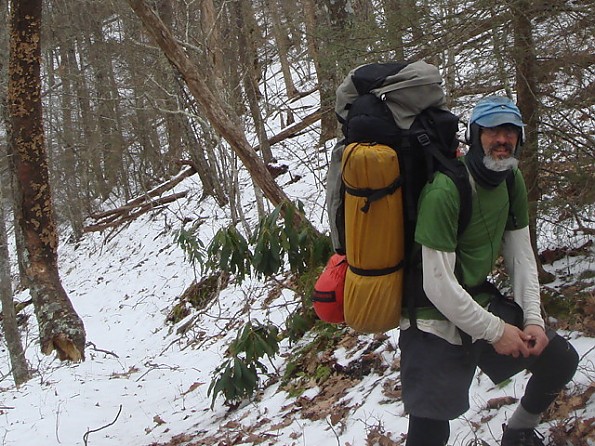 I get into the Citico and climb the Pine Ridge trail where it joins the Fodderstack trail(also the Benton MacKaye trail), and in this pic I'm climbing up and over Rockstack Mt. The yellow thing is my 3.10lb Base Camp Thermarest wrapped in a 8x10 silnylon tarp.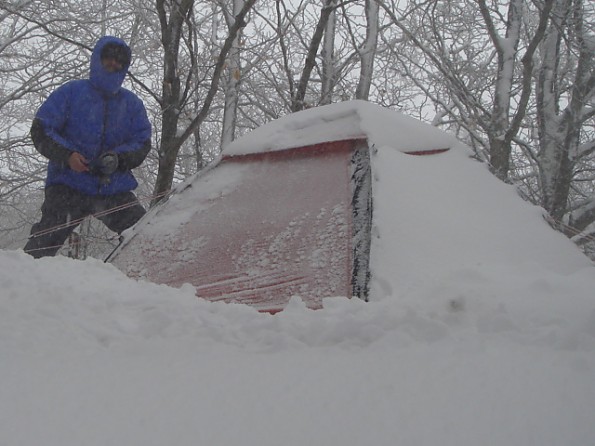 The 2nd snowstorm of the trip hits me at 5,300 feet on top of Bob Bald and I run into another backpacker and friend Hootyhoo hunkered in for the storm.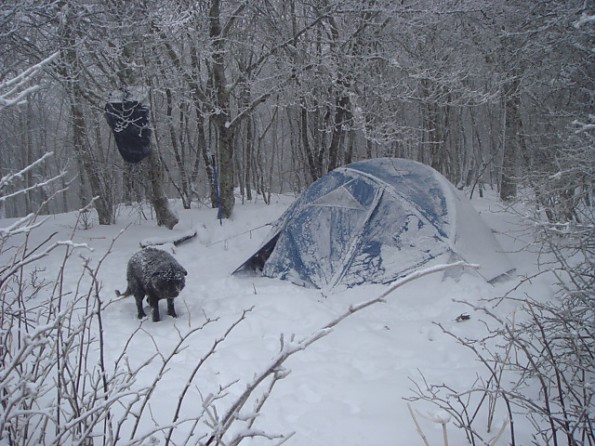 Here's where Hootyhoo spent 3 nights and close to my camp where I spent 2 nights. It was a cold place with nonstop sleet and snow. Paradise.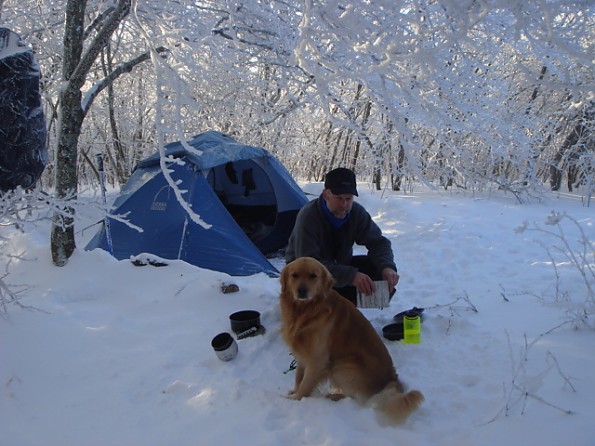 After the storm we get out to cook and here's Hootyhoo with his dog Rooty. We decide to leave the bald and I decide to follow.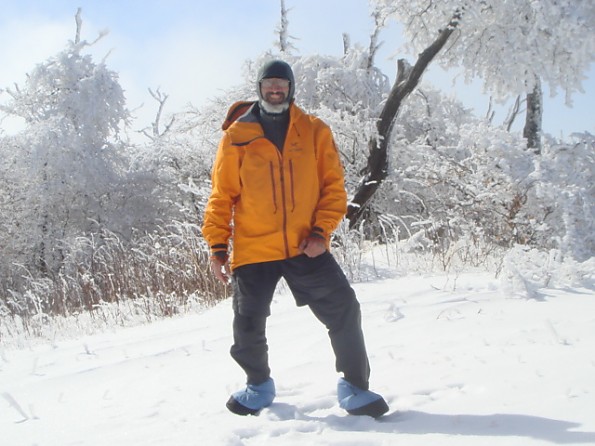 I pack up and wait for Hootyhoo to join me. My boots are bricks of ice and so I have to wear my booties until they thaw.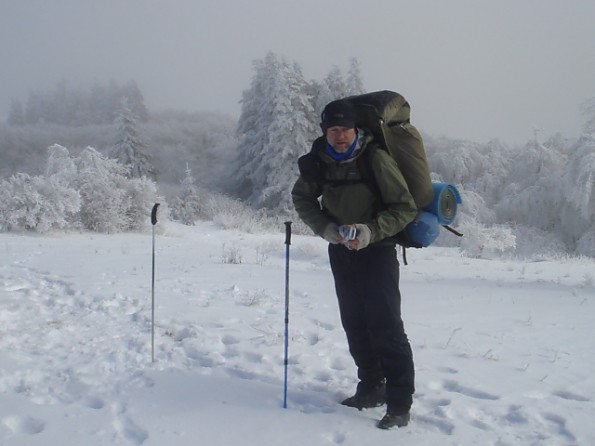 He's packed and we're ready for a snowy slog off the mountain to Cold Spring Gap. Check out the Mt Washington type view.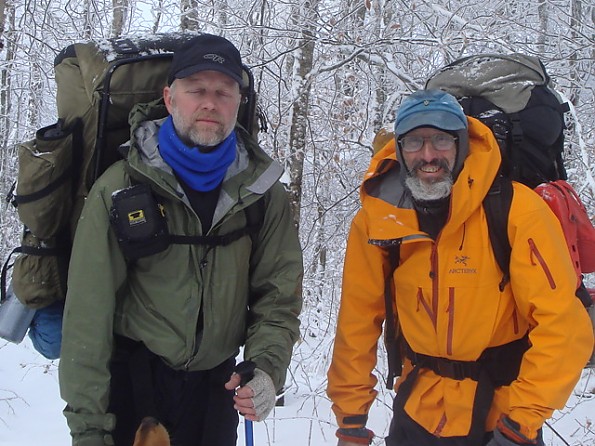 We make it to a split in the trail and pose for this fotog. The next section of trail is a Hell Slog in brush and blowdowns and snowdowns--that stuff that leans over with the weight of the snow.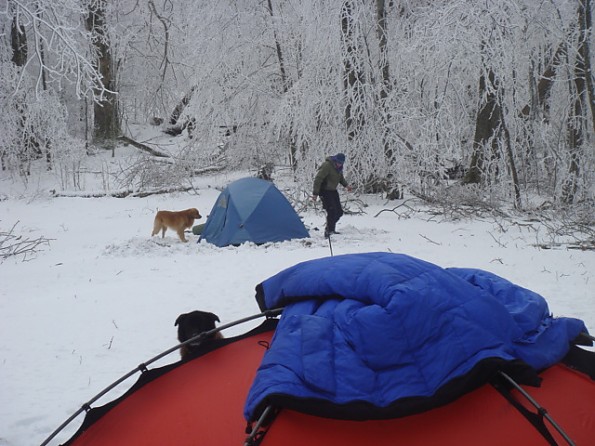 We reach Cold Gap and set up in the snow for another night of cold, my 12th.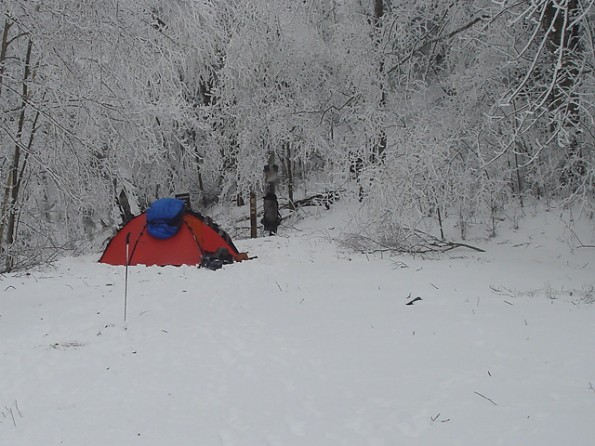 We had ice and branches from the trees falling all around us. Hootyhoo and I looked at each other and figured we'd both be dead by morning.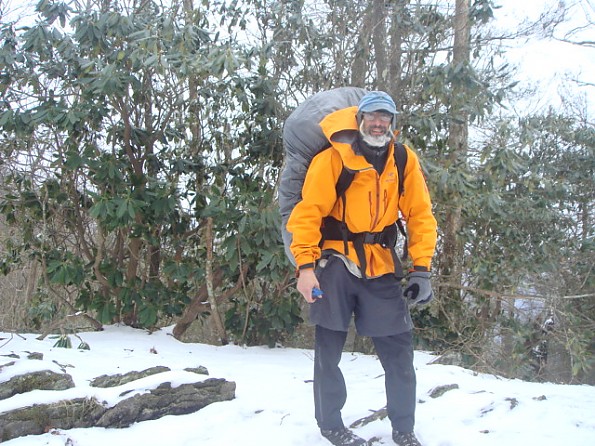 I leave Hootyhoo and get back into the heart of the Citico and stop here at the Pine Ridge junction to camp.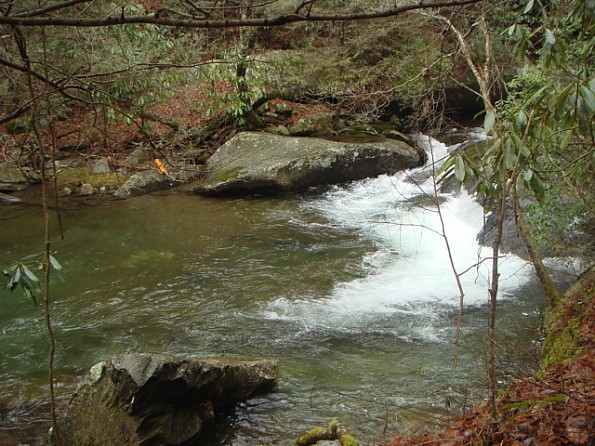 I get down off the mountain and loop back up the North Fork Citico trail and pass by one of my favorite swimholes, Johnny's Hole. I camp right up past this spot.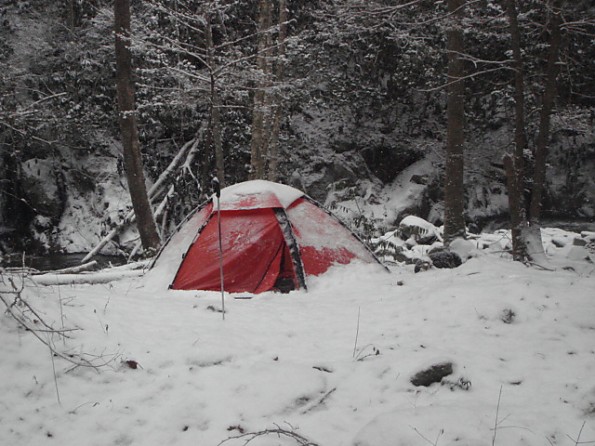 On Day 14 my trip gets hit with another snowstorm and so we're back in the 14F temps again. This has been a very white winter. I'm camped on the North Fork by the first crossing.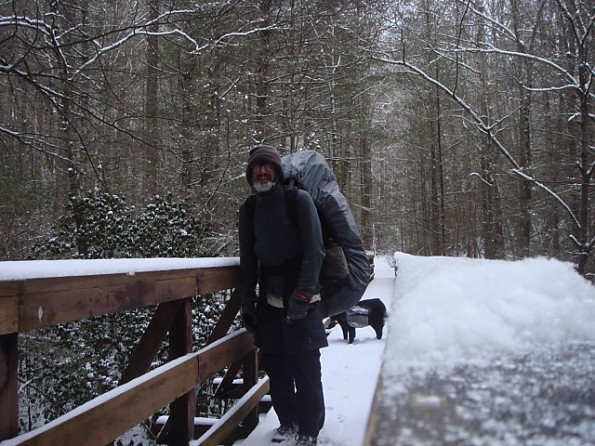 On my last day I leave the North Fork on this fine bridge and decide to hitchhike out as my ride won't make it on the frozen roads.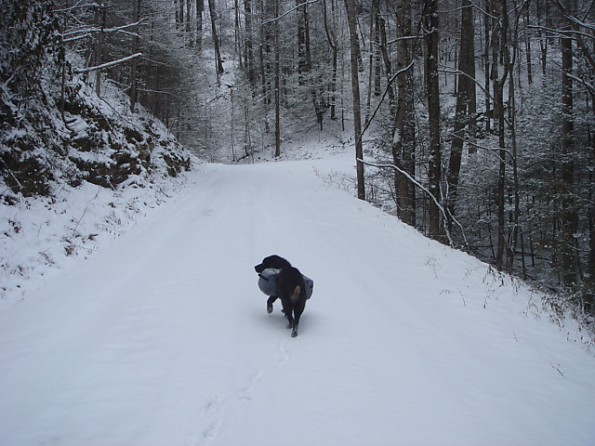 In order to get out to a real road, I have to hike out on this snow covered road.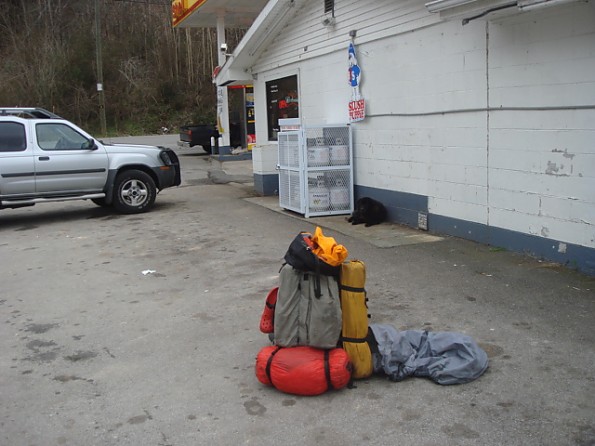 A friendly sort picked me up and gave me a ride all the way into town and so ends another great winter trip.