3:53 p.m. on February 14, 2010 (EST)
Bill S

4,419 reviewer rep
6,010 forum posts
I spent the past few days at Lake Alpine, an area Jim S and I have been together. The Boy Scout troop I was Scoutmaster of about 10-15 years ago (4 year span) was headed up there, so I decided to visit them. Well, things have changed for the worse. Lake Alpine is on a road (Highway 4) that goes over Ebbetts Pass and is closed for the winter at the turnoff to Bear Valley Ski Resort, about a mile short of the lake. There is a California SnoPark at the closure gate.
When Jim and I were last there (Barb was with us and one or two friends of Jim's), there were only a few snow mobilers who went up the road to a lodge some 30-40 miles (close to Ebbetts Pass, I believe). When you get to the far end of the lake, there is a turnoff to a series of small campgrounds. There used to be a sign and locked gate forbidding snow mobiles in the campgrounds. However, the sign is either no longer there or was buried under the 7-8 feet of snow, so the snowmobilers just cruise in and around the campsites, often at high speed.
Anyway, since the two troops (two had joined together for the snowshoe backpack) went in during the traditional "Ski Week", there were few snowmobilers around, and then only on Hwy 4. I went in on skis and camped at the higher campground at the trailhead for Duck Lake. Saturday, I skied over to Duck Lake (images below) and back.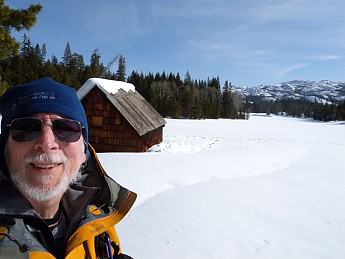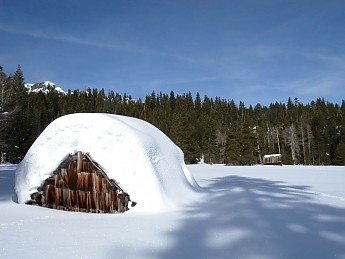 Since no one had been on the trail since before last week's storm, I had to break trail. The weather had been sunny, so the snow conditions were breakable crust in the open areas and fine powder under the shade of the red fir and Jeffrey Pines. Some snowshoers had come in from a different direction apparently about 4 or 5 days earlier, since their tracks had blown snow in them.
After I got back to my campsite, I skied the quarter mile through the trees to where the scouts were camped. As I headed back to my tent after some conversation, I was passed by a snowmobiler heading rapidly uphill and saw by his tracks when I got back to my tent that he had cut close to the tent and paused there - not a good sign. He had headed on further through the campground and came rather rapidly back down.
I thought 2-cycle snowmobiles were no longer allowed in California, but it was obvious from the stench of his exhaust that his was a 2-cycle.
After some consideration, knowing that this was Presidents' Weekend and a holiday, plus hearing the increasingly loud sounds of the snowmobiles on Hwy 4, I decided to head out. It took about an hour and a half to pack and ski the 4 miles back to the car, including a pause to give a warning to the scout troops (they were in Pine Marten Campground, so a bit off the snowmobilers' path).
At one point on the ski out, I was passed by two snowmobilers who were racing each other at well above the summer car speed limit. Plus another who was doing the snowmobile equivalent of a wheelie up the road (if he had been in a car, it would have been a one-wheel wheelie - plus he was obviously not very good at it, so much so that he almost lost it a couple of times). Again, most of these smelled like 2-cycle engines.
Barb was a bit surprised to see me home so quickly, since I usually stay out for 4 or 5 days for snow camping trips. I suppose if I had camped over at Duck Lake, I would have been far enough away from the snowmobilers. But since it was a holiday weekend, and my friends at Montain Adventure Seminars in Bear Valley and at Bear Valley Crosscountry tell me that there is a lot of "malt beverage" consumed by the "late night" snowmobilers, I think I made the right choice.