2:06 p.m. on March 24, 2010 (EDT)
Tipi Walter

295 reviewer rep
1,436 forum posts
Okay, boys, here we go again, this time I pull a long trip with one load of food and fuel and run into some snow postholing in the TN and NC mountains.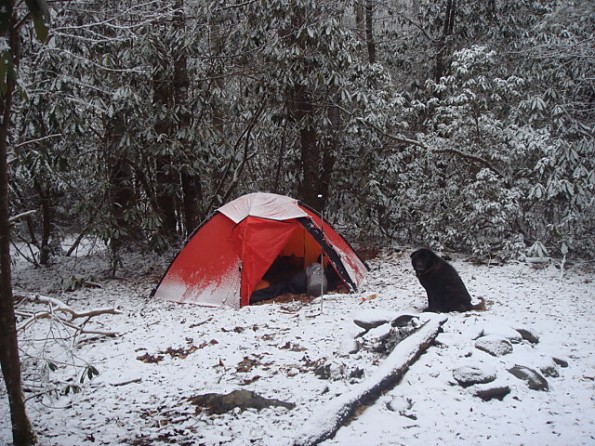 I set up the Staika tent on the South Fork Citico Creek for my first night and by morning get hit with the first snowstorm of the trip. Nothing much but it gets deeper thru the day.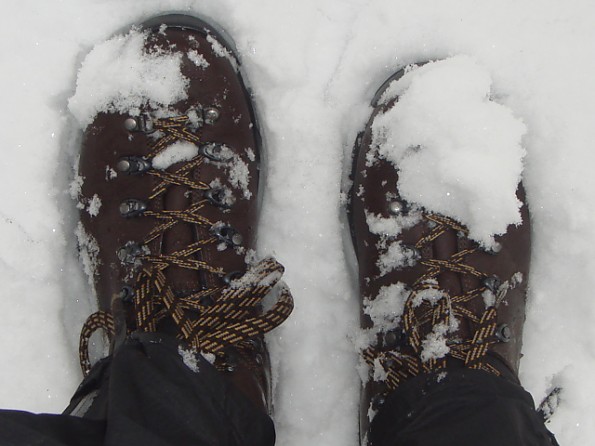 Check out my new full leather Asolo 520 boots! My feet stayed dry the whole trip except during the Hell Slog on Day 10 when I was postholing up a mountain all day. The question I have is, where can I get these kind of flat boot laces for future use??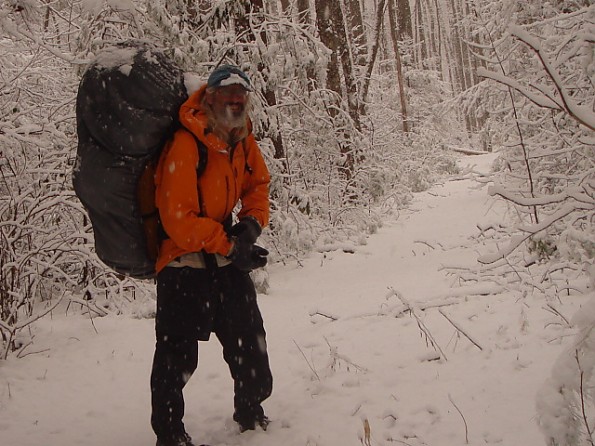 Here I am on the South Fork trail and enjoying another shot of paradise with about 80lbs on my back. That's about 45lbs of food and 44oz of white gas.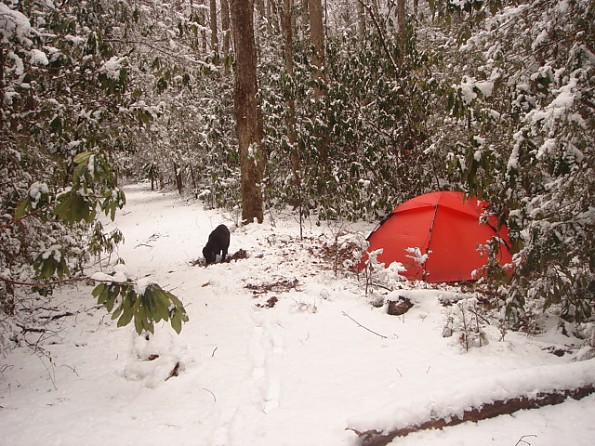 I hoof it to Mill Branch for my second night at a new campsite right off the trail after a long day hiking in the snow.

On Day 3 I leave Mill Branch and get on Doublecamp road which I hike up to Farr Gap and it gets wilder and deeper the higher I go. There's no car tracks, that's for sure.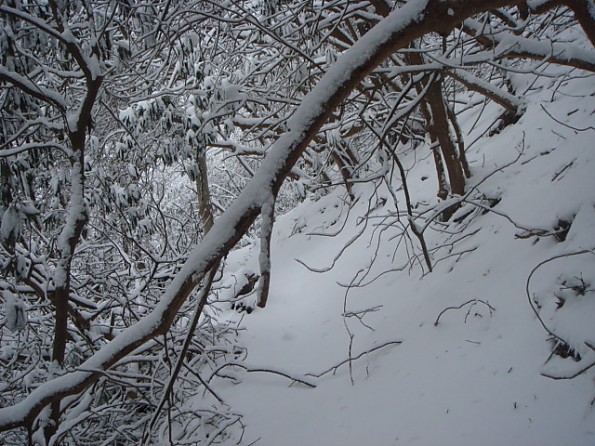 At Farr Gap I head down this ice-encrusted trail called the Stiffknee. It's also part of the Benton MacKaye trail. I battled blowdowns and deep snow and a particularly steep section where I broke my old faithful hiking pole, sob.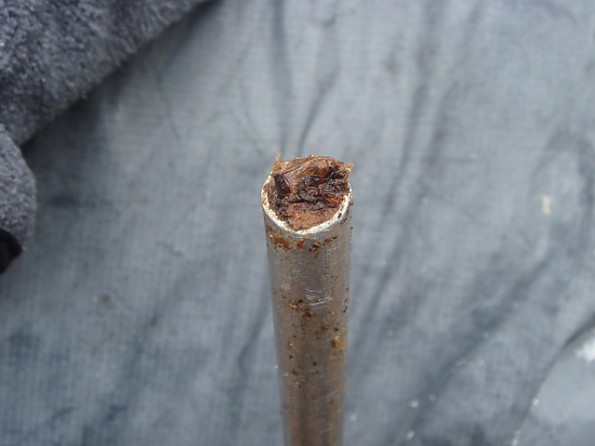 This wonderful event shortened my pole a couple feet and so I was hobbling along like an old geezer with a cane. I tried about 4 different repairs, one including a spent shotgun shell and ripstop tape, but nothing worked. This was just beginning--I lost my favorite blue baseball cap, lost my watch, one lens of my glasses popped out, broke my Sea to Summit long spoon--some trips are jinxed from the beginning.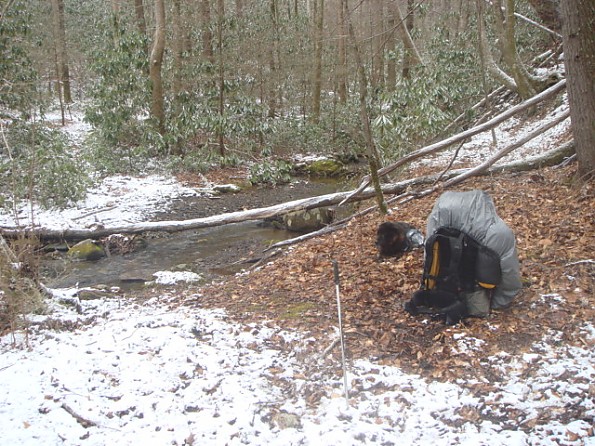 From Farr Gap down to here I lost about 2,000 feet and so the snow thinned out and things got pleasant again. I'm resting at one of the 5 creek crossings in the Stiffknee valley.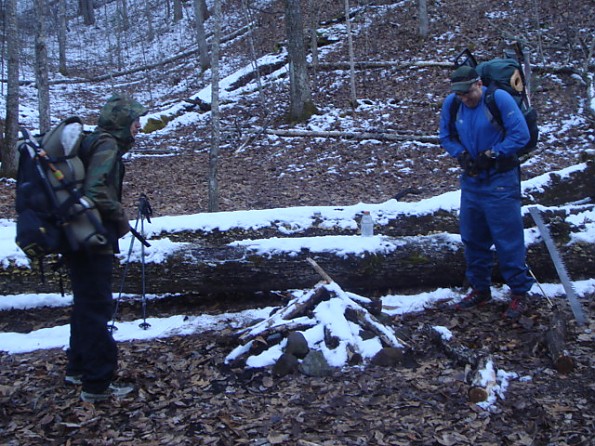 On Day 5 I am camping up on Ike Branch/BMT when Sgt Rock and his son Matt pull thru and take a break to talk. The next day I leave this campsite and join the Rock down on Slickrock Creek for a couple days.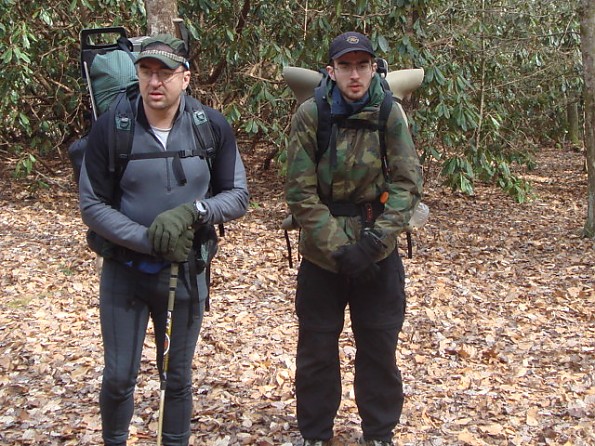 On Day 7 Sgt Rock and Matt pack up and head north on the BMT while I pack up and head south going upstream on the Slickrock to junction with the Nichols Cove trail.

On Day 8 I leave Nichols Cove and head up and over the mountain and stop here at Windy Gap for a break. What's on the other side of the mountain? Upper Slickrock Creek.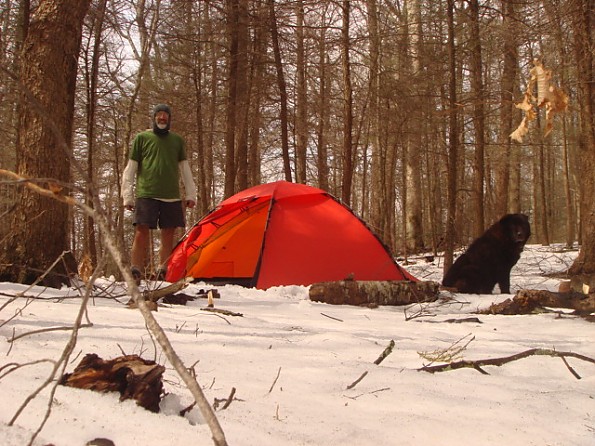 On Day 9 I leave Slickrock valley and climb up 2,000 feet to this campsite located beneath the towering mountain that is called the Hangover. All looks peaceful now, just wait until Day 10. Check out my nice Icebreaker merino green t-shirt.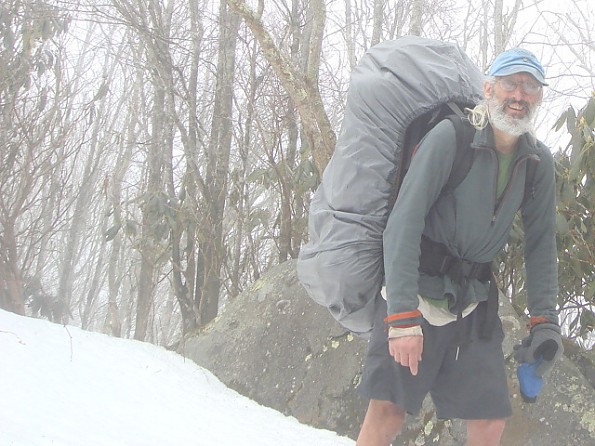 I don't know about you guys but when the crap hits the fan my camera usage goes way down. Even though this day was one of the worst days of my backpacking life, I only managed to get this one fotog out of it. I am standing on snow crust and about 30 inches above collapsing snow. I spent all day postholing and kicking steps in 30-40 inch snow and it was exhausting. Since I wore shorts I got a good dose of "snow burn" and you can see what it looks like in a following picture. I lost my old faithful blue hat a couple hours later. Things get crazy and you start juggling too much stuff and lose track of the small stuff.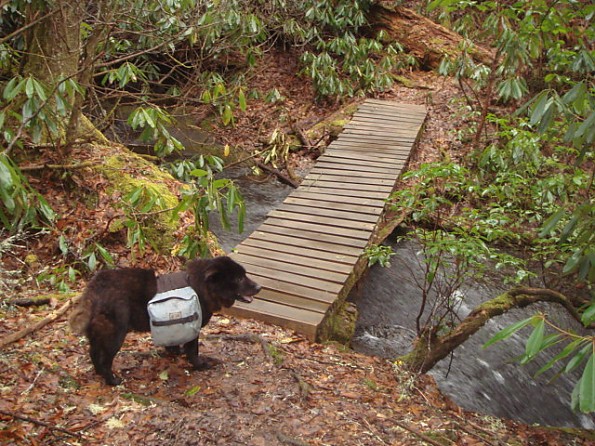 On Day 12 I drop 3,000 feet off the snowy mountain and fall into the Little Santeetlah Creek valley and stay on a fine little trail with this little footbridge. This would be the Naked Ground trail.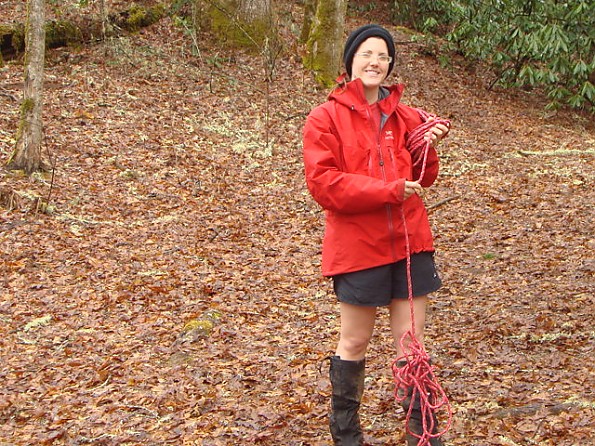 As I approach the Kilmer Forest memorial loops, I run into trip leader Cassie who is guiding many high schools kids from the Cranbrook school in Michigan. I first met Cassie in '05 when she told me she planned to hike the AT and in 2006 she thruhiked the whole trail. Her trailname was Yellow Belly.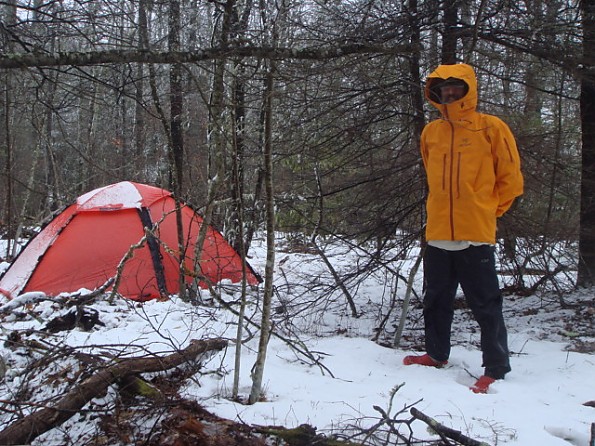 I swing around the Kilmer forest and get on the Stratton Ridge trail and hump it up about 2,000 feet to this campsite at the Wolf Laurel junction. I get hit by another snowstorm and so I spend a zero day here in the wind and cold, but I have my goose down to keep me sane.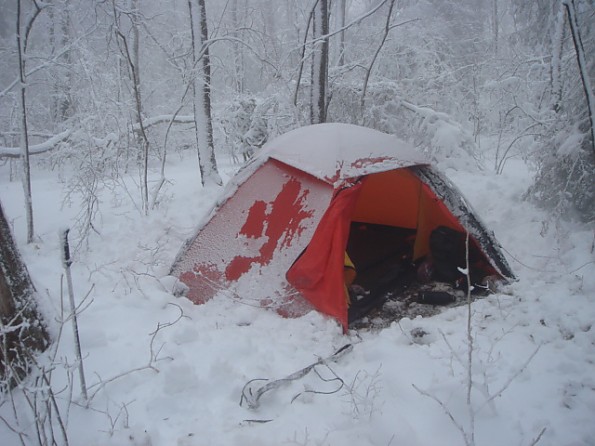 I zeroed out Day 14 and on Day 15 I wake up to a whole new world and decide to nix out my plan to hike up to Bob's Bald and after Day 10 I have some dang good reasons to avoid deep snow. Instead I get on a snowed-under Wolf Laurel roadwalk and fall off the mountain to another long roadwalk, the big Santeetlah Creek road(81)walk up to the Skyway at Stratton Meadows.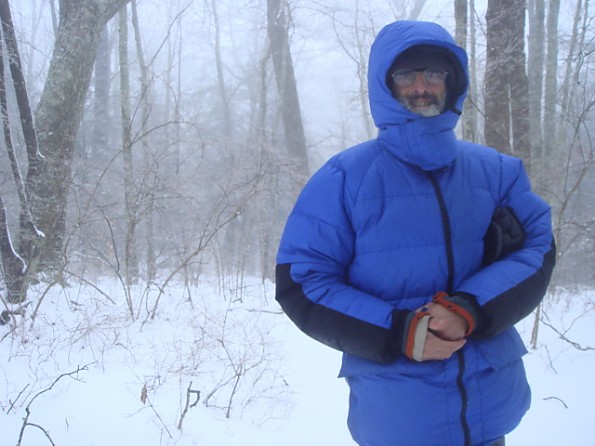 My Icefall parka looks out of place in the southern apps but it's a lifesaver! After this picture was taken I pulled a hellish 12 mile day in some very deep snow--24 inches of the stuff--going up forest road 81 to Stratton Meadows. The worst of it could not be photographed.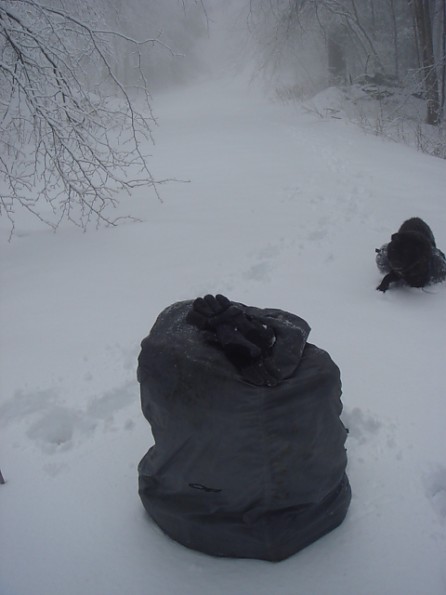 This is just one pitiful example of my day of backpacking. Shunka ain't much impressed either as he sinks down into the snow. In a 12 mile day I pulled about 8 miles in this kind of stuff and it got old. My goal was Beech Gap, way off.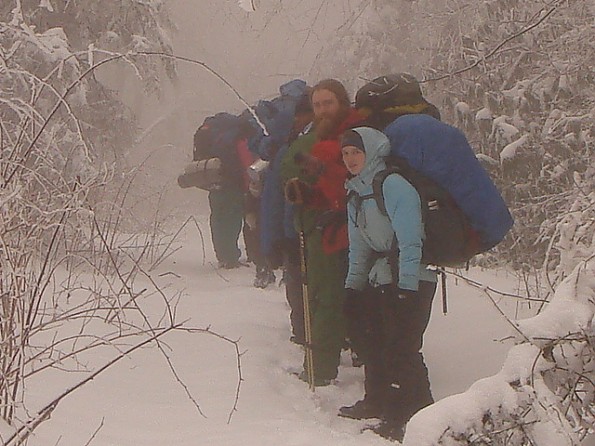 Beech Gap Hope! After a long day I reach Beech Gap and figure to do a whole bunch of postholing but run into Gordon and his Cranberries breaking trail for me all the way to Cold Spring Gap and I am thankful.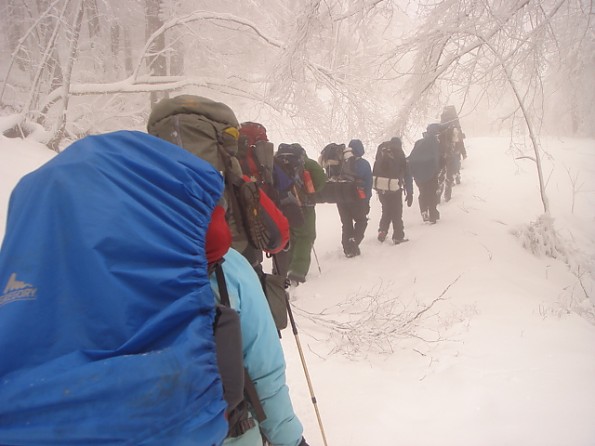 This is my favorite fotog of the whole trip! There's nothing quite like a long line of backpackers humping thru the snow, and a great relief to me after 15 days of backpacking alone. They are headed to a snowy campsite near Swan Cabin, I'm headed down the South Fork.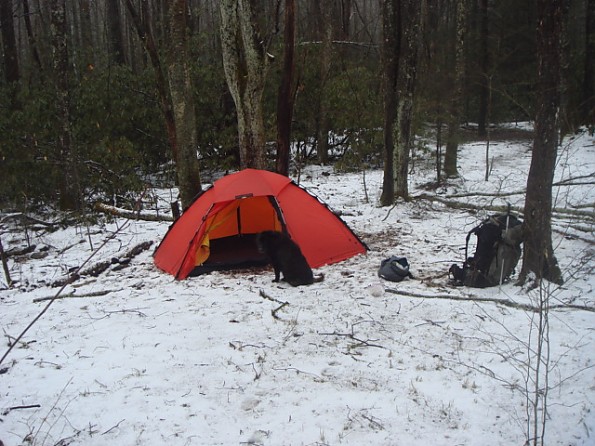 I spend a couple hours with the 'Berries and then it's over too soon as I fall off the mountain to a place I call Iron Camp on the South Fork trail. A thousand feet lower and a lot less snow.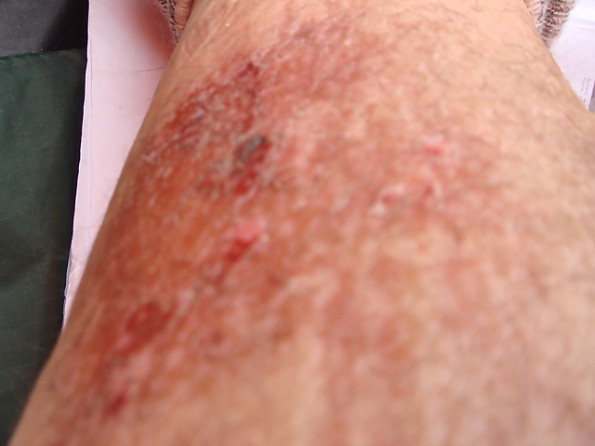 Okay, okay, here's the result of postholing thru snow in shorts: snow burn! Dang painful when brushed up against briars and trail brush.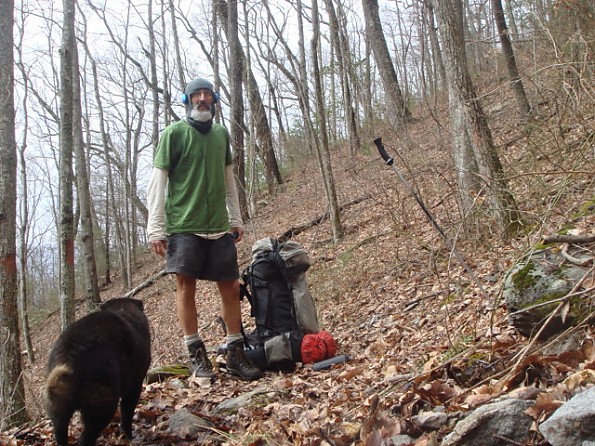 On Day 17 I swing down South Fork trail and tie into the Jeffrey Hell trail and reach the Skyway for a 2 mile roadwalk and then hit Grassy Gap where I left a two BearVault cache to pick up more food for Shunka-dog as my food load was still good and would take me all the way to day 20. I then come down Grassy Branch(like on Day 1)and go down the South Fork and head up the Pine Ridge trail where I stop by this springhead for water.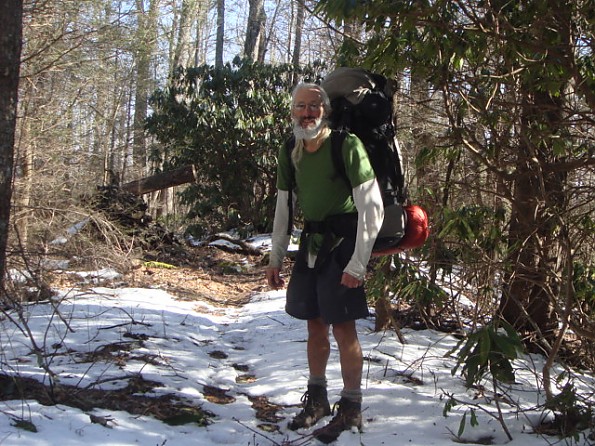 I leave Pine Ridge camp and head up the mountain on my third attempt to summit Bob's Bald and, uh oh, I start running into more snow. It gets deeper, boys.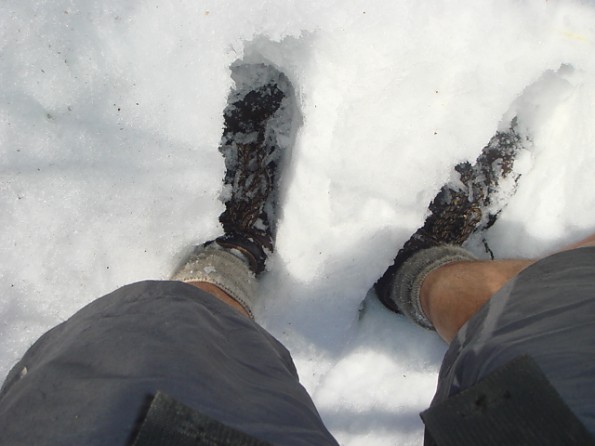 All thru the trip I tried to get up to Bob's Bald but was turned back twice, and so I made a third attempt, this time from the south side going up trail 54A from Snow Camp and Cherry Log Gap. Okay, well, I got hit again with deep snow and no real trail. I knew the thing from long memory and so just forged on. A normal 40 minute trek took me 2 hours.

The slog up was hell but when I reached the 5,300 foot bald there was enough open space and full sunlight to give me some great camping. A fitting end to a great trip.

On Day 20, my last day, I leave the Bob and fall about a thousand feet to an open gap where I meet old backpacking buddy Hootyhoo and so I throw off the pack and spend the morning talking and hanging out. It feels good to see him and his two dogs.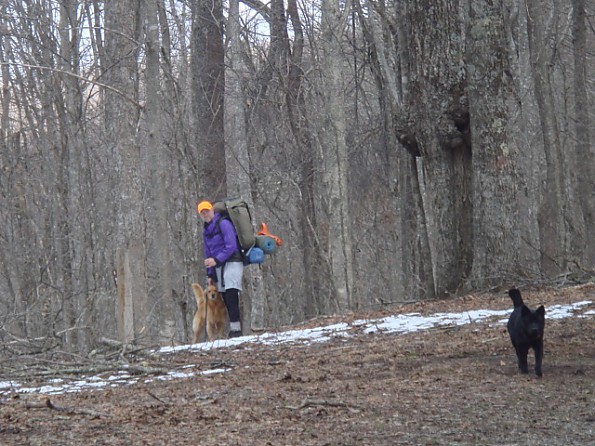 We pack up and Hootyhoo heads down the South Fork trail and I head south on the Fodderstack/BMT to Beech Gap and out.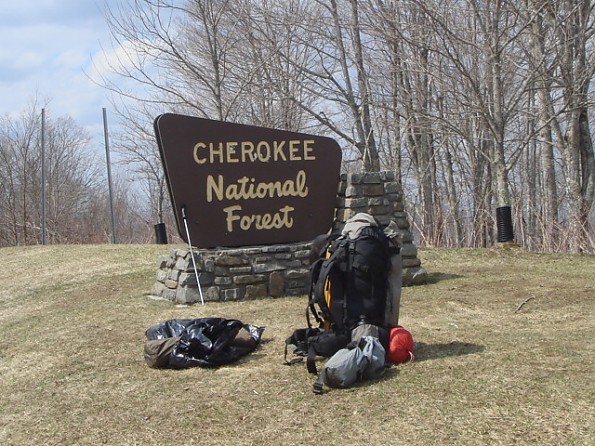 So ends another great trip into the Citico/Slickrock wilderness.