9:10 p.m. on April 14, 2010 (EDT)
Tipi Walter

295 reviewer rep
1,436 forum posts
Little Mitten and I decide to pull a short 6 day backpacking trip into the Citico/Slickrock wilderness of TN and NC. Herein follows the fotogs: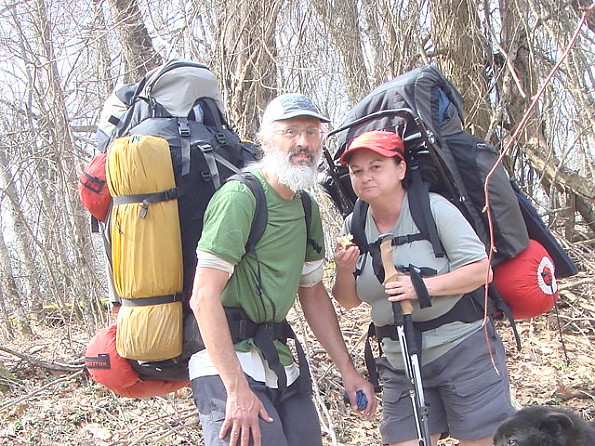 Here we are at the start of the trip and I'm carrying two tents and all the food along with my usual 3.10lb Base Camp Thermarest.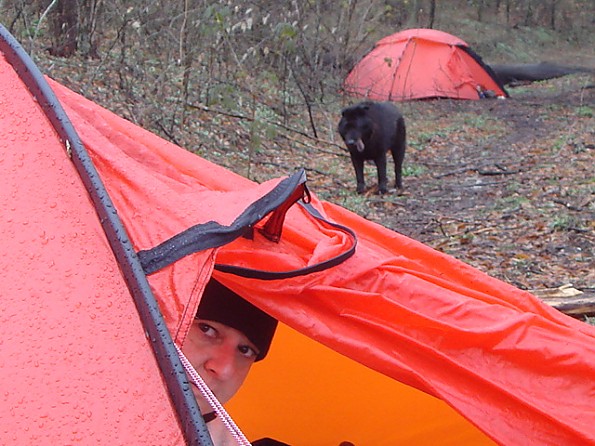 We sit out a long windstorm with rain at around 4,000 feet and Mitten gets to try out her new Akto tent. Nice and light.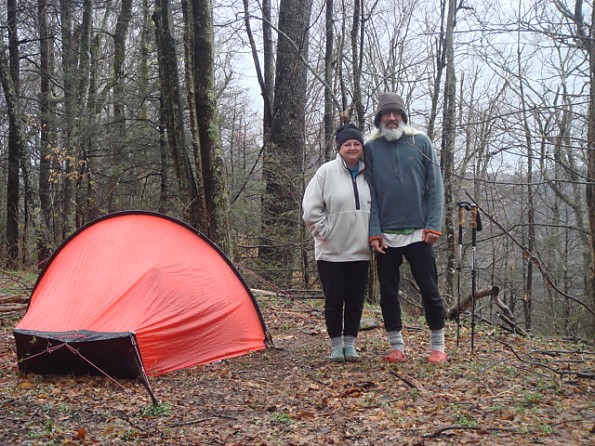 The rain lets up enough to go out and compare identical merino longjohns. I've got the Icebreaker tops and Mitten is wearing a Patagonia fleece zip-neck. We pull a zero day in the rain and wind.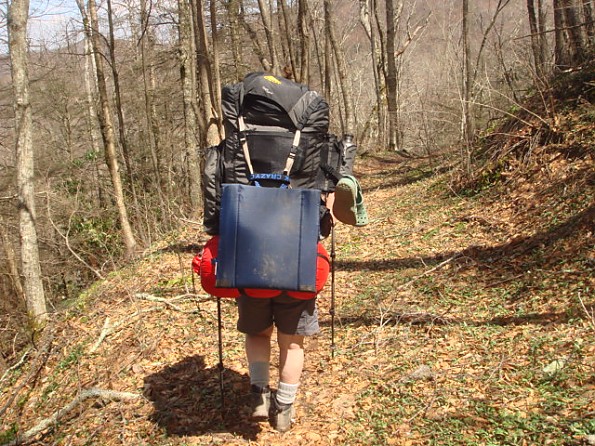 On Day 3 the sun comes out and we leave camp to climb a thousand feet up to an open meadow bald. Mitten is carrying her Crazy Creek camp chair.

Here we are after the hardest part of the climb and I dump my pack for some relief. The last half mile gets us up to Bob Bald and the high open meadow at around 5,300 feet.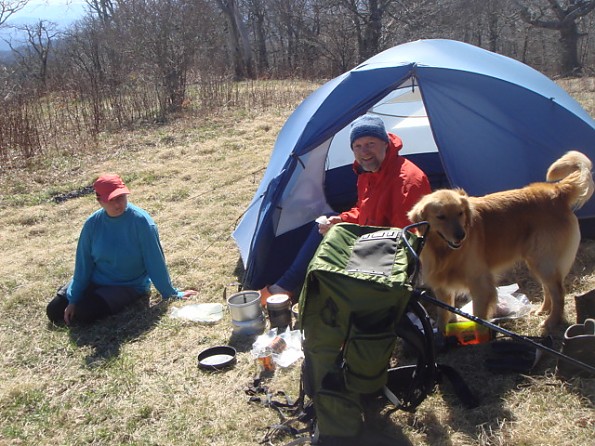 Old backpacking buddy Hootyhoo surprises us on the Bob and so we get to hang out and exchange trail info. Little Mitten is wearing a heavyweight silk top from Wintersilks.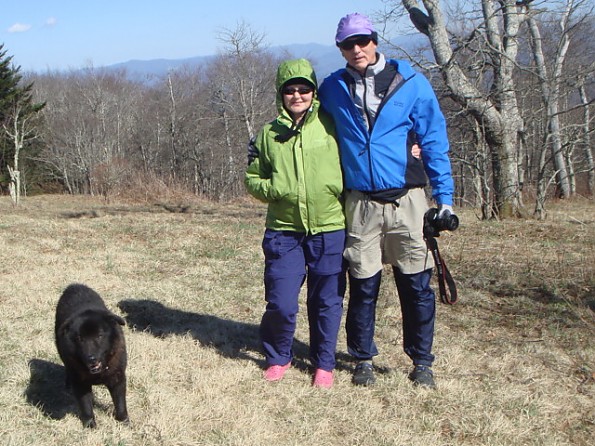 Another surprise is meeting Hoppin John and his wife Rose as they pull a multi-day backpacking trip into the mountains of NC.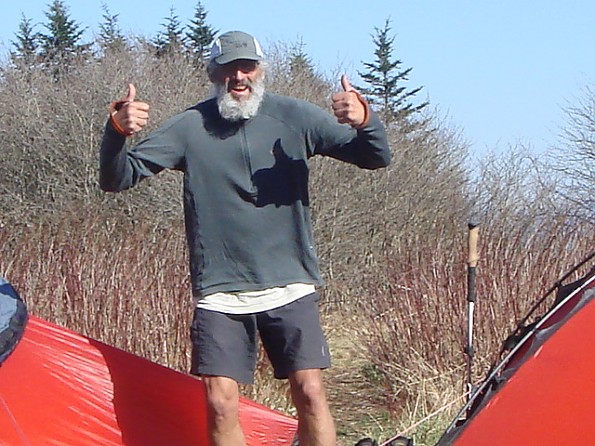 Here I am giving a thumb's up on a great campsite shared with friends.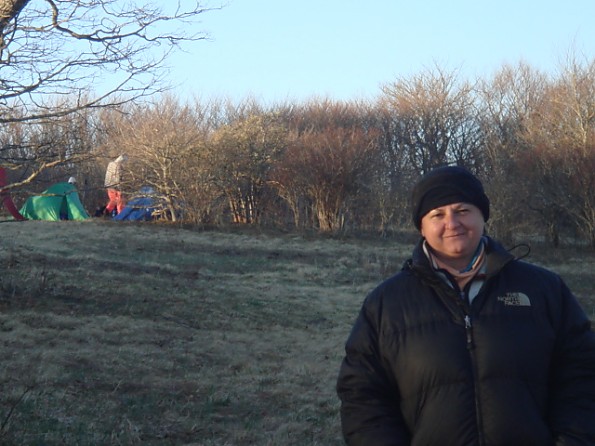 This is my favorite fotog of the trip as I like Mitten's expression, and the tents in the background don't hurt.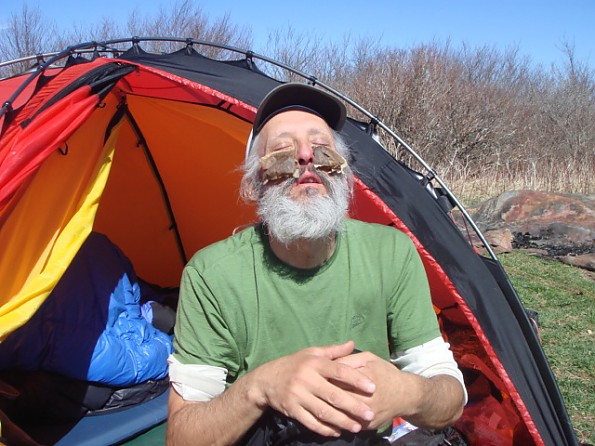 On Day 4 Mitten says I wake up with big bags under my eyes, I guess I just don't sleep all that well.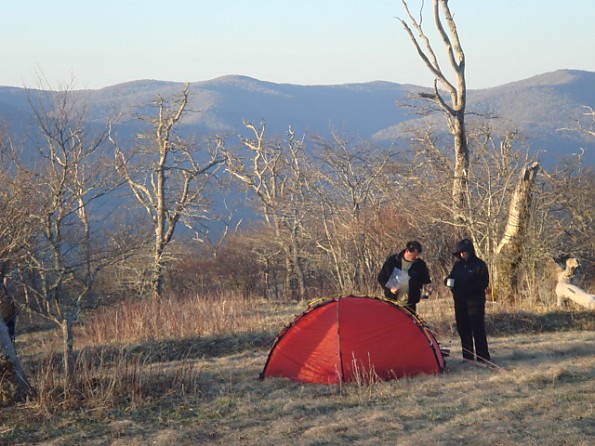 Hoppin John's friends Larry and Nina with their new Allak tent. We had four red Hillebergs up on the Bob at one time, a first.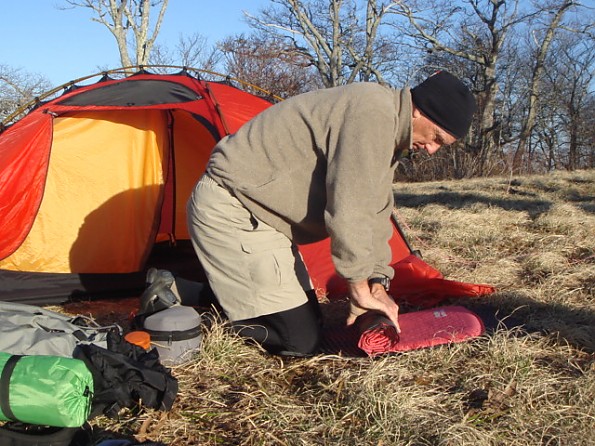 Hoppin John is packing up and sits by his nice Allak tent, a slightly smaller version than my Staika.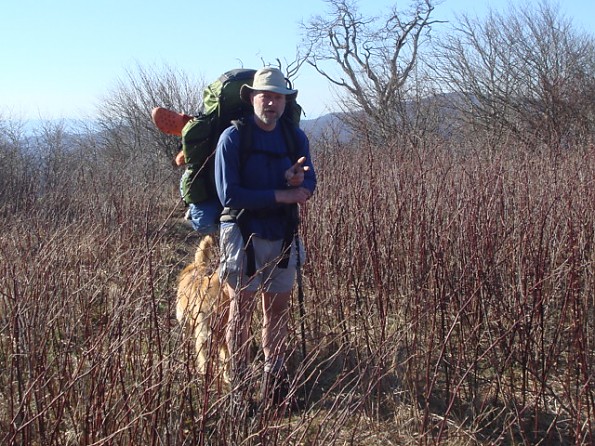 Hootyhoo gets packed up and prepares to leave the mountain for Cold Spring Gap and Beech.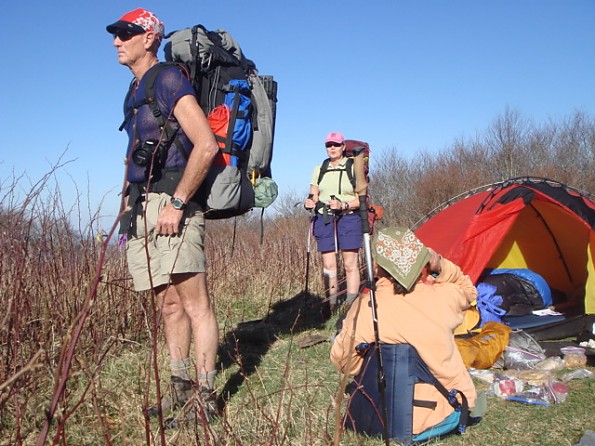 Here's another favorite of my trip pics--shows Hoppin John and Rose(and Mitten)under blue.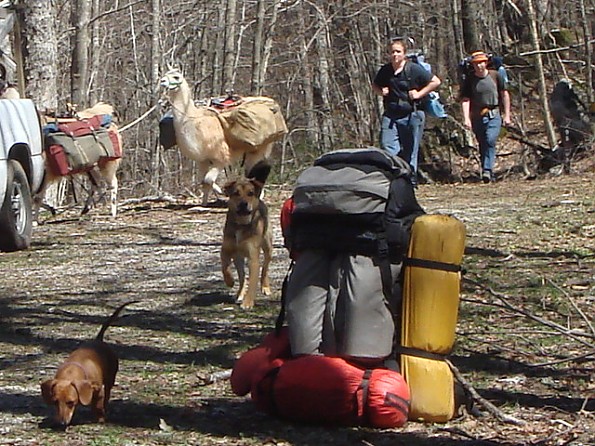 Mitten and I descend the mountain and find quite a sight: 3 llamas and many dogs and several backpackers. Which is bigger, a llama or my pack??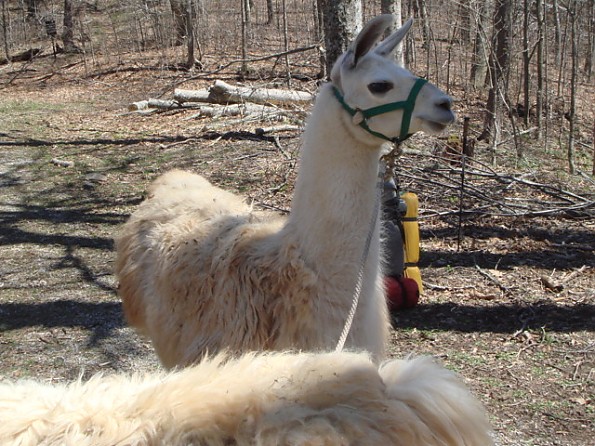 A friendly llama checks me out.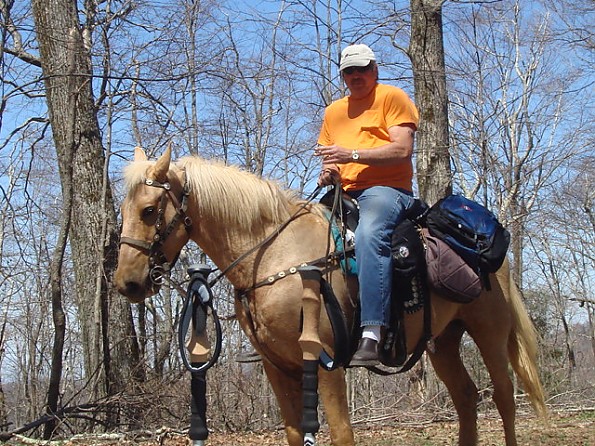 And Yet More. After the llamas leave, a horseback rider pulls thru. I next expected a Hindu riding an elephant.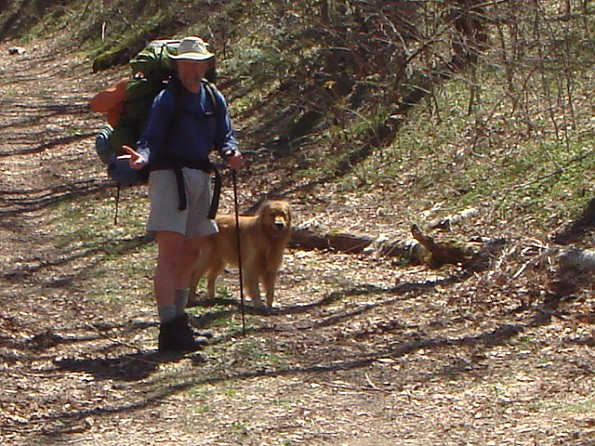 Hootyhoo tells us about a great camping spot down the side of the gap and so we say our goodbyes and explore a new camp.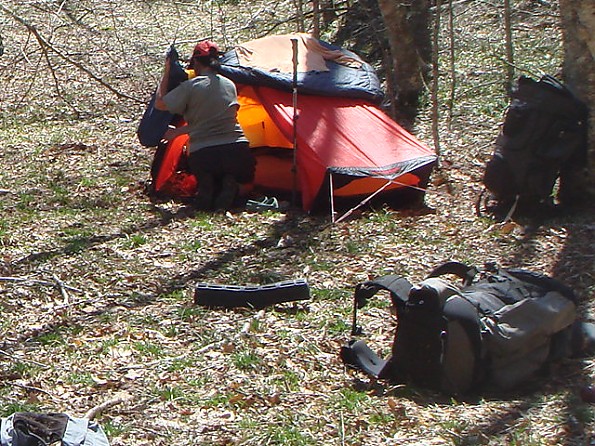 We set up by water in a little cove for our last night and Mitten gets her camp arranged.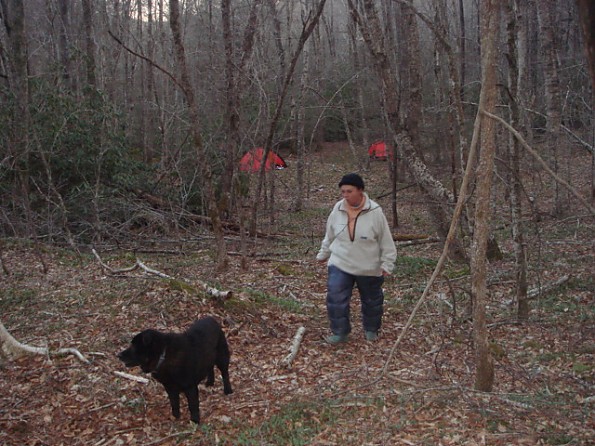 We go for a water run and this shows a good shot of the cove and the tents.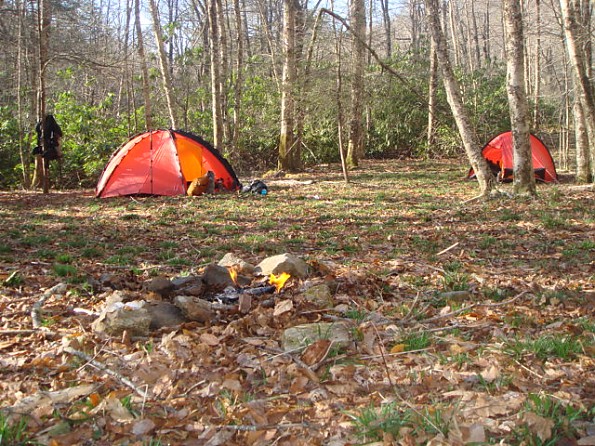 On the morning of Day 6 we are greeted by more sunlight and so I burn a few pages of reading material and get ready to pack up.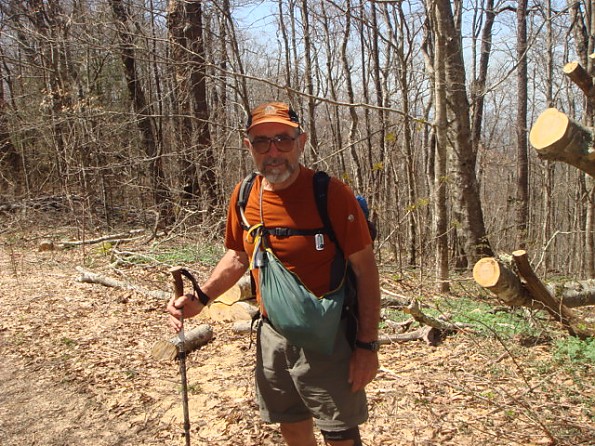 We end our trip by running into a Benton MacKaye thruhiker named Schwartz. He started in the Smokies and is on his way to Springer Mountain. A good ending to a great trip.