riverridgeray
0 reviewer rep | 28 forum posts
5:10 p.m. on April 30, 2010 (EDT)


Four of flew to Buenos Aires Argentina mid-March. We scheduled two days there for our "big-city fix," then on day three we flew out to Bariloche in northern Patagonia.
Bariloche is a city of 100,000 that is almost on the border of Chile. It sets on the eastern side of the Andes Mountains. Bariloche borders a huge lake, and is a combination of South Lake Tahoe and Jackson, Wy. However, it is entirely within huge Nahuel Huapi National Park.
I do need to mention: my employment as an outdoor sales representative, and must confess to showing use of Katadyn water filters and Kokatat clothing in this report.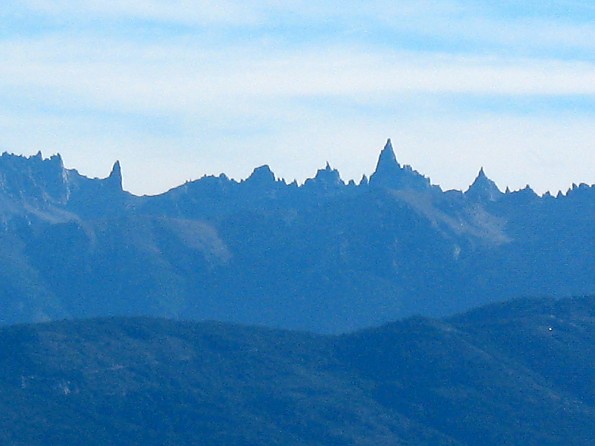 Skyline above Bariloche from about 10 miles east of town.
I had lined up a five-day "trek" for us in the mountains west of Bariloche with a local outfitter named AndesCross. After a few emails back and forth with the head-guy Jorge: I discovered this was not the luxury, pack-animal supported trek I had come to expect. We would (shudder-gasp) be doing a "backpack trip" and would be sharing loads. After more emails with Jorge, he lined up a porter (for just a little more money) to carry some of our loads. Jerry & Angie both do cross-country ski racing all winter and were in top shape, and even Dorita and I had trained for the trek, as opposed to our usual winter non-conditioned condition.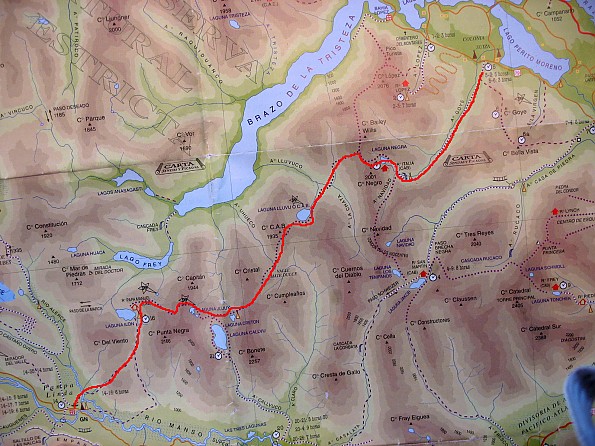 The five-day trek in red. An incredible amount of up & down.
The trek was the high-point of our trip. We first hiked in about 8 miles to a European-style hut at a lake, and tent camped nearby. Our guide Jorje had brought his friend Herman as our porter, and his American girlfriend Sarah as our cook.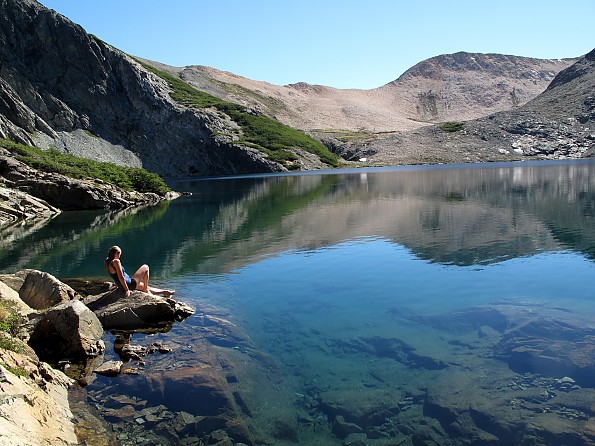 Sarah and Laguna Negra. Conditions were very un-Patagonia: warm and no wind. We went over low-point on horizon the next morning.
Before going to Argentina, I had researched what infectious bugs might be in backcountry water in the southern Andes. With a little searching I was able to find reference to Giardia as a problem. I already knew Cryptoporidium was in the Peruvian Andes, so was likely in Argentina as well.
However none of the Bariloche locals posting on the internet considered their water unsafe. I had emailed Jorje that we would be using a water filter and he replied: "sure, whatever you want." When we arrived at Laguna Negra, Sarah whispered that she had got sick after drinking the water there last year. She then proceeded to ask to share our water filter and pumped her share the remainder of the trip.
Despite the area being a National Park we saw "wild cows" and cowpies on the first day, and the last two days of our hike.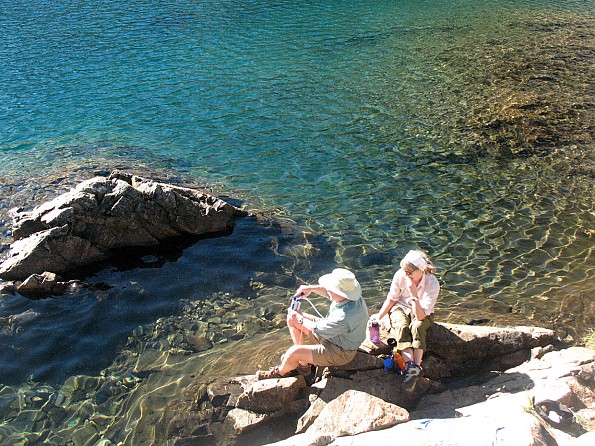 Ray & Dorita filtering water at Laguna Negra. We used one pump for 5 people for 5 days. No problems.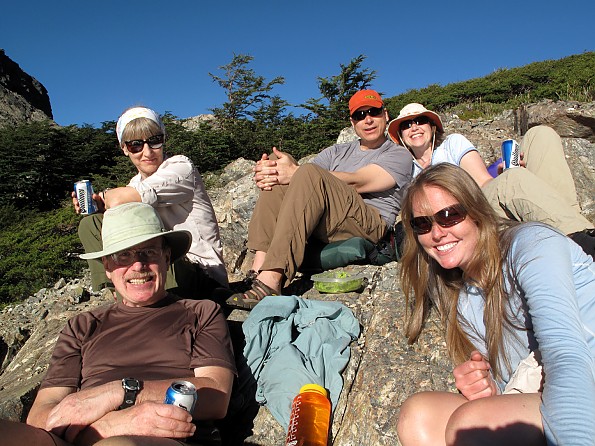 Cocktail hour, with beer from the hut. Clockwise: Ray, Dorita, Jerry, Angie, Sarah.
We had insisted on tent-camping, rather than spending our first night inside the hut: because I know huts can be noisy at night. There were probably 15 people that overnighted at the hut, with more tent-camping nearby. However, we only saw two hikers in the next four days.
Day 2 we had a pleasant hike to a pass with good views. We also had a good, but distant view of the lake we were spending the night at.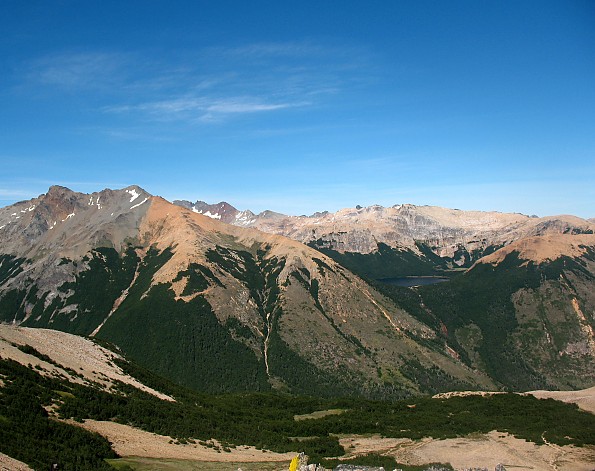 Our night's lake at upper right. Our route went almost straight to the lake-------and it was a long way down in between.
Before lunch, we had a challenging steep descent down what was dubbed "the bobsled run:" a dirt trail that ran straight downhill through the Lenga beech forest that covers much of the mountains. Just about everyone took a fall or butt plant on this decent.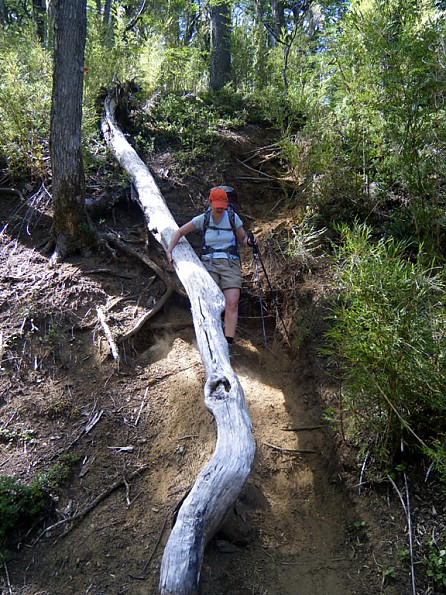 Angie, mid-way down "the bobsled run."
We made our lake by mid-afternoon. The lake was very windy, but the outlet stream was sheltered and once again we were able to clean ourselves up. Jerry and Angie made friends with some small biting flies, that left them with a collection of welts for the remainder of our trip.
By evening, the wind was stronger, temperatures were dropping rapidly, and down parkas made their appearance at dinner time.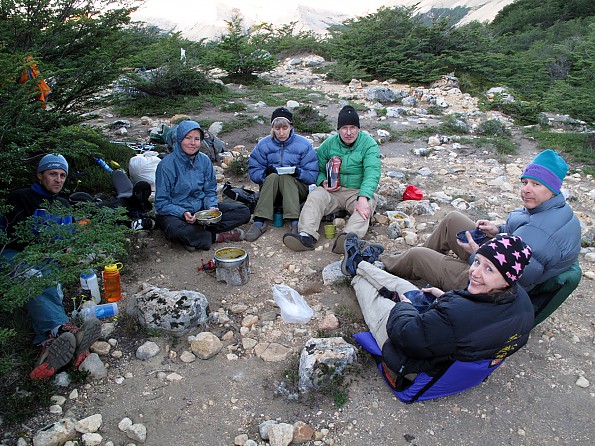 Herman, Sarah, Dorita, Ray with his 1975 vintage Camp 7 Down Sweater (and the wine), Jerry, and Angie.
The night was windier and the next morning dawned with low clouds and shrieking wind in the trees.
WELCOME TO PATAGONIA!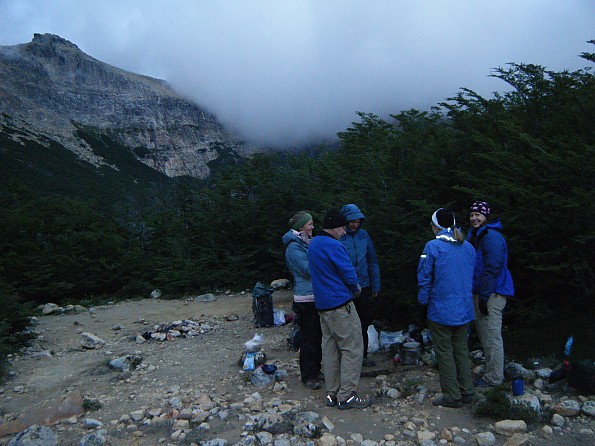 Breakfast day 3. Windy, cold, and threatening rain.
Day 3 was going to be "the long day" with two passes, and a trail that existed mostly in Jorje's memories.
Our hike started with a 1/2 mile run around the edge of the lake, with frequent stops to wait for ebbing waves, then mad dashes through the lake shallows.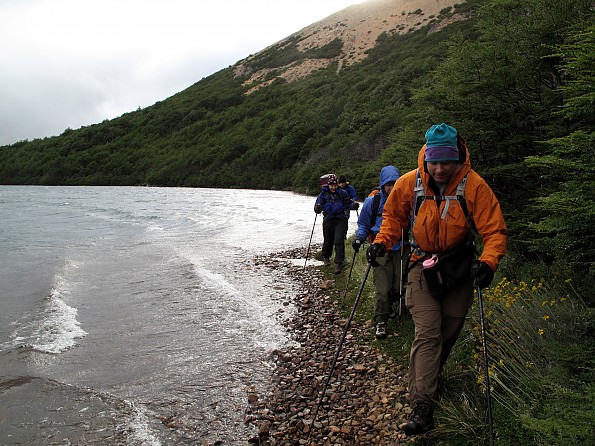 Our morning run. My wave timing was off, and I got wet feet anyway.
After the warm-up run we climbed up to a pass above the lake. The wind got stronger as we climbed and light rain started coming down. We were starting to experience "the real Patagonia."
Once we reached the pass, we had the full force of wind hitting us. You had to stay low, and keep a "wide stance" to avoid being blown down. (please---no Senator Larry Craig jokes).
We estimated the highest gusts to be around 50 MPH. Luckily, it didn't rain much.
We traversed around the side of a mountain into another valley, then had our first experience of the trip with "light mountaineering" in high winds.
Dorita & I both have a climbing background. Jerry & Angie have natural abilities that have been honed in desert canyoneering and mountain backpack trips.
We just did not expect to have rock-climbing in high winds as part of our trekking experience. It was "very invigorating." We now knew why Jorge had been concerned about the possibility of rain. With rain, the rest of our day would have been very, very ugly: as opposed to merely "extremely stimulating."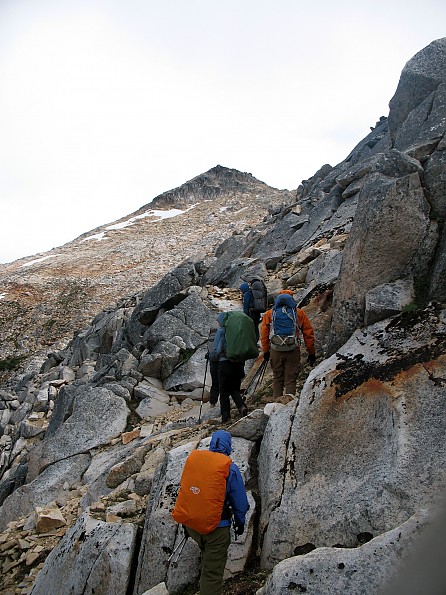 Our "traverse" to the lower snowfields on ridge at top left of photo.
So why, you may well ask, are we climbing this mountain?
It was much better than the alternative of descending into this valley.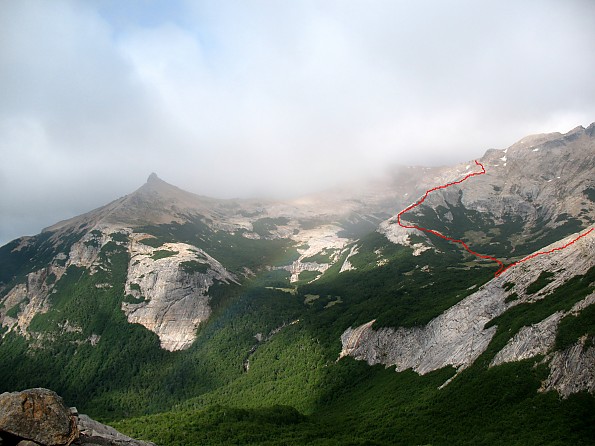 Why we climbed the mountain in the previous photo. The Lenga-jungle valley below was not a good alternative.
After climbing the mountain, we then descended the ridge at lower right to the meadow for lunch and climbed the next mountain: as indicated by the red line. Please note faint rainbow in center of photo.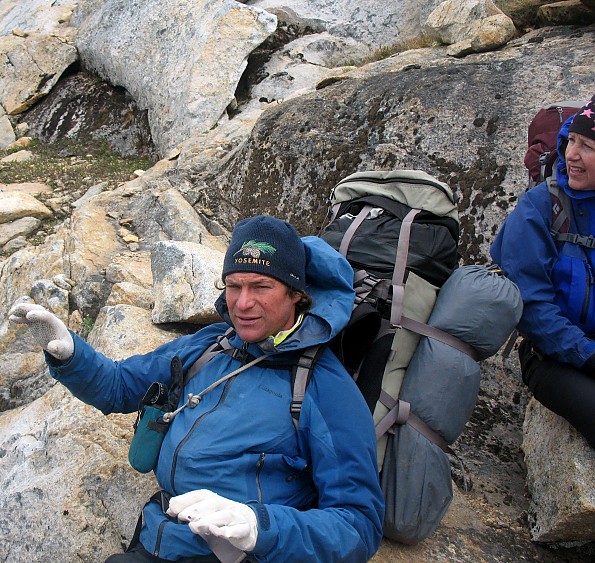 Jorje saying "be careful" He also guides climbing and backcountry ski trips. Great guy!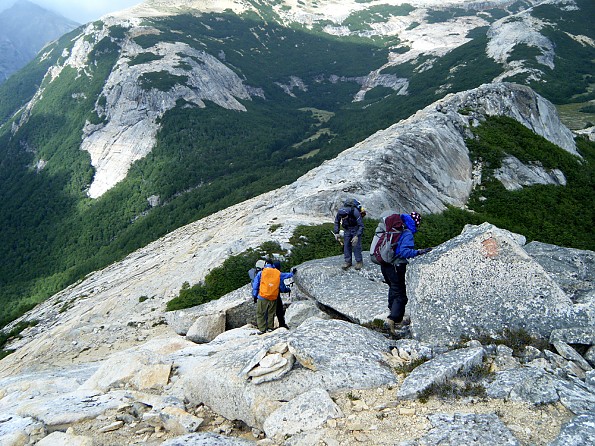 The descent. I kept wondering when the rappel rope would come out of Jorje's pack. It never did. I am in grey Kokatat Gore-tex in the middle of the group. Please note my low, but not wide, stance.
After lunch we ascended a "wet meadow" that was just dry enough-----with some route-finding, that no-one got their feet wet.
Then once again we were on rock with high winds, climbing towards the "Col Crystal". I kept looking for quartz crystals but never found "a keeper." Sarah was more avid and soon had a pocketful for show and tell.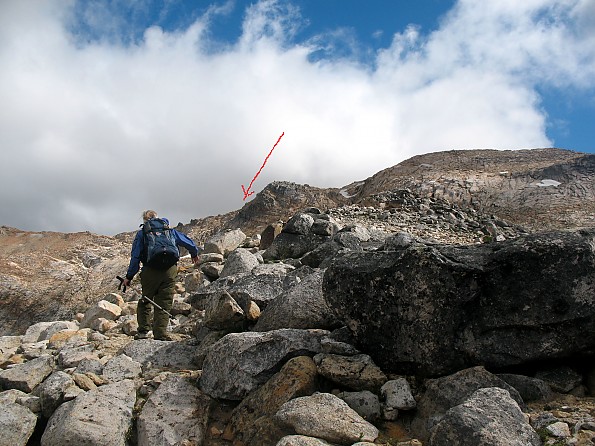 Dorita with red arrow showing where we top out.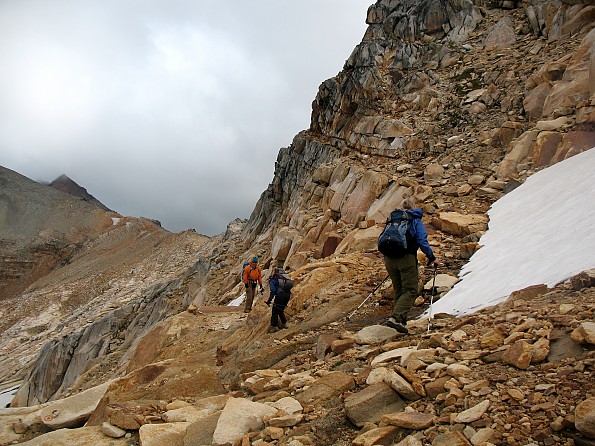 Almost on top now, just a little traverse to the ridge and keep hoping it does not rain.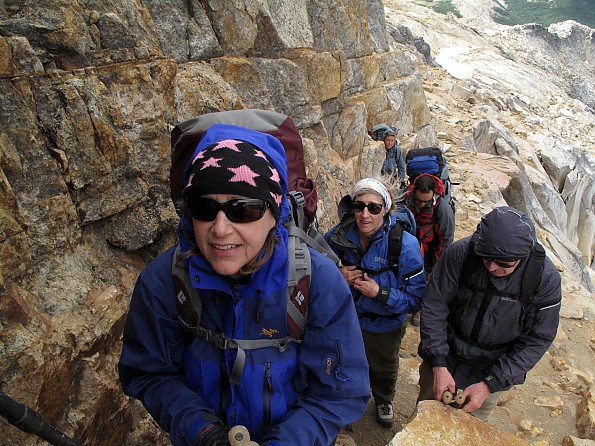 Taking a little break just before the windier ridge. From front to back: Angie, Ray, Dorita, Herman, Sarah. Don't I look like I'm having fun?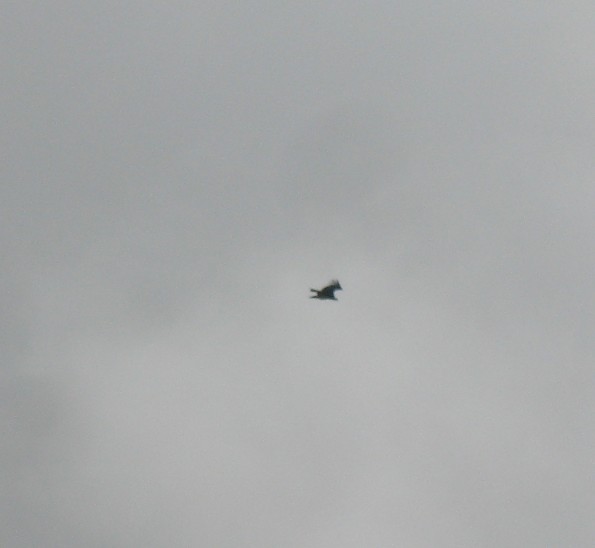 Condor. Never did get a good photo of one: but they were watching us, and waiting for the weak to die.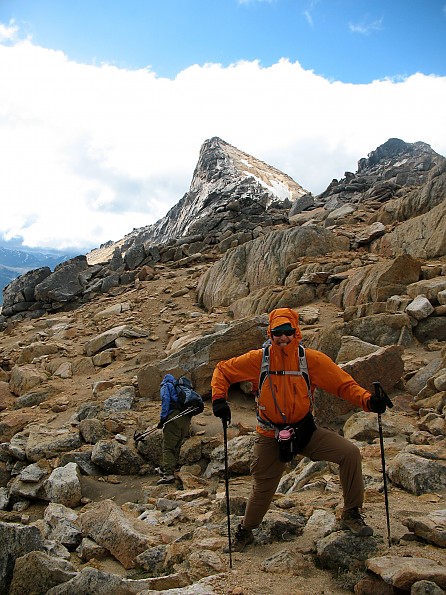 Jerry posing on the ridge, while Dorita limps with her now cranky knee toward the downhill side. Jerry really enjoyed the physical challenges of the day!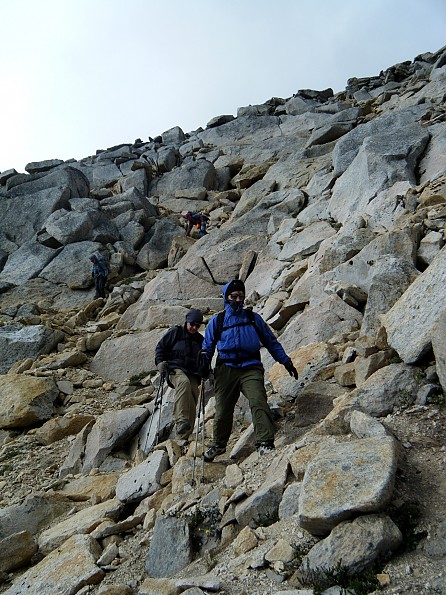 OK! Downhill all the way to camp, but almost every rock is loose. Please don't kill yourself or others.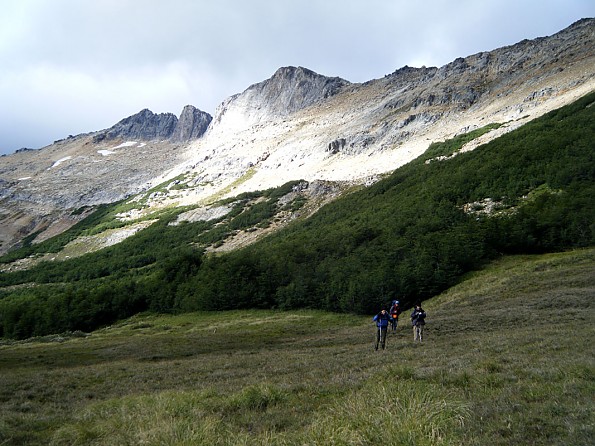 Ah: meadows to camp, with just an occasional bog for the unwary. Jerry went in one up to his knee. Serves him right for having fun!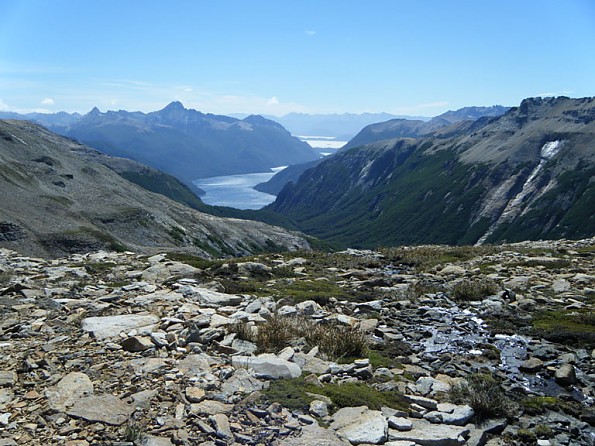 View north back down to an arm of huge Lago Nahuel Huapi.
Day 4, after a hard overnight frost, we climbed over another pass. This one was pretty pleasant. The wind was present, but not ugly.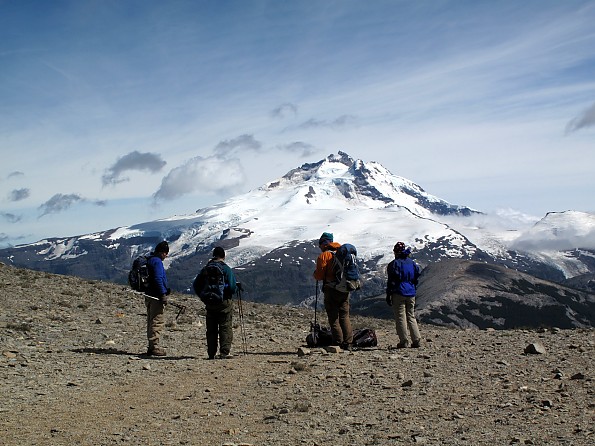 The last pass, with Monte Tronador 11,450 Ft. in foreground. (The Thunderer-named for the sound made from glacial icefall.) Tronador straddles the border with Chile and is only about 100 miles east of the Pacific Ocean.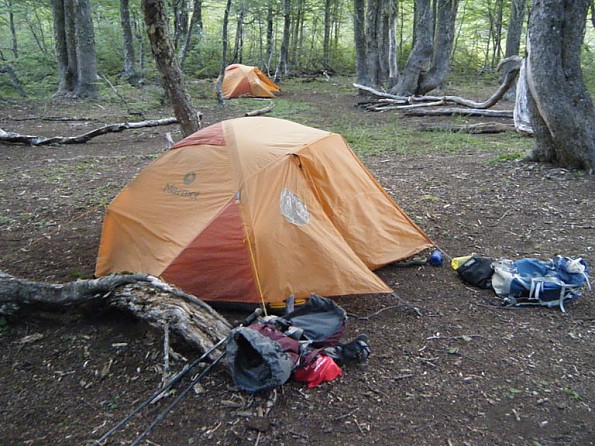 Our tent. Nice to have high quality gear supplied by our outfitter. I should mention food was abundant and tasty, and Jorje and Sarah are now our friends. Herman was equally wonderful, but he had to go kayaking in Chile the next day after our trip, so we didn't get to do more with him.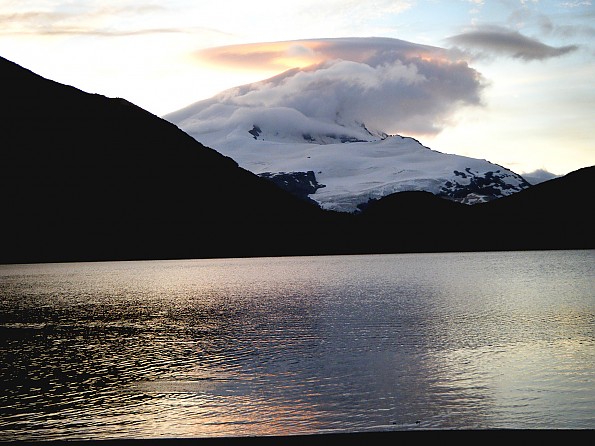 Sunset, with a lakeside beach, a storm coming in, and a cloud cap on Monte Tronador "was to die for." Jerry and I nearly missed dinner, while taking photos.
It blew very hard all night. Jorge & I both were expecting bad weather for the morning, but the clouds all blew out and the last day was very nice.
Jorge, Jerry, & Angie rose at 8:00 AM and hiked several miles to a cliff that overlooks an arm of Lago Nahuel Huapi. The rest of us slept in and had a leisurely morning.
We finally started our hike out around noon. We had a nearly flat walk for a couple miles, then came the big drop off to the valley that our road was in. After losing some elevation, we stopped for our best views of Monte Tronador. We had heard the mountain thunder several times during the night, but never saw a big ice-fall.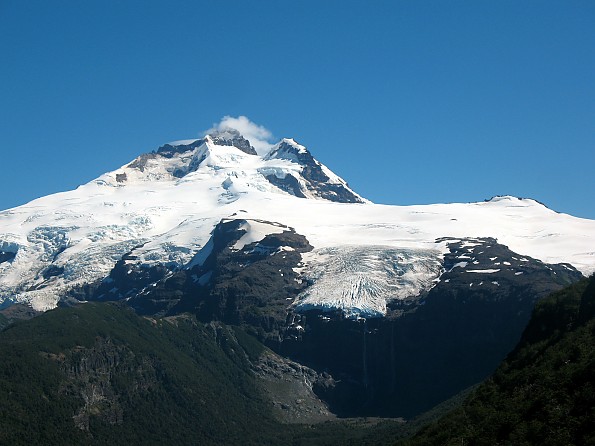 Monte Tronador and its hanging glaciers. You can see big waterfalls below the one at right-center.
After a long, long downhill climb we finally reached bottom. Only a short stroll and a glacier melt-water river separated us from the small lodge at Pampa Linda and a late lunch, with cold beer.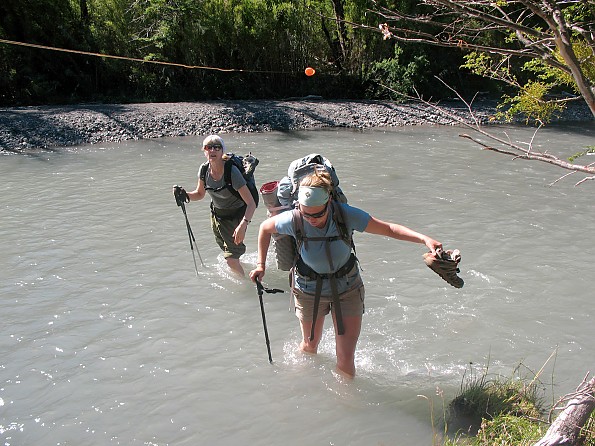 Dorita and Sarah. Did someone say: "COLD BEER?"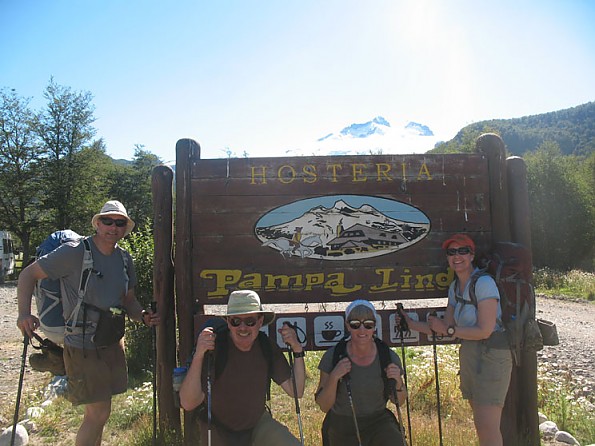 Hard to stop and pose for this, with food and drinks one hundred feet away.
After our backpack trip, the weather turned cold and rainy. We managed one more hike.
Above Bariloche's ski area is the Frey hut: a noted climbing area. Scroll back to the first photo in this story for a distant shot. We hiked up on a windy and rainy day, got a break in the rain and had some great granite spires to admire.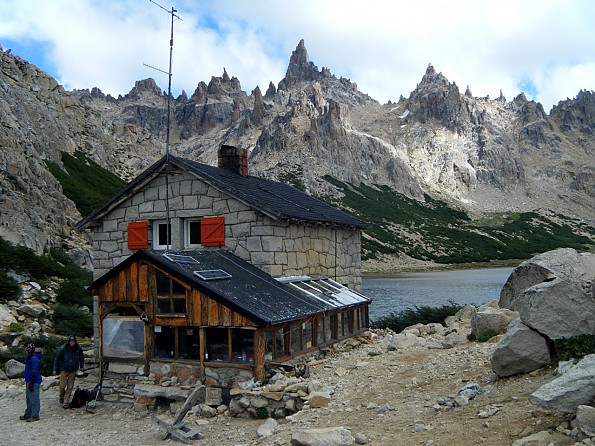 Frey hut. A few grumpy climbers were inside on this blustery day. Did not see any climbers on the spires.
Nice time for us in Argentina! Tough trip for us old farts though.