trouthunter
1,778 reviewer rep | 3,956 forum posts
8:19 p.m. on June 27, 2010 (EDT)
Hello all!
My wife Susan & I went to Lake Moultrie in SC today and hiked along the gravel road on top of the dike that surrounds this large man made lake.
Lake Moultrie is an impoundment created in the late 1930's by flooding 60,000 acres of farm land for the purpose of generating hydroelectric power. The lake has multiple islands, canals, and vast stump fields under water, plus man made fish attractors that make Lake Moultrie a popular fishing & recreation area.
The Palmetto Trail which originates in the upstate region follows the Northern & Eastern shores of this beautiful lake for 26 miles with 4 primitive campsites, on it's way to the Eastern Seaboard through the coastal plain.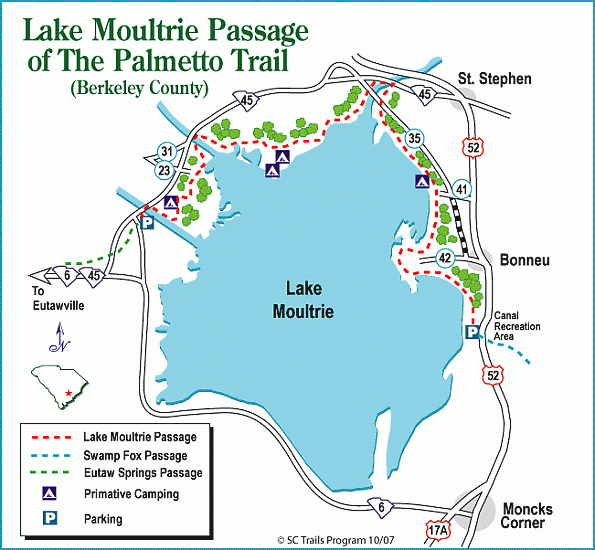 Today's hike was basically a scouting trip to help me plan a section hike of the Palmetto Trail. I plan to hike from Lake Moultrie to the Eastern terminus of the trail in three section hikes, about 75 miles.
The photo below is one of several Lagoon's that are found along the lakes perimeter. The dike road we were on travels though a wooded area for about 1/4 mile before you get a view of the lake.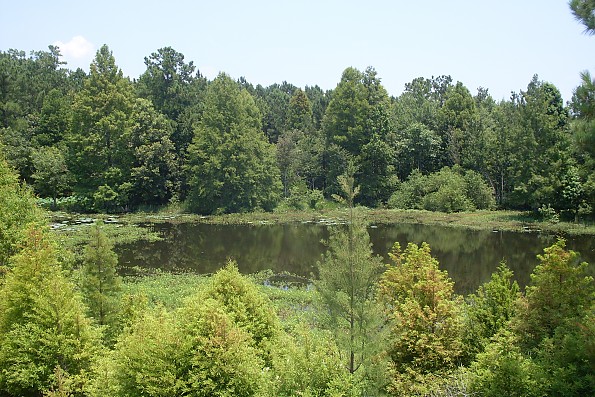 As we walked further along the dike the woods gave way to the large open view of the lake. The trees you see are Pine & Cypress trees, the Cypress trees love the water and can be seen growing all over the lake.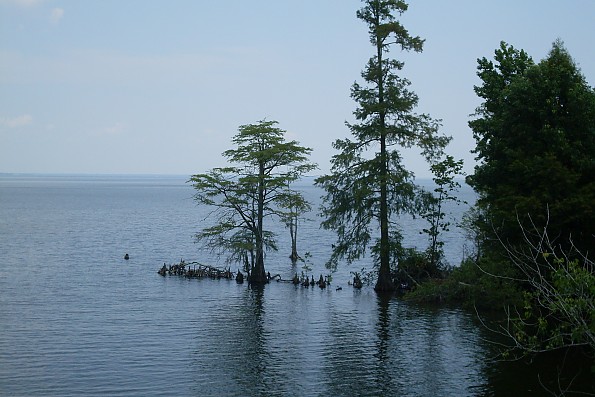 Cypress trees grow in the shallow water closer to the shores that is only about 2-3 ft. deep, and can easily be waded for hundreds of yards in many places on the lake. In the distance (top right) you can barely see the Cross Power Generating Plant, located in Cross SC.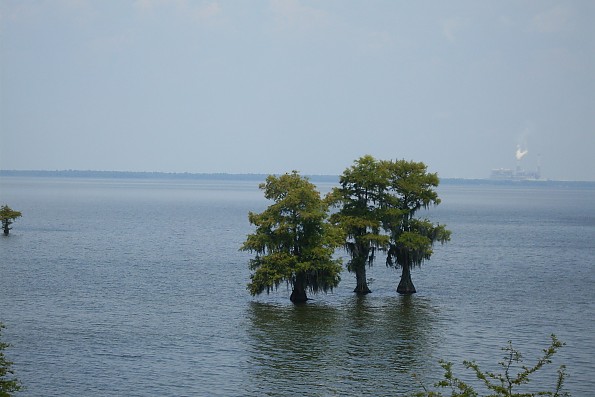 Here I am sporting my Trailspace cap (thanks Alicia) with more Cypress trees in the background. It was 94 degrees today but we had a cool lake breeze up on the dike which made the hike much more enjoyable. I was very happy to finally get some time off from work so I could get out!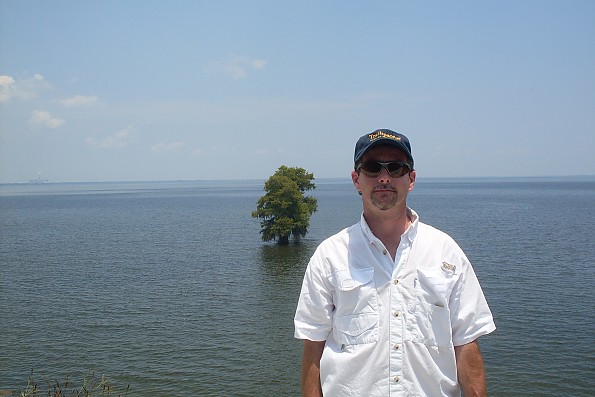 This photo below shows the dike road that runs around the lake, it is about 25 ft. above the current water level. This is a closed service road, but hiking is allowed.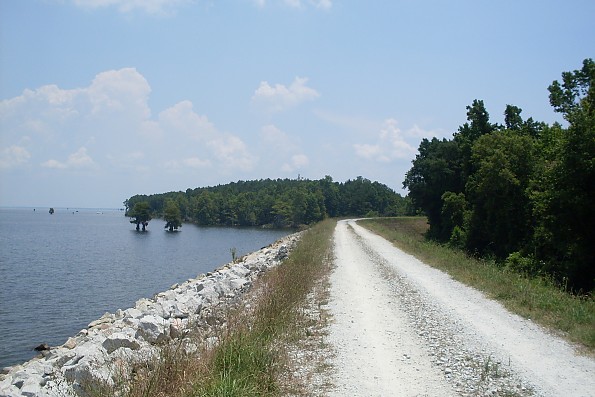 So...nothing breathtaking or super exciting, but I am really ready to finalize my plans to hike the lower section of the Palmetto Trail as well as canoe out to a couple of the islands here on the lake and camp for a few days. Hopefully by then I will be equipped to shoot some nice video of my trip and show what these islands look like. The two islands I have camped on last year where full of deer, raccoons, cottonmouths, alligators, and numerous wading birds.
Stay tuned!