Tipi Walter
295 reviewer rep | 1,444 forum posts
11:07 a.m. on July 2, 2010 (EDT)
On this trip I was dropped off at Bald River Falls and went into the Bald River wilderness in Tennessee. Later my 15 year old dog Shunka had a stroke and I spent several days at one campsite 10 miles in nursing him thru his struggle. These photos are about the trip. (Trip 110--May 7-15 2010).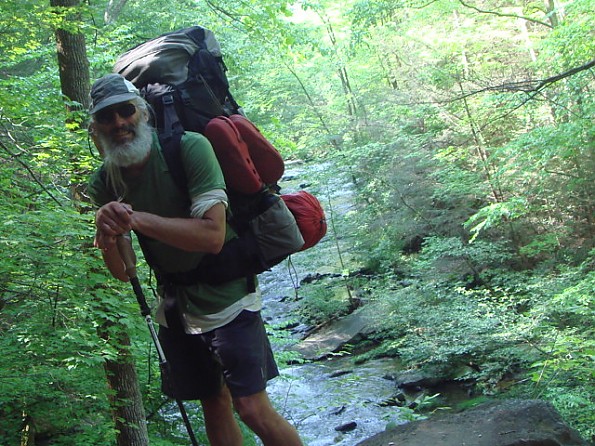 On the first day I enter the wilderness and pose above the mighty Bald River. My load is for a long trip and so it's big. Here I'm wearing a Cabelas sheer silk baselayer under a nice Icebreaker merino t-shirt.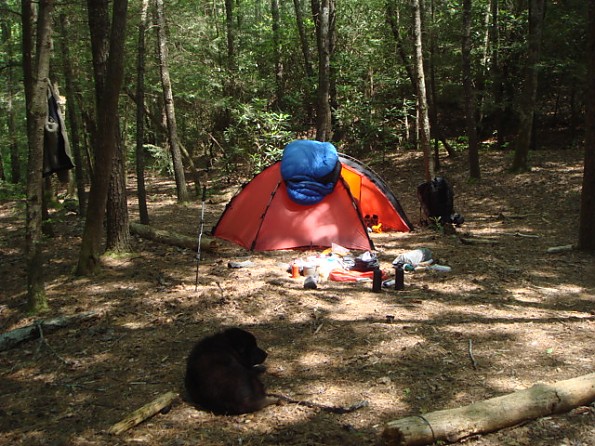 Shunka and I make it to our first tentsite of the trip, Big Pine Camp, and Bald River is to our left about 25 feet.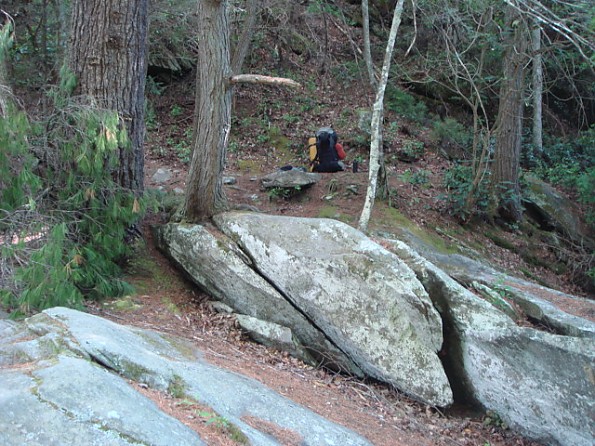 The next day we hoof it up river and take a break by the Cascade waterfalls in a little canyon of big rocks.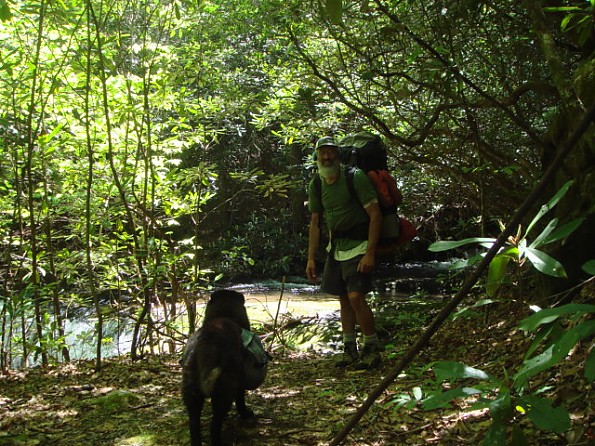 After several miles we get on the Brookshire trail and cross the mighty Upper Bald and tie into the trail junction with the Benton MacKaye trail. Here the trail either goes left across Brookshire Creek(behind me)and north, or right up a sidetrail and south. We decide to head south.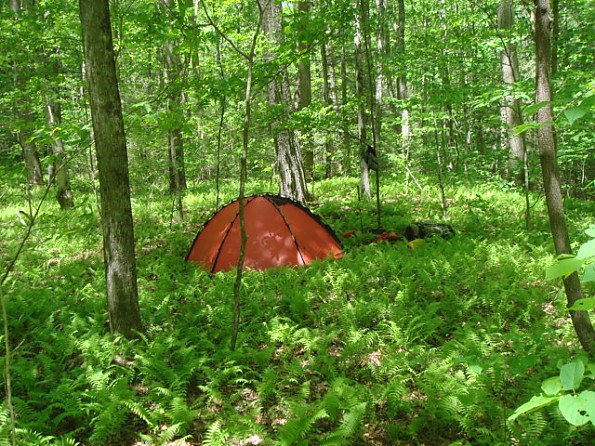 FERN CAMP: This is a campsite I found on the Brookshire trail and is in a big shady field of green ferns. It's here that old Shunka dog gets real sick and so we have to sit put for 4 days while I try to nurse him back to health. He can't eat or drink or walk and so we wait.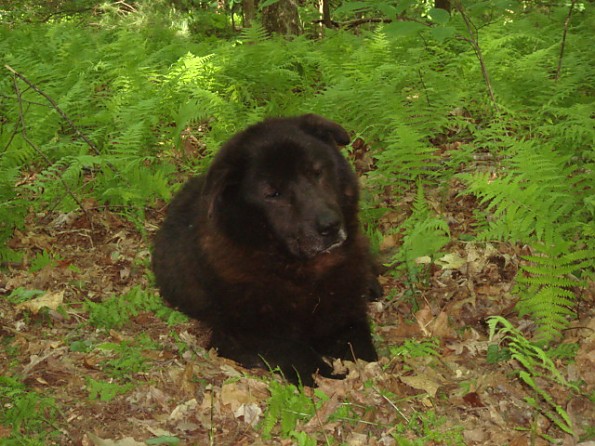 Shunka sits in Fern Camp mostly immobile and weak. My ride wasn't scheduled to come back to the Bald River trailhead for 7 more days, so I had to hang out and try to get Shunka thru his struggle.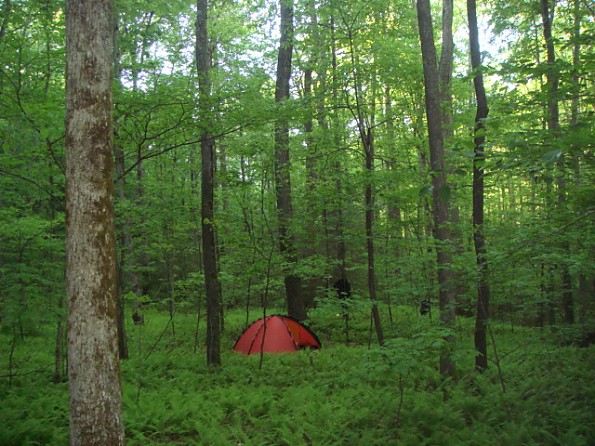 Another view of Fern Camp.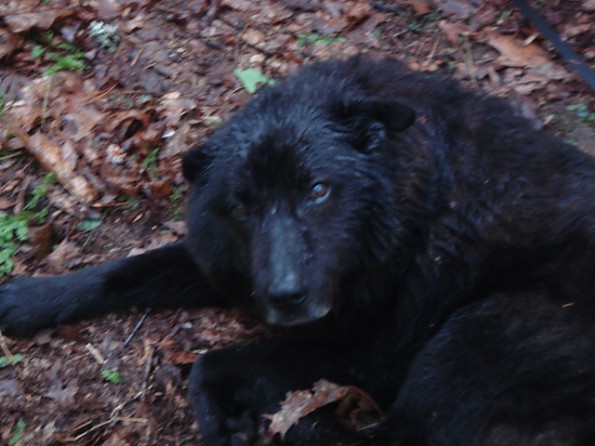 This shot makes Shunka look like a black bear. He spends 4 days sitting in one spot and can't get up without falling over.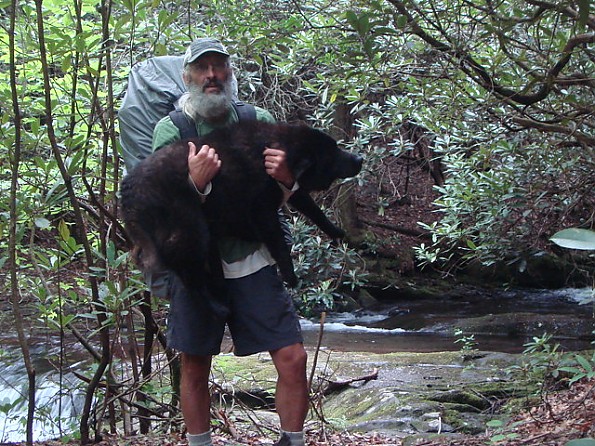 CARRYING SHUNKA OUT: I didn't know how far I could do this(since he weighs 50lbs)but I wanted to cover half of the 10 miles out so we'd be closer to the trailhead when our ride came. We made it back to a closer camp and called it a day.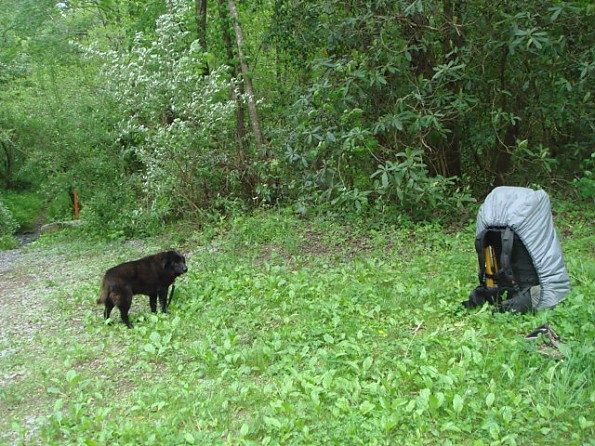 Shunka improves enough to eat grass at the Brookshire trailhead reststop. His sense of balance is gone but he improves enough so I can get him to walk very slowly with a guiding hand on the fur behind his head.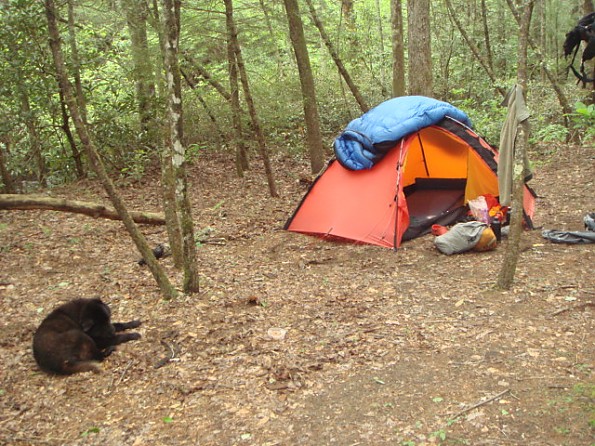 We make it back into the Bald River wilderness and I set up a much needed camp(by the Cascades) after a rough 5 mile day. Shunka is slowly starting to eat pieces of bread and drinks water, a dang good sign.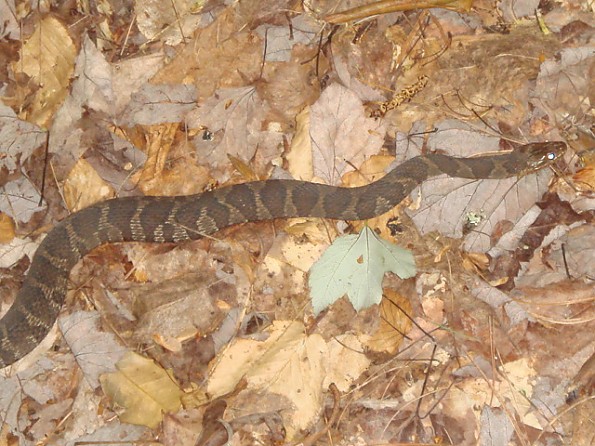 We leave the Cascade camp and go downriver on the Bald River trail and run right into this pretty banded water snake. A copperhead-wannabe, it sobered me up for a minute or two. Shunka weaves and wobbles around it and we're on our way.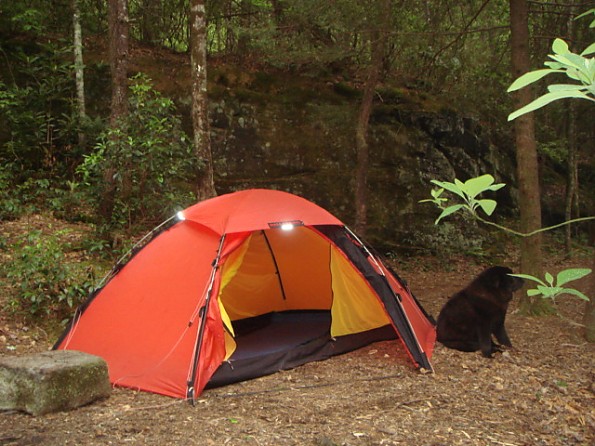 We make it to the sweet relief of Rock Ledge Camp(see the rock?)in the Bald River valley. By this time Shunka is able to be led by a leash and can walk on his own, though lopsided.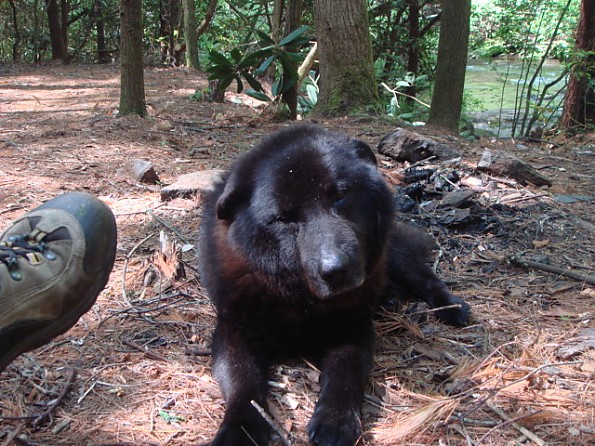 We leave the rock ledge and make it to our last camp of the trip, a place I call the Black Cave. We stay put for two days and wait for our evac ride, about a mile from camp. You can see the river in the back.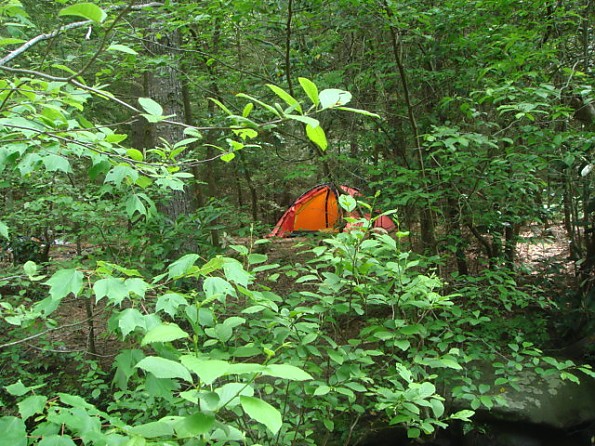 Here's a shot of my Hilleberg tent in the Black Cave Camps.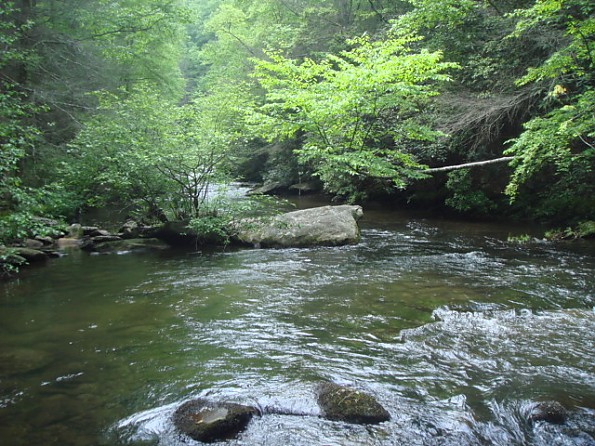 A simple view of the mighty Bald.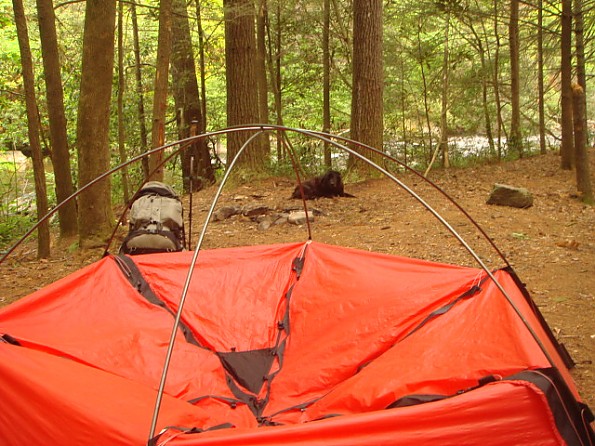 On the last day I take down the 3 poled dome tent and it's a quick process. We're ready to head thru the gorge section and pass the falls.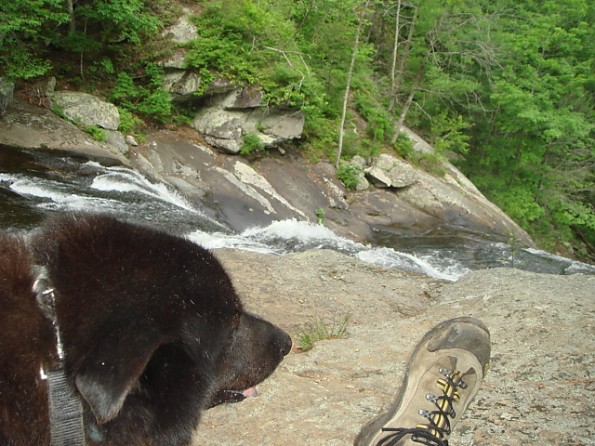 We make it to the falls and hang out before heading to the trailhead for a 12 noon pickup.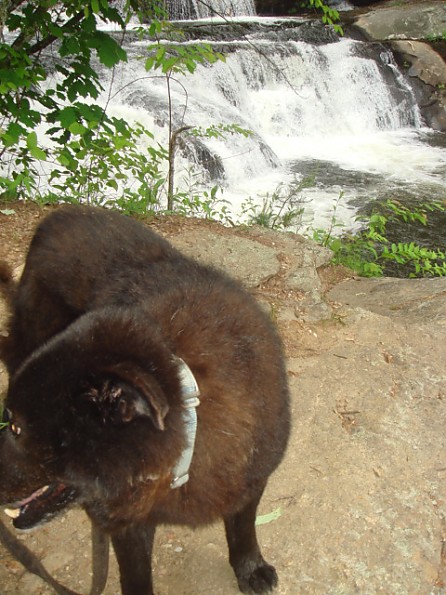 Shunka surveys the falls and waits for the final moveout. It was, all in all, a stressful trip.
POST REPORT: After I got back from this trip I took old Shunki dog to the veterinarian and during a check-up it was determined he had a misfire with his cranial vestibular nerve. It caused stroke-like symptoms and temporary collapse. He's improved considerably since Day 5 and now he's a little lopsided but eats and drinks and gets around okay.