Tipi Walter
295 reviewer rep | 1,448 forum posts
1:47 p.m. on July 7, 2010 (EDT)
I take another backpacking trip into the Citico/Slickrock wilderness of TN and NC and here are the fotogs(Trip 111, June 3-18 2010).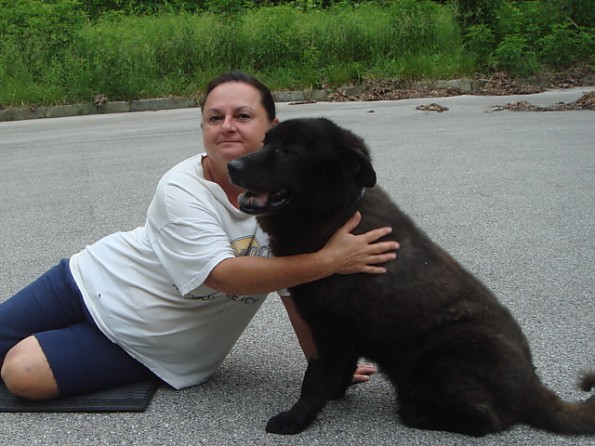 Little Mitten drives me and Shunka dog up into the Citico wilderness and drops us off for another backpacking trip. I leave a two BearVault food cache nearby hidden by a fallen tree(mostly dog food as I now have to carry all of Shunka's food since his stroke), and also an emergency Thermarest in case mine blows out.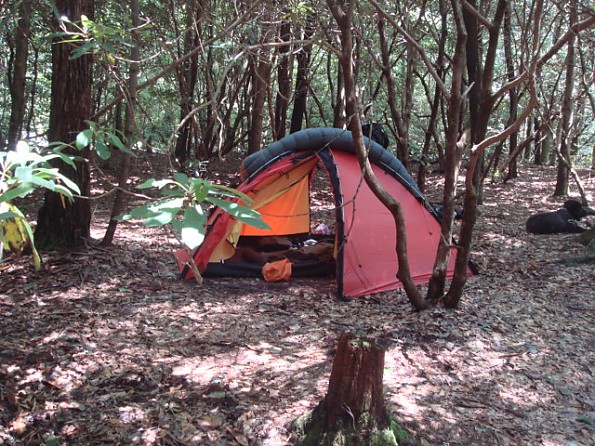 My Hilleberg tent has two doors and they come in handy when the temps soar and the humidity is high. This is a campsite on the South Fork Creek in the Citico wilderness.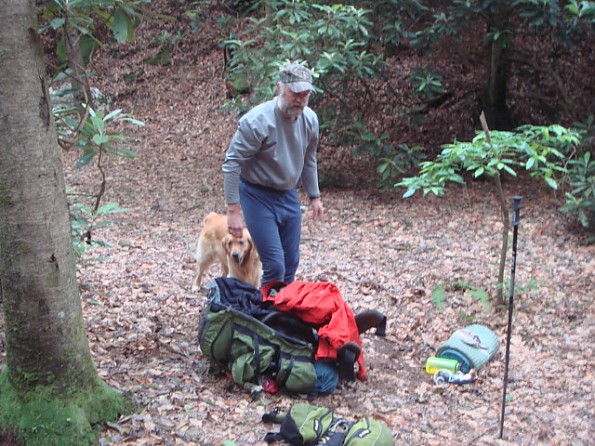 Tennessee backpacker Hootyhoo surprises me and so we link up and decide to camp together downstream on the South Fork trail.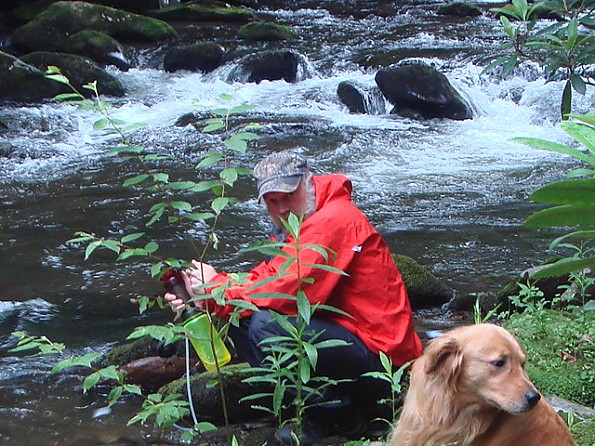 As I pack up camp, Hootyhoo gets water from South Fork Creek.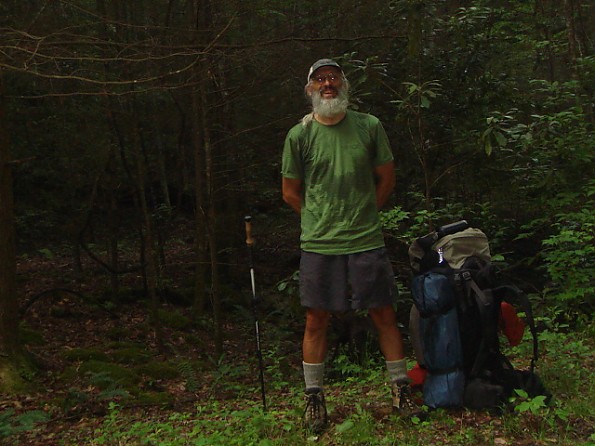 As we descend the South Fork, I break out in a sweat. The Icebreaker merino t-shirt just might be a little too hot for the summer.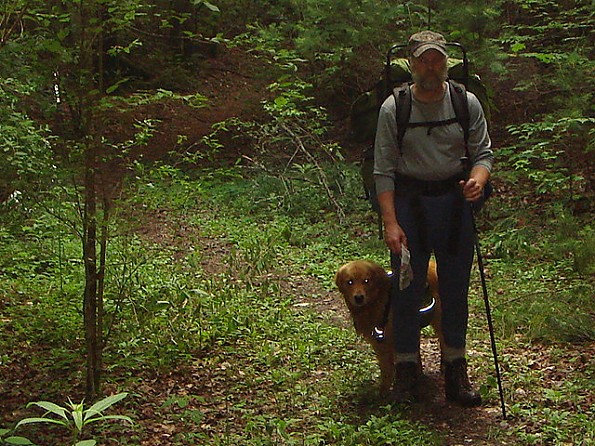 Hootyhoo stays more covered and more protected from the noseeums and mosquitos.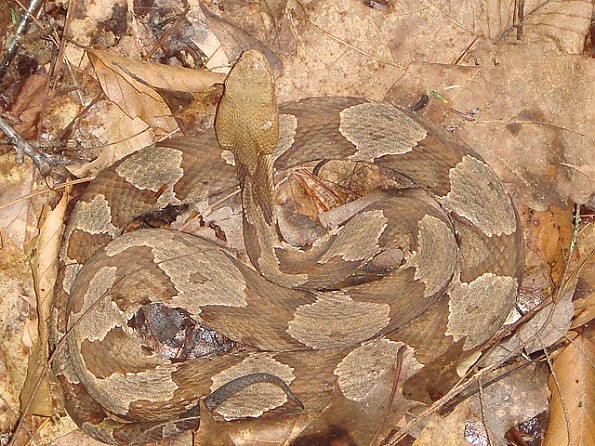 After we set up our separate camps on the South Fork, I walk around the tent and find this calm little copperhead resting and we have a good time communicating. Ya gotta love the snakes.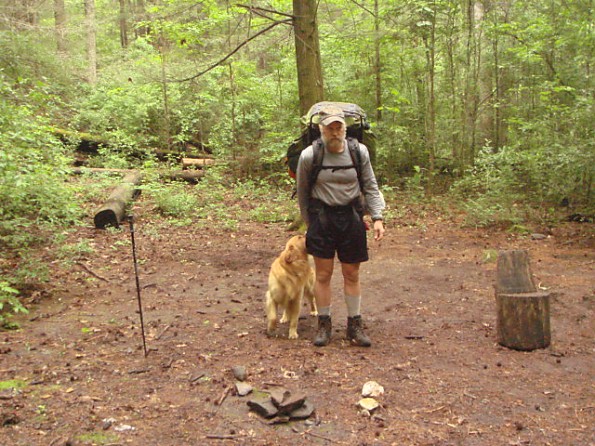 THE DONNER CAMPS: We camped at a place I call the Donner Camps and on Sunday morning Hootyhoo packs up and is ready to go. We say our goodbyes and he heads to the South Fork trailhead and I head up the South Fork and deeper into the wilderness.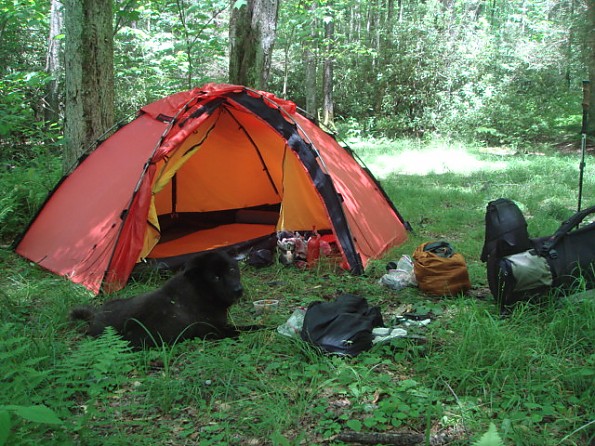 The South Fork is a fairly long trail at 9 miles, and up about 6 miles and a thousand feet is the tentsite I call Iron Camp.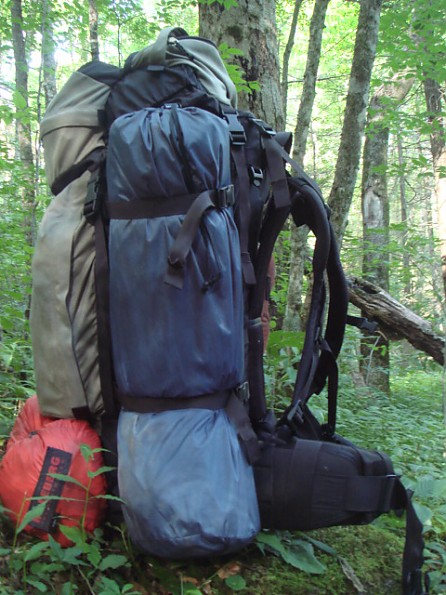 I left Iron Camp and carried my beloved Mystery Ranch G6000 pack up another 2,000 feet to the top of Bob Stratton Bald. This was taken near the top of the SF on a very steep section of trail.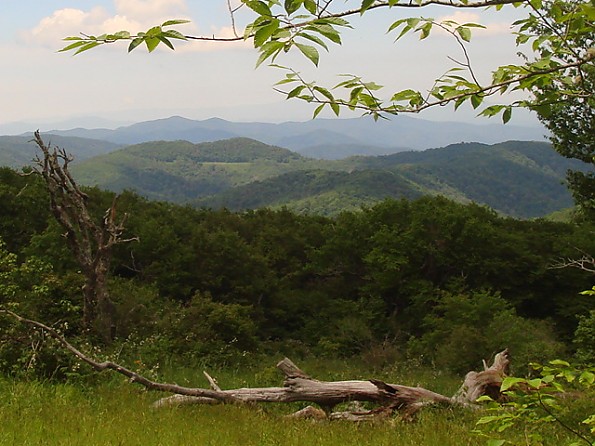 After all the weight and the sweat and the gnats, you are greeted by this--the Bob!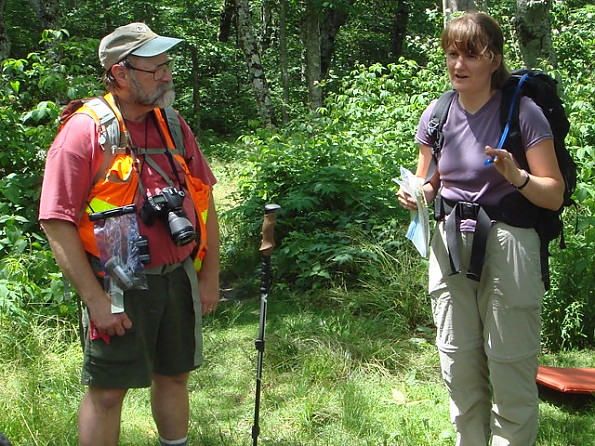 I didn't camp on the Bob but instead went another 1.5 miles to the high gap at Naked Ground and run into NC forest supervisor Dewayne and Christy Ralston. Christy is leading a group of 6 college students from the Student Conservation Association out of Asheville to do trailwork in NC for 5 months.

I go past Naked Ground about 400 yards and get to another favorite campsite where I set up the Staika tent.

The next day I decide to retrace my steps and head back up to Bob Bald for the night. I stay on Four Mile Ridge, the trail that goes from the Hangover to the Bob and beyond. It stays around 5,000 feet the whole time.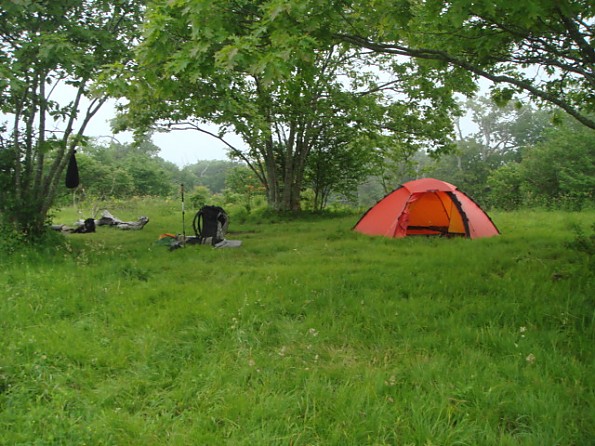 Buy your dream home today! No mortgage needed! Here I am set up on the Bob in the green meadow.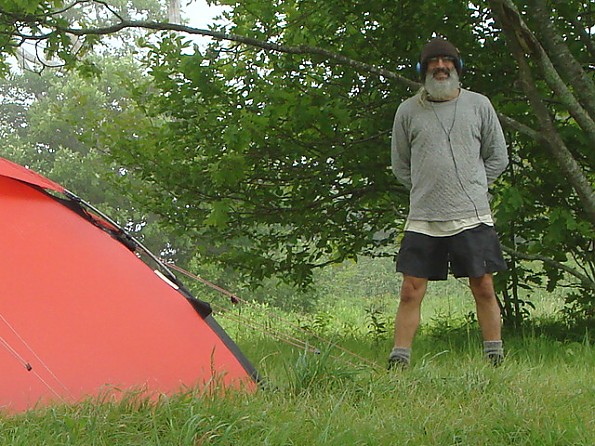 This fotog makes me want to load up my gear and head right back out. Get to the high ground, fight off the bugs and eat like a king.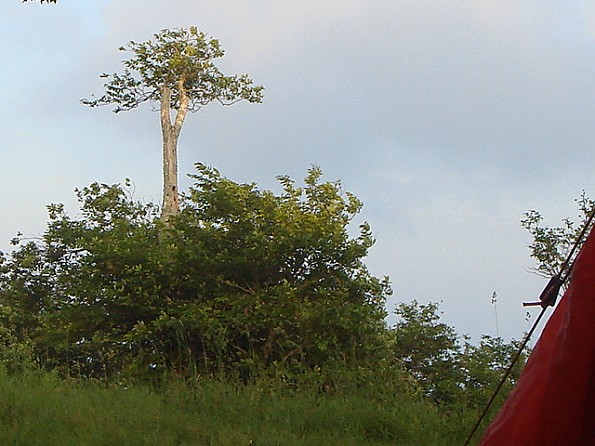 I took this shot from inside the tent of a lone tree on the Bob.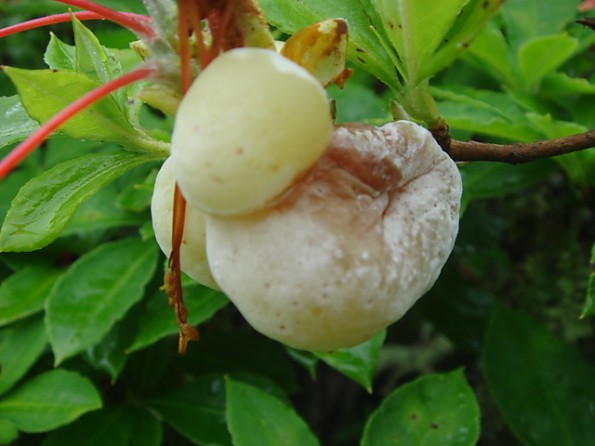 Here is the elusive Azalea Gall, though this year it seems to be everywhere. Some sources say it's edible and . . . well . . . . .I've eaten my share of it.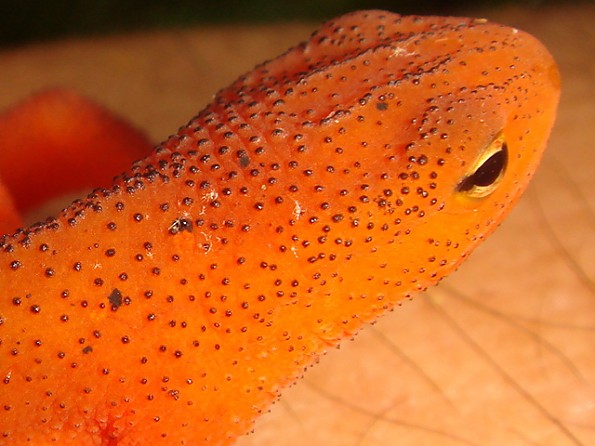 This guy is not so elusive and has become, over the years, my favorite trail buddy. Ya gotta love the red newts. Everytime I see one I stop for a long while to say hello.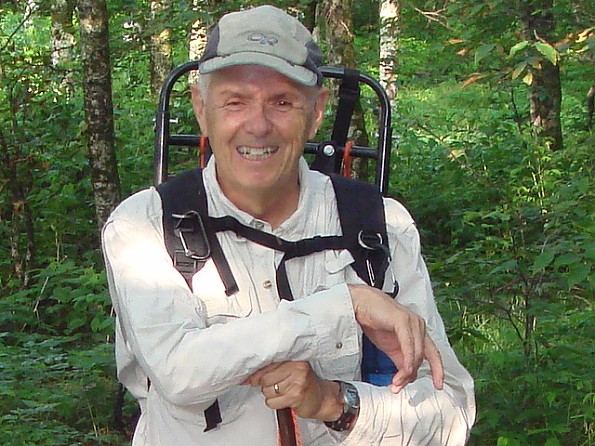 I first met Coy Williams during an early 2003 backpacking trip to the Hangover. I see him again on this trip and it's a good surprise. He loves the outdoors and as I am writing this today, he's out in Slickrock backpacking up the dreaded Nutbuster trail. Yes, the upper Slickrock Creek trail as it ascends to Naked Ground.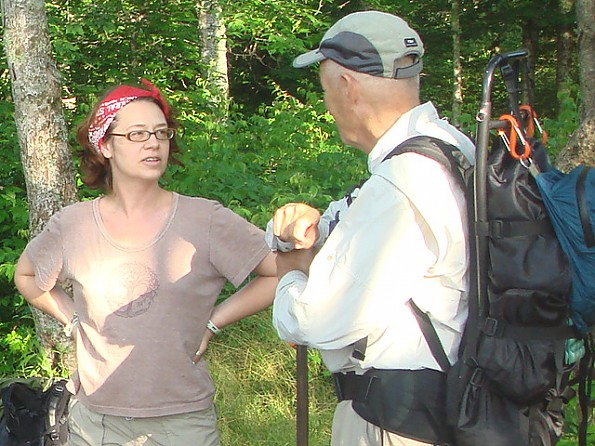 Coy is joined by his friend Karen who came up the steep Naked Ground trail to do some solo backpacking on her own. We all hobnob and decide to do a dayhike together over to the Hangover, about a 3 mile round trip.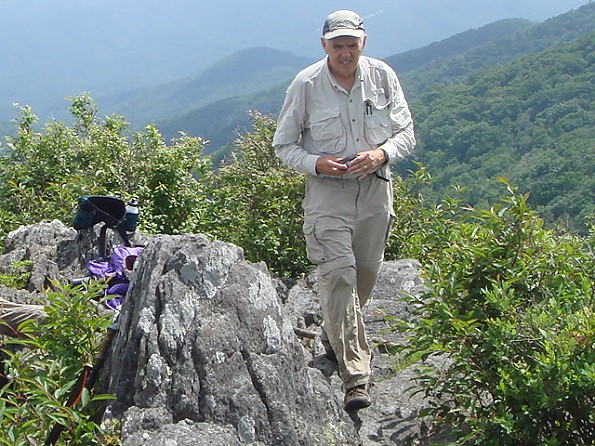 Here's a good shot of Coy on the Hangover rocks. This place has one of the best views in the Southeast.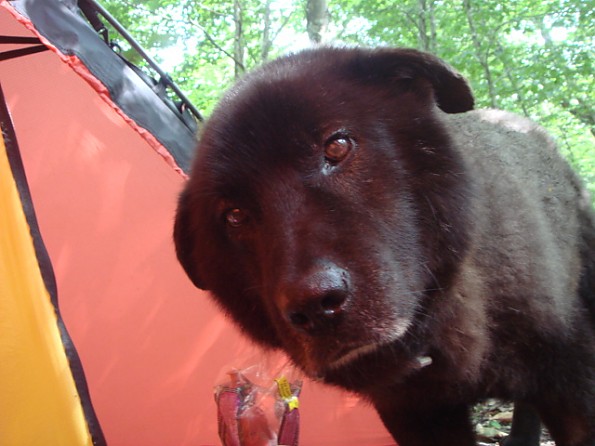 We get back to camp and Shunka peers into the tent to see if I am really the person I say I am. He's glad to be back in camp.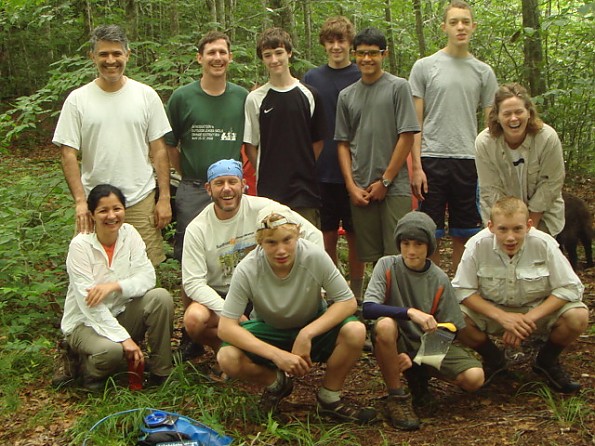 Later in the day a group of Boy Scouts come up the Nutbuster trail and decide to camp at Naked Ground. One of them knows of me from my Trail Journals and so we all have a great time camping together.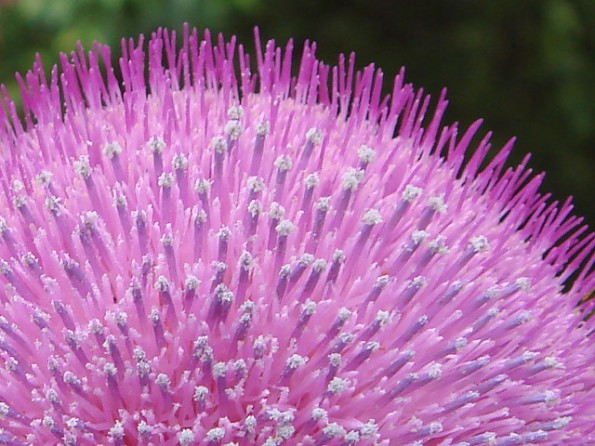 In order to get over to my food cache and Shunka's dog food, I have a long day of hot backpacking in the Kingdom of the Gnats. It becomes a 14 mile day of sweat but along the way I see this pretty Thistle flower.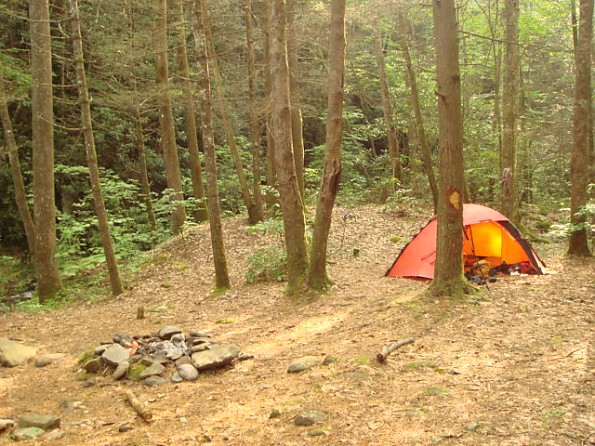 After reaching the undisturbed cache and BearVaults, I fall down Grassy Branch(again)and tie into the South Fork and junction with the North Fork where I set up camp by the second crossing.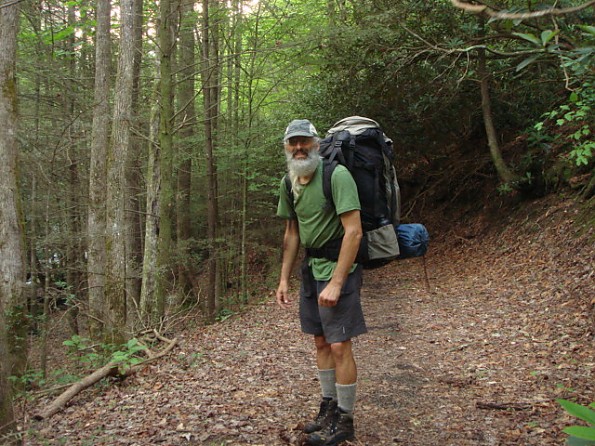 On my last day I pack up and leave down the North Fork trail. My goal is to climb back up the steep and sweaty Grassy Branch trail to Grassy Gap and wait for my ride. I also need to extract my cache items. The gnats are so bad I decide to buy a headnet when I get back home.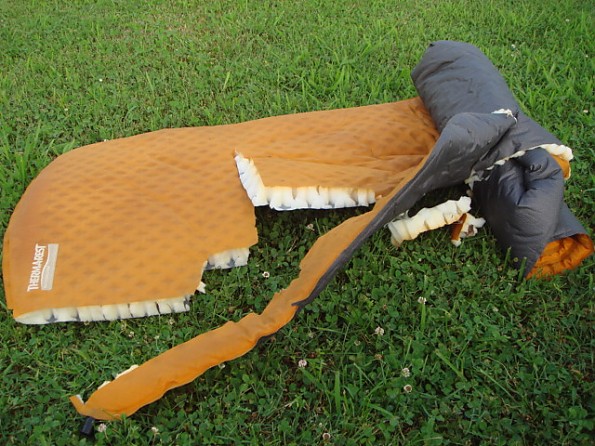 BEAR 1, THERMAREST 0. Surprise, surprise, but I find my nice cached Prolite 4 pad shredded by mister Bear. I have a fast and light patch kit on me, I wonder if I can fix it??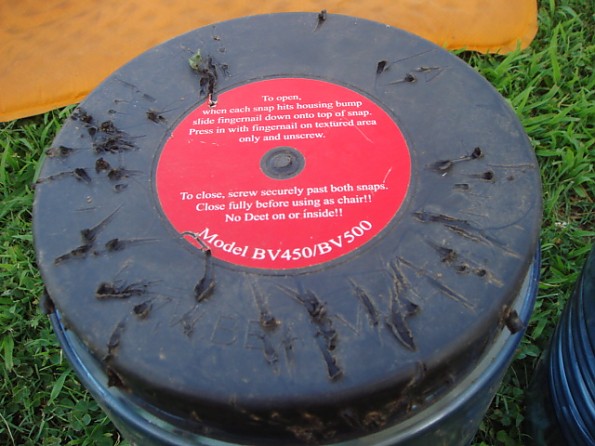 BEARVAULT 1, BEAR 0. And finally the last fotog of the trip shows one of my BearVaults chewed. He rolled them about a hundred feet down a weedy hillside and I found them by the big trail he made. I felt like it was a great end to a perfect trip.