9:45 p.m. on August 1, 2010 (EDT)
Tipi Walter

295 reviewer rep
1,436 forum posts
Trip 112 July 11-26 2010
Citico/Slickrock Wilderness/TN--NC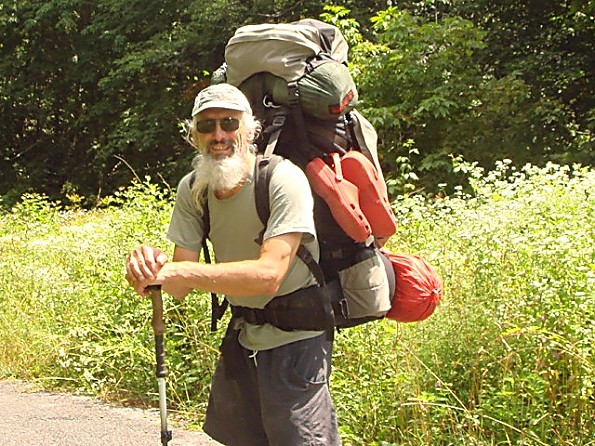 I begin another long trip into the wilderness and enter at a place called Beech Gap where I lift and crawl under the Silverback Gorilla for 3 miles to my first camp at around 4,500 feet. Why the enormity? Cuz I'm carrying all of my dog's food(in the top green stuff sack). My pack and tent alone weigh in at 16 lbs.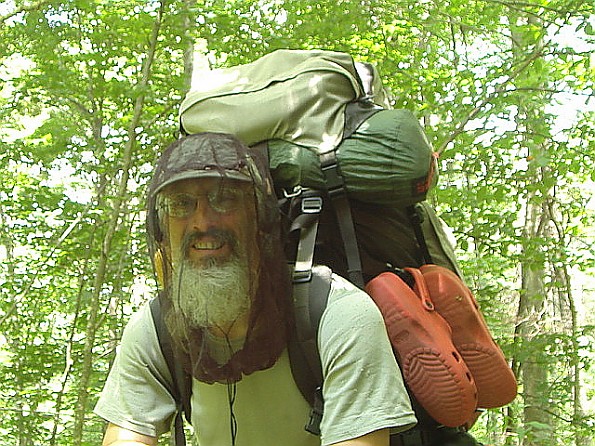 WHEN ENTERING GNAT VALLEY--ALWAYS WEAR YOUR HEADNET! And so on Day 2 I move about in their world, and don't ever get between a mother gnat and her young.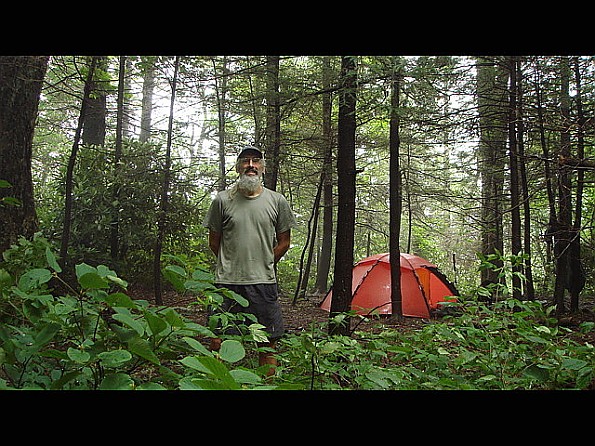 On Day 3 I set up several miles further in at a place I call Snow Camp, another high elevation camp. While it's 100F down below, it's about 90F here, a cold snap.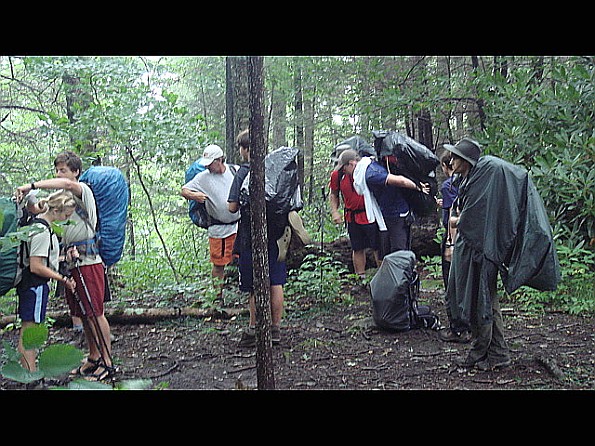 A Boy Scout troop from Canton, NC and the Shining Rock boy scout camp pass thru on their way north on the Fodderstack trail.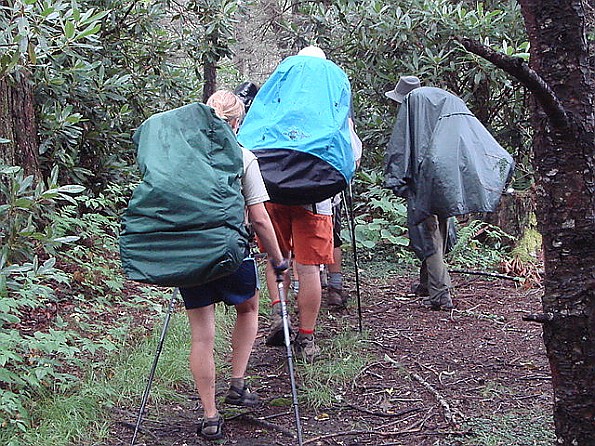 THE SCOUTS ARE ON THE MOVE: And they leave Snow Camp and head north to Crowder Camp and down to Slickrock Creek on the Big Stack Gap trail.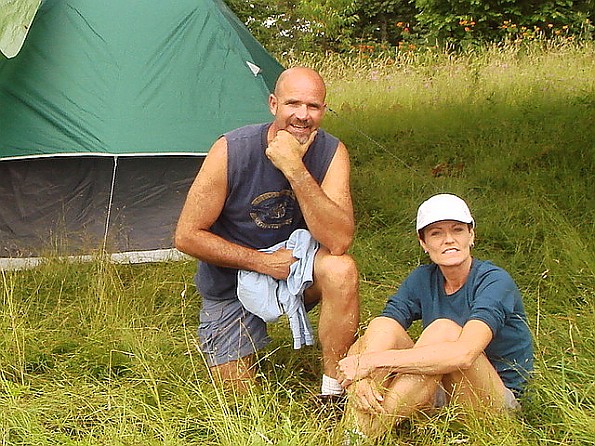 KIM AND DAVID ON THE BOB: These guys came in with four backpacking border collies--all wearing packs.

Are these photos or just noise? Sorry for the dang pixel frenzy. Anyway, this shot shows David with his old vintage Jansport pack. And a couple of his family of border collies. God bless the Citico--they allow the almighty dog.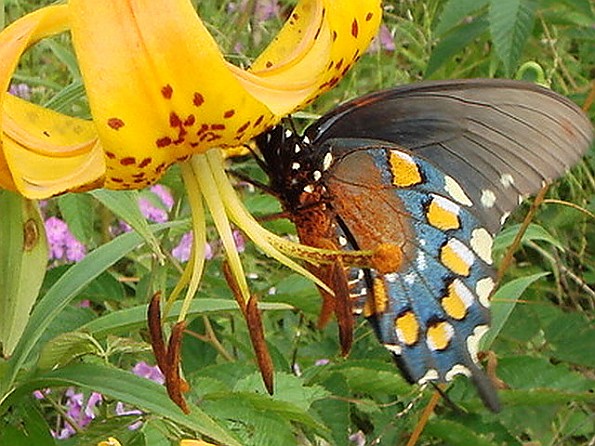 I'm moving all over the place, first up and over the Bob, then down to Naked Ground, then back up to the Bob where I capture this quick fotog.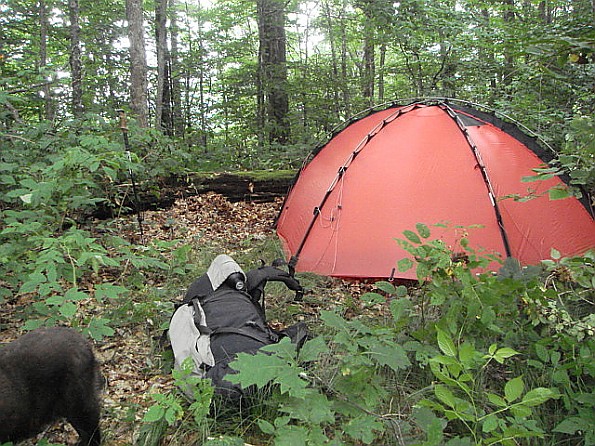 I pass over the Bob and head down about a mile to this new tentsite on trail 54A. I call it Mighty Oak Camp because it's next to a big tree.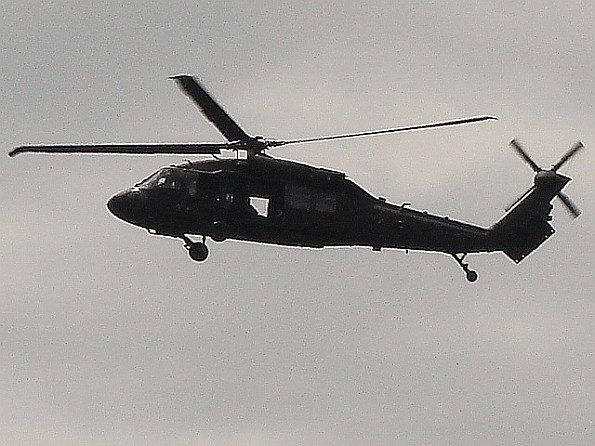 Talk about govt surveillance . . . . . . This mighty insect flew up to the Bob and proceeded to do a training landing and scooted off right before touchdown.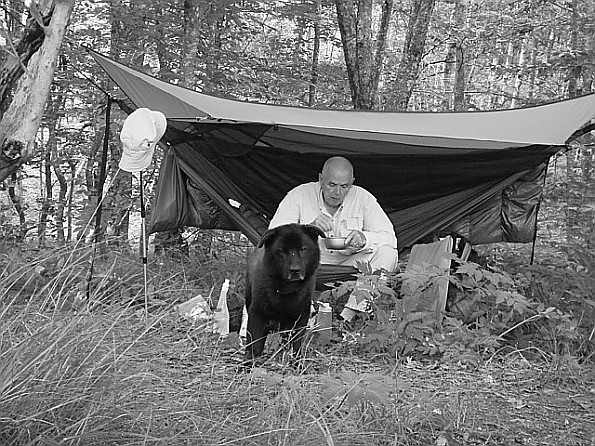 My buddy Coy Williams shows up on the Bob and we camp together for Day 6. He loves the woods and like to hang.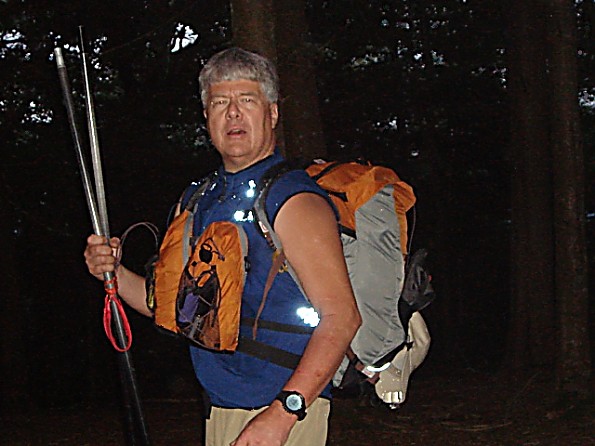 Later that night Medicine Man arrives from Beech Gap with his friend Wisenber and we planned a get-together for a couple days. They set up their hammocks nearby on the Bob. Check out Medicine Man's neato Aarn pack.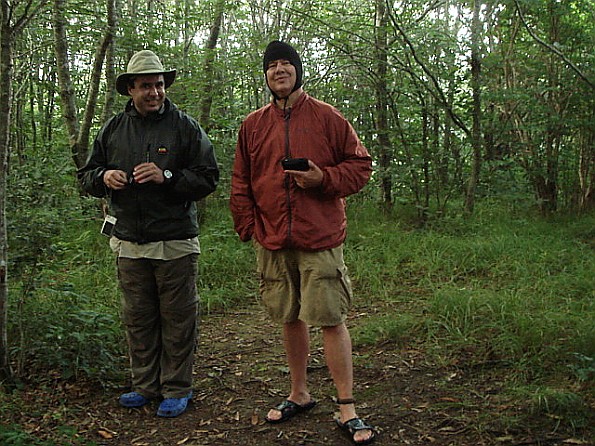 Wisenber and Medicine Man. Wisenber organized a hammock-hang trip and set the route to go down the dreaded Nutbuster, or the Upper Slickrock Creek trail #42. Going down is certainly much easier than coming up, but our next day travail turns out to be a butt kicker.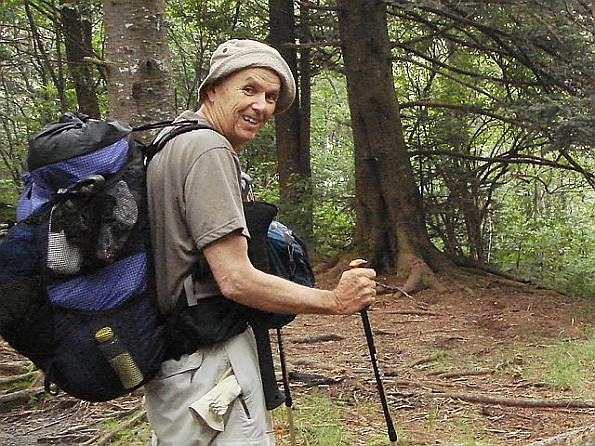 On the morning of Day 7, Coy is ready to hit the trail and leave the Bob for the high gap at Naked Ground.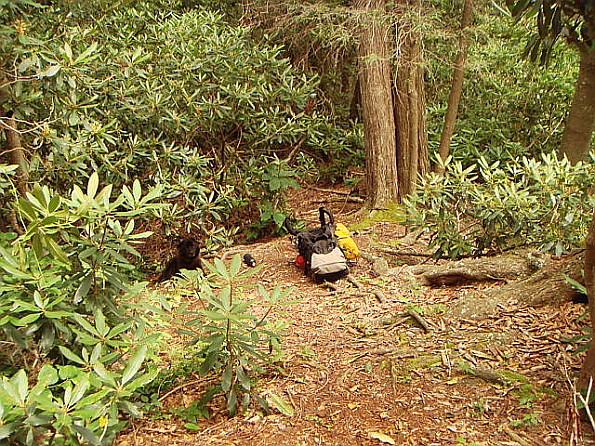 WELCOME TO HELL: And welcome to the Nutbuster trail. Day 7 became a long 12 mile of backpacking down a treacherous and hellish trail from Naked Ground down to Slickrock Creek and then pulling the 10 crossings of the Slickrock until we reached Slisgah Camp and a get-together with Sgt Rock and his family.
What makes the Nutbuster so rough? Well, it's a steep motard coming up, and it's a dangerous briar filled, blowdown mess going down(or up for that matter). Coy wisely stayed back, and I got separated from Wisenber and Medicine Man who got hung up with an angry rattlesnake. We all eventually dragged into Sgt Rock's camp late on Day 7.

A welcomed relief found me in the camp and by the firepit of Sgt Rock and his Mom, his wife, and a late-arriving Medicine Man and Wisenber.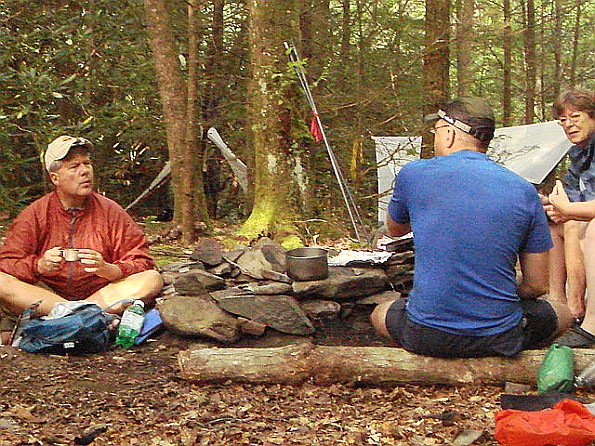 Here's a good shot of Medicine Man talking to Sgt Rock. Both are hammock experts and in camp that night I was in a tent surrounded by SEVEN HAMMOCKS!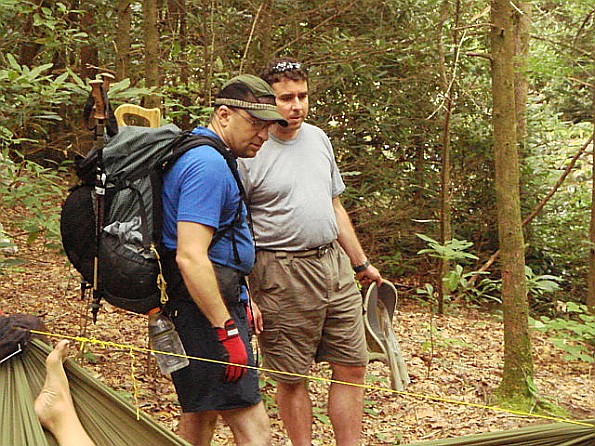 On Day 8 Sgt Rock packs up and we all go our separate directions: Rock et.al. north on the BMT/Slickrock, Wisenber(above)and Medicine Man south up the Stiffknee to Farr Gap and out. I head over to the Stiffknee jct and set up for the night.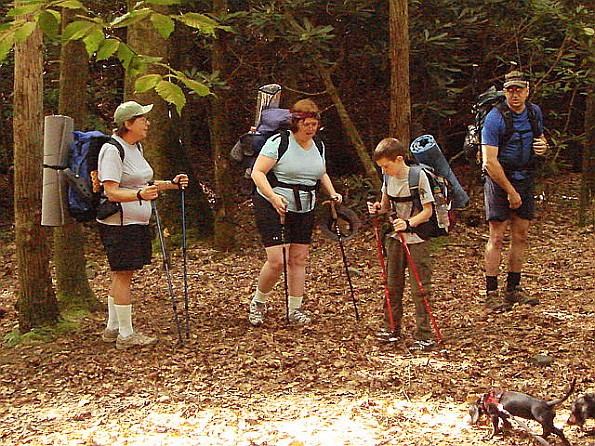 Everybody's loaded up for the 3 mile trek out to the Slickrock Creek trail via Ike Branch and the BMT.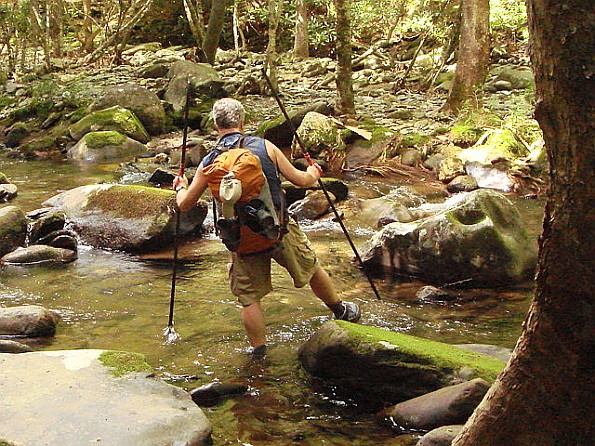 If you do any backpacking on the Slickrock, this will be a common sight. Here's Medicine Man doing his thing.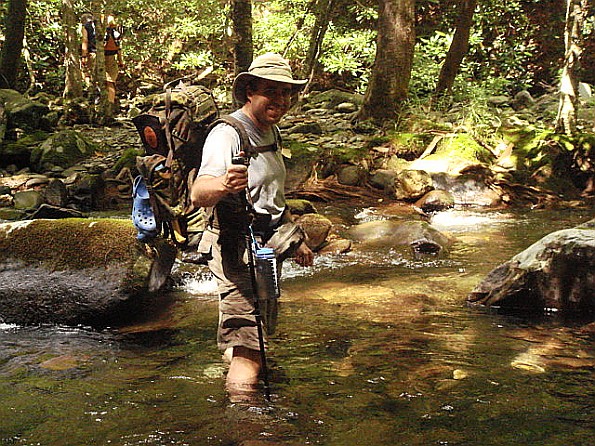 Wisenber crossing the Slickrock. This fotog brings back a memory of an old Hootyhoo photo showing Wisenber crossing the South Fork of the Citico several years ago. Below is that photo taken by Hootyhoo in the Citico wilderness.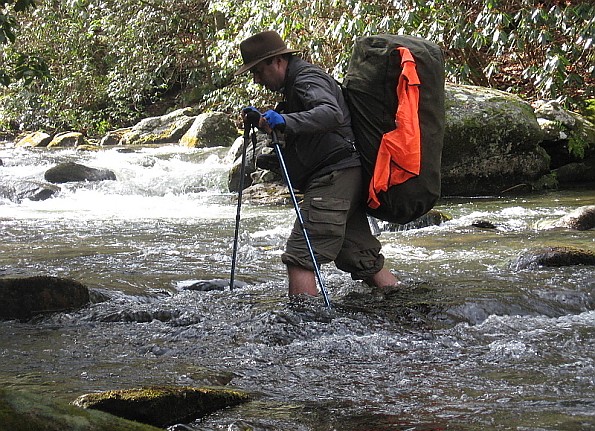 This Hootyhoo photo of Wisenber crossing the South Fork Citico several years ago has spawned endless discussions on German bladder packs and the HungWell Wehrmacht Array. BTW, the water was ice cold.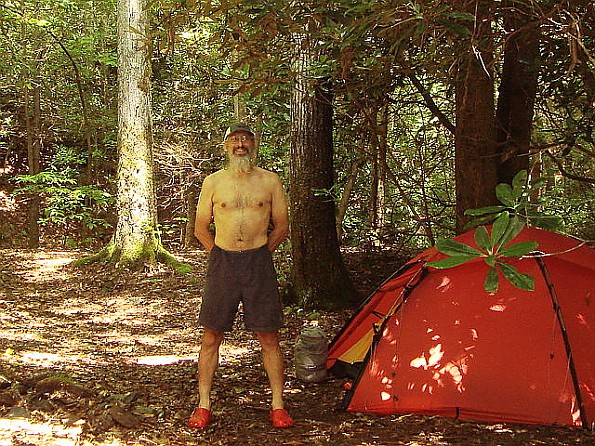 Summer backpacking trips should include numerous sheepdips and creek swimming. Here is Uncle Fungus at the Stiffknee trail jct.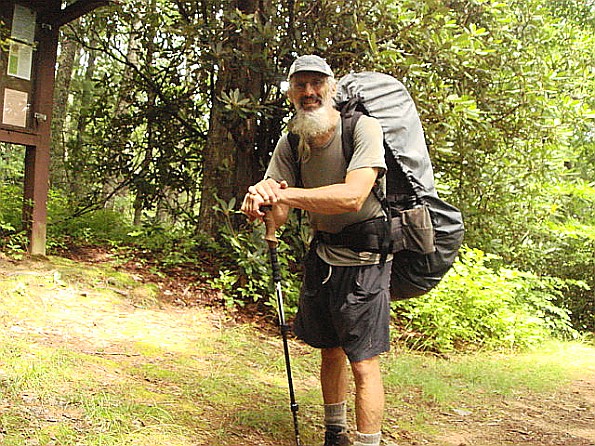 The haul from Slickrock up the Stiffknee to Farr Gap is a hot slog and somewhat steep in places. Here I am at Farr Gap and ready to continue south on the Fodderstack trail to Crowder Camp.

MORE TO COME MORE TO COME