6:53 p.m. on August 29, 2010 (EDT)
Tipi Walter

275 reviewer rep
1,424 forum posts
Okay, boys, here we go again, this time in a little known TN wilderness called the Bald River and Upper Bald River backcountry. August 7-24, 2010.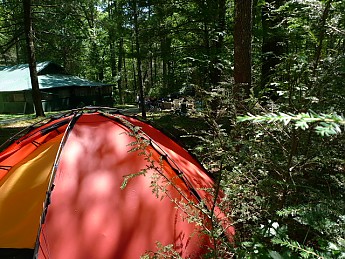 My hot summer trip begins along the Tellico River in southeast Tennessee and the first night is spent in the Green Cove community by this old 1930's era cabin, used to be a school. If you must choose between sleeping in a cabin or a tent, always pick the tent.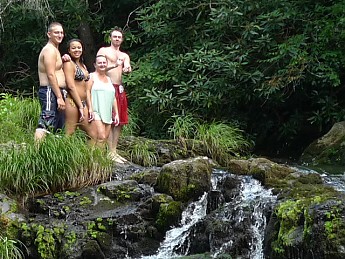 What better way to start a backpacking trip than sharing a Tellico River swimhole with friends. Here's Little Mitten("short round")with friends and family enjoying the cool waters of the Tellico. She drops me off on Day 2 nearby at the entrance to Bald River wilderness.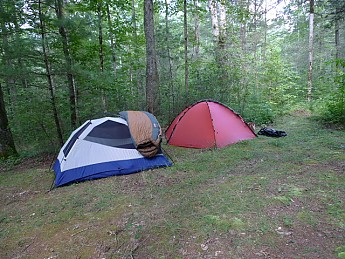 Little Mitten also foregoes the cabin experience and wants me to set up her little Light Wedge tent and on the morning of Day 2 I take this fotog of the camp.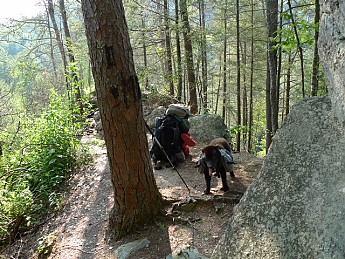 Near the end of Day 2 Little Mitten drives home and drops me off by Bald River Falls and the entrance to the wilderness. I hoof it up to this high rock overlook, the "gorge", and set down my 85 lb pack for a sweaty look-see. Why so enormous? Uh . . . . 18 days . . . . without resupply. That's a lot of food. I've got most of Shunka's food too, he's carrying a nearly empty dog pack as he likes his gear, too.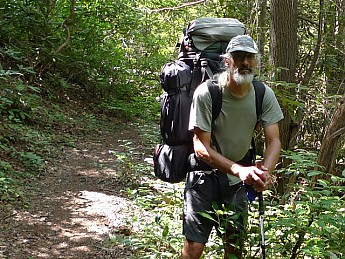 On Day 3 I make my way thru the wilderness and stop every once in a while to dump the pack and jump into the creek, much needed in the furnace of east TN.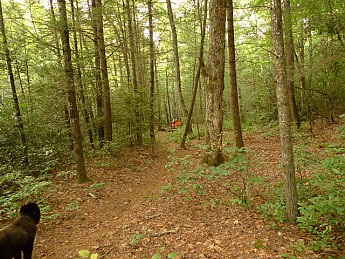 On Day 4 I reach a distant camp in the wilderness and it's by the final waterfall called the Cascades. There's the little red dome tent.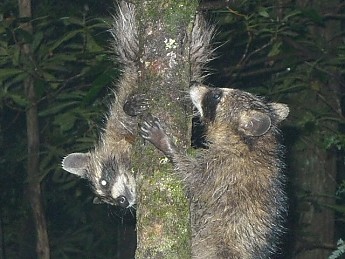 These guys decide to visit me on a tree right next to my tent and chatter away all night long, but in the morning they want to sleep! Friendly little motards, and I leave on Day 5 with them still in the tree. Didn't get my food bag this time!

I leave Raccoon Camp and tie into the Upper Bald River area by passing Holly Flats campground on a short roadwalk. The gnats are bad again, and it's HOT AND SWEATY.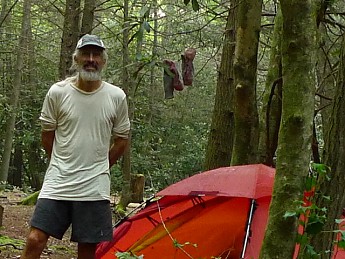 By Day 6 I'm up in the Brookshire Creek area and decide to camp close to the BMT at a place called Horse Camp. Check out the nice Cabelas silk baselayer, once white.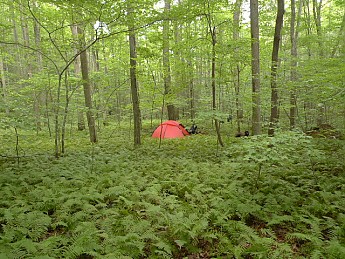 Up past Horse Camp on the Brookshire trail is mighty Fern Valley, one of the best places to camp in all of the Cherokee NF. It's also the place Shunka had his struggle on an earlier trip. Hilleberg should use this fotog in their catalog.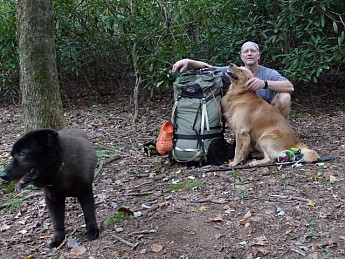 On Day 7 I hump up the Brookshire trail and near the top by Sled Runner Gap I set up camp and who do I run into but old Hootyhoo and his dog Rooty. He just pulled in and had a terrible day of endless hiking with little water. The full report is in my trail journals, etc. Check out his Kelty 50th Anniv pack.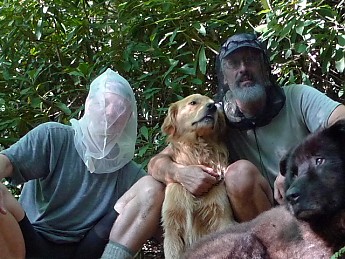 Welcome to Gnat Valley. We had to try on our dual headnets for the world wide web. The dogs seem relaxed.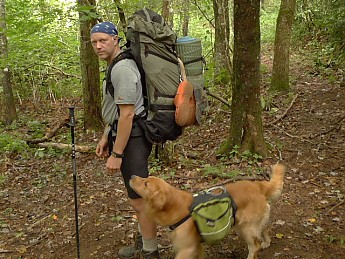 On Day 8 Hootyhoo goes one way down the Brookshire and I go up to State Line Ridge and into the Heart of Darkness. So long, buddy! (Check out how the Kelty pack rides).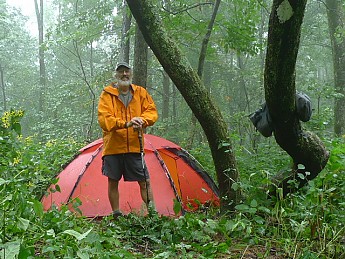 Way past Sled Runner Gap I reach this great campsite near Moss Gap along State Line Ridge and get soaked fully two times before making it here. It's a great place to camp. Notice the little white diamond blaze on the tree, the sign of the Benton MacKaye trail.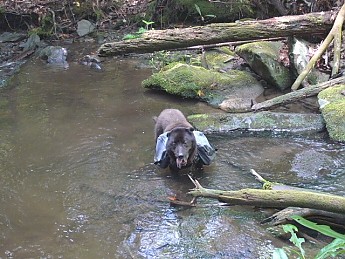 On Day 9 we leave the BMT and the State Line Ridge and hump down the Kirkland Creek trail, which has a total of 11 crossings as seen above. The Kirkland is a swampy jungle and in the summer it's a hot exercise in sweat.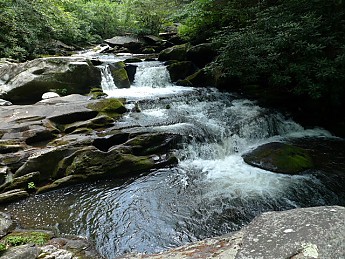 After Kikland I swing around and enter the Bald River wilderness thru the back door and reach the Cascades waterfall where I dump the pack and go for a much needed swim. I also wash out my socks and clean out my muddy Hiker water filter.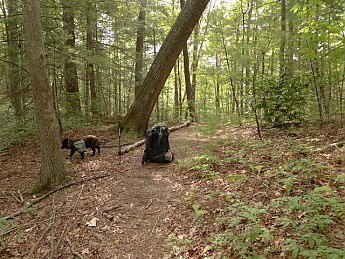 On Day 10 I leave Bald River and hump over the Cow Camp trail and it's a steep, hot and sweaty climb. I stop at the top and rest. Past it on the other side is a 4 mile Tellico River roadwalk which must be done to tie into the Brushy Ridge wilderness area.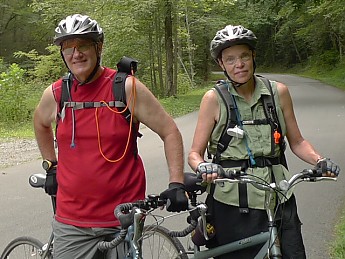 As I'm pulling my hot slog along the Tellico River road, I run into Rick and Brenda Harris on a bicycle trip. Rick is one of the famous Crosscut Mountain Boys who's responsible for most of the good trailwork in my neck of the woods. Him and his boys keep the trails open so I can hike 'em.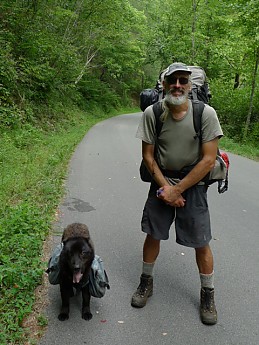 Here's what the Tellico River road looks like when you're humping it. Brenda took this shot with my new camera, a nice Panasonic Lumix LX3.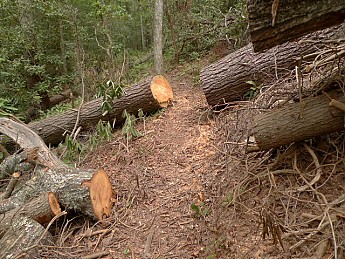 I leave the Tellico River and hook onto the North River and off of it is the Long Branch trail, recently worked by the Crosscut Mt Boys. Here's a rarely seen view of the trail as it climbs up and up and up. I keep going but find no decent campsites so I turn around and go back down to camp at the bottom.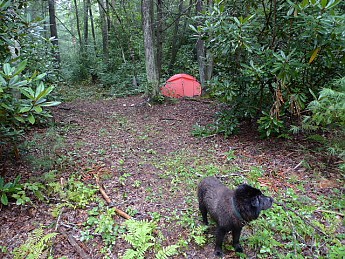 At the bottom of Long Branch trail I find this emergency campsite and set up in the rain. I stood out in the rain for 40 minutes and got soaked, a great feeling in this summer heat.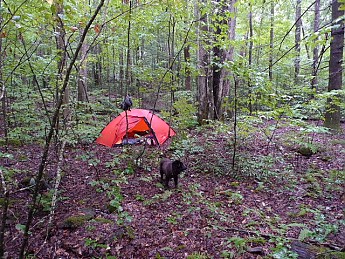 I leave Long Branch and go upstream on the North River and reach another fine trail in the Brushy Ridge backcountry called McNabb Creek where I find this campsite in the middle range for the night of Day 11.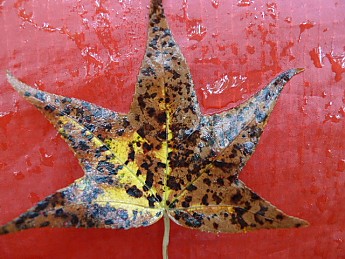 Testing out my new camera with a tent fly and a leaf.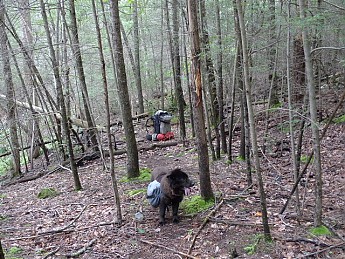 On Day 12 me and Shunka boy go up McNabb Creek and find all sorts of things, like this pretty view along the trail. There's water everywhere. But . . . . .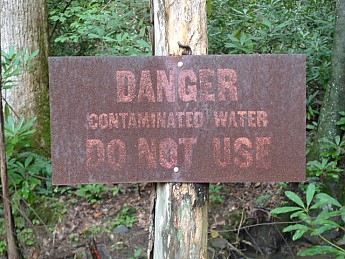 Further up McNabb there's this wonderful sign of poison water due to road construction of the Skyway and iron pyrite pollution. Another good reason to stop highway construction.
MORE TO COME