2:56 p.m. on September 28, 2010 (EDT)
Tipi Walter

295 reviewer rep
1,436 forum posts
Strap on your mouse cuz here we go again, boys, into the TN and NC mountain forests. Citico/Slickrock Wilderness, Sept 7-23 2010.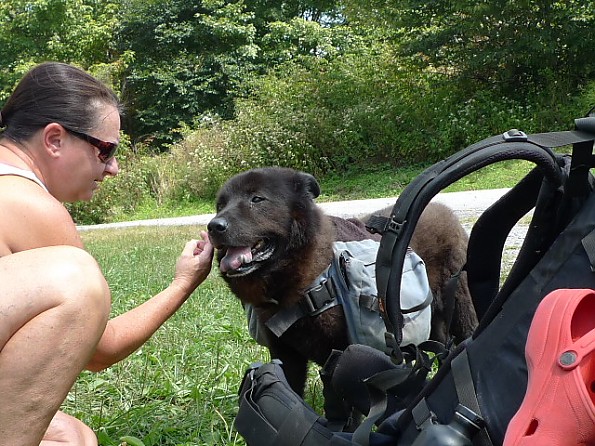 Ya can't leave a car sitting somewhere for 17 days, so I get Little Mitten to drop me off and she says goodbye to Shunka dog as we prepare to shove off. Of course, on such a long trip you need to leave a hidden emergency cache and I did: extra Thermarest, extra stove and stove pump, BearVault full of dog food(cuz I can't carry all my food and his too). Shunka is carrying a nearly empty dog pack since his illness several months ago. He used to go in with at least 15 days worth himself but now I carry around 8 days of his food and pick up the next 8 days later from the cache.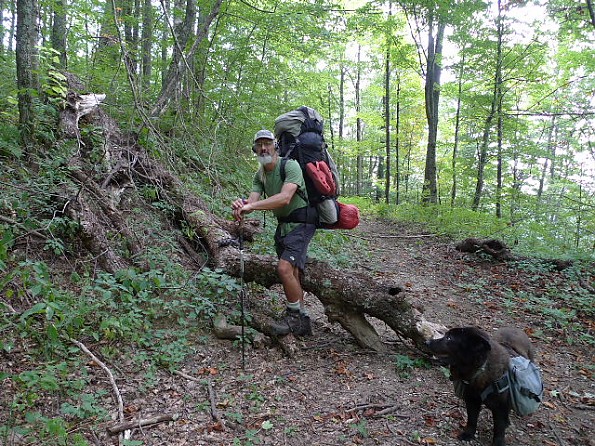 The trip begins at Beech Gap and we go in the Citico on the Fodderstack trail which is also the BMT. My pack is as usual monstrous.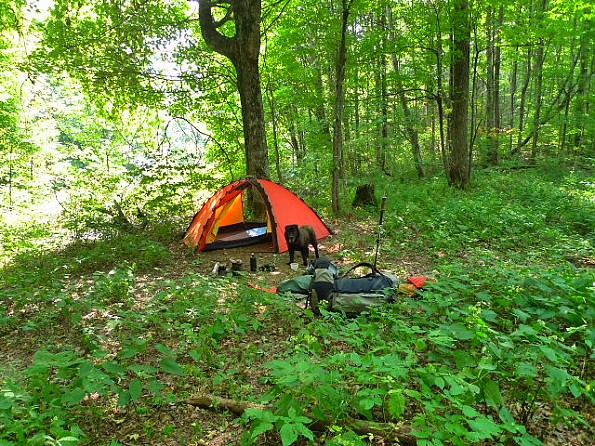 My first night is spent along the BMT at a place called Barrel Gap, and I got two liters of water further back even though there's a spring seep right below the tent--drought conditions though require earlier water collection.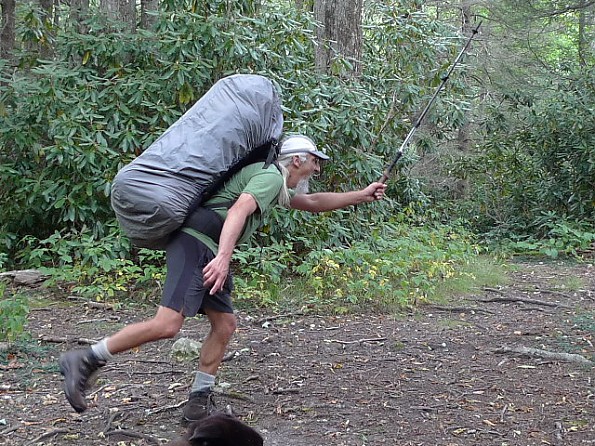 The next day I leave Barrel Gap and head up the BMT connector to Fodderstack Ridge and decide that even with 85 lbs I can FLY!! I get off the ground and hover for several minutes and then return back to the trail. Who says ya need to go ultralight?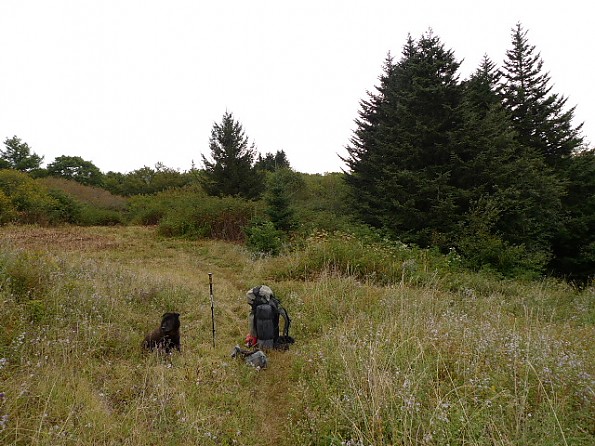 On Day 3 I climb up to this 5,300 foot bald and stop for a break before continuing along the ridge behind the pack and veer off on another ridge called Horse Cove.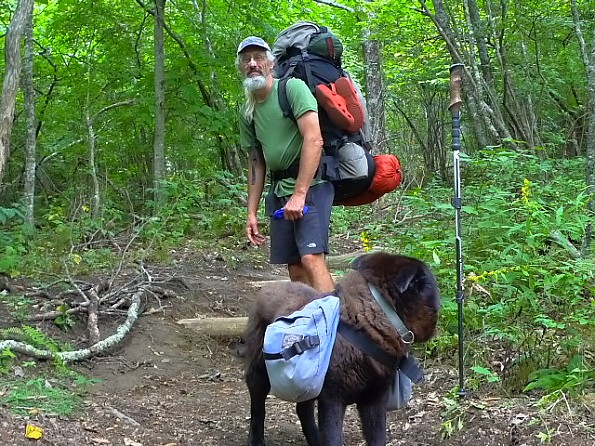 When you leave the high bald, you go along a high narrow "wall" and reach a jct with two trails, one running down to Naked Ground and another heading down a long 9 mile ridge known as Horse Cove. This was taken as the trail descends several hundred feet and reaches another trail jct called Wolf Laurel. I'm checking out all the new trailwork put in by the SCA boys.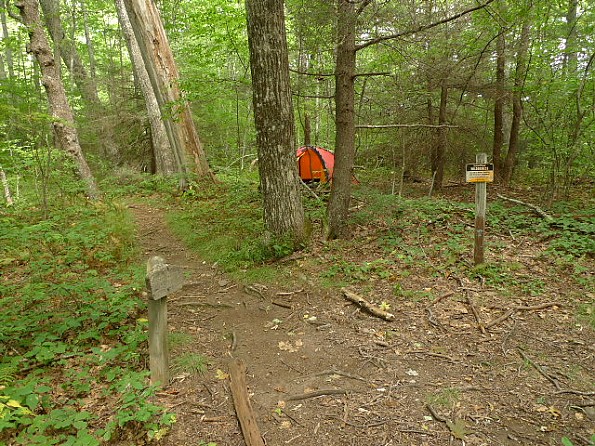 I decide to spent several days on the 9 mile Horse Cove Ridge and so I set up camp at the Wolf Laurel trail junction, a place I got snowed in at during a 3 day blizzard in January.

Here is one of the old timey signs scattered thru the Slickrock area. Many have been stolen but a few remain.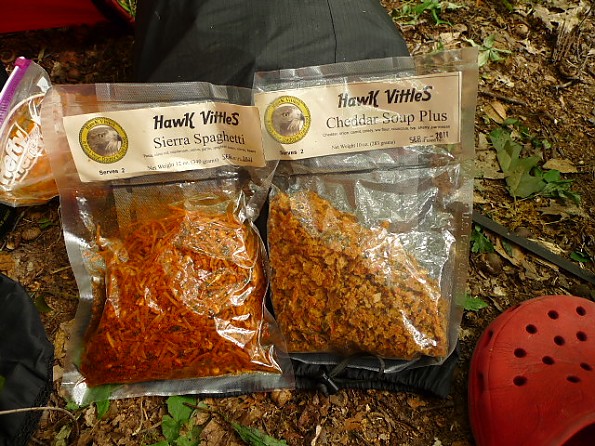 On this trip I decided to bring out some different meals, this time a few Hawk Vittles.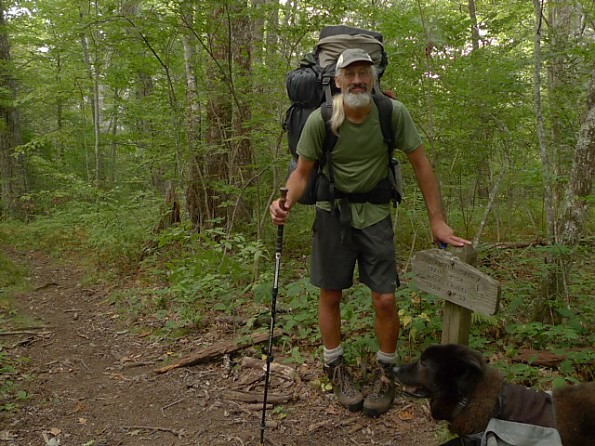 On Day 4 I shove off from Wolf Laurel Camp and get excited about following the long newly cleared trail of Horse Cove Ridge.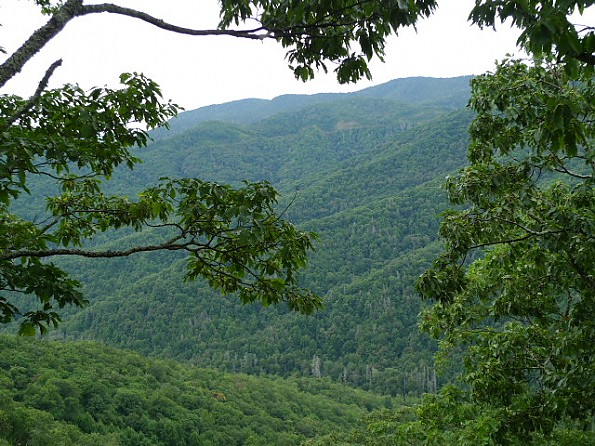 The best part of the Horse Cove trail is how it reaches this spot where the trail opens up completely and there's nothing at all on the right side of you but empty space. Nifty.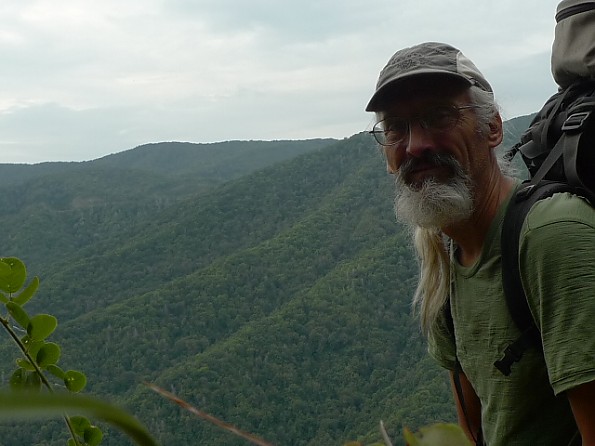 I had to prop my camera up in the weeds to get this shot. The mountain range behind me houses the Snowbird Backcountry(behind that far ridge).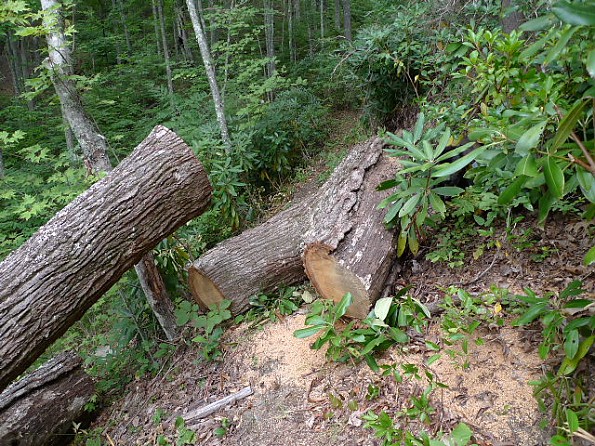 Here's a great example of the trailwork being done by Christy Ralston and her SCA boys from Asheville.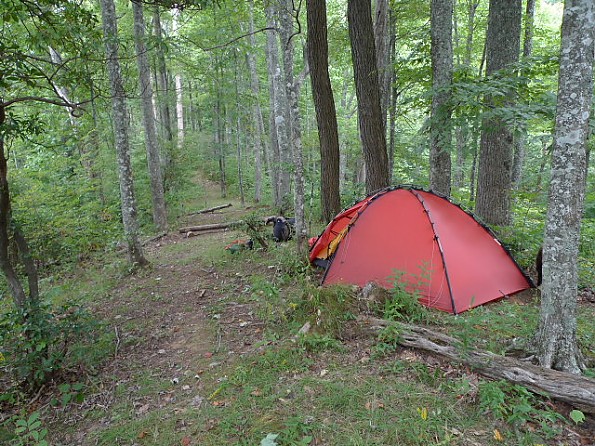 3/4's down the Horse Cove trail you reach this little spur ridge and a place I call Jebediah Camp. It's a first time camp for me and very nice, although I went around in the bushes and found some litter. See next pic.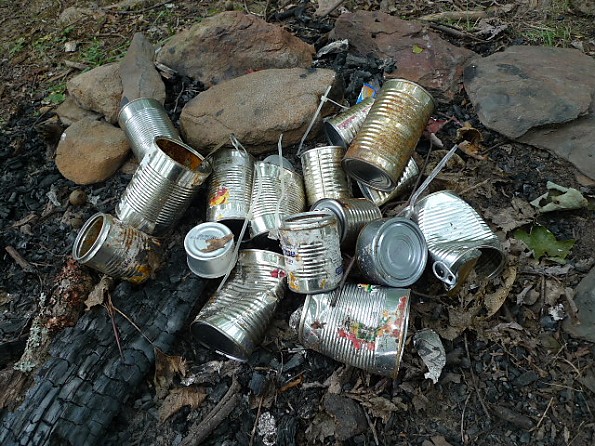 Trash found at Jeb Camp on the Horse Cove ridge.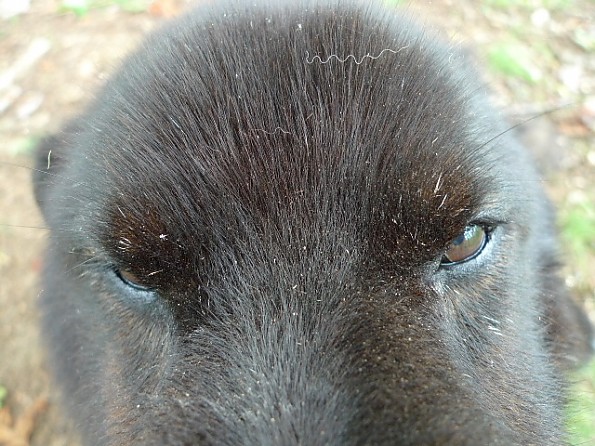 When Shunka saw all the trash he got angry and I asked him how he felt and if would go out looking for the fools who trashed the campsite. He looked at me and I took this pic. What will you do when you catch them?, I asked. He said, "Hav U seene Sparticus Sande an Blud??" Uh oh.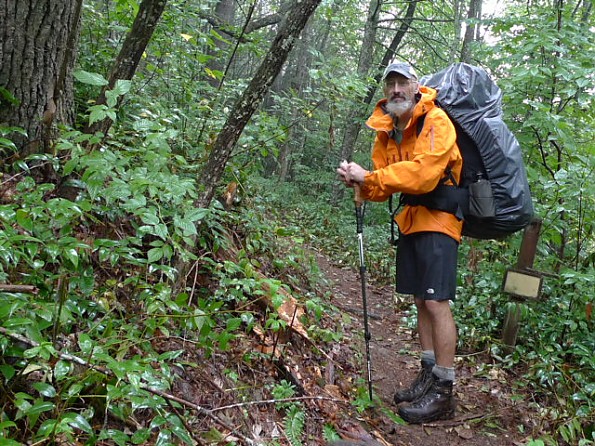 On Day 5 I get caught in an all day rainstorm and after getting and staying soaked for several hours and chilling I decide to depack and layer up with the rain jacket. Warmth! I'm on my way down into the Kilmer memorial loops.

I made it into the Kilmer memorial loops and take a break from the rain under this portico. My goal is a low campsite on the Naked Ground trail by the Little Santeetlah Creek.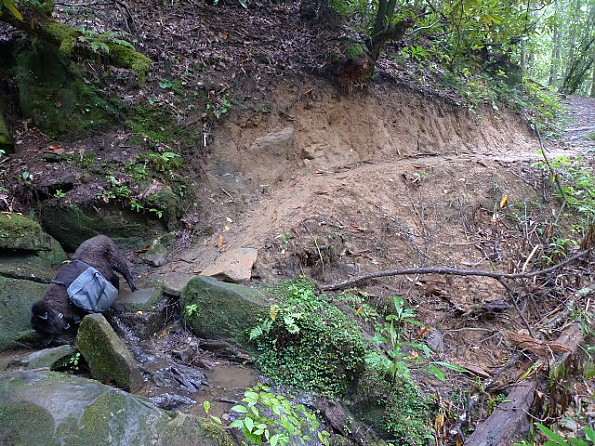 Here's a good example of some of the trailwork done by the SCA boys, on the Naked Ground trail.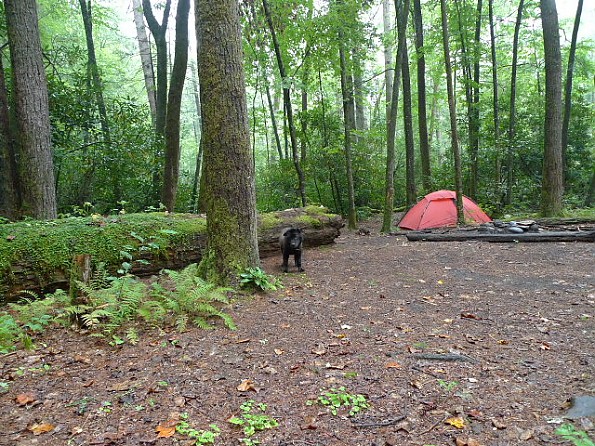 A primeval rainforest, the Kilmer valley is 4,000 acres of never-logged southern appalachian land, a rarity for backpackers as the trail is an honest-to-god trail and not some blown out bulldozed logging cut-turned-to-trail. Here I am set up at the Low Dog Camps.
ENOUGH FOR NOW
MORE TO COME