2:07 p.m. on November 7, 2010 (EST)
Tipi Walter

295 reviewer rep
1,436 forum posts
I pulled another backpacking trip in the Cherokee and Nantahala National Forests and it was my longest trip without resupply, although I did have a BearVault full of dog food for my dog Shunka.
The trip dates were October 14 to November 2, 2010, and started on the Cherohala Skyway by getting dropped off at Beech Gap in the Citico Wilderness of Tennessee.  Here are the highlights of the trip:
**  Three BMT Thruhikers on Day 1
**  Camping With Hootyhoo On Day 2
**  On The Bob With Hootyhoo, Gonzan and Nashville Randy
**  Six Days on Four Mile Ridge
**  BMT Thruhikers Squirrel and Smack
**  Bearpaw on the BMT at Slickrock Creek
**  Seven Days with the BMTA Crew
**  Big Windstorm at Cold Springs Gap
**  Huddled in a Mud Gap Rainstorm with Sgt Rock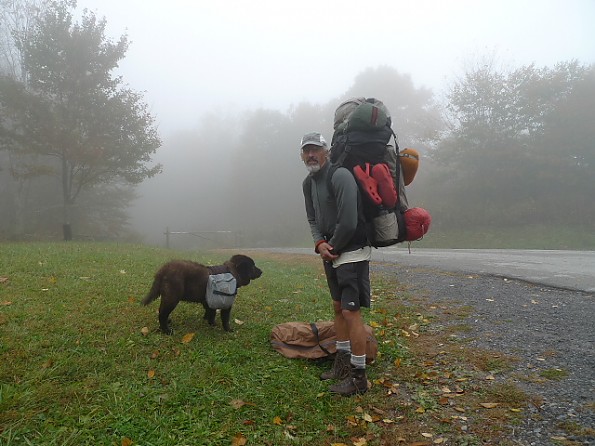 This trip starts out on October 14 at 4,600 feet in a cold fog.  My pack has never been heavier but it's loaded with enough food and fuel for 20 days including 12 days worth of food for my dog.  Oh, and several books.  At my feet is the single BearVault and emergency Thermarest cache to be hidden somewhere along the trail.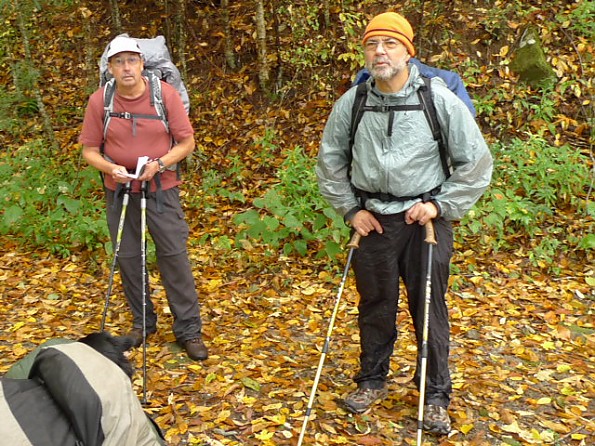 As I make my way along the BMT on Fodderstack Ridge I run into these two backpackers pulling a six day trip.  Their names are Jim and John.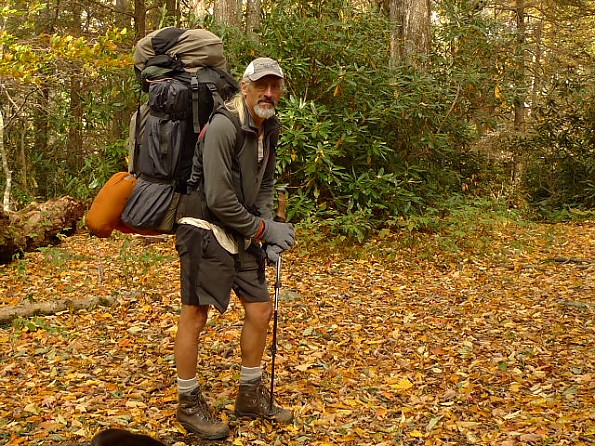 On Day 2 after camping at Barrel Gap Camp I hump up a few hills to the high spine called Fodderstack Ridge and set up camp at a place called Snow Camp.  The orange back-sac is my North Face down jacket stuffed.  The boots are my usual winter Asolo 520s.  I got some new shorts for the trip, North Face Flight, like them.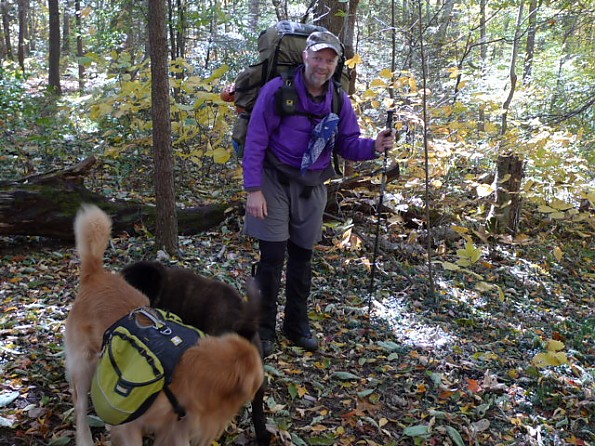 Before the trip I email Hootyhoo a tentative route and so he shows up to camp with me for a couple days as he crosses over Bob Bald and descends around 700 feet to Snow Camp.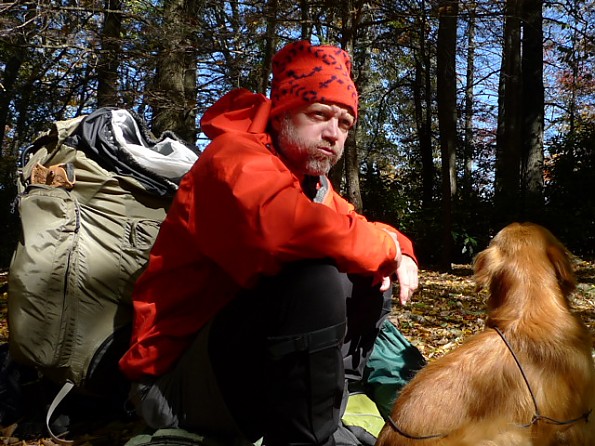 Hooty said that when he woke up in the morning he had ice in his cooking pot, a top lid of ice over the water, so thank God it was beginning to get cold again.  Why backpack if it's not cold??  Hooty is using his Kelty pack and his red Marmot rain jacket.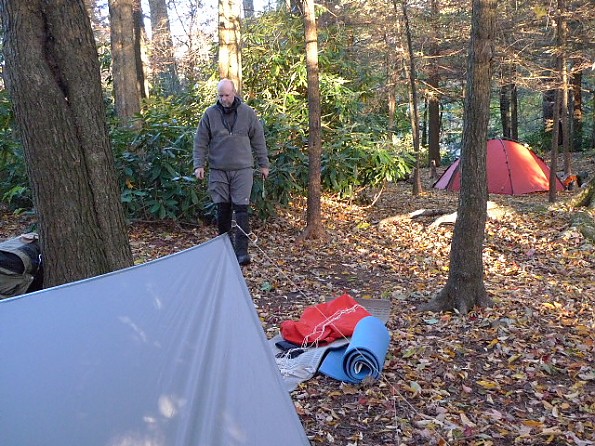 Hooty sets up his Integral Designs tarp and he's been using it for the summer and will upgrade to his tent when winter really hits.  In the back is my Staika.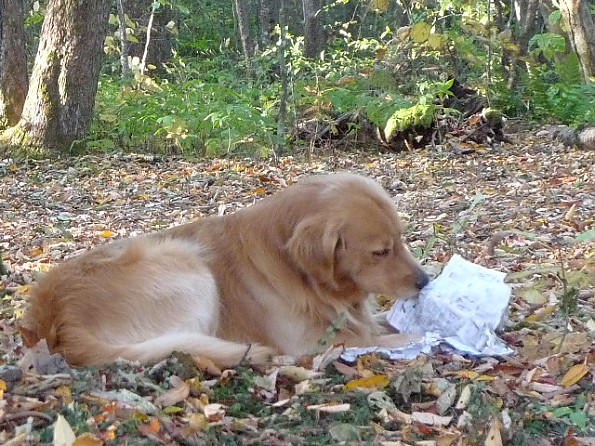 It's not often you find a dog that can read, and Rooty is one special dog.  Here he is reading thru a Campmor catalog.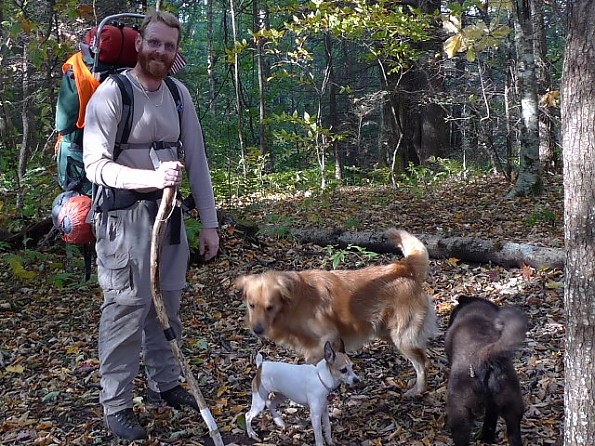 On Day 3 a solo backpacker passes thru Snow Camp and he's a friendly sort so we invite him to join us on a round-about route up to Bob's Bald.  Notice the "circle of trust" created by the dogs, including Randy's dog Zoe.  On the other hand, it could be called the "Circle of Anuses" ha ha ha.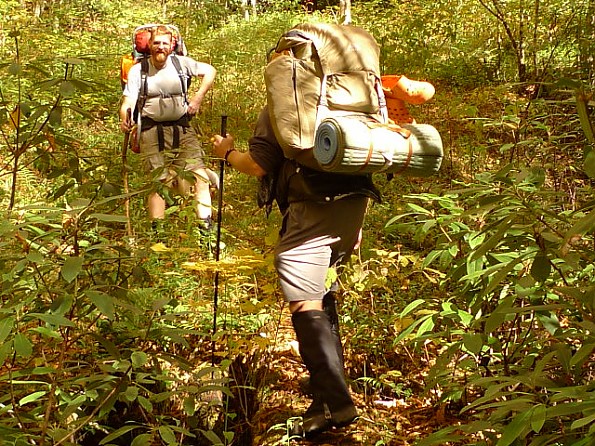 On Day 3 Hootyhoo leads us back to Cold Spring Gap and a "secret" way to the Bob by way of the Wedge, a series of old logging cuts and hidden trails.  Here we are along Bob Creek as it makes it's way up the mountain.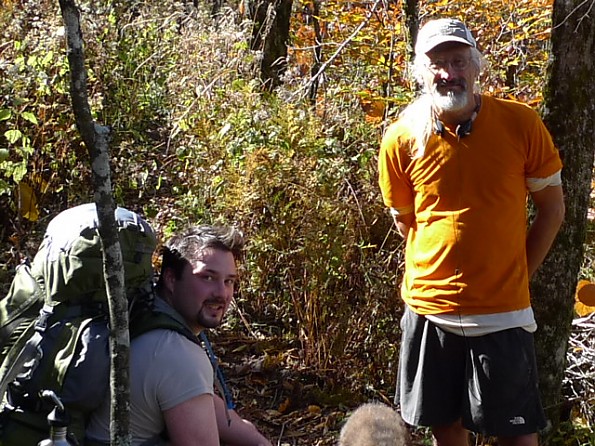 After a round-about course, we near the top of 5,300 foot Bob Bald and run into Trailspace member Gonzan out for a couple nights.  It was good to run into him and I remember him from a recent Bob trip when he was with his brothers.  This was taken near the first Bob springhead.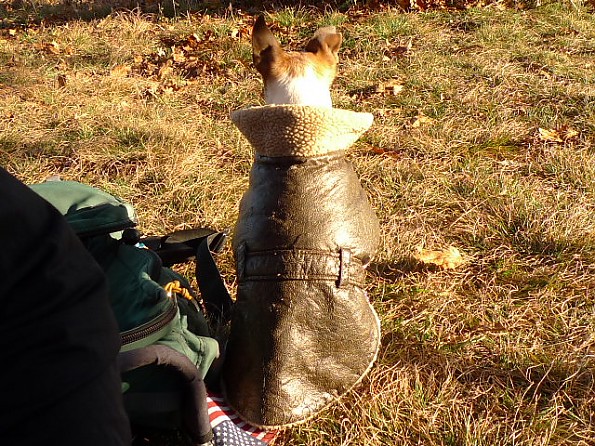 We get all set up on the Bob and Randy's dog gets outfitted in her Top Gun jacket for the cold, a weird sight for sure.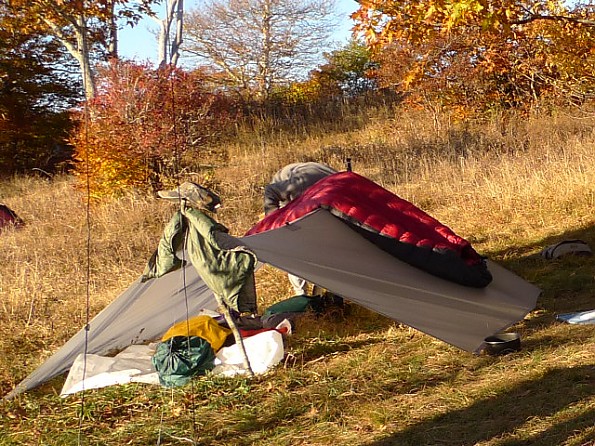 Here's a fotog of Hootyhoo's tarp camp on the Bob.  Check out the Marmot Couloir bag and the tyvek ground cloth.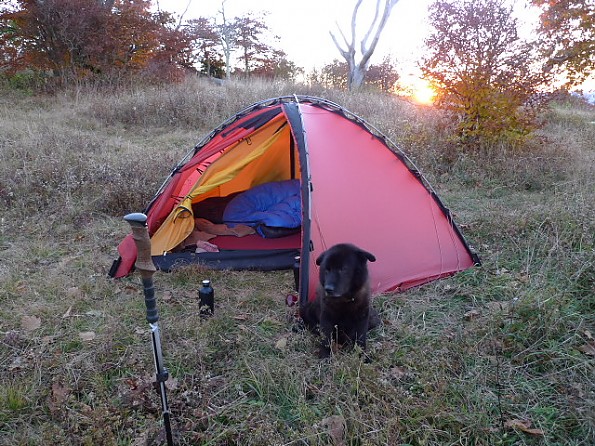 A cold morning starts Day 4 as does the rising Sun in the back. My pad is a Prolite Plus and a WM Puma sleeping bag.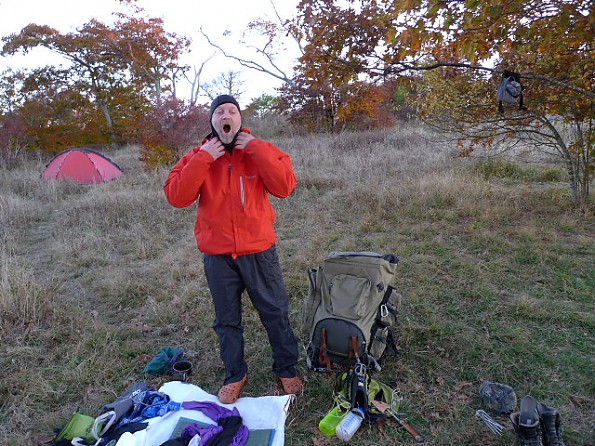 It's wake-up time on the Bob and Hootyhoo starts breakfast and then packs up.  We all split up on Day 4, them out to Beech Gap and me along Four Mile Ridge to Naked Ground.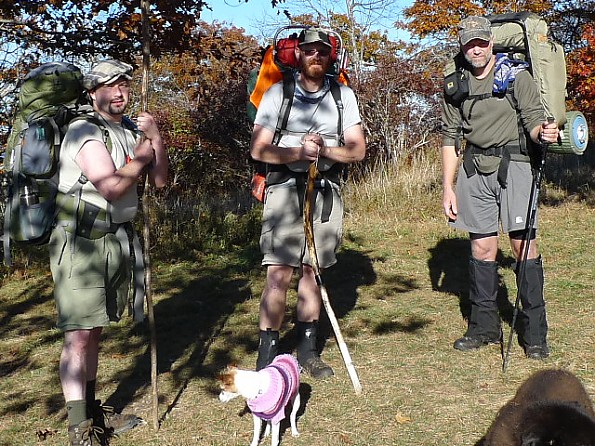 Here's a group shot of the crew:  Gonzan, Randy and Hootyhoo.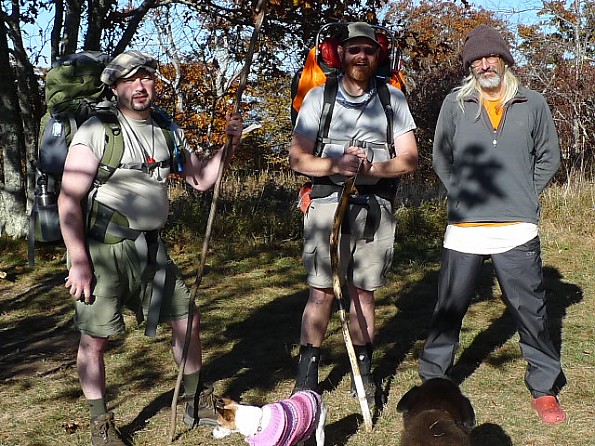 Uncle Fungus joins in the fun.

The boys leave the Bob on the old tractor road and back down into the Wedge.  I go the other way towards the Hangover.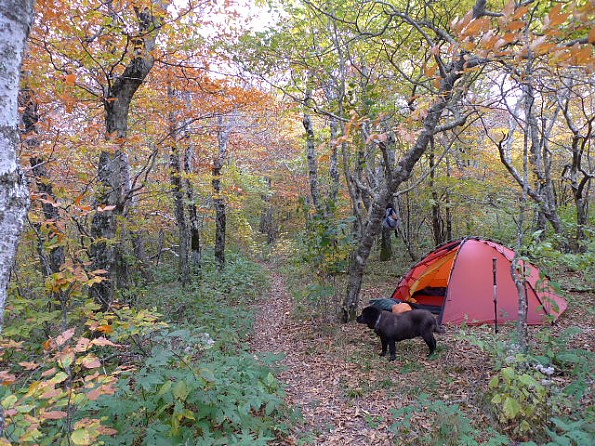 There's no better camp than Watauga Camp, and it's located a couple yards past Naked Ground and is around 5,000 feet.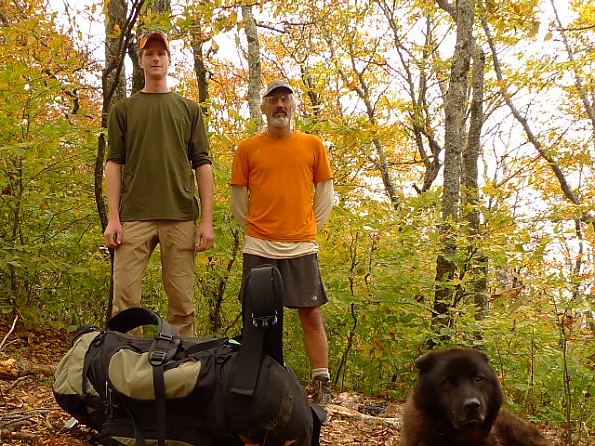 On Day 5 I cruise over to Saddle Tree Gap and the Hangover and run into a guy who reads my trail journals, Chris Phillips.  A friendly sort, he's pulling a 4 day 60 mile trip and is doing most of the trails in the Citico/Slickrock.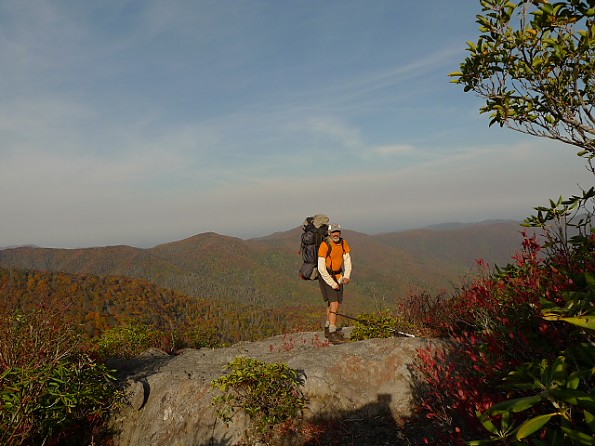 On Day 6 I drop of Hangover mountain and take a secret side trail down a few hundred feet and reach this special place I call Table Rock.  Behind me is Fodderstack Ridge and the BMT which runs along the ridge.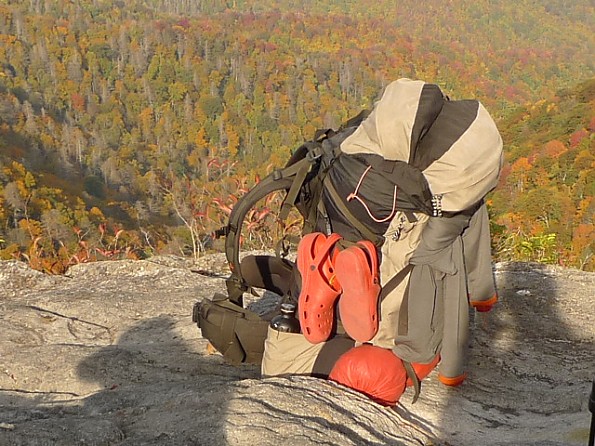 I had to add this neat shot showing the rock and the open space below looking down into Slickrock Creek valley and the wilderness.  On the back of the pack is my Icebreaker merino zip neck tops.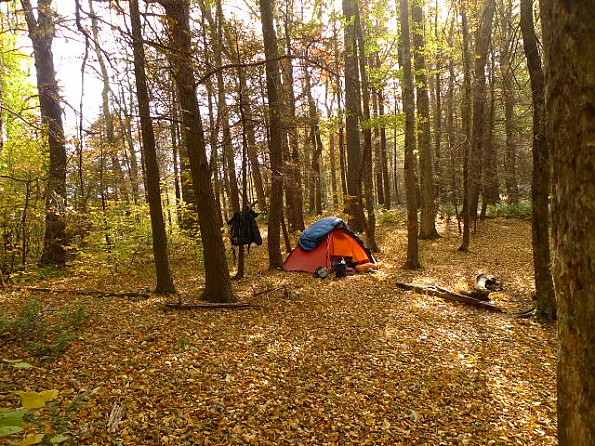 Below the Hangover about a thousand feet is a long level gap I call Elysium Fields, and it's one of my favorite camps although it has no water.  Ya gotta get it on the way down.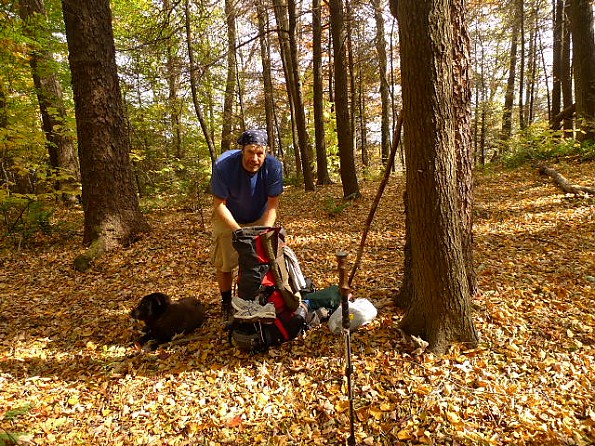 A solo backpacker from St Louis passes thru and he offers me some food which I take for Shunka as his supply always needs to be increased.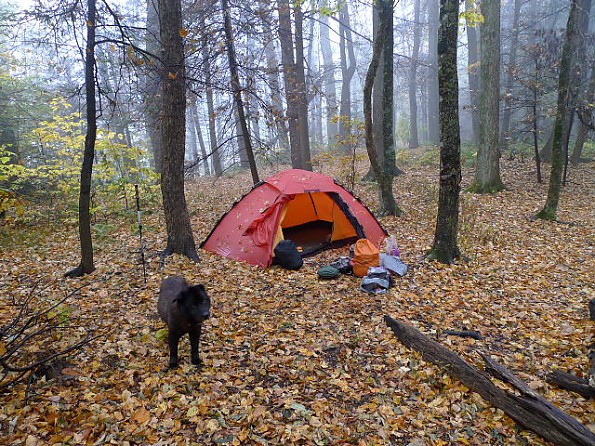 On the morning of Day 7 I get caught in a pleasant and cold Autumn rain and I like the look of the water and the leaves.  We're preparing to pack up and move.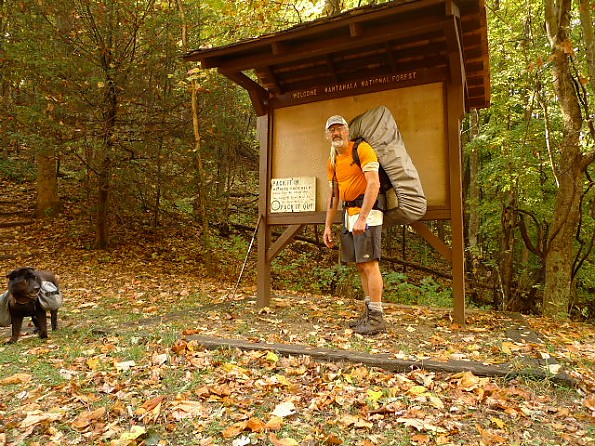 I leave Elysium Fields and fall another thousand feet to Big Fat Gap and get ready to fall another thousand feet to the valley of Slickrock Creek.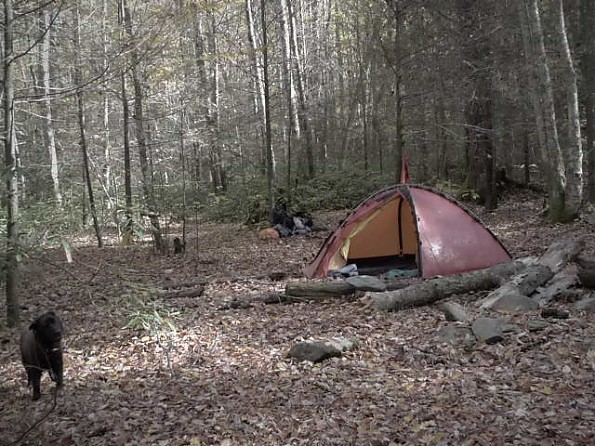 I reach Slickrock Creek and set up a camp but first I have to bring down a rotted and dead birch leaning over my tentsite.  It was about 25 feet high and weighed around 800 lbs, but with a little swaying it fell right where my tent is set up.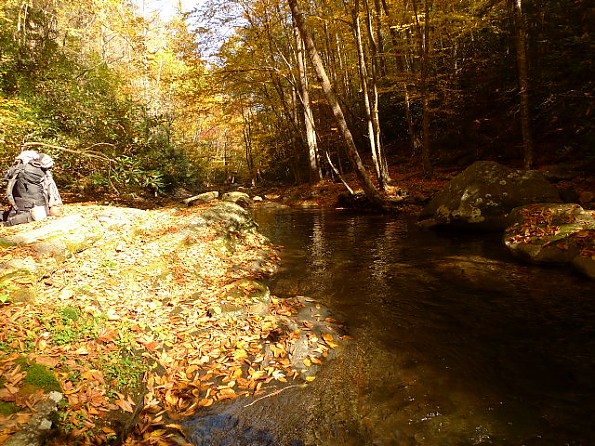 On Day 8 I spend all day backpacking in my crocs on the 10 crossings of Slickrock Creek(out of 12 total).  Here's a nice scene at one of the crossings.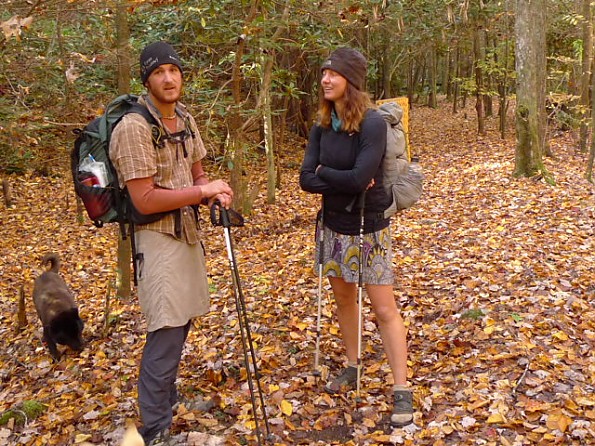 On Day 9 my camp is passed by these two BMT thruhikers, Squirrel and Smack.  They are moving fast and doing 20 mile days and will be atop Whiggs Meadow for the night, a long way's off.  They look like they have very little food and almost no extra clothing(and it got in the 20s up top the Whigg the next day).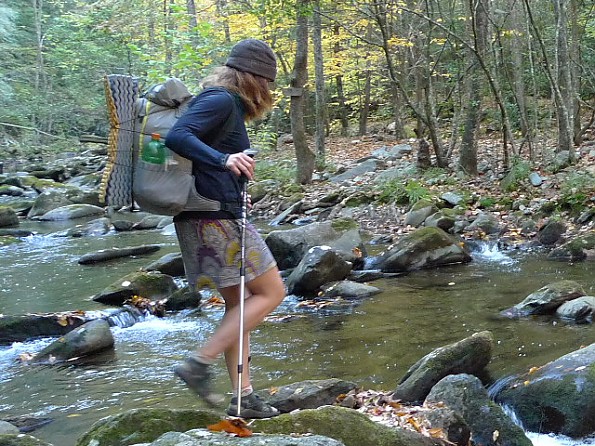 Here's Smack crossing the mighty Slickrock, at low water levels, of course.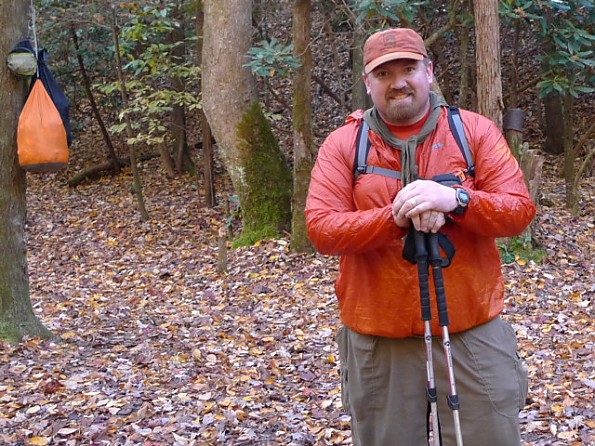 Squirrel and Smack mentioned something about a "lost" backpacker and he sounded familiar, and then after Squirrel and Smack leave who passes thru camp but Bearpaw doing a slackpack after he got a bit "confused" the day before.  He's a Whiteblaze and Hammock Forum member.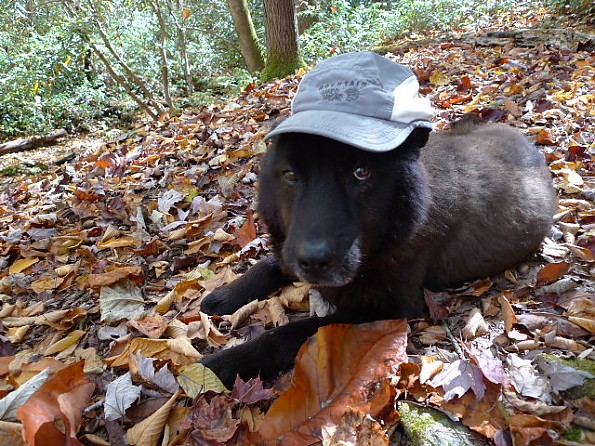 On Day 9 we leave the Slickrock and head up the Nichols Cove trail where we set up camp.  Here's Shunka hanging out by Nichols Cove Creek.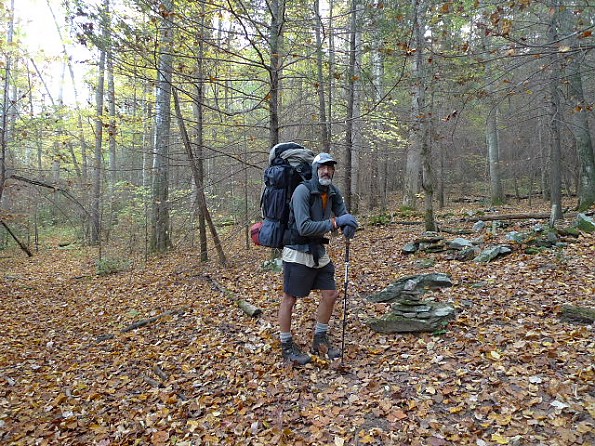 On Day 10 I climb the rest of the way up Nichols Cove and get on the Yellowhammer trail which passes by a little gravesite and gets to a nice little gap for camping.  I gotta be at that gap to link up with a planned 12 day backpacking trip sponsored by the BMTA.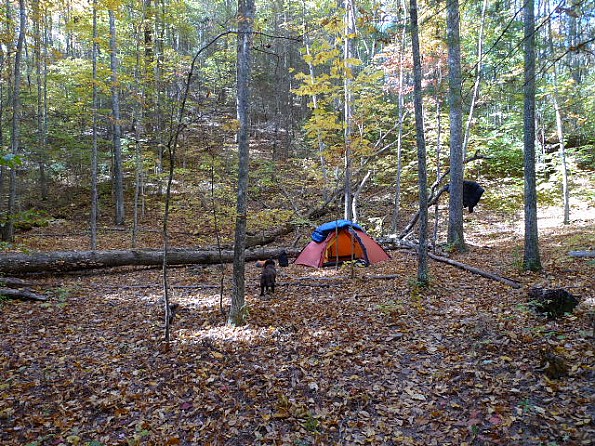 So I spend Saturday night here at Wild Bird Camp which is above Calderwood Lake and right on the BMT.  The next day I will link up with Rick Harris, Regina Reiter, Sgt Rock and the BMTA crew.
MORE TO COME