1:26 p.m. on December 25, 2010 (EST)
Tipi Walter

295 reviewer rep
1,436 forum posts
I figured today would be a good time to share my last backpacking trip with you guys as it's Christmas and there's snow on the ground.  The trip was in the Citico wilderness of Tennessee and went from December 11 to Dec 20, 2010.  Here are the highlights:
10 Days With O Canada
The Hell Slog of Trip 117:  Coming Down 54A
10 Days and 5 Camps
O Canada Kicks My Butt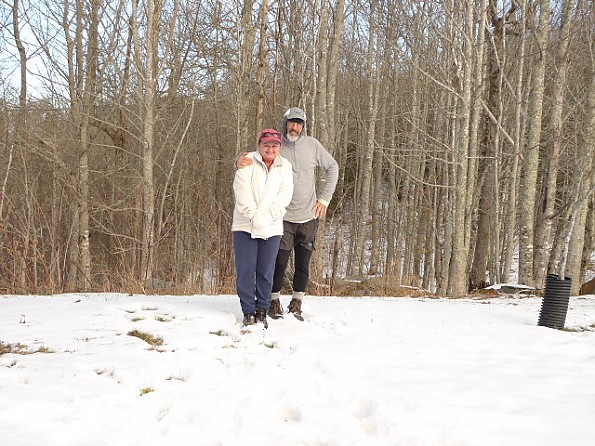 The trip starts out at Beech Gap and the entrance to the Citico wilderness where Little Mitten drops me off with a full pack.  This was on the Saturday right before that big winter storm hit east TN.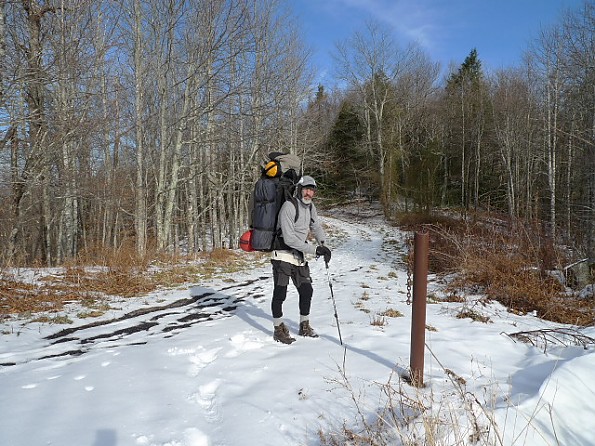 My trip begins at the Fodderstack trailhead with just a little bit of snow.  No sweat.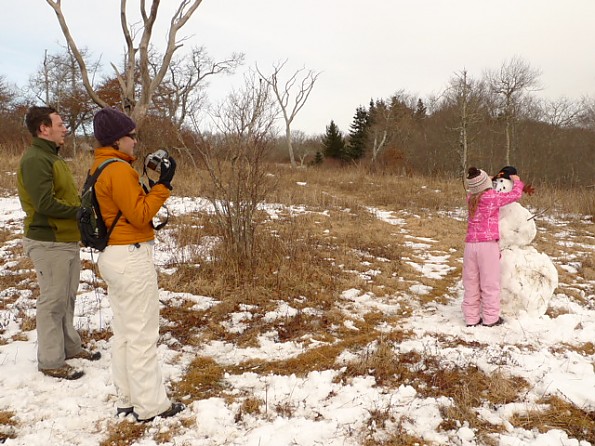 After 3.5 miles and a climb of one thousand feet I reach 5,300 foot Bob Bald for the night and run into three dayhikers from Knoxville.  They made a little snowman and I took these neato pics.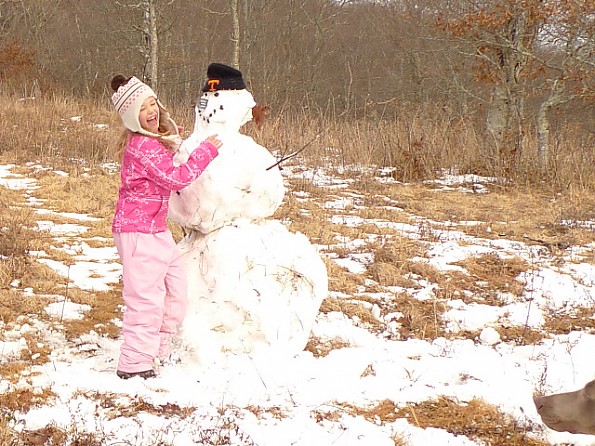 This is probably the best fotog I've ever taken.  It's really good for Christmas Day.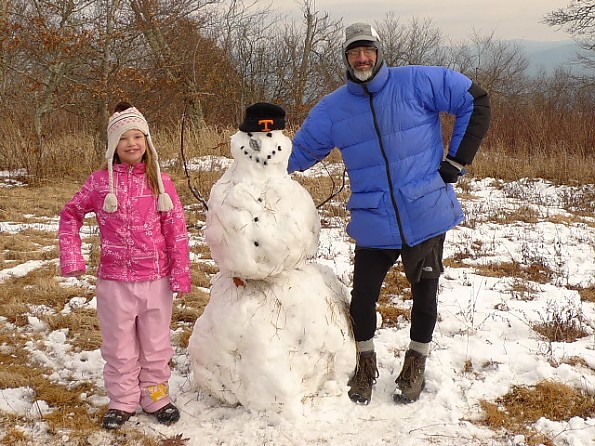 I pose with the family before they shove off and everybody's smiling.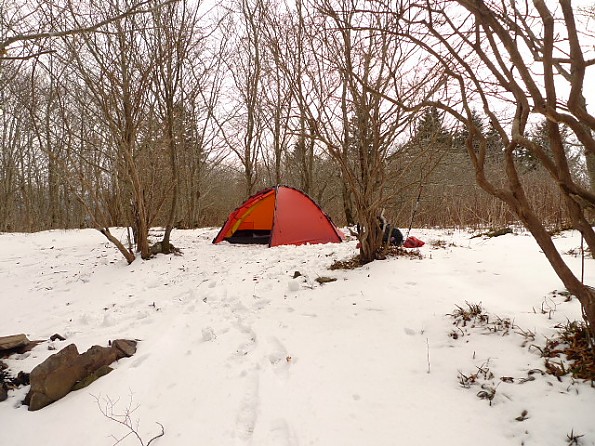 My first night is spent in a little snow atop Bob Bald at a place I call the South Col Camps.  This is all about to change.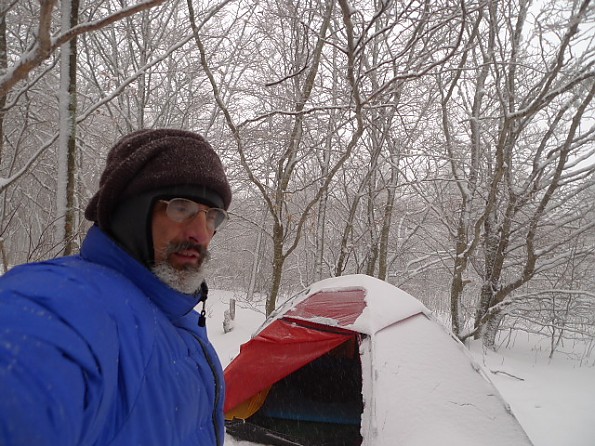 On Day 2 the storm begins and I spend the next 5 days(at different camps)in some dang cold temps hovering around 0F.  The Staika tent stayed wet and condensated for a week.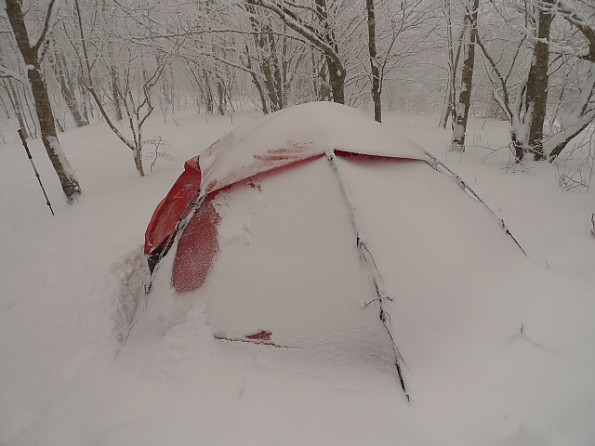 This is what a four season tent is all about: protection from spindrift.  And it was windy.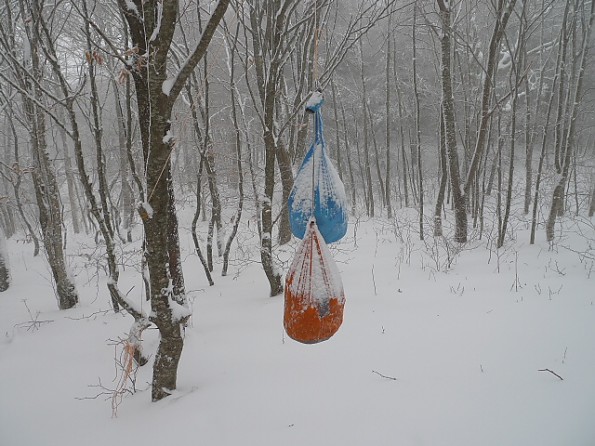 Ye olde food bags a'hangin' low, too low for any bear protection but then, what bear would be out in this weather?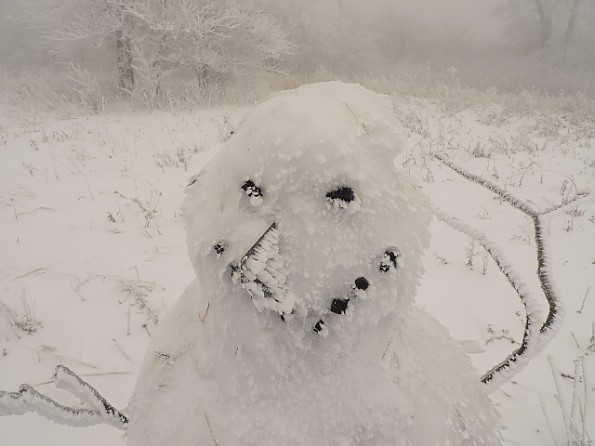 Even the snowman looked cold.  We talked and he told me to go back to the tent and get warm.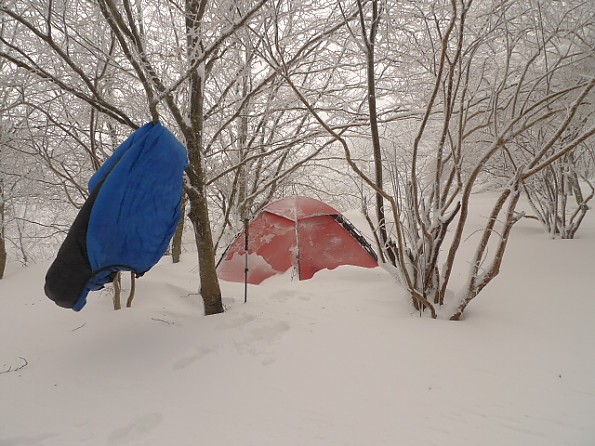 On Day 3 I wake up to another 8 to 15 inches of snow and so I do the usual down bag hanging and survey my mighty kingdom.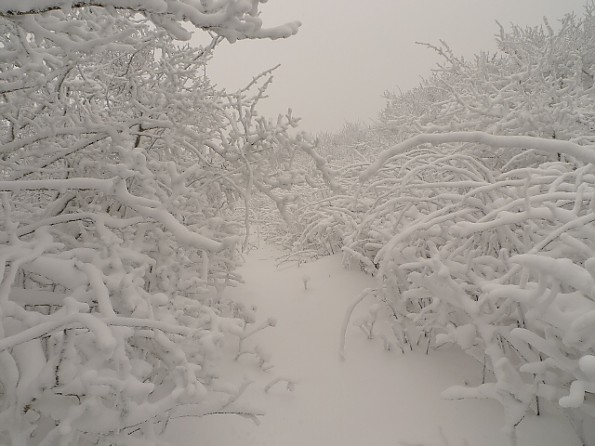 I leave the tent and do a short dayhike to the center of Bob's Bald where I find some deep drifts and all else.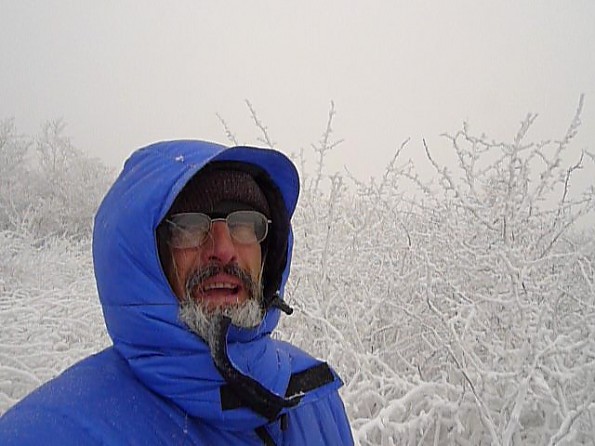 I take a short video of the scene(see below maybe)and check out the deep snow.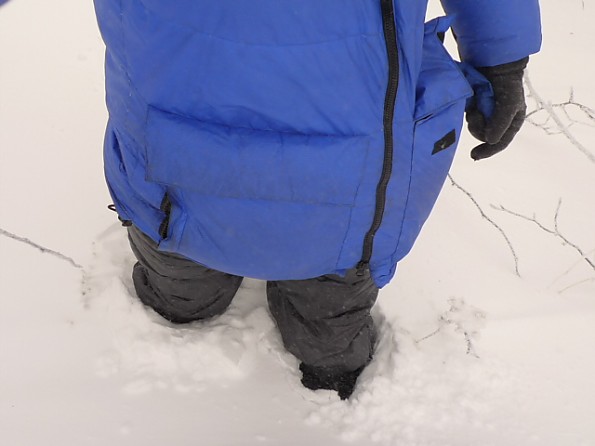 The winter storm of mid-December comes in from O Canada and here's some of the proof.  It's impossible to backpack in the southeast in heavy snow.  Why?  Because all the trails are blocked by "snowdowns": when rhodo and brush hangs over the trail where you have to belly crawl to get thru.  On Day 3 I pull my Hell Slog of the trip.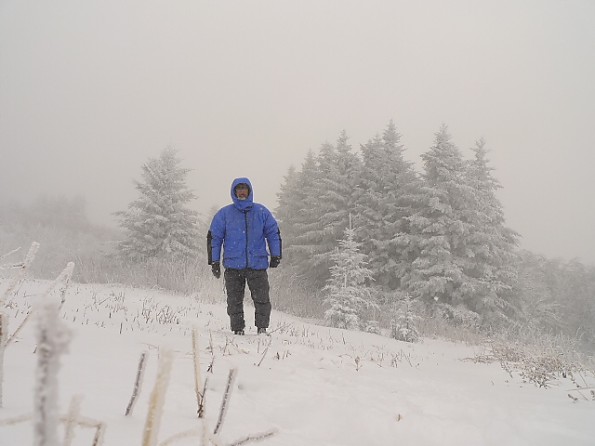 Here's a nice view of winter on the Bob.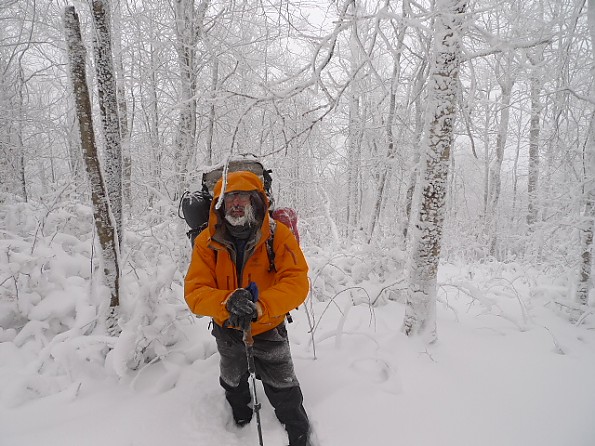 In the middle of Day 3 I hear on my little weather radio that even more snow and more cold is headed my way so I bail off the mountain and drop two thousand feet onto the South Fork Citico trail.  To get there was a mean and nasty experience in deep snow and terrible snowdowns.  The rain jacket saved my butt.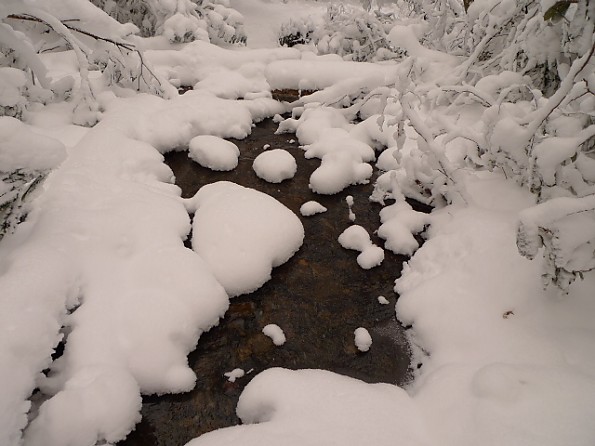 It took me around 6 hours to hike about 3.5 miles but I finally reach the headwaters to South Fork Creek and follow it down a ways to Iron Camp.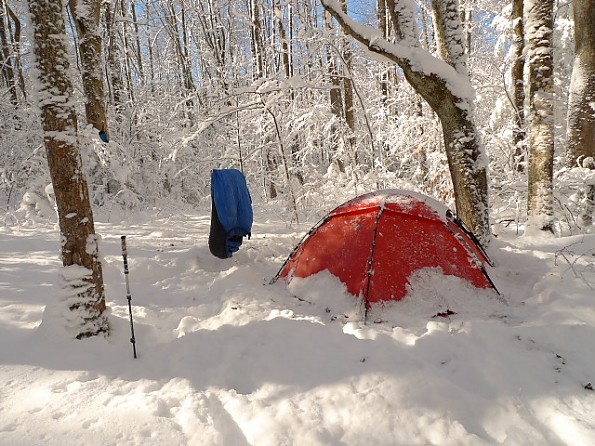 On Day 4 I wake up to a frosty tent and more snow but I'm lower off the mountain at around 3,500 feet.  It's dang cold of course.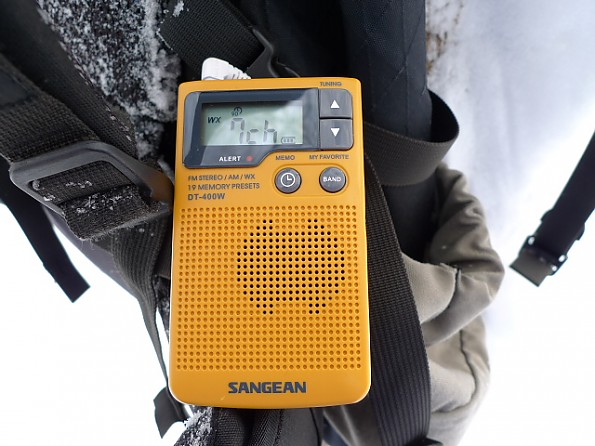 I got this Sangean radio just for the trip and dang it but I dropped it in the snow on Day 1 and the Lock feature kicked on shutting me out.  I held it over a candle flame and got it dry but nearly melted the side off.  It worked eventually.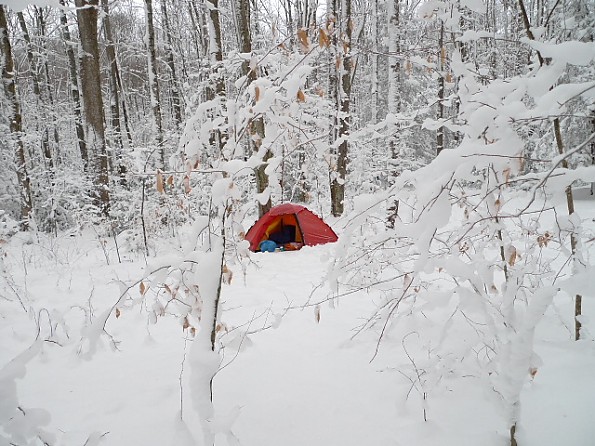 I decide to zero out Day 5 and stay at pretty Iron Camp in the snow.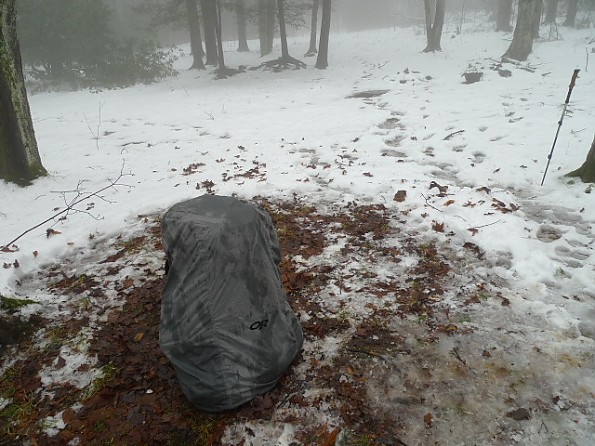 On Day 6 I pack up and notice some of the snow is lower so I gird thy loins and hump back up a thousand feet to Cold Gap.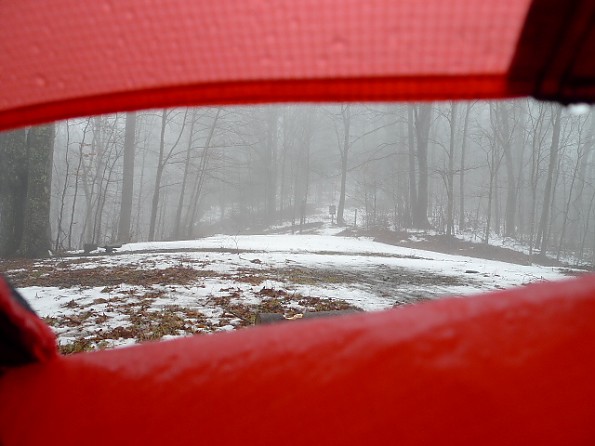 Wouldn't you know it but as soon as I got to Cold Gap the sky opened up again but this time it came as an all night sleet storm.  Hunker in and don't worry about it.   To paraphrase arctic explorer Mike Horn, "If you worry, you die.  If you don't worry, you die.  So why worry?"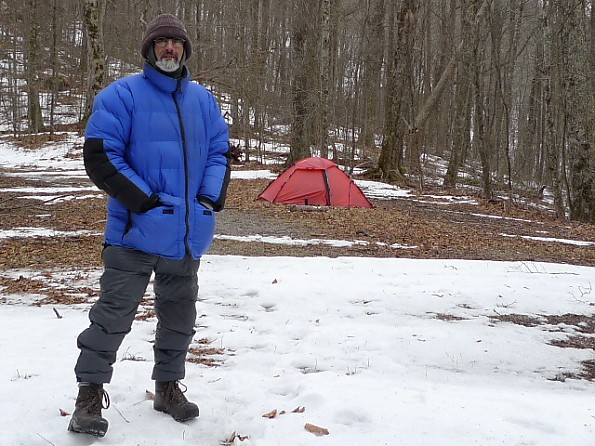 On Day 7 the storm passes and I think about packing up and climbing back to the Bob for another few cold nights.  Check out the down pants and the Icefall parka.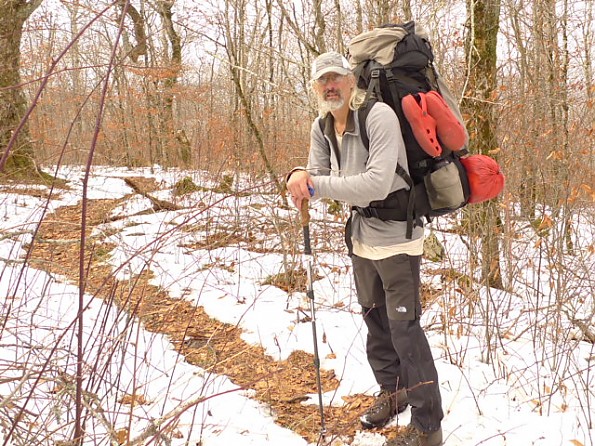 The storm of a week ago left a few signs but it's much easier going back up to the Bob than it was coming down.  And not as cold.  Check out my Smartwool midweight merino tops.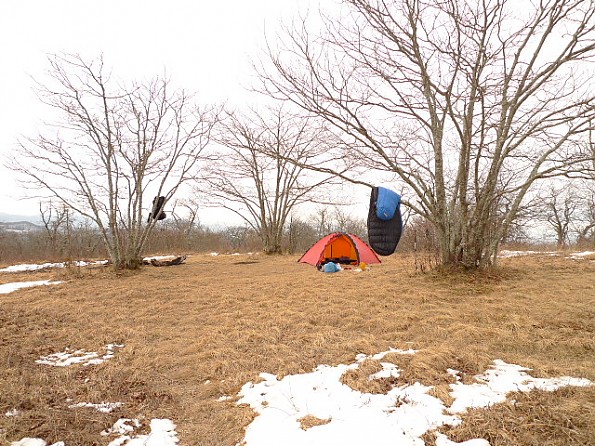 The Bob is practically impossible to recognize so I set up at Hutnons Camp in the very middle of the meadow.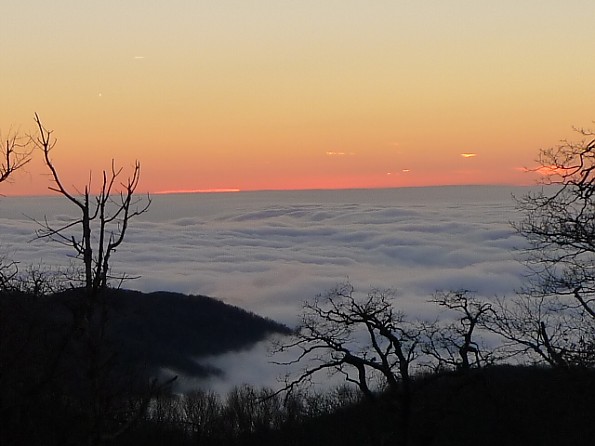 Dusk comes with clouds below me and I savor the sight.  Goodnight to Day 8.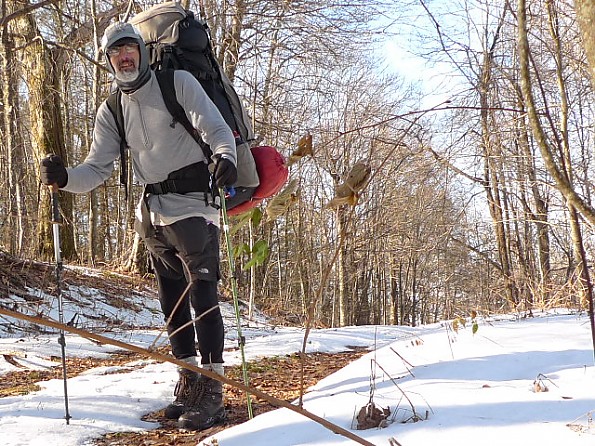 On Day 9 I decide to hump off the Bob and get to Beech Gap and do a 4 mile roadwalk to Flats Mountain where I set up for my last night.  It turns out to be a 10 mile day.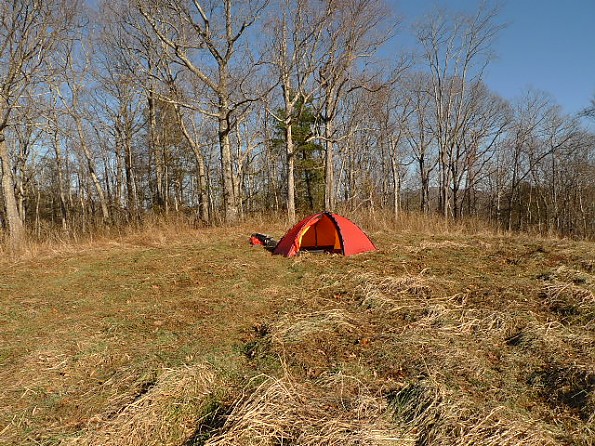 Flats Mountain trail is awful nice and so I set up on the first bald and find a few patches of snow for my water.  While scouting I manage to get a little tear on my nice down pants, sob.  Ran into a devil's walking stick type plant.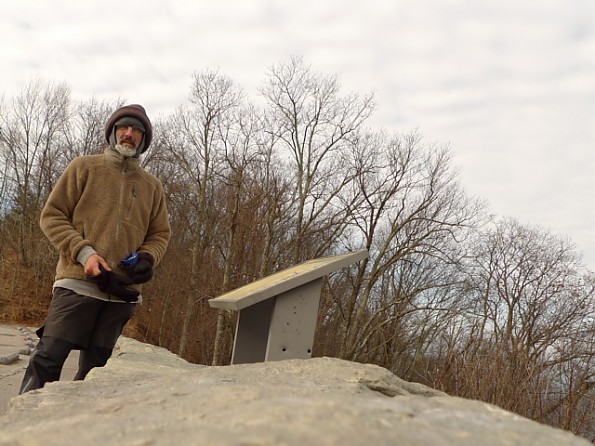 At the end of the trip I leave Flats Mt and hike about 2 miles to a road overlook where Little Mitten will pick me up.  So ends another fine trip.