9:17 p.m. on January 22, 2011 (EST)
Tipi Walter

295 reviewer rep
1,436 forum posts
I begin the New Year of 2011 by bringing out the Keron 3, a Hilleberg tunnel tent which I first set up in the yard for a week of bag nights during a Christmas snowstorm.  Luckily we had a white Christmas and so my tent was fully tested for a January trip.
I chose the Keron because of its ample space and vertical head and footwalls as my usual Staika dome I found to be too small with slanting end walls wetting the sleeping bag.  They both weigh nearly the same, with the Keron about 6oz heavier.
I didn't know it at the time but as soon as I stepped out of the car on Jan 5th for the trip I'd be camping and hiking in an endless snow.  So here we go boys, into the Citico Wilderness of TN at the Beech Gap entrance on Fodderstack Ridge.  Jan 5-22, 2011.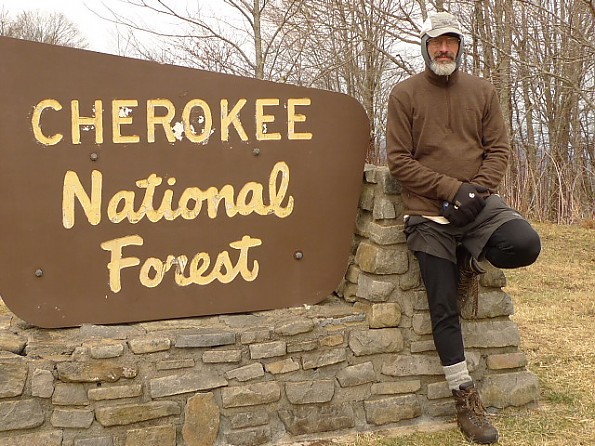 Dan 1 begins harmless enough by having Little Mitten drop me off at 4,500 feet at the high entrance to the Citico Creek wilderness at Beech Gap where the Fodderstack trail is shared with the BMT.  So far, so good.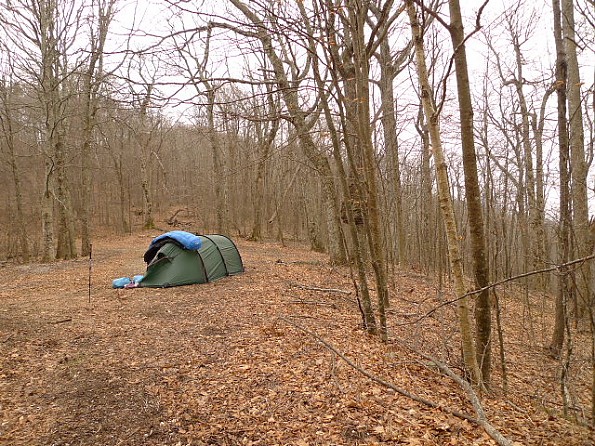 I get to Cold Gap where the wind always blows and set up under a sky spitting just a little bit of snow.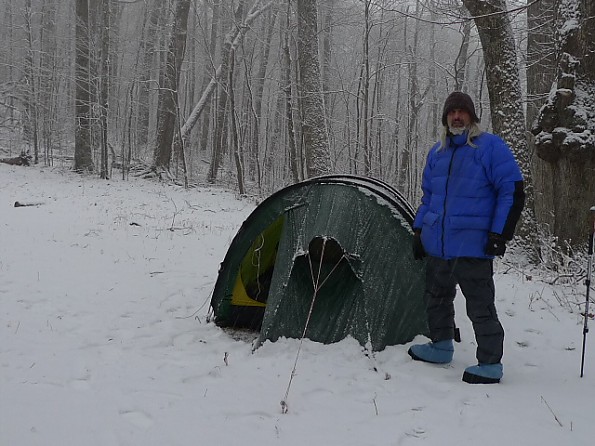 Four hours later after I set up at Cold Gap the first snowstorm hits and covers the tent.  I'm spending my first night out in a new snow and I'm decked out in my all important down parka and down pants and down booties, vital components to a successful winter trip.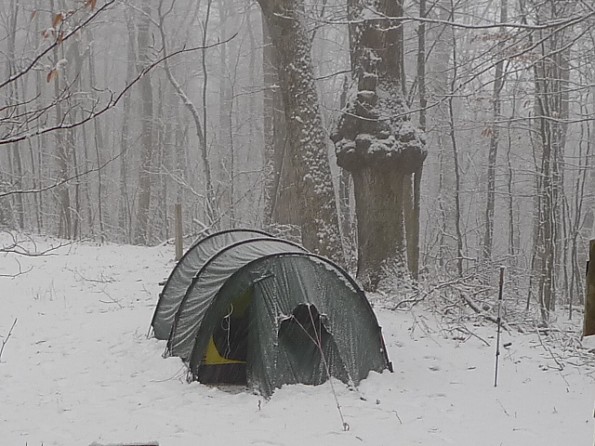 Here's a cool shot showing the Keron as the snow pelts down.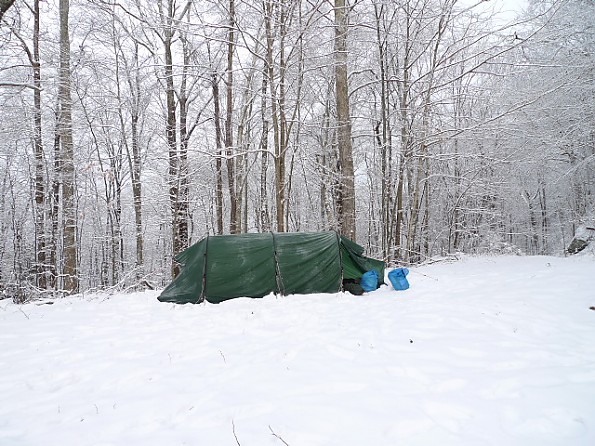 Day 2 beaks after an all-night snow and so I go out and record the event.  The food bags are ready to pack and I'm ready to shove off.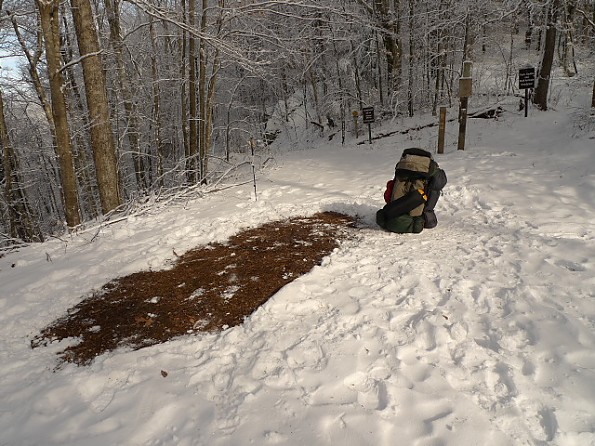 Cold Gap shove off and I'm packed and ready to climb a thousand feet to Gorak Hill(Bob's Bald)where winter is sure to hit at 5,300 feet.  Let's go!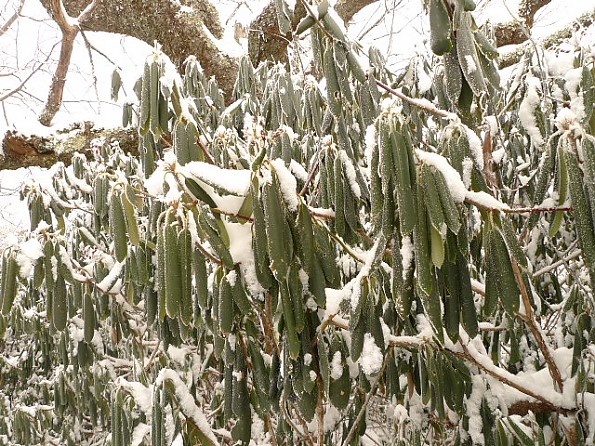 How cold is it?  You can always tell by the curl of the rhodo leaves.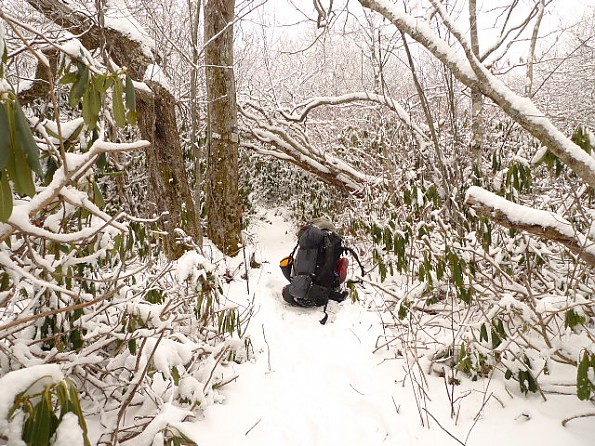 The trail up to the Bob is called 54A and it can sometimes be a living hell of snow loaded brush, briars and rhododendron.  This time though the snow is not deep enough to elicit wailing and belly crawls.  I take a break midway up the sometimes steep path.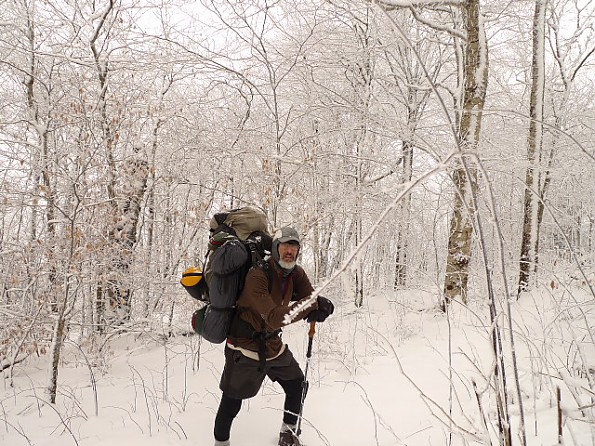 At the top I swing around to the Bob Tee where 54A turns left and goes back down the mountain but I continue straight on a half mile track to the top.  It's a winter wonderland.

Check out the new Icebreaker tops!  Yup, my old Icebreakers wore out and so right before this trip I got a new set in brown.  My layering system is thus:  Zipneck large 260 weight top under an extra large 320 zipneck top.  It's a great system and highly recommended for winter backpacking.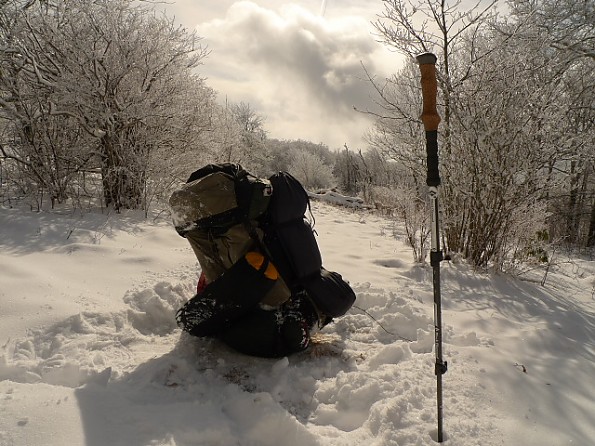 Breaking out into the Bald and it's always a good thing to reach the high ground even if it's cold as heck.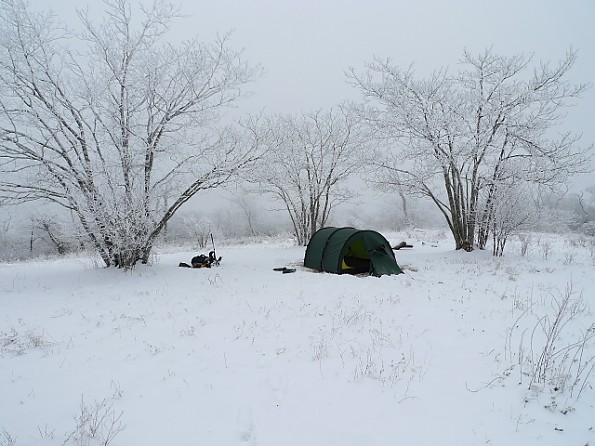 I set up the Keron in the middle of Gorak Hill and get caught in my second big snowstorm of the trip so I sit put here for the next three days.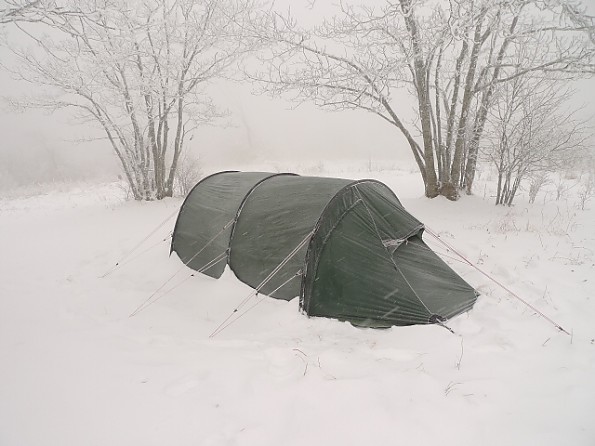 During the night the beginning of another snowstorm comes so I zero out Day 3 and sit tight in the perfect tent.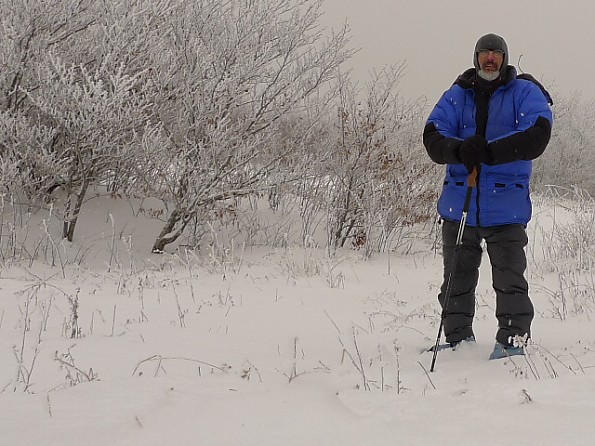 I walk around the bald in my down gear and use the booties all day in the snow and my feet never did get cold.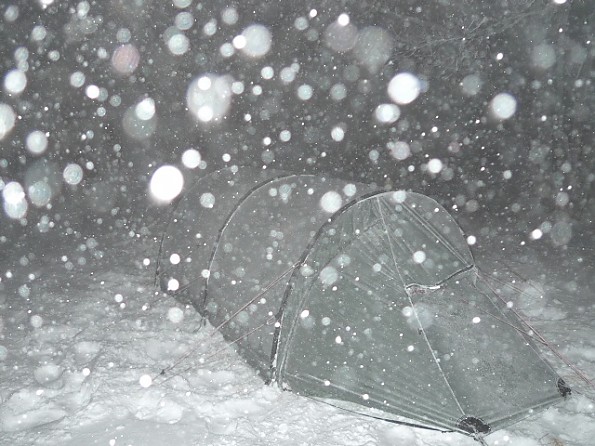 This may be my favorite shot of the whole trip.  The night of Day 3 brings more snow and so I go out and take a quick fotog.  The tent in action!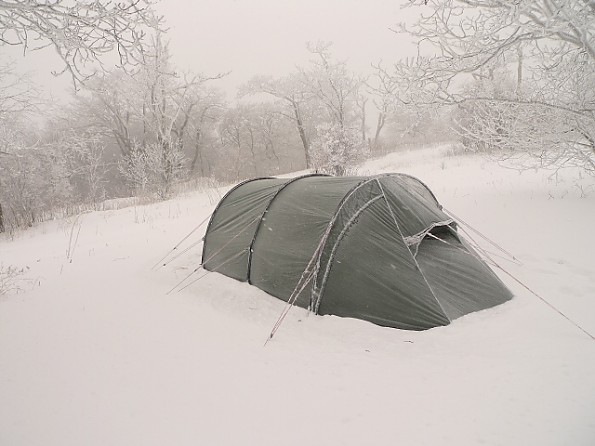 On Day 4 I wake up to 5F and survey a cold camp.  Since it's a Saturday I'm supposed to meet up with a fellow backpacker named Wisenber coming in on Four Mile Ridge so I decide to pull a two mile dayhike in deep snow and leave him a note.  How deep is the snow?  About two feet along the Wall, the high ridge between the Bob and Horse Cove Ridge.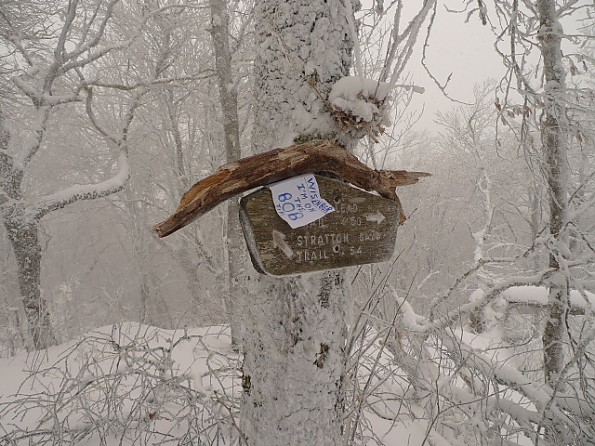 I get to the end of the Wall ridge and leave Wisenber his note reading, "Wisenber I'm on the Bob, Tipi".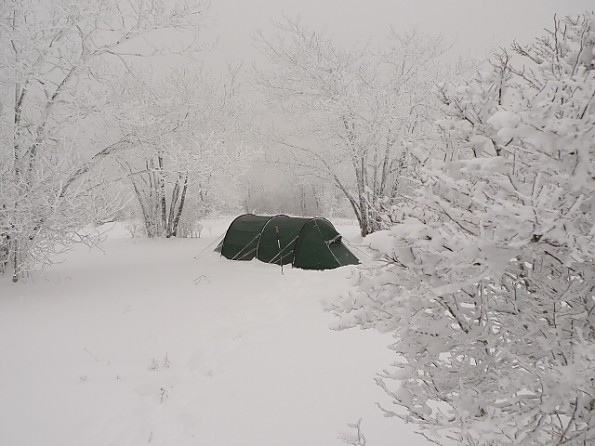 I return to camp and take another pic of the tent and decide to pull another zero day in the snow.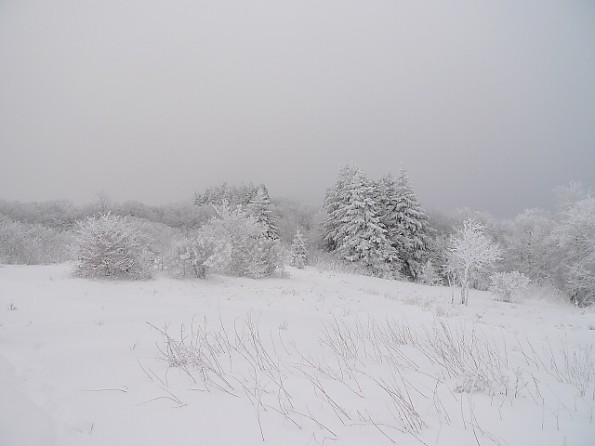 Here's a view of Gorak Hill in the snow with the fir trees encrusted.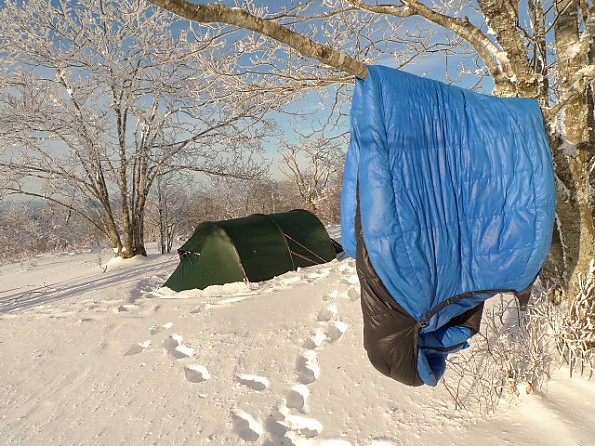 Day 5 arrives finally in a bright sun but I hear two more snowstorms are headed my way so I decide to pack camp and lose some elevation and fall back to Cold Gap where I spent my first night.  Wisenber never shows.  Check out the Puma bag.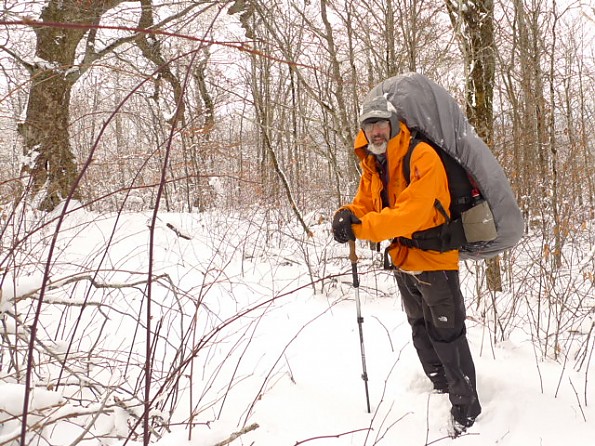 I layer up in my rain jacket and rain pants and fall off the mountain.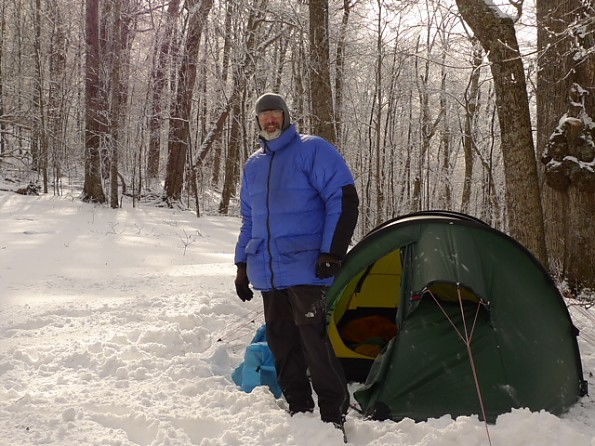 I return to Cold Gap at 4,500 feet and wait for the next big storms.  Each night is around 0F to 10F.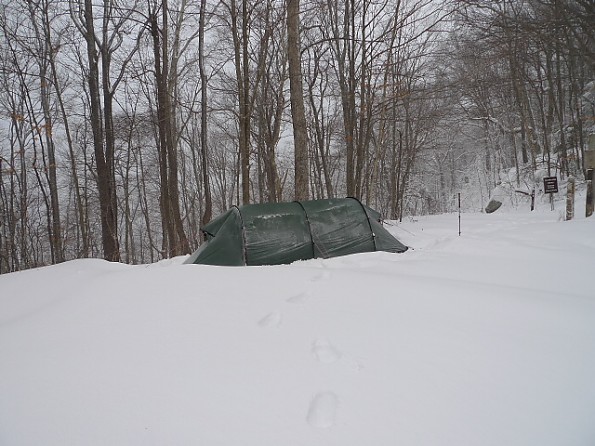 This is starting to get repetitive.  I wake up to frigid temps on Day 6 and survey my camp.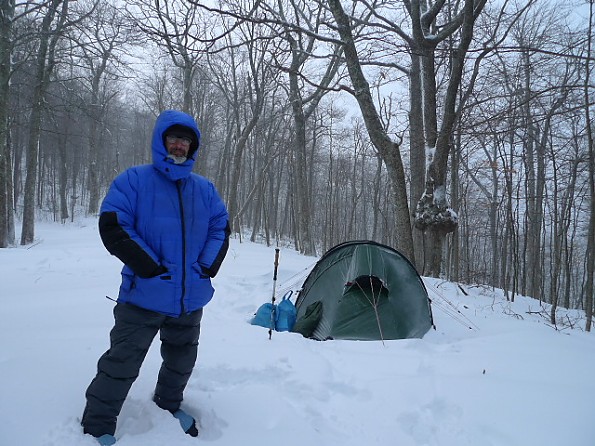 In my vital goose down zeroing out another day.  I end up spending 7 days at this spot enduring a series of butt cold nights and long blizzard days.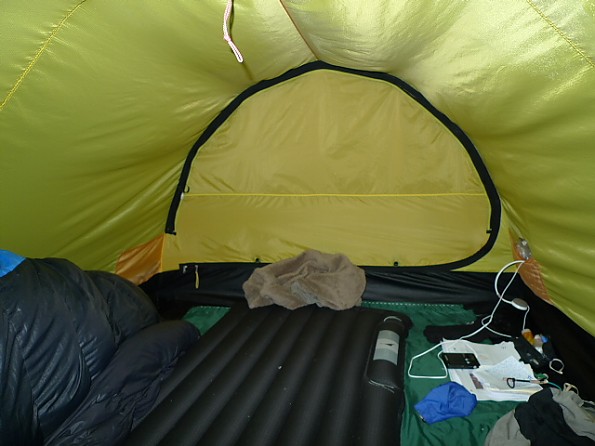 Here's the interior of the long green tube tunnel of the Keron 3.  Check out the Exped downmat.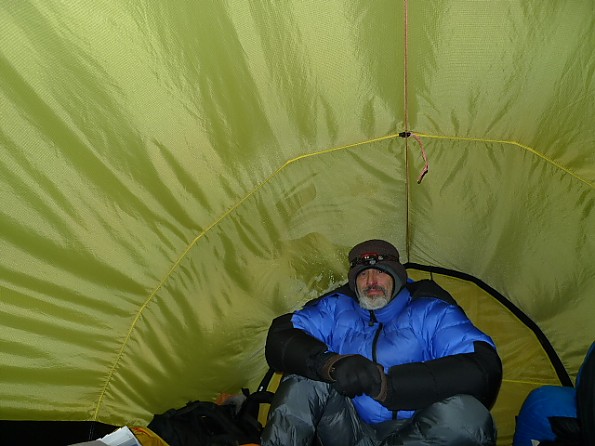 Uncle Fungus peers out like a rodent but safe inside his kerlon nest.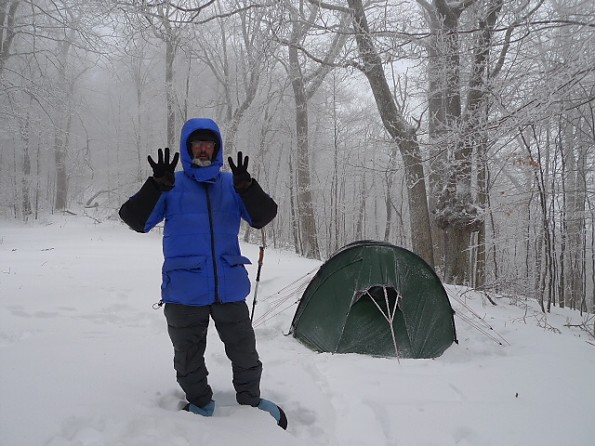 Here I am pointing out the number of days of the trip.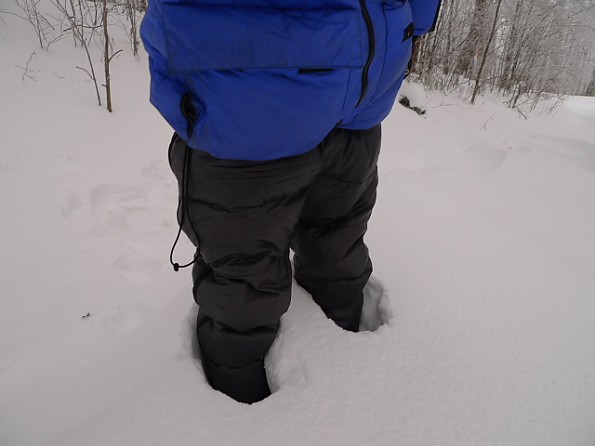 What's the point of moving when the snow is too deep to get very far?  Didn't bring snowshoes, of course.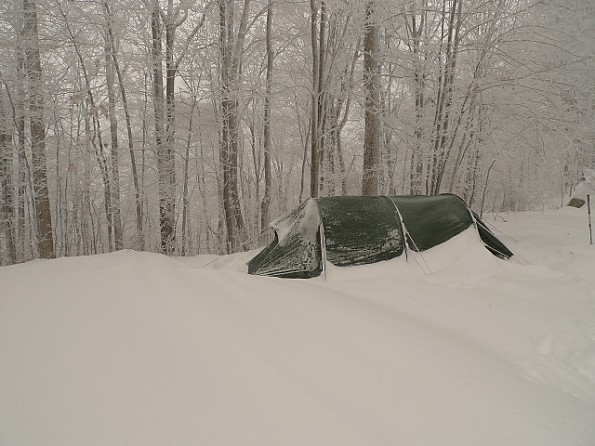 On Day 8 I wake up to another cold morning in even more snow.  The tent keeps most of the snow off the top.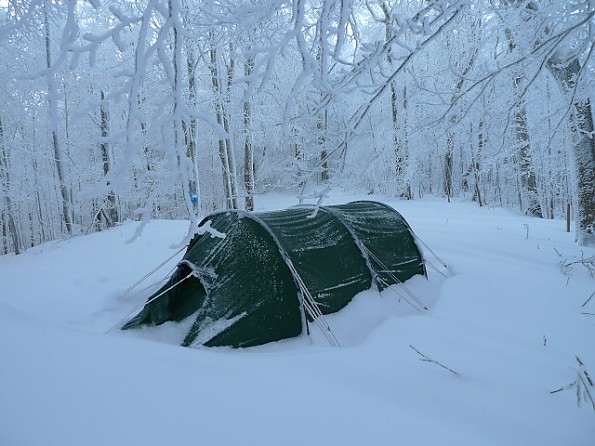 More snow falls into Day 9 and I sit tight waiting for the storms to pass.  What's the hardest part of winter backpacking?  Packing up in the morning.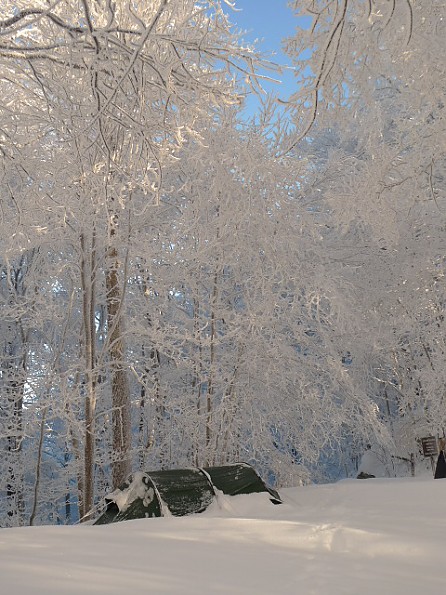 Here's a nice view of camp and the will of the two snowstorms have been broken.  Thar's blue up above!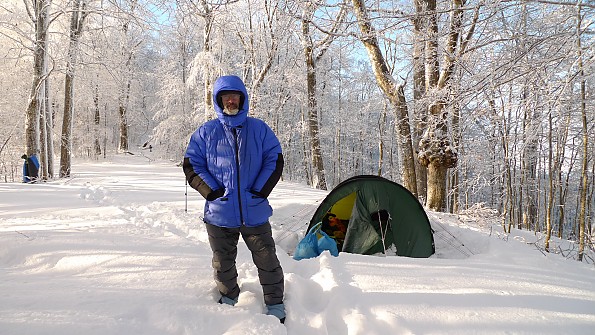 On Day 10 the sun comes out but it gets colder as I stand by the tent.  After 10 days alone I wonder if I'll ever see any other backpackers.  I do!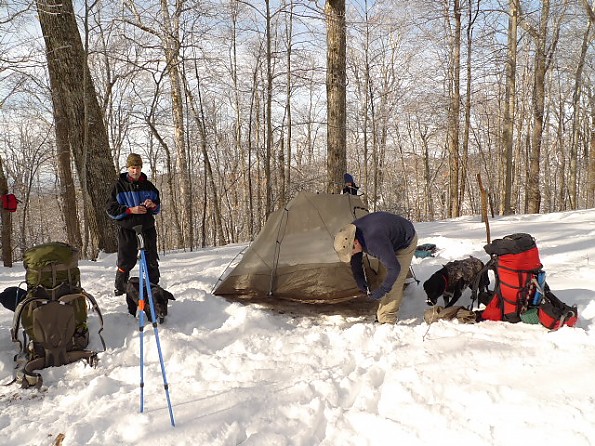 After 10 days alone, three backpackers from Knoxville pop in and try to get up to the Bob and the Hangover but the snow is too deep so they decide to camp with me.  Here is Jay and Mick setting up camp.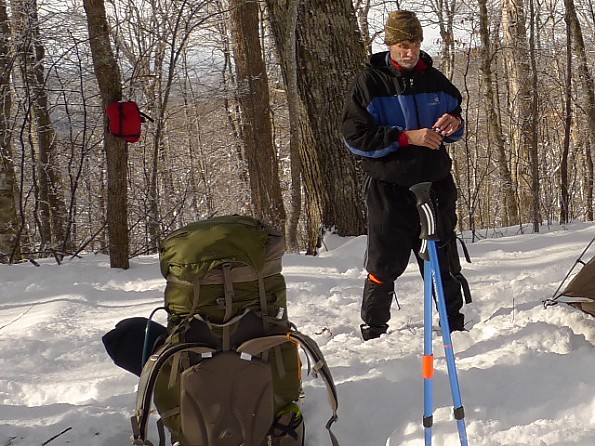 Jay pauses before working on his tentsite.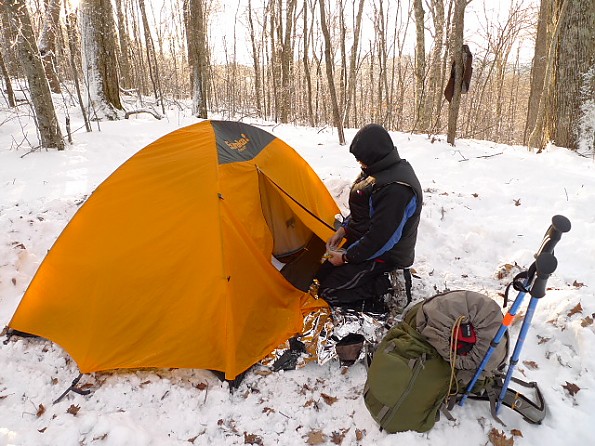 Jay gets his tent set up.  He had a full bladder of koolaid open and freeze on his tent floor.  Oops.
MORE PHOTOS TO COME