8:36 a.m. on February 23, 2011 (EST)
Tipi Walter

295 reviewer rep
1,436 forum posts
Here we go boys, strap on your packs for a long trip into the freakish weather twists of February 2011.  On this trip I enter into the Citico Wilderness at Beech Gap in Tennessee and end up in the Slickrock, Brushy Ridge, and the Bald River wilderness areas.
February 4-21  2011

TRIP HIGHLIGHTS
** SUPERBOWL IN A TENT

**  SLEETSTORM AT ELYSIUM FIELDS

**  CAMPING ON SLICKROCK CREEK

**  SNOWSTORM AT CROWDER CAMP

**  FIVE BACKPACKERS COME IN AT 3AM TO COLD GAP AND CAMP

**  INTERESTNG DAYHIKERS ANN AND BOB

**  AWESOME FLATS MOUNTAIN SITE: THE FLATS CONEHEAD CAMP

**  FLATS MT WINDSTORM

**  GRASSY GAP CACHE RECON

**  MCNABB AND HEMLOCK CREEK

**  ZERO DAY ON BALD RIVER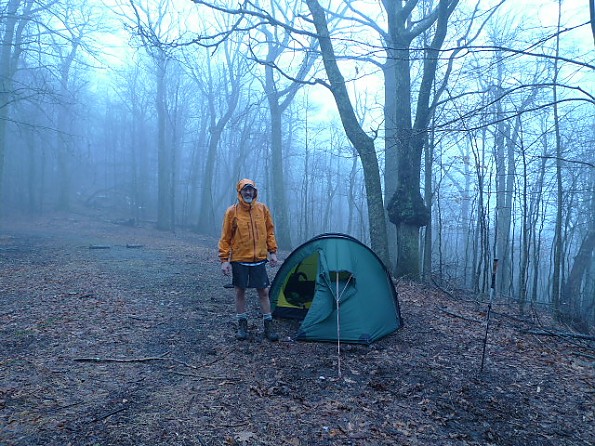 No way!  I don't return to the same nightmare place I spent seven days in a series of January blizzards on my last trip do I?  Yes, but this time in much better conditions---if you call hiking in a butt cold rain at 40F much better.  I'm at Cold Spring Gap on Day 1.  I hate starting a trip in the rain.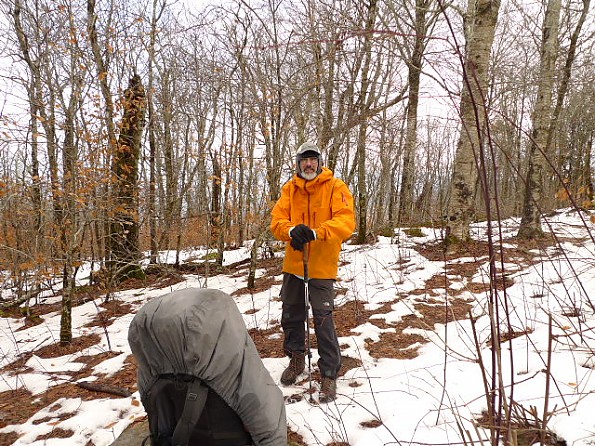 On Day 2 I repeat the same cycle and leave Cold Gap for a thousand foot climb to the high frozen shoulder of Gorak Hill and at the trail Tee run into a huge patch of the dreaded white stuff, leftover from the last trip.  It's 10-12 inches deep but this time hard as a rock though I sink in repeatedly due to my combined weight of around 240 lbs.  Yikes!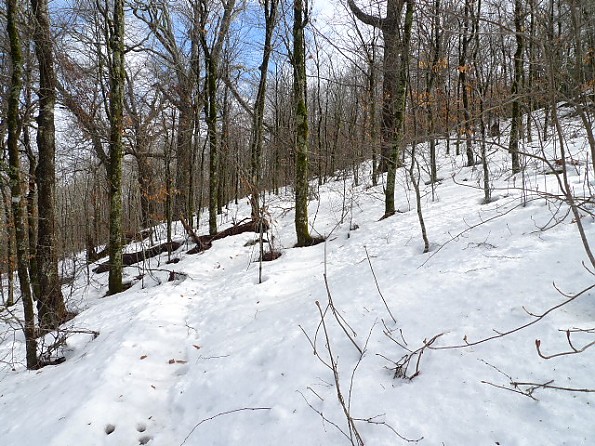 Here's a good fotog of the Tee trail in snow, and it's a half mile to the top of the bald, Bob's Bald.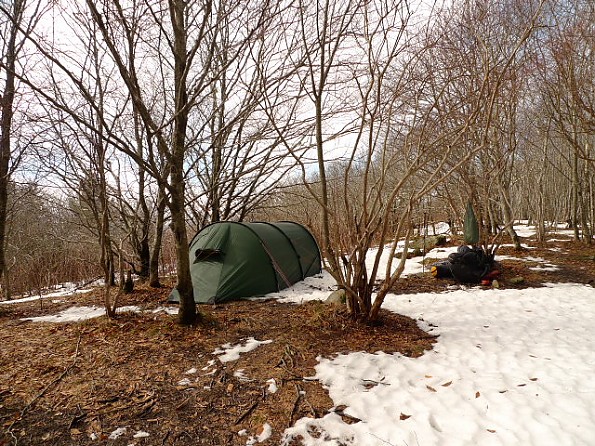 I get to the high ground and find it mostly clear of snow but very windy, so I set up the Keron tent in the protection of trees in a place I call the South Col Camps.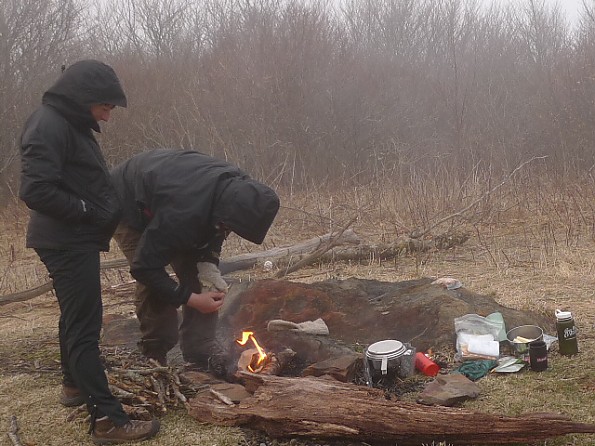 A couple hours after getting set up I hear voices(it is a Saturday after all)and find Carol and her husband passing thru and setting up here at Raven Camp, a high unprotected spot where they discover a secluded place for their North Face tent inside the treeline.  Here they are getting dinner ready.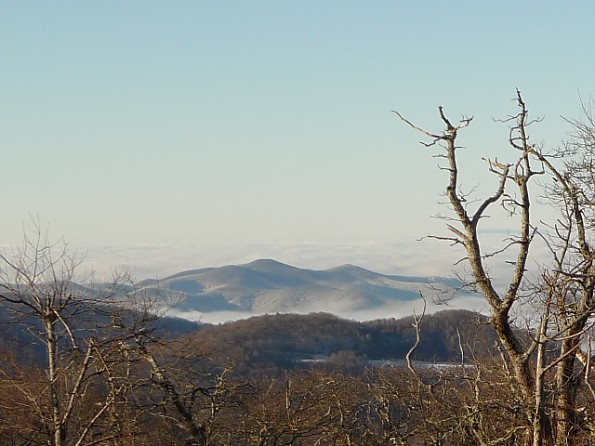 On the morning of Day 3 I survey the bald and take a few shots of the low clouds in the mountains before packing up.

I leave the South Col and follow the Wall a mile and pass the Horse Cove/Naked Ground trail jct where I left a whiteout winter note for Wisenber on my last trip and dang it after 31 days the note is still here.  It's litter now so I take it down and burn it. At the trail jct I take a needed break and rest on a rock in the snow before shoving off.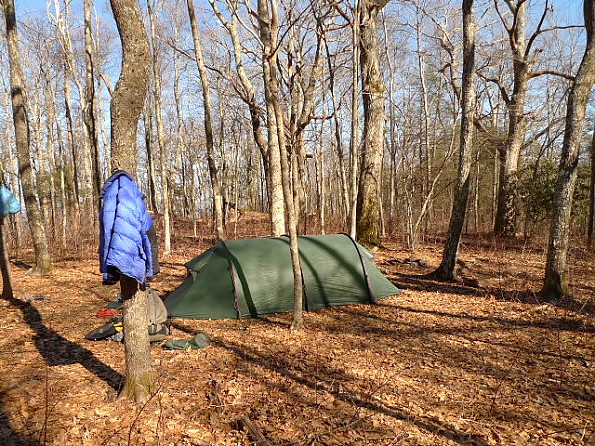 If you stay on Four Mile Ridge past Naked Ground you'll climb four hills to Haoe Peak and on top there's a trail turning right which drops off the ridge into the Kilmer valley.  I decide to lose a thousand feet and continue my hiking to a favorite camp I call Toad on a long level ridge once called Jenkins Meadow.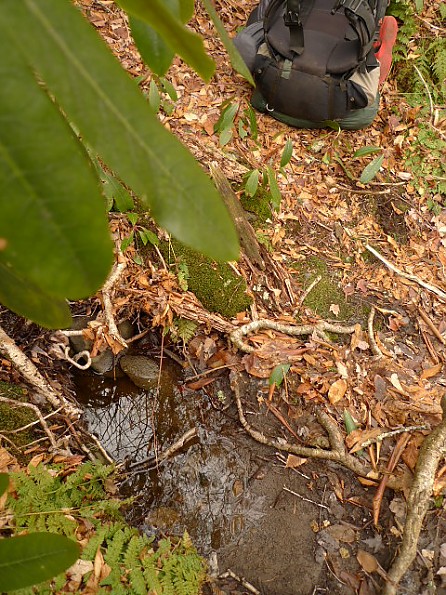 On Day 4 the sun clouds over and a moderate wind blows across the ridge so I pack and climb back to Haoe Peak and turn right on Four Mile Ridge and nearly get killed falling off the Peak on a series of rock faces covered in ice and snow.  Here's how you do it:  On your butt using your hands and feet for brakes and steering.  It's called the Bung Abseil.  Past the worst of it and grateful to be alive, I get to the Hangover Lead South trail jct and turn left down the mountain for a thousand feet and stop at this watering hole where I load up two liters for my night's camp.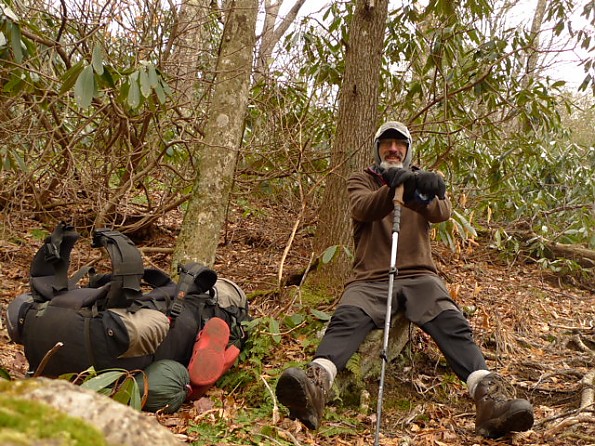 Here I am resting by water on the rugged South Lead trail.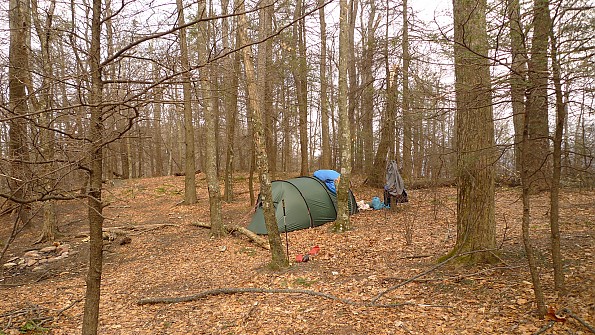 The trail down off the Hangover and Four Mile Ridge is fantastic and it levels off in a long open ridge I call Elysium Fields, and so I set up the Keron at around 4,400 feet and prepare for another windstorm with sleet and snow.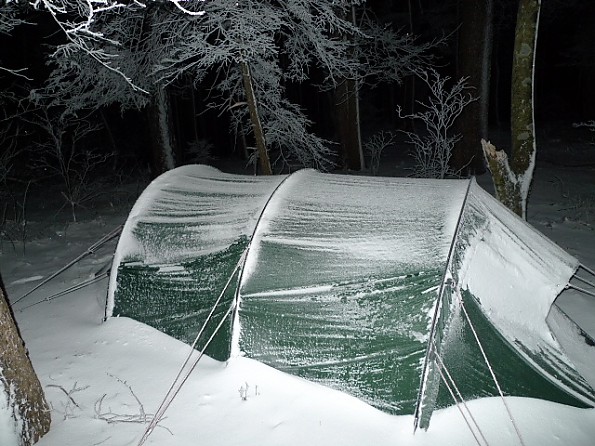 The storm begins and I'm as giddy and as excited as a six month old puppy with a chew toy. (I am writing this picture's comment while sitting in the tent and listening to the snow and sleet pelt down on the tent).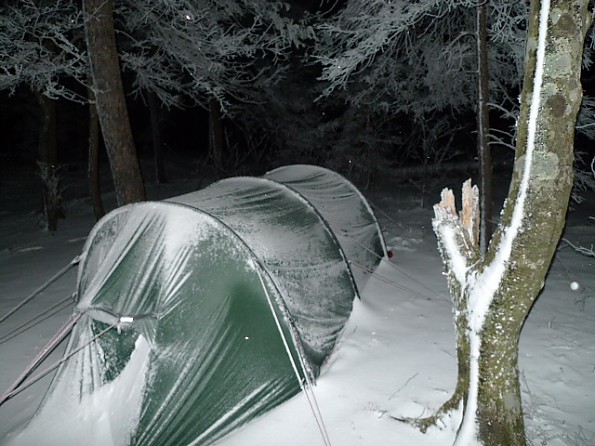 Night pics of a snowstorm are always good and so I get up around midnight on Day 5 and take a couple fotogs of the tent in full splendor.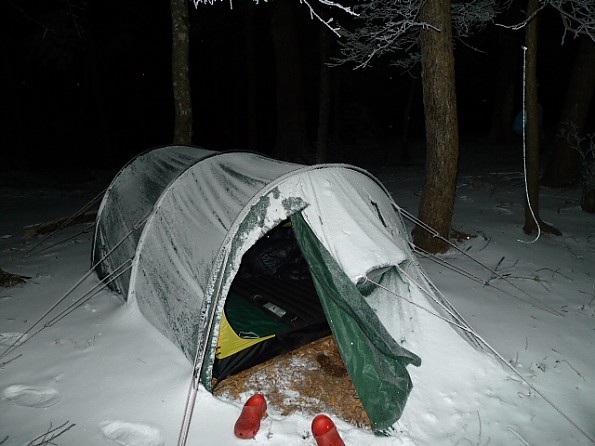 Here's another night pic using the flash.  It's also very windy.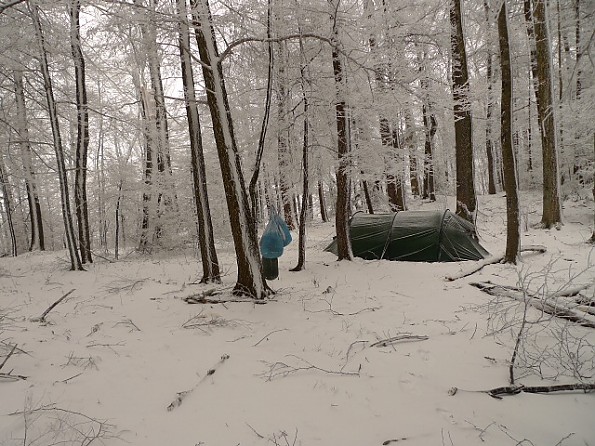 In the morning I get up to a frozen landscape with a light cover of snow and survey the tent in the high gap of Elysium Fields on the South Lead trail.  Notice the low food bags on the bear line.  They are too heavy to pull any higher as the triptease cord binds too much.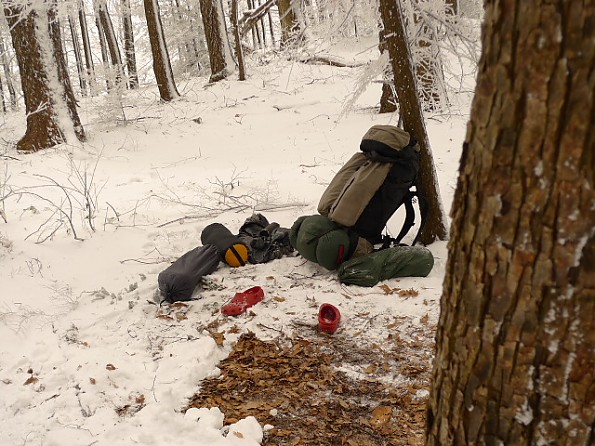 The gear is packed and I'm about ready to lose two thousand feet and fall off the mountain to Slickrock Creek.  It's always hard to pack up on a cold morning.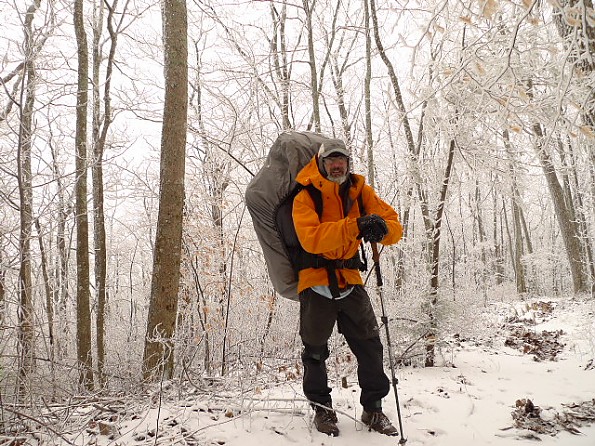 Here I am dressed in my usual cold weather kit but the jacket gets too hot so I chuck it a half mile down the trail.  It's called Sweat Discipline and ya gotta do it if you expect to keep your baselayers dry.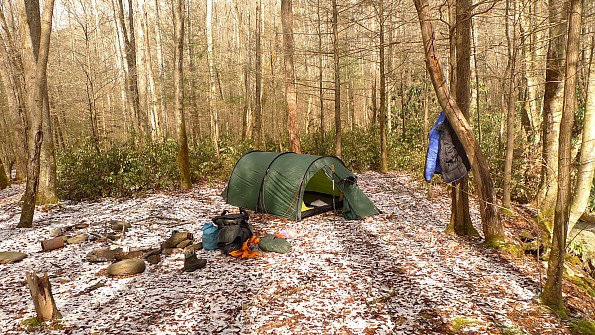 I reach Little West Camp which is right next to Slickrock Creek and it feels good to be by water for a change.  Slickrock has the cleanest water in the Southeast.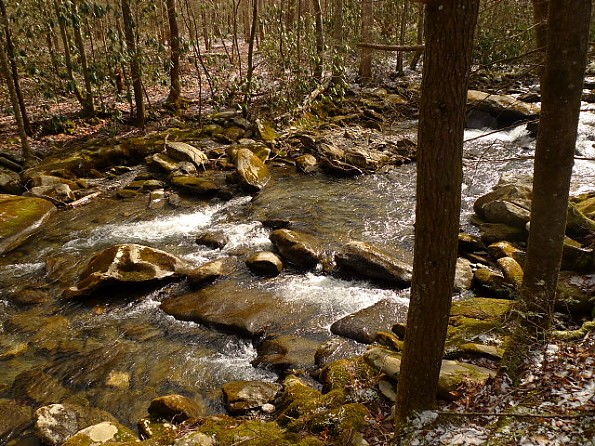 I gotta include a picture of the creek, the mighty Slickrock Creek.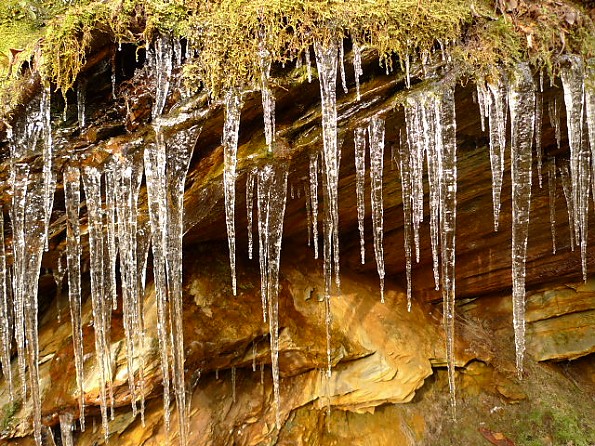 I begin Day 6 by heading down the Slickrock Creek trail and pass by these pretty icicles on a rock wall.

Not far down the Slickrock Creek trail near the Wildcat Falls crossing I reach the Big Stack Gap trail which turns left and climbs about a thousand feet up to Fodderstack Ridge and comes out at a flat grassy place on the BMT called Crowder Camp.  The trail up there has several steep pitches and here I am taking a break at the rock overlook after the five switchbacks.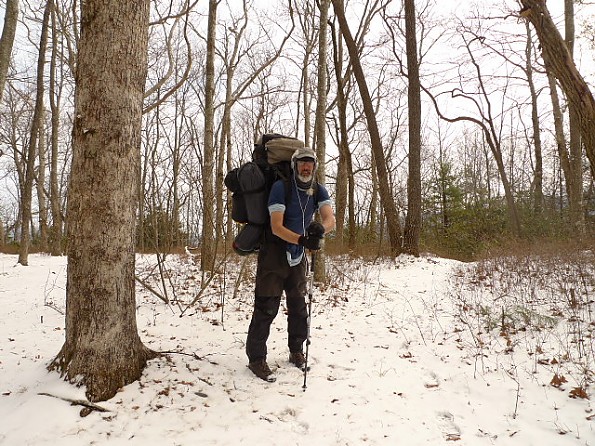 I finally reach Crowder Camp with an extra five pounds of water I got right below camp.  There's more snow!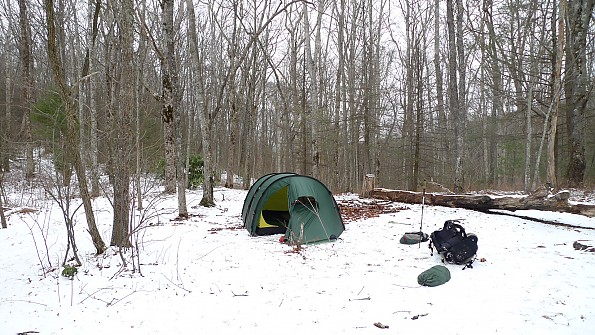 Of course the Keron looks good and fits well in Crowder Camp and so I take the necessary photo.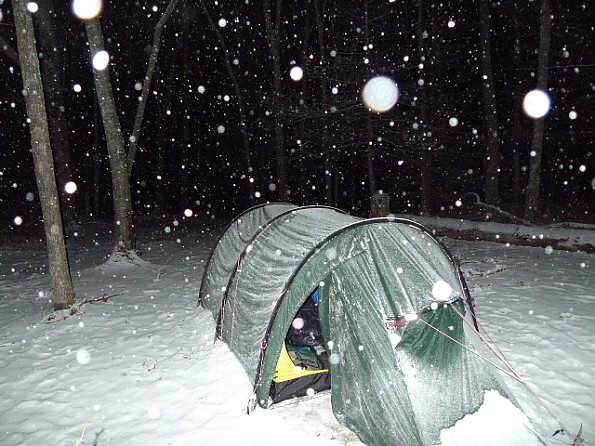 Wouldn't you know it but on Day 7 I get another nice nighttime snowstorm shot but this time it's at Crowder Camp.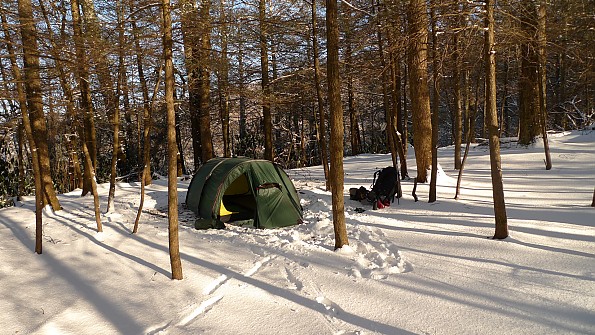 I leave Crowders and climb several long tough hills and gain about a thousand feet where the snow gets to about 5 to 6 inches deep, and I finally set up at an open camp near Cherry Log Gap, called Snow Camp.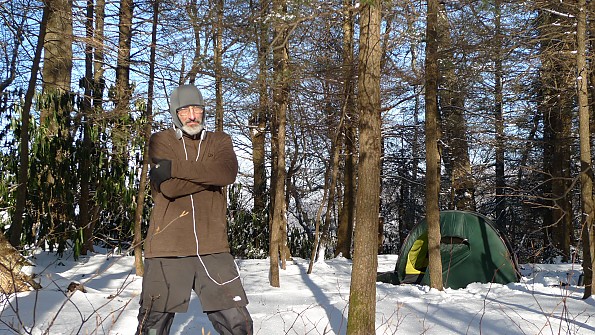 Here I am on Day 7 getting squared away and preparing for another cold night in merino wool at around 12F.
MORE TO COME ON DAY 8