trouthunter
1,763 reviewer rep | 3,956 forum posts
3:46 p.m. on February 27, 2011 (EST)
The Fiery Gizzard Trail is one of the most spectacular hikes in the Southeast, and is considered by many to be the best hike in the state of Tennessee. The trail has four campgrounds and two trail heads with loops possible, as well as a through hike like we did.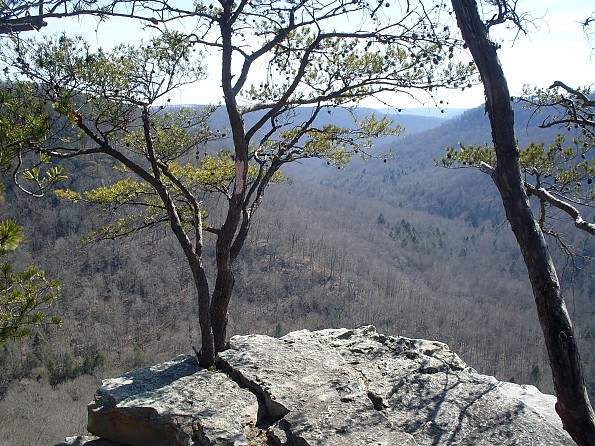 Here is Ravens Point at 1753 ft in elevation, one of the highlights of this trail. The view is southward looking down the river gorge, with the Fiery Gizzard Creek roughly 800' below.
This Trail is located in Grundy & Marion counties of TN just south of Tracy city. USGS Topos - White City & Monteagle
Its physiographic province is the Cumberland Plateau, part of the Appalachian Plateau, which is the last remaining forested plateau in North America. The plateau is bounded by escarpments on all sides which create wonderful watershed areas whose streams are randomly branched (dendritic).
The Fiery Gizzard Trail is a 13 mile hike through one of these watersheds with part of the trail in the river gorge, and part on top of the plateau. 
A bit of trivia for you, the trail supposedly got it's name when Davy Crockett burned his tongue on a hot Turkey gizzard while camped in the gorge. Another story claims it got it's name from iron smelting in the area.
On February 13, 2011 at 5:30 AM four members of Trailspace met at Foster Falls, the southern trail head for this hike and hopped into a Jeep Cherokee for the shuttle ride to Grundy forest, the northern trailhea,d and started the 13 mile hike back to our meet up spot at Foster Falls.
The group consisted of: Rocklion, Beersheba,  Gonzan, and me, Trouthunter. After each of us got our packs on we hit the trail as the sun was starting to rise.
We quickly descended down into the Gorge where both the Little & Big Fiery Gizzard creeks converge.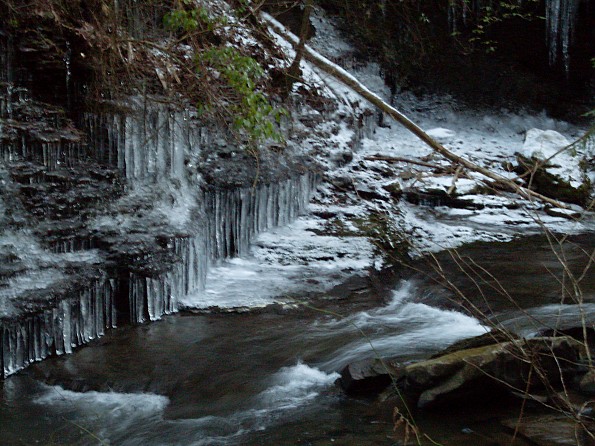 This was a welcome sight for me, rugged terrain and some ice and snow. Just before I took this photo I slipped and fell on an icy flat rock, a wake up call to be more careful. My excuse is that I was wearing new socks (if you can think of something better E-mail me).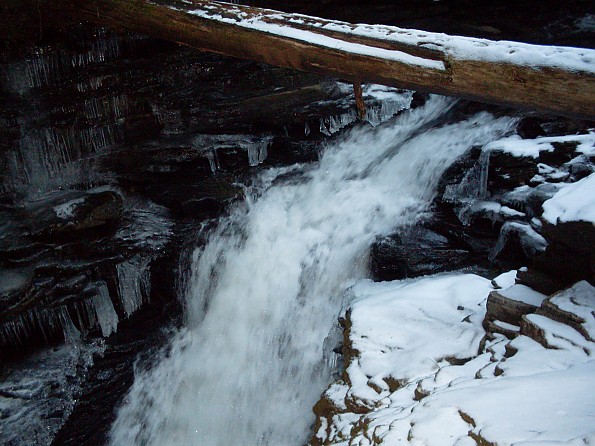 A beautiful cascade down through a section called the Black Canyon due to the organic stain on the rocks. Just enough snow & ice to get hurt. I noticed no one mentioned trying to cross the log bridge, and I was glad it wasn't part of the trail!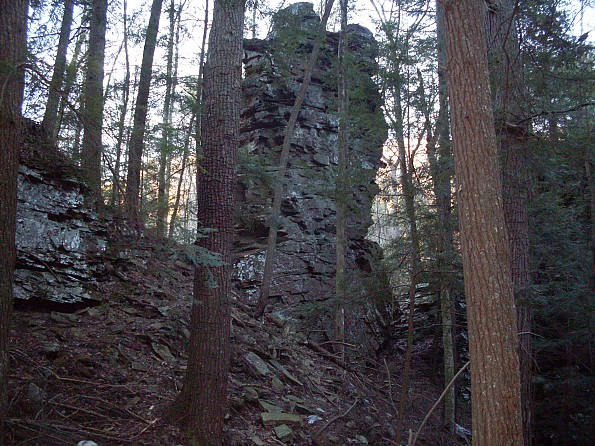 At 1.2 miles you get to see Chimney Rock a 20' rock column. I know somebody in the group mentioned climbing the Chimney, but time didn't allow for such heroic activity. Although I could have done it, just sayin.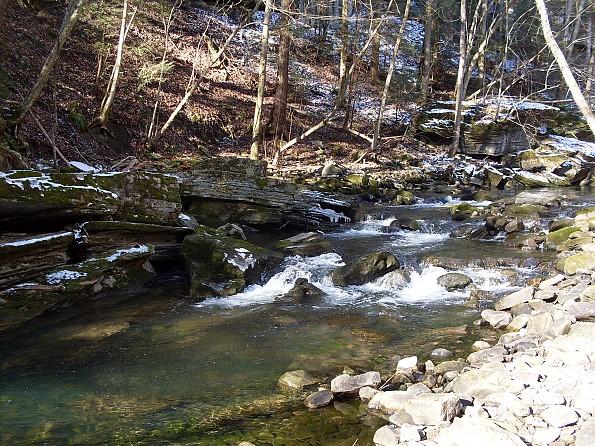 We stopped in this area to take some photos and dig in our packs a bit. This is typical of streams in the area, a moderate to high gradient stream with lots of loose rock covered with algae.

Here's a lot of loose cantaloupe sized rock lining the bank of this stream to the left. Walking these rock fields can be tricky and treacherous, a good hiking stick or some trekking poles helps a lot!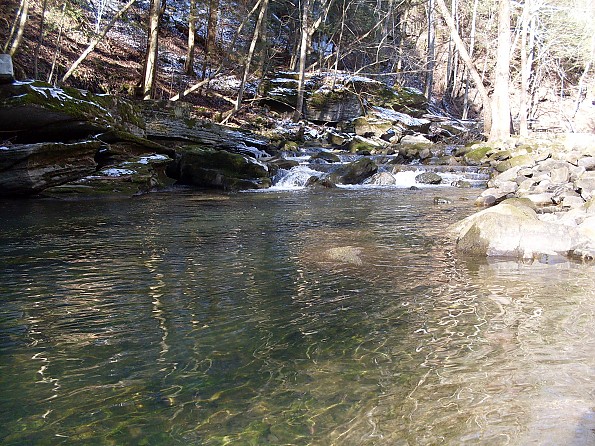 Cool, clear water. Man if the water temp wasn't so low I would seriously be tempted to wade in. We hung out here for a bit taking photos and just enjoying our surroundings. I took the water temp when we filled up on water, it was 41.9 F.... COLD.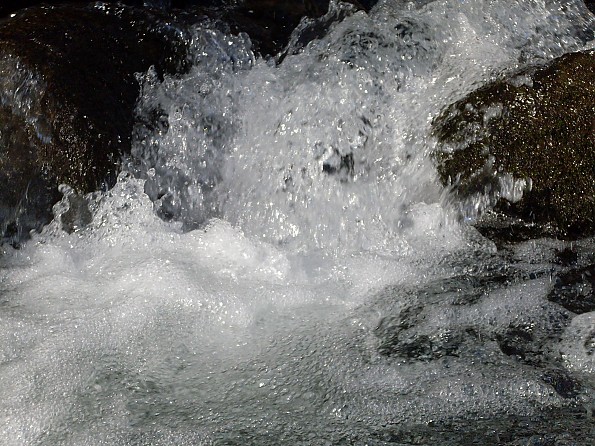 The water pouring over some rocks like this really makes me wish I had a better camera. If there are fish in the stream you can bet they will be hanging out just below areas like this waiting on food to come downstream through narrow areas they could keep an eye on. It has a lot to do with a fishes vision.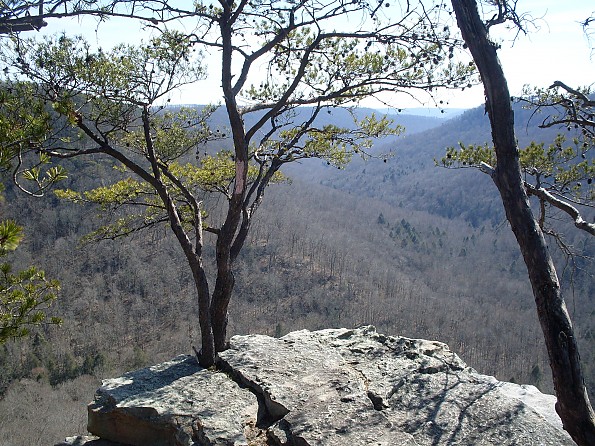 Well after the steep 800' ascent (the trail guide calls it "arduous") out of the river gorge the trail levels out on the plateau and branches with a spur trail leading to Ravens Point, the trails main overlook. This is where we rested and ate lunch. It was windy, but warm enough.
A couple of Forestry Workers were putting up a new trail sign and offered us a ride on their 4 wheeler to the parking area for $100.00. That could be a real money maker in some areas, but we declined.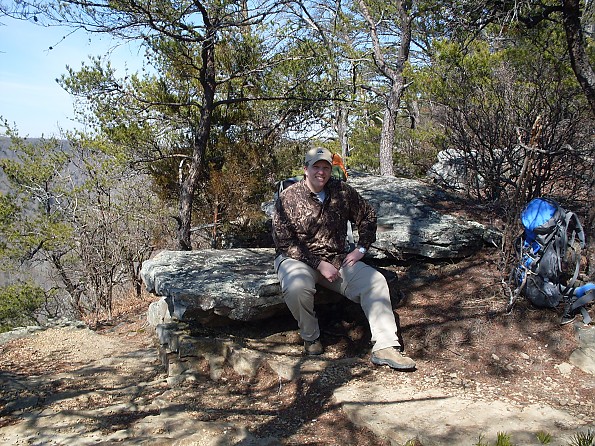 Here is Beersheba sitting on a rock at Ravens point. He commented on the possibility of hiking gear being found at the bottom of the overlook due to the wind, he's probably right.
We ate lunch on Ravens Point, I had an MRE with beef stew, and Gonzan made Buffalo Chicken Wraps using his alcohol stove, for him, Rocklion, and Beersheba.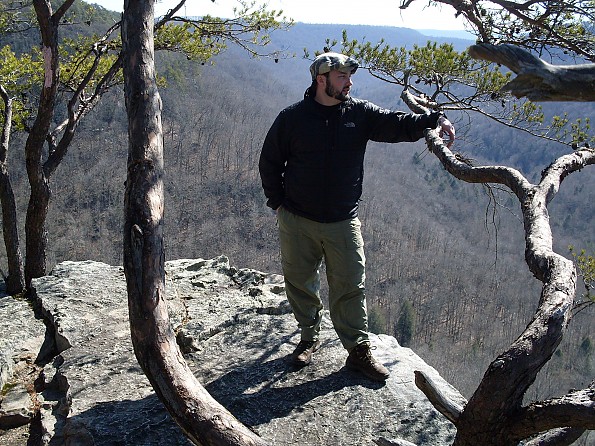 Here is Gonzan enjoying the dangerous edge, I mean, the view. Right where he is standing is a mark on the rock for the Grundy / Marion county line.

Here is Beersheba again, I noticed the little tree branch seemed to be a popular handhold.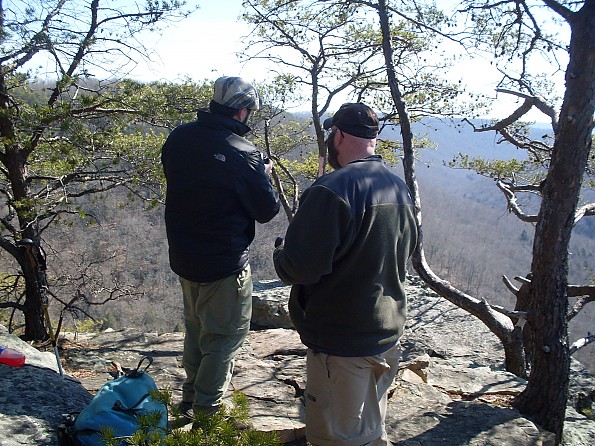 This is Rocklion (right) and Gonzan (left) setting up a shot,  they were both wearing TNF jackets.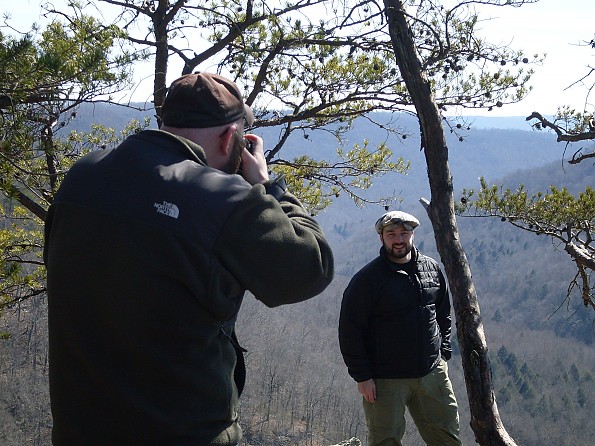 And here's the shot! Those TNF people think they are sooo special.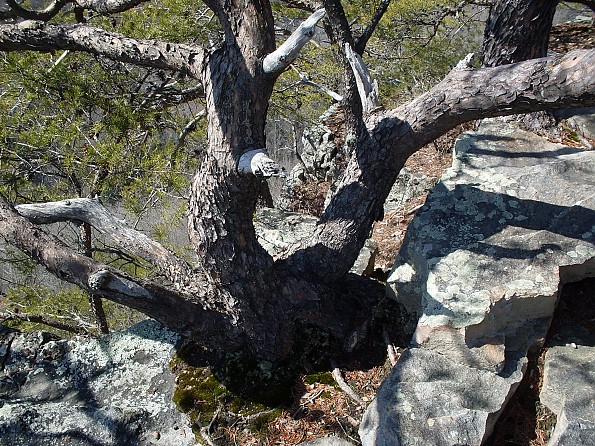 A scraggly little tree hanging in there, it just doesn't look like enough soil to sustain the trees here, but they have been here since I first hiked here 20 years ago.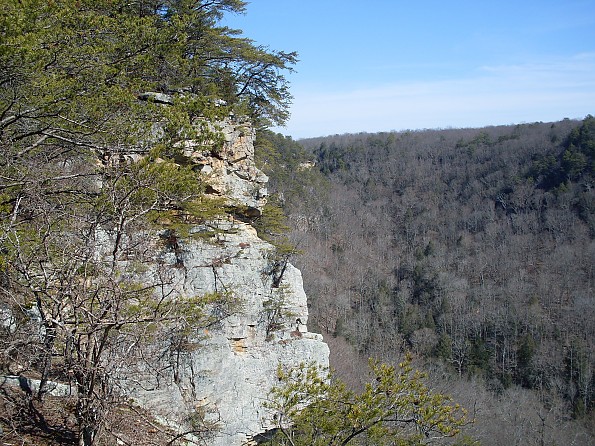 I had to have one last look before we headed on down the trail and took this photo of a rock outcropping just to the left of our vantage point.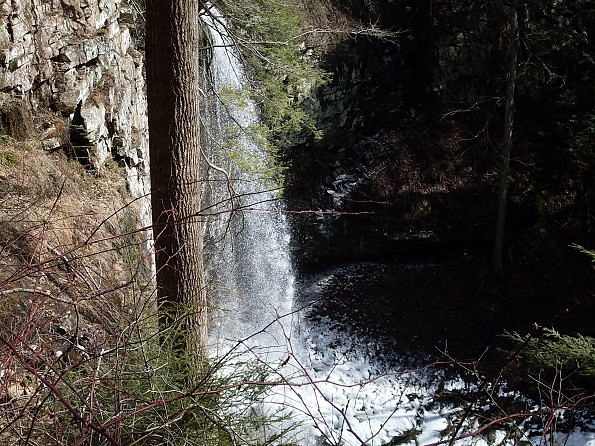 A little ways on down the trail we got to see Anderson Falls. There was a long set of wooden stairs leading down to the bottom with a large lit deck for a viewing platform, but we didn't climb down.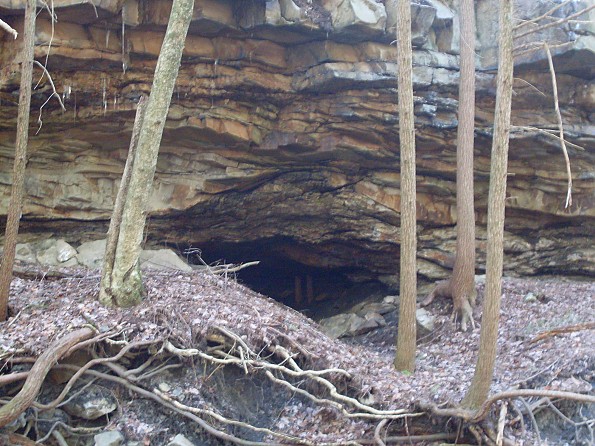 Here is an old mine entrance, again due to time restraints we decided not to go exploring to see what lived in here now. Otherwise we would have pictures of the creature for you.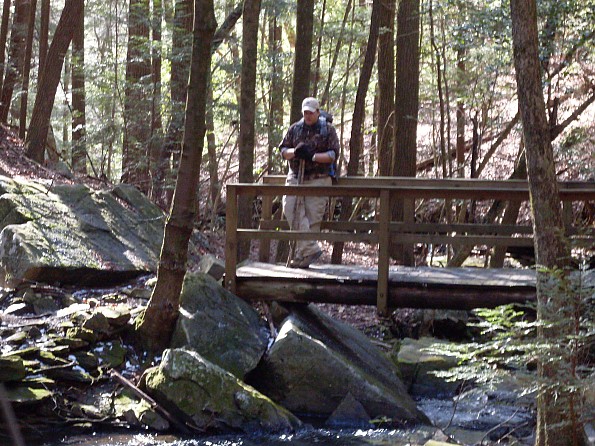 At 9.7 miles the trail descends off the plateau and down into Laurel Branch Gorge, across this bridge and immediately back up the other side and onto the plateau to continue the hike to Foster Falls.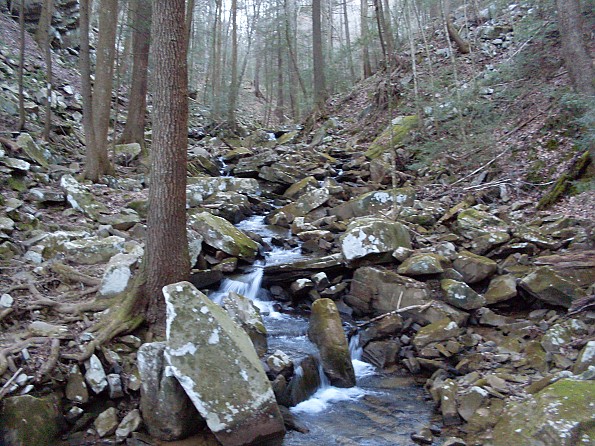 Here's a view up Laurel Branch Gorge, note how steep the sides are, the steep rocky terrain is typical of Southern Appalachian slopes, and the trails often go straight up or down with some switchbacks in places.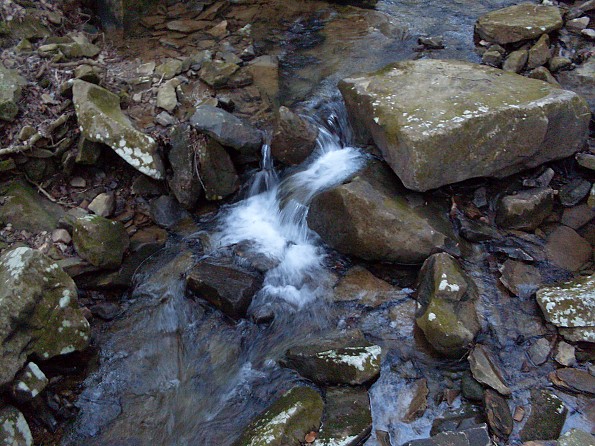 This is a typical creek bed, this was one of the smaller creeks we crossed on this hike and as you can see there were no shortage of rocks to slip on.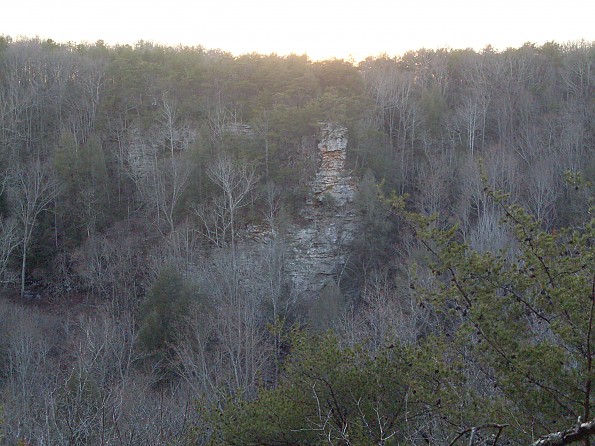 Well guys, this is the last photo I took worth posting in this report. The other members also have photos, and I hope they will add them to this report along with as much commentary as they can add!
It was a blast to hike with these guys, and I plan on doing it again soon.