9:55 a.m. on March 24, 2011 (EDT)
Tipi Walter

295 reviewer rep
1,444 forum posts
Another long backpacking trip begins on March 6, 2011, and starts near Beech Gap in the Citico/Slickrock wilderness of TN and NC.  The trip revolves around random and frequent link-ups with several large backpacking groups from the Cranbrook School in Michigan, who are pulling their 41st annual spring break wilderness trip.
HIGHLIGHTS OF THE TRIP:
**  North Fork Trailwork
**  Windstorm On The North Fork Trail
**  Blizzard On 149
**  With Chris Phillips At Naked Ground
**  Staika Boy On Little Santee Creek
**  Tom And The First Cranbrook Group
**  Climbing The Jenkins Meadow Trail
**  Bryan And The Second Cranbrook Group
**  Gordon And The Third Cranbrook Group
**  The Heart Stone At Wildcat Falls
**  Frank Norton And The Fourth Cranbrook Group
**  Climbing The Upper Slickrock Nutbuster 27th Time
**  Camping With Rob From Trip 56 (2006)
**  More North Fork Trailwork
**  Out On The Jeffrey Hell Trail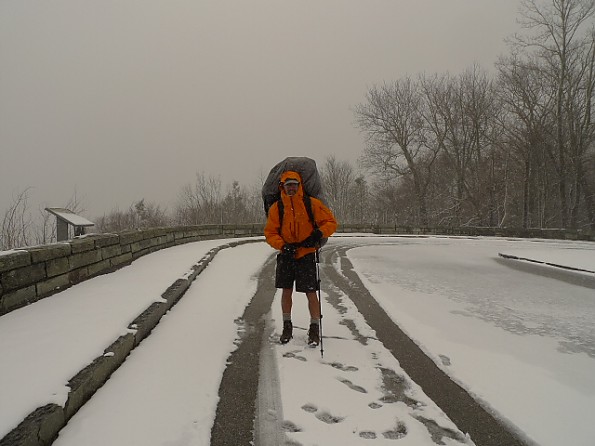 Another long backpacking trip of 18 days begins in a March sleetstorm and I'm carrying a full load (and a heavy load) without resupply.  Little Mitten and I drive up the Skyway to Beech Gap but the road is too bad for her to go any further than East Rattlesnake turnoff where she dumps me out in miserable weather and I watch her leave.  I begin the trip with a one mile roadwalk uphill to Beech Gap.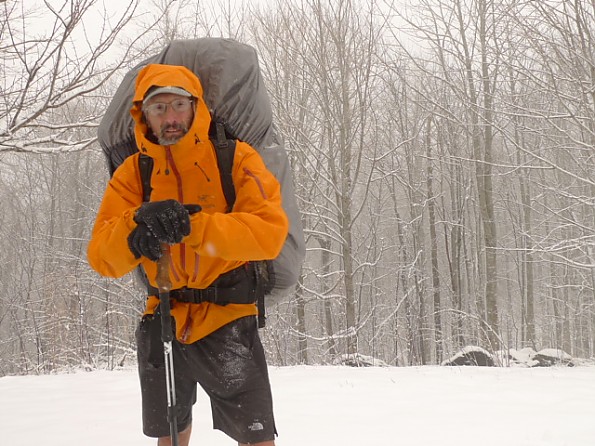 I get to Beech Gap and pause for a quick self portrait before hooking onto the Fodderstack B Mac trail at 4,600 feet.  The Arcteryx rain jacket once again saves my cold butt.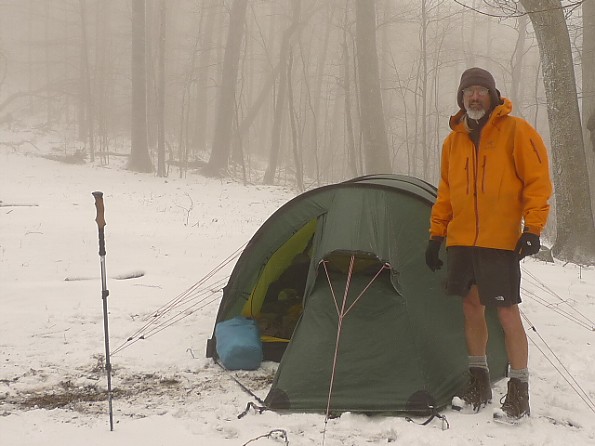 On the first day I only pump nylon three miles due to the weight and the crappy conditions and so I set up at old familiar Cold Gap below Gorak Hill and next to the South Fork Citico trailhead.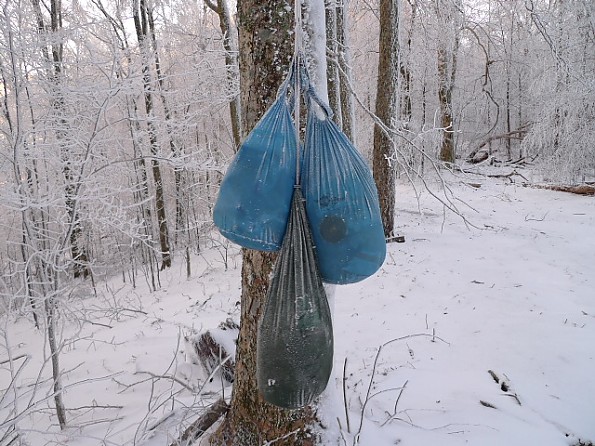 If anyone wants to know what an 18 day food load looks like, here it is, dangling from a triptease bear line.  I brought a "hypalon" fry pan just to cook the 17 eggs I brought (in two little plastic egg suitcases), but drat it, I left them all in the refrigerator at home!  They were to be my main source of protein so I had to fall back on my numerous packs of rice and beans, and I became a vegan for 18 days.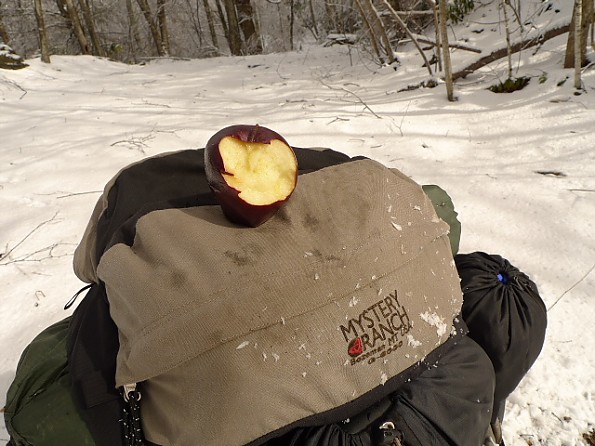 On Day 2 I pack and follow Trail 149 and take a break to eat one of two apples I brought.  Check out the Mystery Ranch pack label.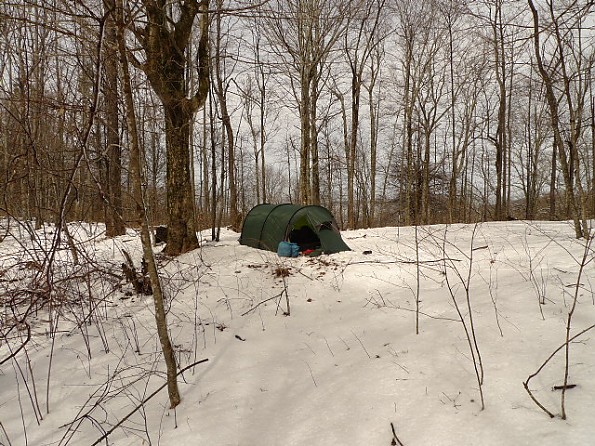 Not far down 149 I reach a favorite site called Barrel Gap and set up in the snow by a little spring seep.  My goal is to follow 149 all the way down to where it junctions with the North Fork Citico.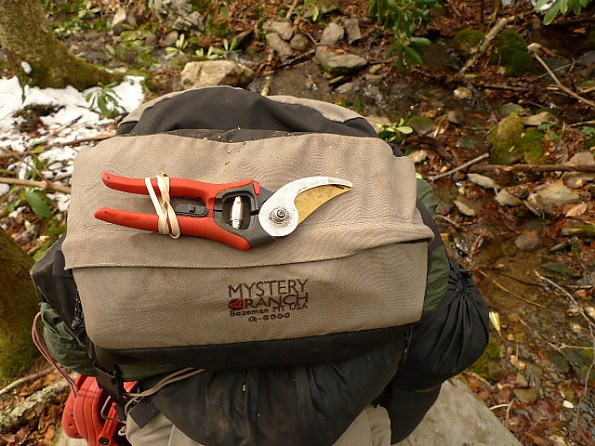 The next day I hike several miles to the North Fork trail and turn right at the trailpost and spend all day maintaining the trail with two tools, a Corona folding saw and a pair of pruners.  Why?  Because the trail is a mess of low-hanging rhododendron, making backpacking it both hellish and dangerous.  Newbs commonly get lost on it.  Here's a shot of the pruners on my pack---the lock-shut mechanism broke after the first hour of use.  Next time, get Felco tools: the best.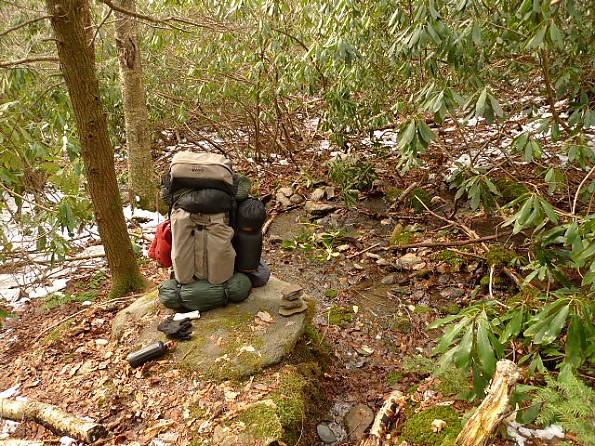 Here's where the North Fork trail comes out of the creek after hiking thru the creek for 100 yards before coming out into an open bowl many hundred feet below Cherry Log Gap on Fodder Ridge.  I call this spot Hippie Rock as there's always a cairn on the rock.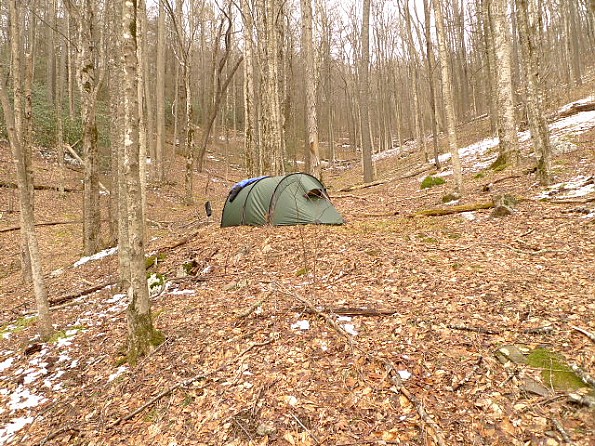 I reach a never-used campsite I call Snake Mt Camp as it reminds me of Snake Mt in NC(near the TN/VA state line).  I'm below the tent and the high ridge behind is Cherry Log Gap and the Fodderstack.  Little did I know that a fierce windstorm would hit this spot in a couple hours.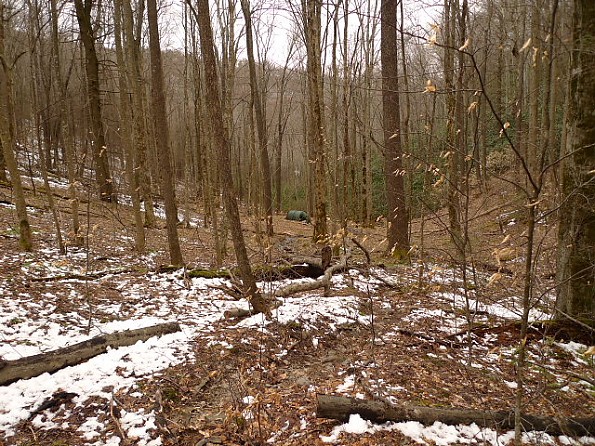 A long distant view of the Keron tent at Snake Mt Camp.  You're looking down into the North Fork valley.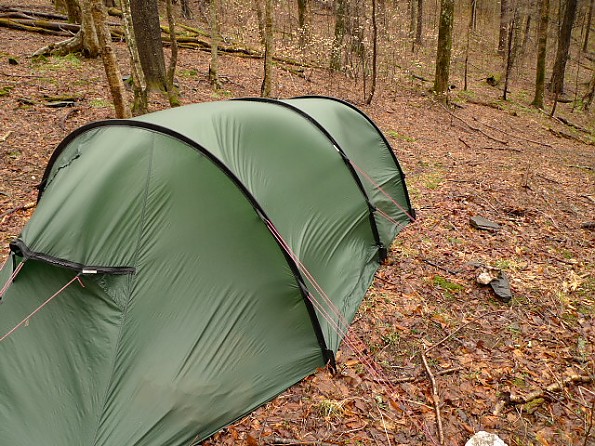 All thru the night I battle a windstorm and in the morning of Day 4 take this picture.  Since the soil was saturated from heavy rains, most of the Hilleberg stakes pulled out of the ground and the tent flattened so I had to place heavy rocks on many pegs to keep them in the ground.  I've been in a lot of windstorms over the years, but this one was the worst my new Keron has so far experienced.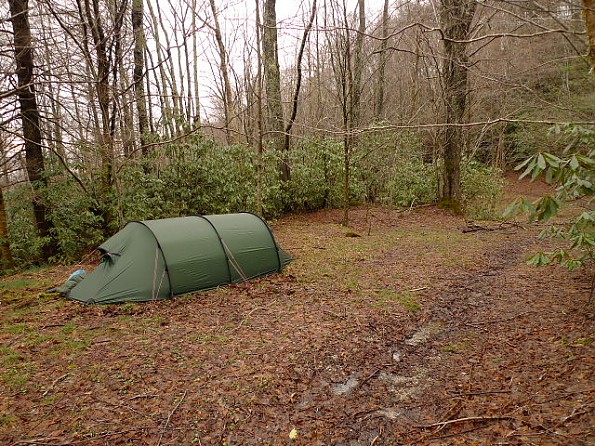 I leave Snake Mt Camp as the North Fork becomes a high water flooded mess and I bail out of anymore trailwork by returning to Trail 149 to set up at a new place called Dean Camp which has a firepit and is protected from most of the wind and high water, but a snowstorm is coming.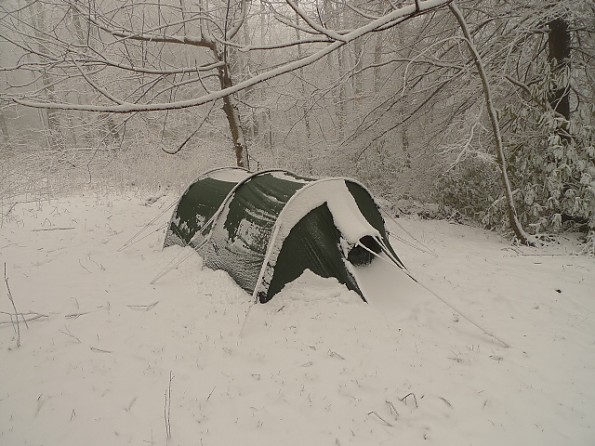 On the morning of Day 5 I wake up to a winter wonderland and take a few fotogs.  I figured I'd pull a zero day and sit out the storm but what the heck, gotta keep moving!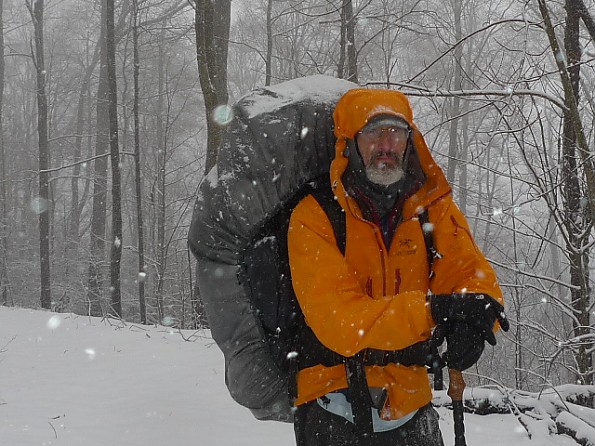 I pack up in cold conditions and decide to hike back over to Cold Gap and set up a hurried camp.  By the time I reach the gap there's a real snowstorm with strong winds and my hands are going south in wet gloves but I manage to get the tent up with me in it.  This is probably the roughest day of the trip cold and exposure wise.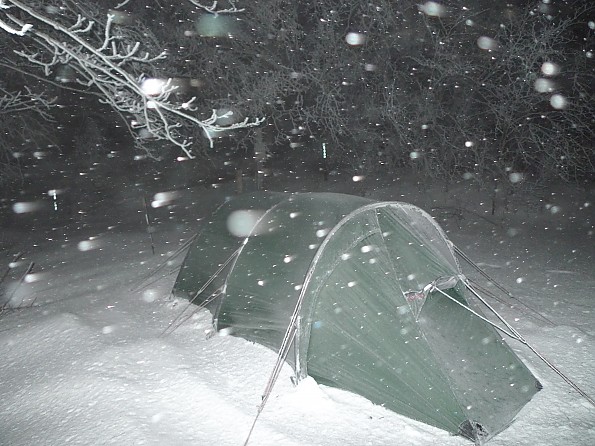 After midnight on Day 6 the snow keeps falling so I go out and take a flash fotog of the tent in great conditions.

I decide to pull my first zero day at Cold Gap and ride out another winter storm.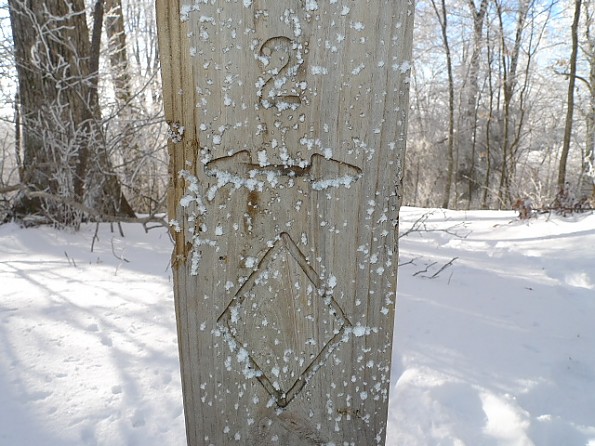 Here's a Citico trailpost showing "2" which is the Benton MacKaye trail going thru Cold Gap.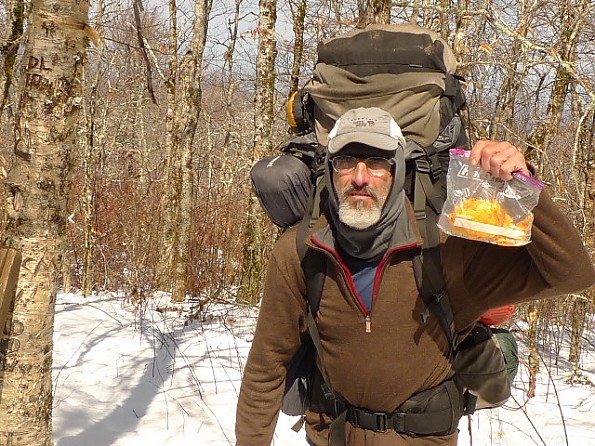 On Day 7 I pack up the gear and get on Four Mile Ridge and stop at 5,000 feet to show off a bag of dried mangos.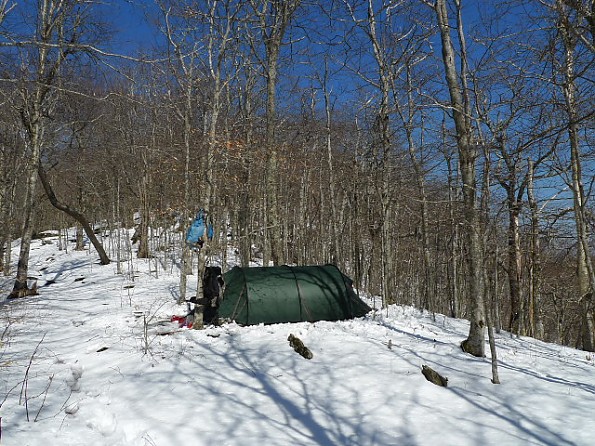 I gain a thousand feet and fly over Gorak Hill and end up in the high gap of Naked Ground where I squeeze in the big tent.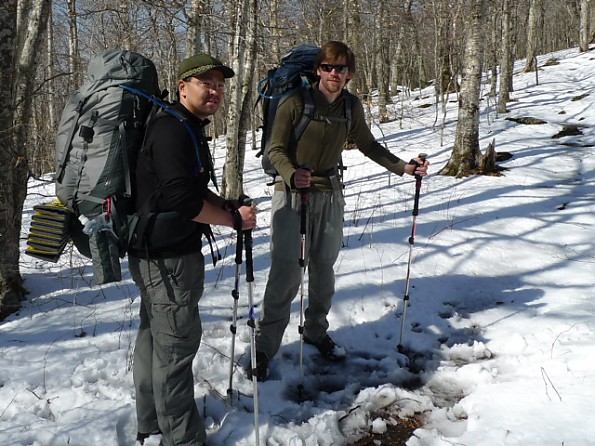 Some fellow backpackers pass thru on their way to the Hangover.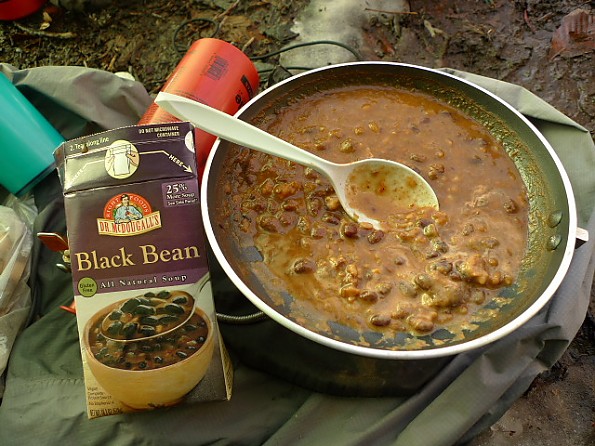 Here's a new meal for dinner and it's Dr. McDougall's black bean soup.  I brought three of them at 18oz each---ouch!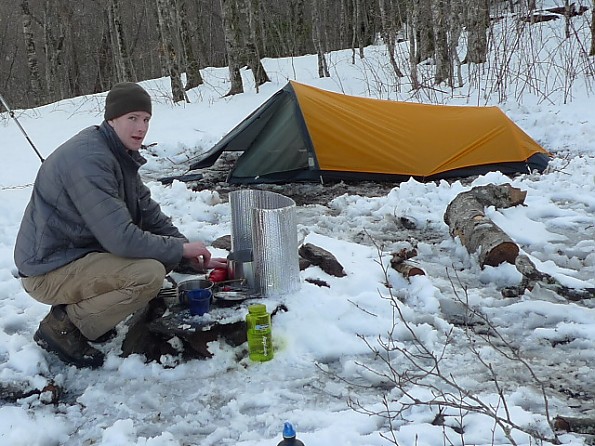 Chris Phillips from Chattanooga shows up and decides to camp with me at Naked Ground and gets his Eureka tent set and starts dinner.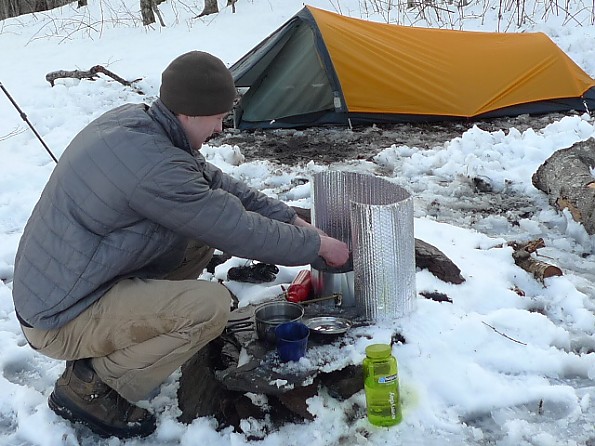 Chris fiddling with his stove.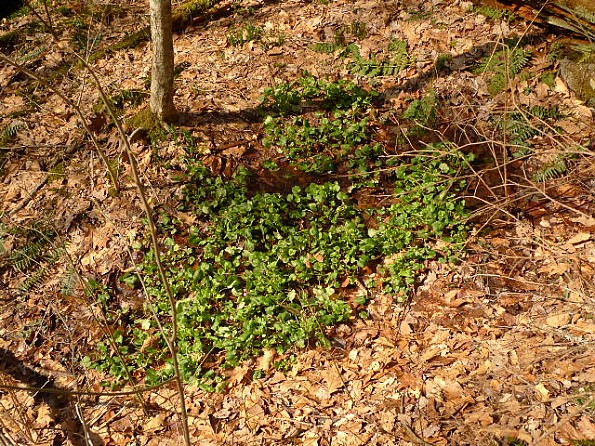 On Day 8 I leave Naked Ground and descend into the Little Santeetlah valley on the Naked Ground trail.  Along the way I spy this patch of Golden Ragwort, a sure sign of spring.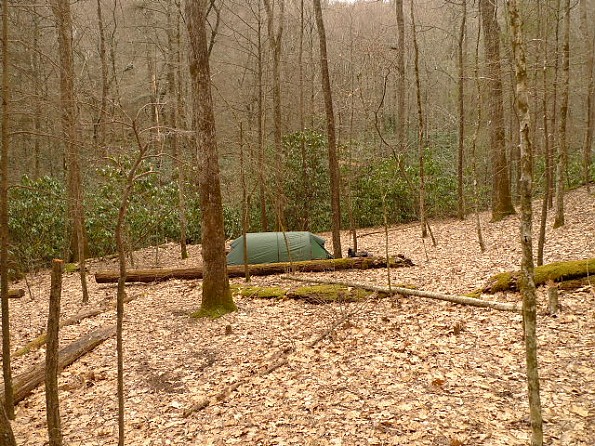 I find a nice campsite on Little Santee Creek and enjoy the water music.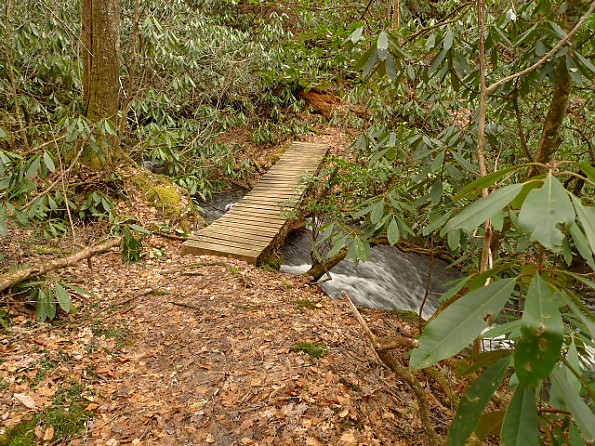 On Day 9 I leave the middle Santee and descend lower into the valley and cross this cool footbridge.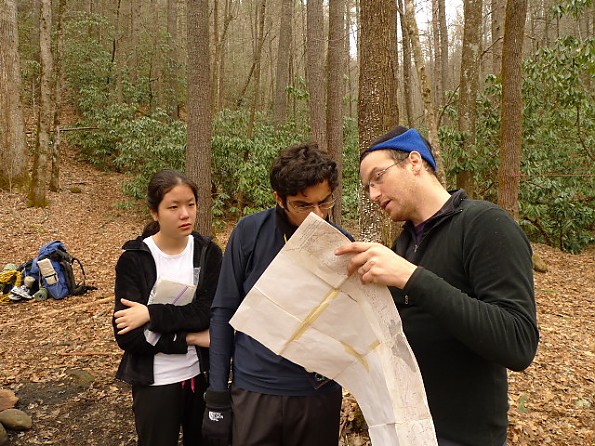 Every year in March a high school from Michigan pulls a ten day backpacking trip into the Citico/Slickrock and are from the Cranbrook School.  I call them the Cranberries.  They divide into eight groups of nine students and three leaders and here's leader Tom going over the map.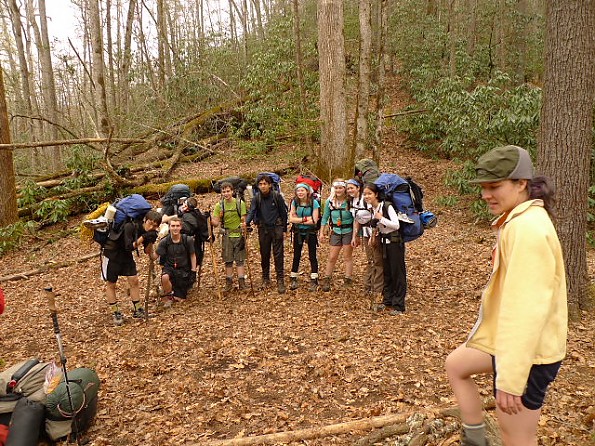 Here's a pic of Tom's group at the Low Dog Camps on the Little Santee getting ready to climb the trail I just descended.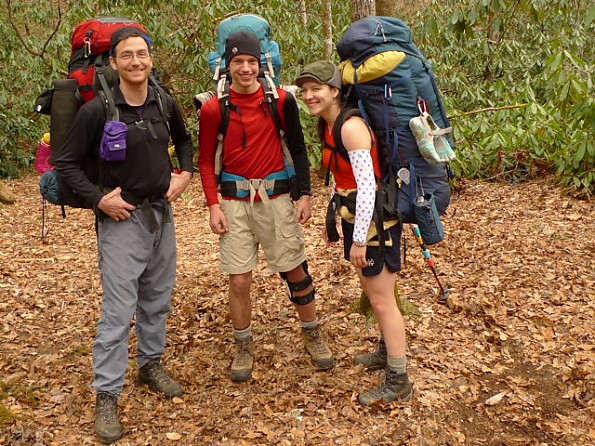 Trip leaders Tom, David and Lexi.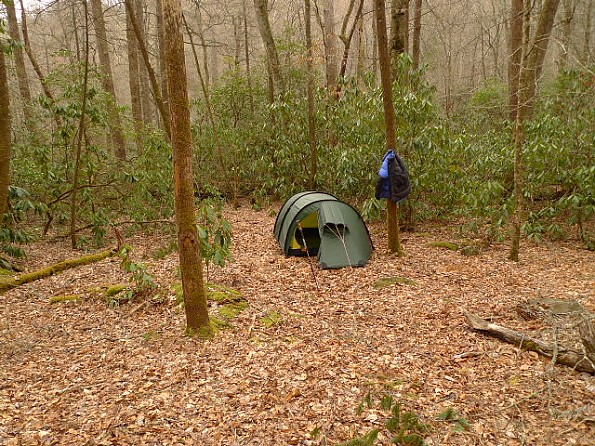 After they leave I set up camp in the Low Dog Camps on the Little Santeetlah Creek.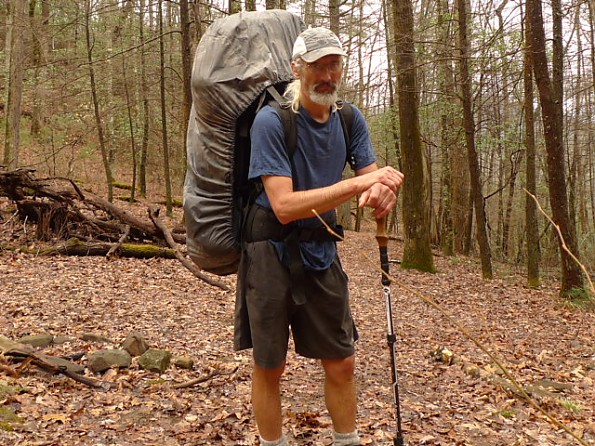 On Day 10 I have a long hard slog in a cold rain and climb 2,000 feet on the Jenkins Meadow trail to Haoe Ridge and Toad Camp.  Jenkins is another of the Slickrock 'nutbuster' trails and rough.  It's a steep beast with some awful trenches that never seem to end and as bad as anything on the AT.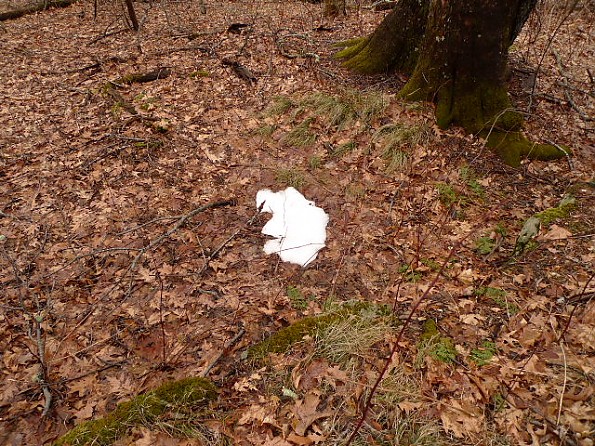 Along the way I find a patch of snow.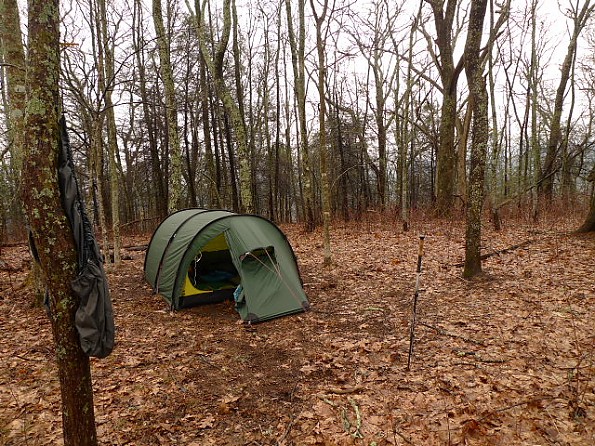 Relief comes in the form of Toad Camp on Haoe Ridge, a long flat high elevation lead below Hangover mountain.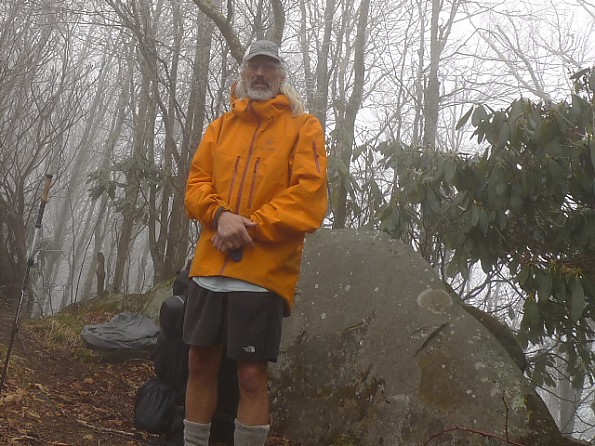 On Day 11 I leave Toad Camp and climb another thousand feet to Haoe Peak where I stop in a cold rain to take a break.  March brings in winter temps with spring rains.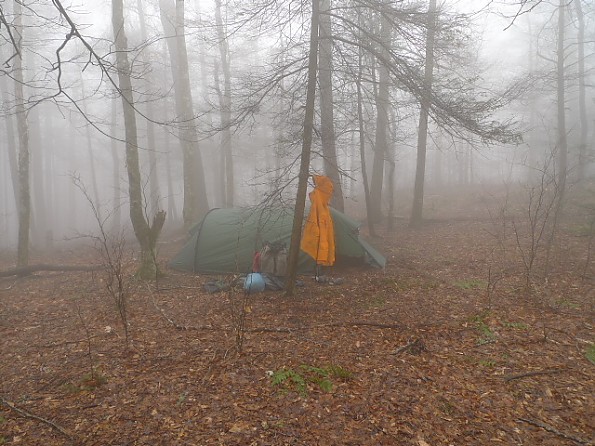 I leave Haoe Peak and go to Saddle Tree Gap and fall off the Hangover Lead South trail to Elysium Fields where I set up in the fog.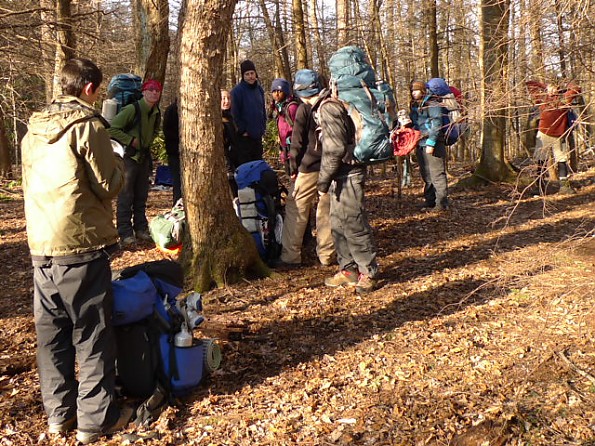 Several hours later in the day another Cranberry group comes up and decides to camp 150 feet from me.  It's led by Bryan, an ex-Park Ranger and now oyster restoration guy from Chesapeake Bay. On the next day this group packs and goes up the trail I just came down.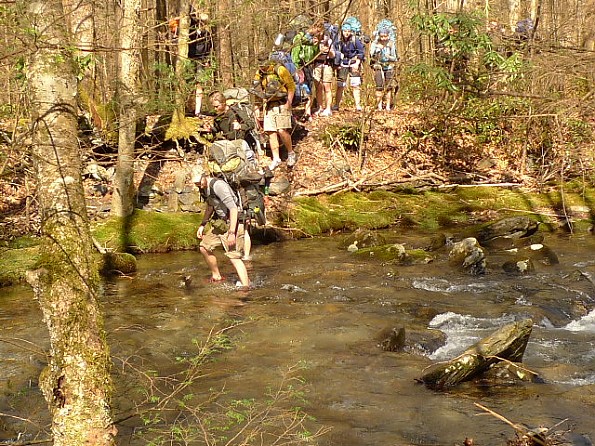 On Day 12 I descend 2,000 feet and arrive at the first Slickrock Creek crossing where I run into the third Cranberry group of the trip led by Gordon and Cam.  I know Gordon from last year in rough snow conditions.  Here is the group crossing the Slickrock.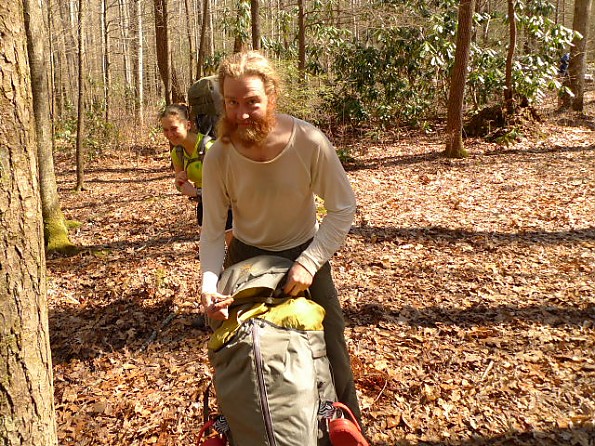 Gordon takes a break.  We all take a break together.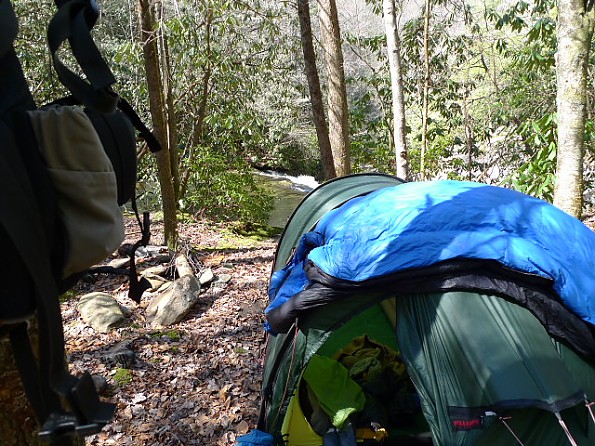 I leave the Berries and end up at Wildcat Falls where I set up my tent right at the lip of the Falls.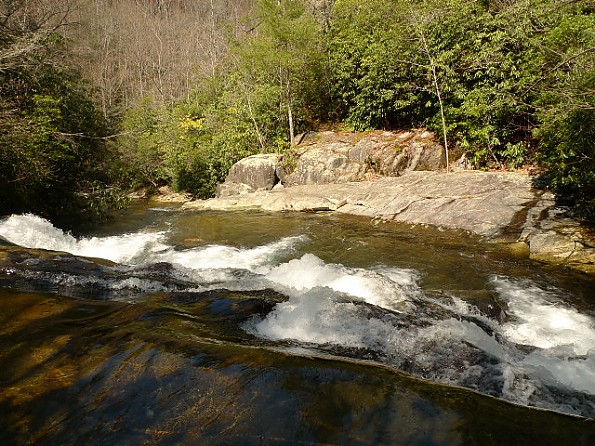 There are four falls at Wildcat and this is the first one.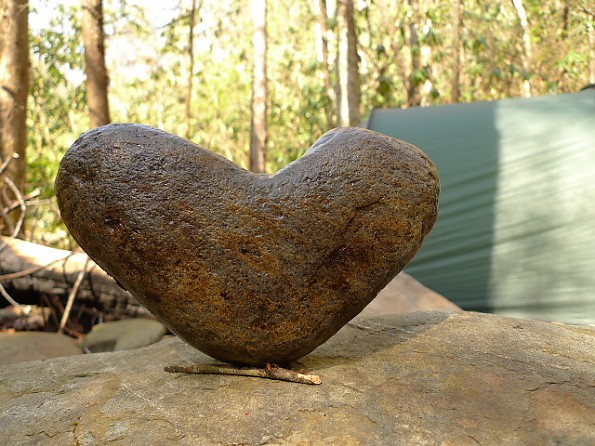 Heart Rock With A History:  Back in 2005 I found this river rock and buried it and now dug it up and put it by the tent as a sort of nature altar.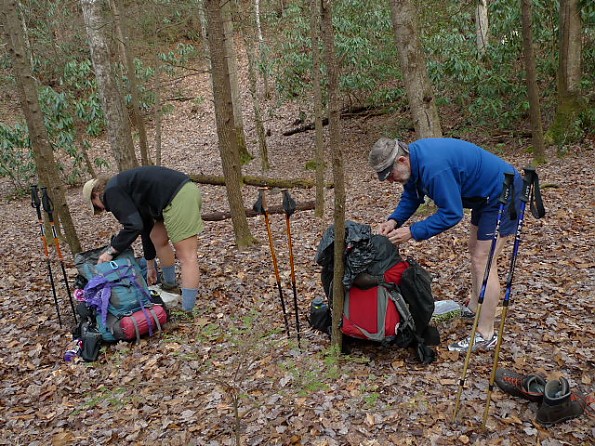 Towards the end of Day 12 my fourth Cranbrook group shows up and this time it's led by Frank Norton who is in charge of the entire wilderness program.  He sets up with his group about 100 yards from my camp at the Falls.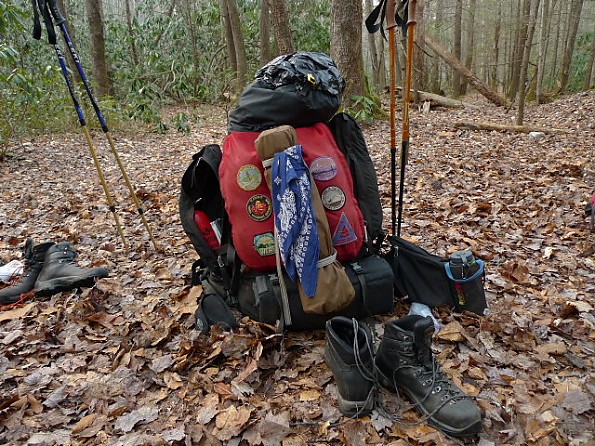 Here's a fotog of Frank's old Dana Designs Terraplane pack.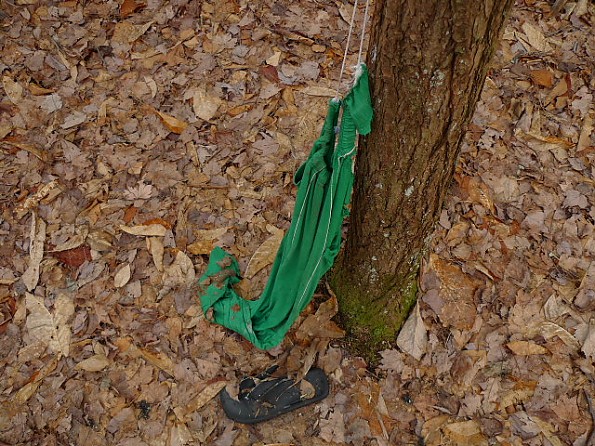 FROM WILDCAT TO WATAUGA:  On Day 13 I leave Wildcat and have the hardest day of my whole trek by going up the dreaded Nutbuster Trail, the "hardest trail in the Southeast."  It's my 27th time doing the trail up, and it's a mess of blowdowns and briars.  Here's some detritus along the way on the easy part.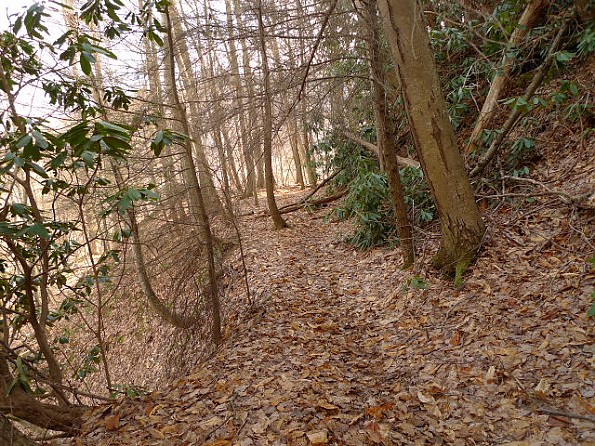 There are ten sections of the Nutbuster trail, and this is section three and the easy part.  I call it the Logging Cut.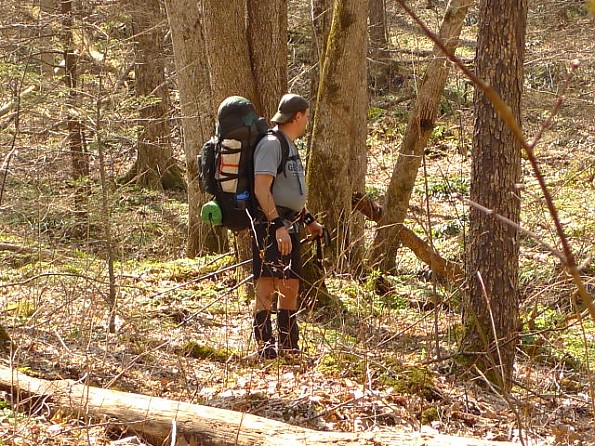 In the middle of the Nutbuster I run into Bryan again as he brings his group down the trail.  He lends me some deet for the black flies and gnats.  This is section five, the Open Cove part, and while not too steep is probably the worst cuz it's overgrown with brush, briars and blowdowns.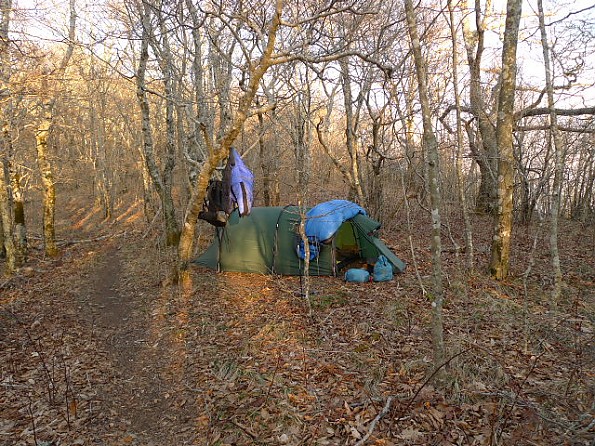 The Nutbuster trail kicks my butt but I finally make it to Naked Ground and turn left and climb another hill to get to Watauga Camp and a nice place on Four Mile Ridge.
DAY 14 TO COME