2:59 p.m. on April 6, 2011 (EDT)
GaryPalmer

244 reviewer rep
5,250 forum posts
Saturday a friend and I drove up to the Flagstaff Volcanic Field and hiked Colton Crater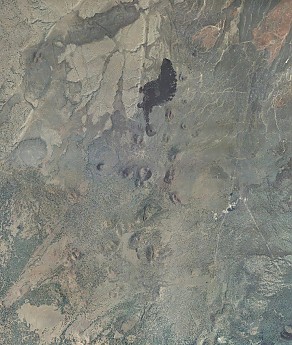 This aerial view is of SP Crater with the lava flow top center, Colton Crater is in the center.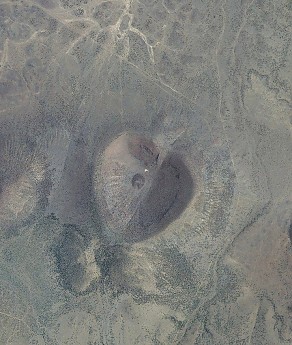 Colton Crater with a small upheaval Lava Dome in its center.
We hiked all the way around Coltons rim to a elevation of about 7000 feet. Then my friend hiked down into the crater and on the lava dome. The white spot to the north of the dome is a sandy dry pond or lake bed. many craters in the Flagstaff Volcanic Field have lakes in them. Some have excellent Obsidian pebbles in them. There are about 600 cinder cones and ancient volcanoes in the area. The largest is the San Francisco Peaks which last collapsed like Mt St Helens did. The peaks are also the highest point in Arizoan at 12,663 feet, the second highest point in AZ is also a ancient volcano called Mt Baldy down in Apache County in southcentral Arizona.
Even the north rim of the Grand canyon has a volcano called Vulcans Thone. When it last erupted it filled the Grand Canyon at its base to the rim and backed up the Colorado river father upstream than the Glen Canyon Dam does today.
Today all that is left is a rapids called Lava Rapids which is the highest and longest in the Grand Canyon at 1/4 mile long and 200 feet in height.
There are also lava tubes in and around Flagstaff. The best one on highway 180 leading to the Grand Canyon is a mile long and 200 feet below the ground surface and is entered thru a crack in the crust.
Sunset Crater is Arizona youngest volcano and last erupted about 1000 years ago displacing the indians that farmed in the area. SP Crater (above in 1st image) is the second youngest and last erupted 70,000 years ago.
I no longer have a camera so did not take any pictures from the hike.