Tipi Walter
295 reviewer rep | 1,444 forum posts
11:50 a.m. on July 5, 2011 (EDT)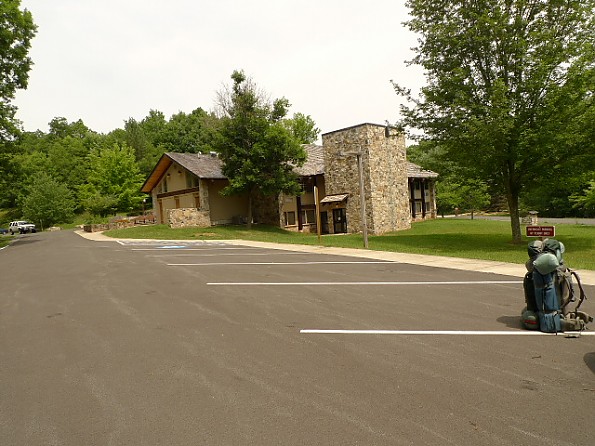 June3 15--July 2, 2011
This trip begins with a 3.5 hour drive north on I 81 to Marion, VA where I exit on Hiway 16 south to the Mt Rogers National Recreation Area headquarters.  I get a permit to leave my car for 21 days and begin the journey from this parking lot onto the Appalachian Trail south.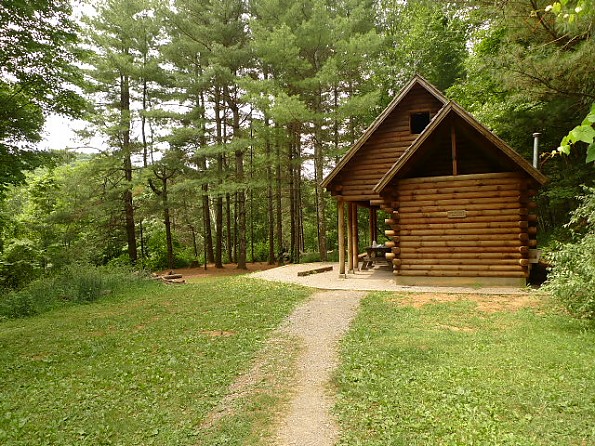 Not 100 feet into the hike I come to my first AT box, the Partnership shelter.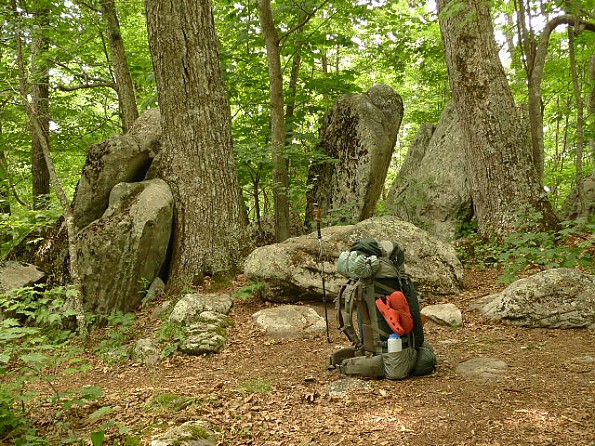 Once3 again I'm loaded down with books and about 45lbs of food so I take a break on some hilltop above Rocky Holler and about 4.5 miles from the NRA.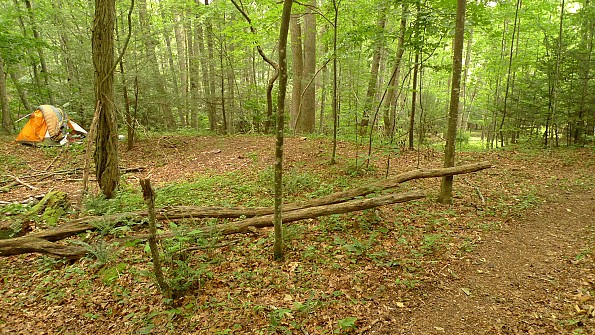 After seven miles of hiking I find this campsite next to a creek and not far north of the South Holston Creek crossing.  It's my first night on the AT in several years and it feel good.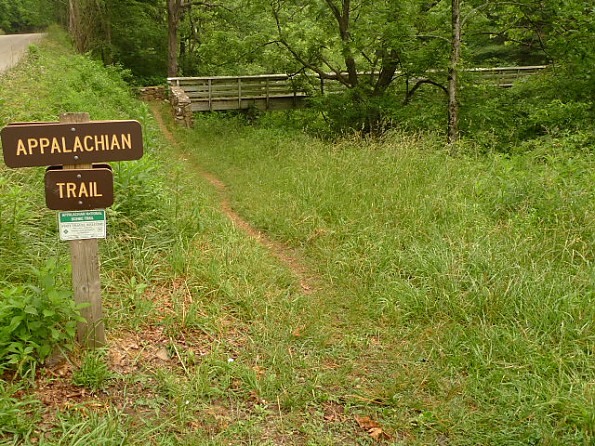 On Day 2 I drop off the hill and cross route 670 and immediately come to the long footbridge across the South Holston river.  It's nice not to deboot into crocs and ford rivers.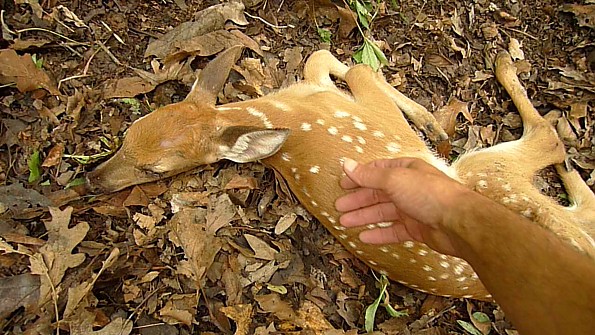 Crossing dirt road 672 I find an injured fawn by the side of the road---hit by a car and left.  I spend many minutes with it before reluctantly leaving.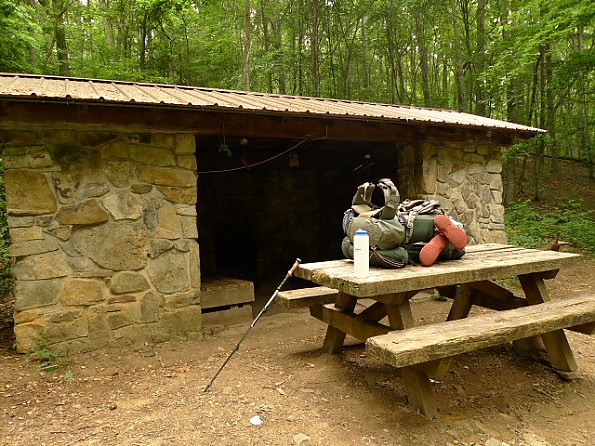 The AT skirts by this shelter and so I take the half-mile detour to check it out.  Trimpi shelter.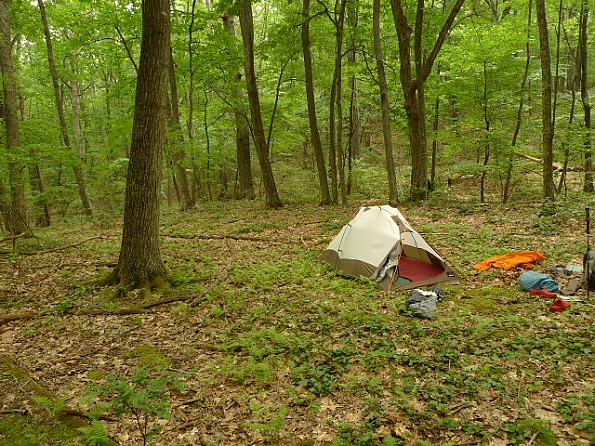 I find a little sidetrail off the AT in a little gap where there's a water mudpit so I decide to follow it down to a mossy campsite above what used to be the old Raccoon Branch shelter, now gone.  Here's my camp on Bobby's Trail by the water source.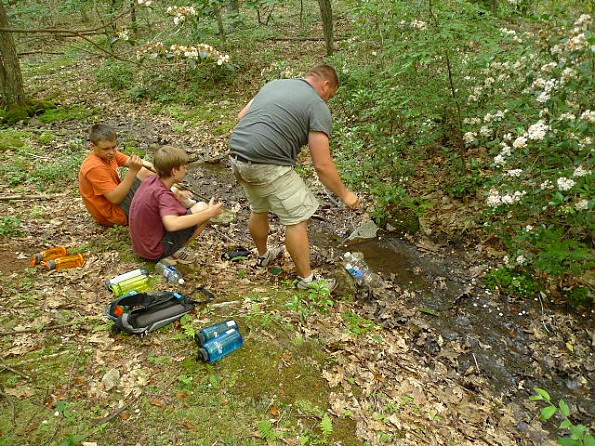 Twelve boy scouts need water and want to camp next to me (no!) but when the leader sees how bad the water is they bail to another spot.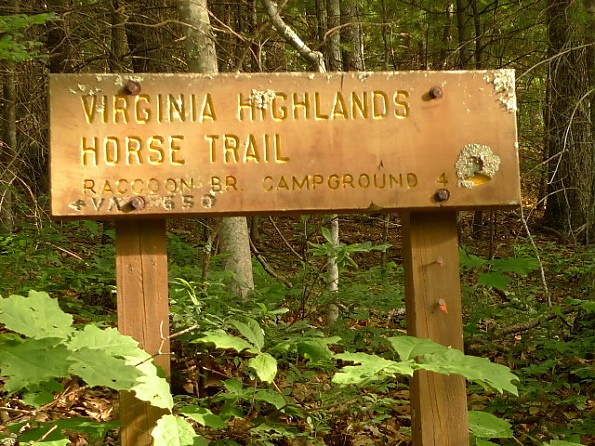 On Day 3 I leave Bobby's Ridge and cross the Virginia Highlands horse trail which runs 80 miles between Elk Garden in the west and the New River in the east.  It parallels the AT thruout my trip.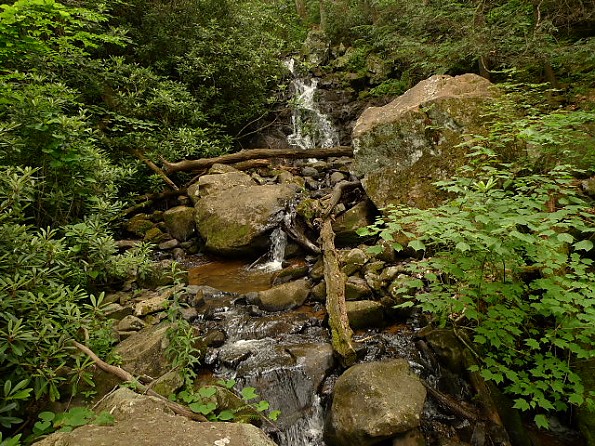 At Dickey Gap I cross over gravel road 650 and get to Comers Creek Falls, with a nice footbridge.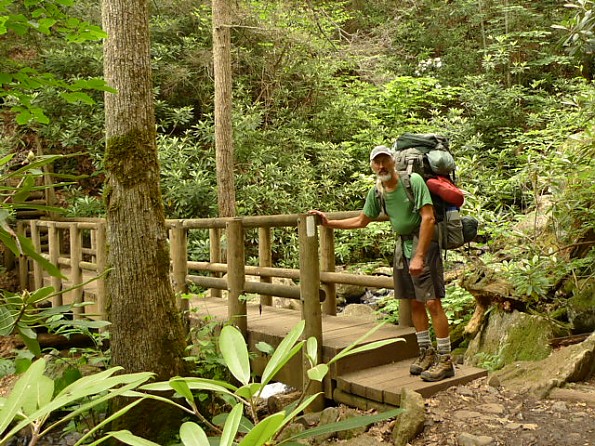 I take a break by the Falls and adjust my pack straps.  I'm once again using the Mystery Ranch G5000.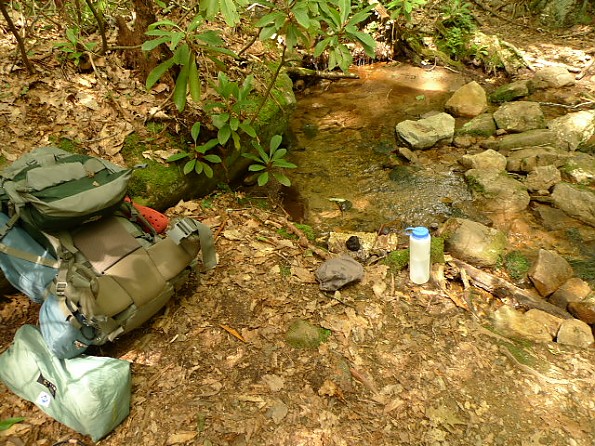 Past the Falls I stop at this little creek to get water before my big climb up Hurricane Mountain.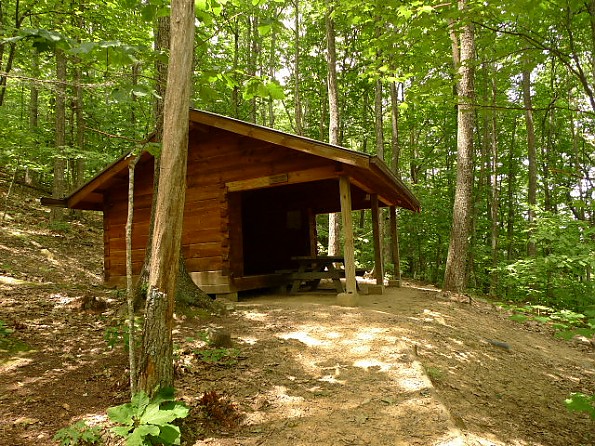 I finally make it to another carport box, this time it's called the Hurricane Mt shelter, where I throw off the pack and get several liters of water for a further campsite up on the mountain.  Who wants to camp with a bunch of know it all newbs?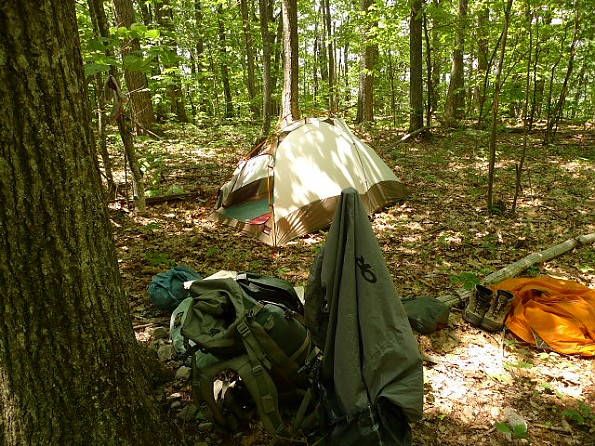 Here's my campsite near the top of Hurricane Mt and well away from the crowds.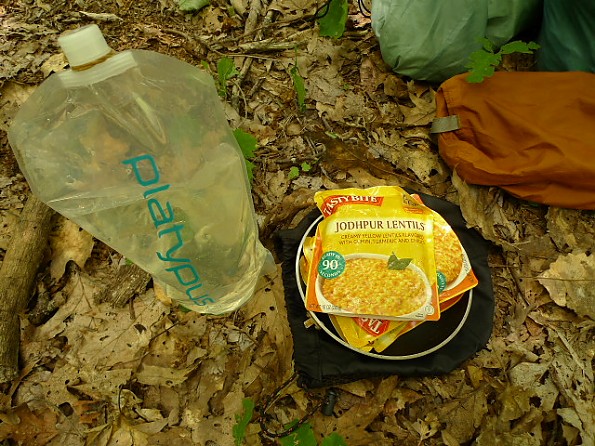 Water and some Tasty Bite meals---all a person needs.  The new platypus bottle works great and holds around 85 ozs.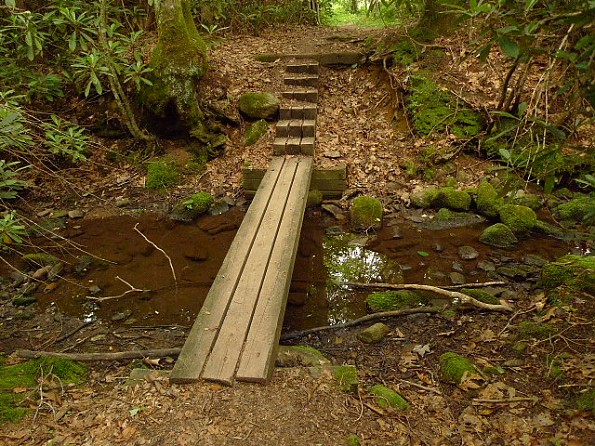 Day 4 is a big day because it's my first day to be inside the Mt Rogers highlands.  I cross over route 603 and cross over Fox Creek on these two footbridges.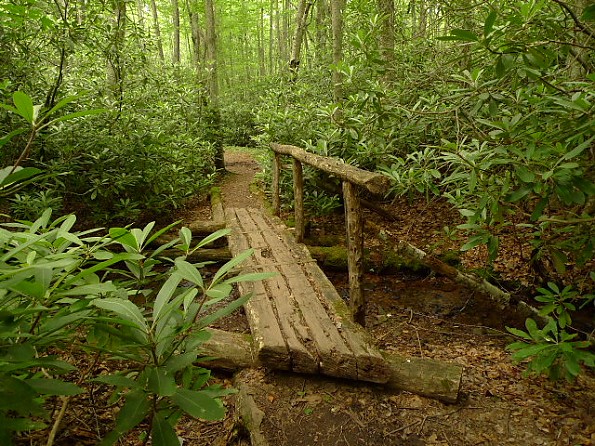 Here's the second footbridge.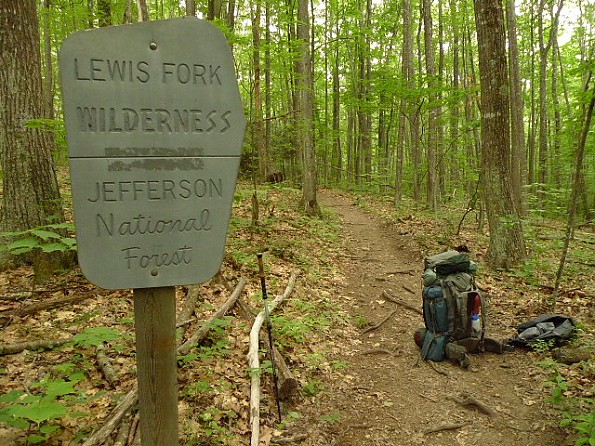 When you see this sign you know you're getting close to Wilburn Ridge and the highlands.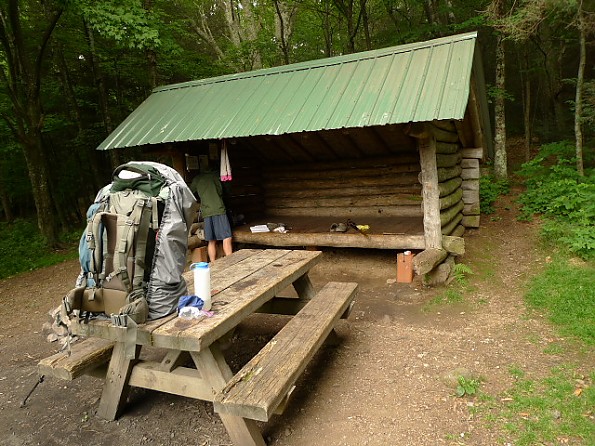 I make it up to Old Orchard shelter and take a picture of a guy named Scrubs preparing to shove off.  He's doing in one day what it took me four to hike.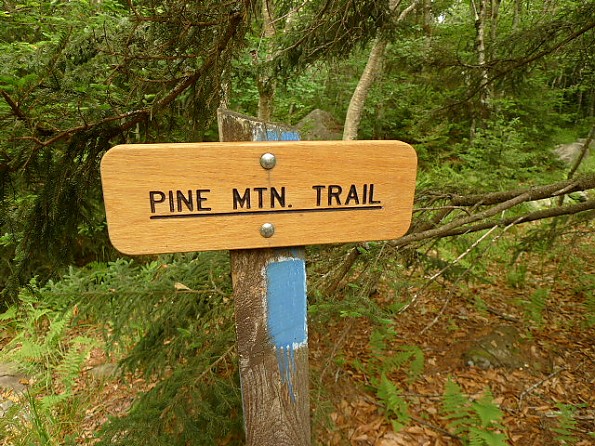 The haul from Old Orchard to this trail jct is tough and rocky but it finally puts me on the high ground.  The Pine Mt trail used to be the old AT.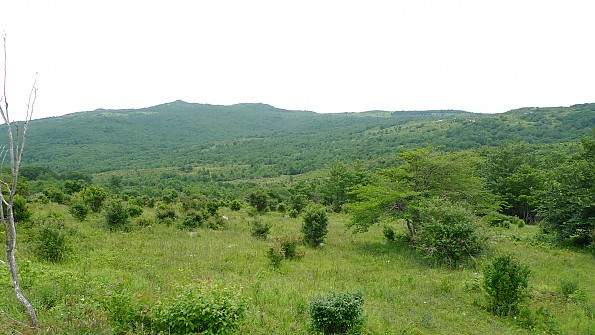 I get off the AT and take a portion of the Crest horse trail down to Scales to get water.  Along the way I'm greeted by views of Stone Mt meadow above Scales, and by Wilburn Ridge behind me.  I pass thru all the trails that go thru the intersection called Scales and need water so I go up the Scales trail to a spring and take the Bearpen trail up to Stone Mt.  I look behind me and see Wilburn Ridge North in the distance.  You will see more about this ridge soon.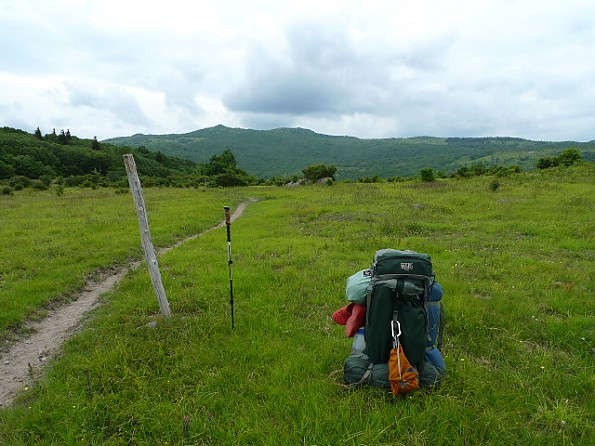 Here's the Bearpen trail on Stone Mt and I find a good campsite right before those clouds in the distance turn blue-black and nasty.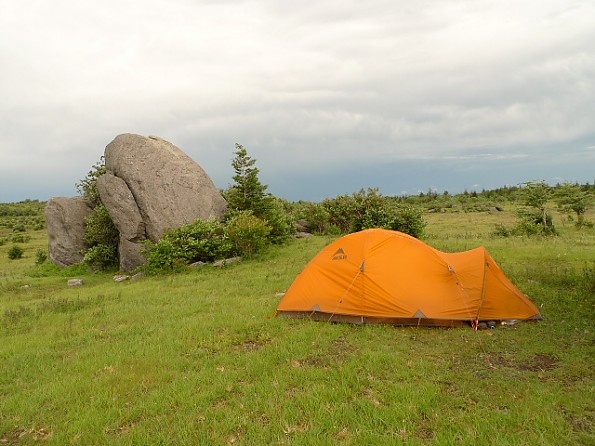 Near the top of Stone Mt I find this monument like rock and set up camp and then the blue-black clouds in the distance wallop me with a mean windstorm with buckets of pelting rain.  It comes so fast I don't have time to completely stake out the tent so a few pegs where pulled out in the tumult.  During a lull I grabbed a rock and hammered in every stake I had but the worst was over.
This fotog really shows the wonder of the Mt Rogers area.  All backpackers should spend a week here.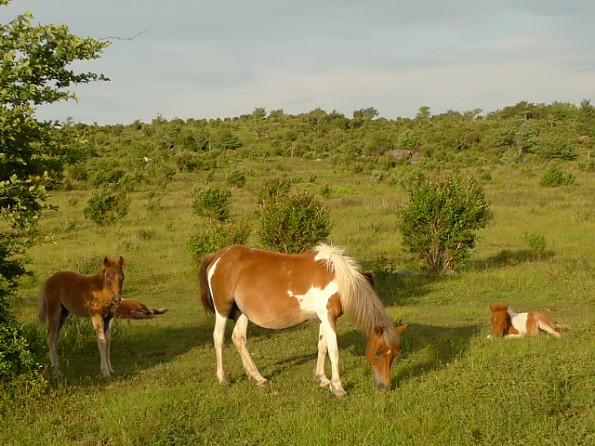 After the storm and towards evening the ponies come up to my camp and we talk.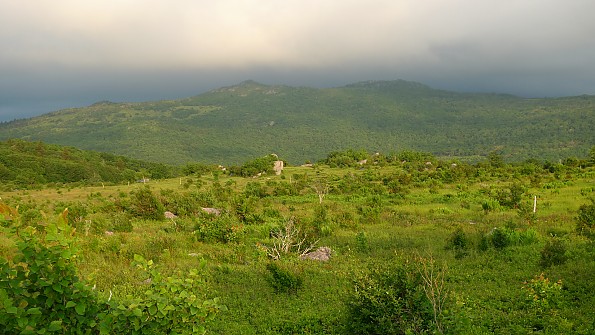 On Day 5 I pack up early and catch the first rays of morning light on the Bearpen trail.  I follow it up the hill and it jcts with the AT which I take south again and enter the Little Wilson Creek wilderness.  Here's a view looking back from the top of the Bearpen trail.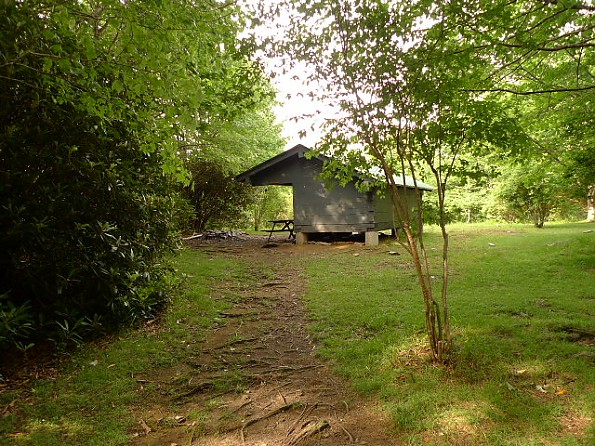 I reach Wise shelter and find a campsite 200 yards before it next to Big Wilson Creek.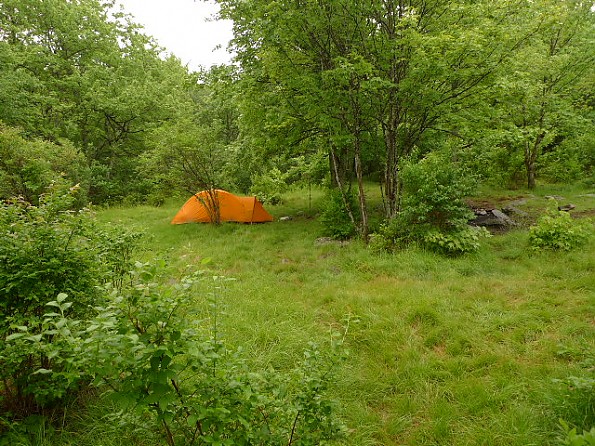 My camp by Wise shelter on Big Wilson Creek.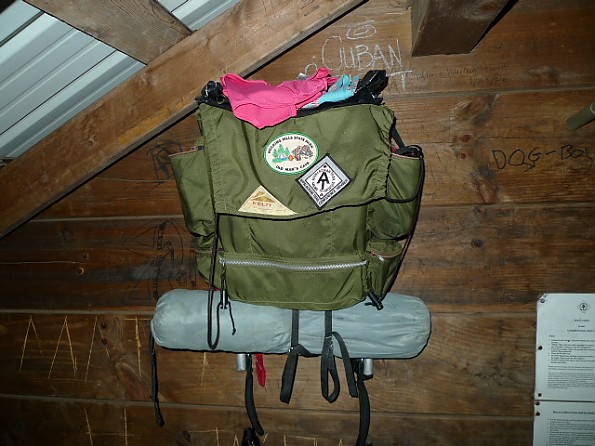 Matchbox's old Kelty pack.  I do a dayhike from my camp and see two AT backpackers and one has this old Kelty, circa 1975?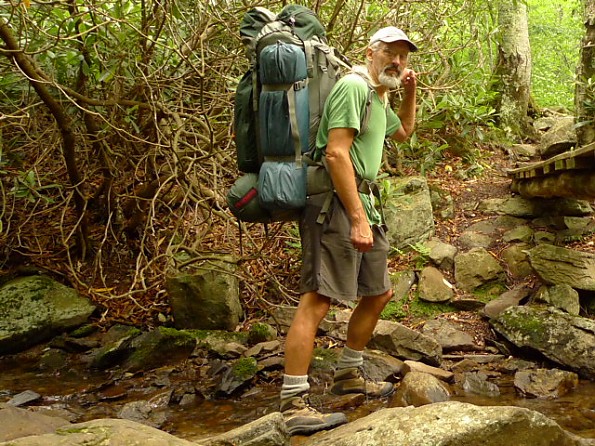 Day 6 is a special day because it's the day I climb up to Wilburn Ridge and survey the three peaks of Wilburn north.  It's what the highlands are all about!  I stay on the AT south from Wise shelter and cross this little branch called Quebec Creek.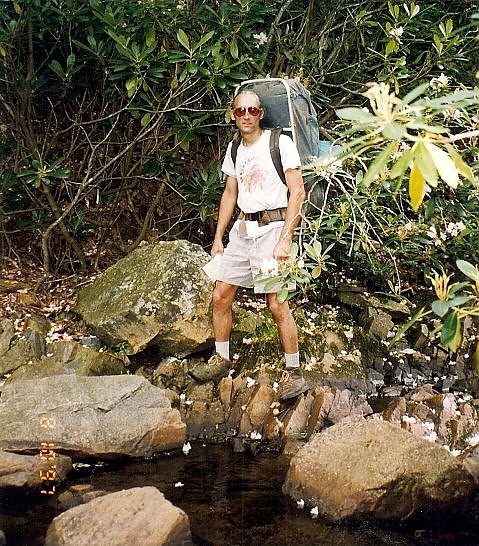 Yes, I crossed Quebec Branch on an earlier trip in 1997 and here I am with my old North Face external pack.  Compare the two fotogs.  Drat it, I'm older now.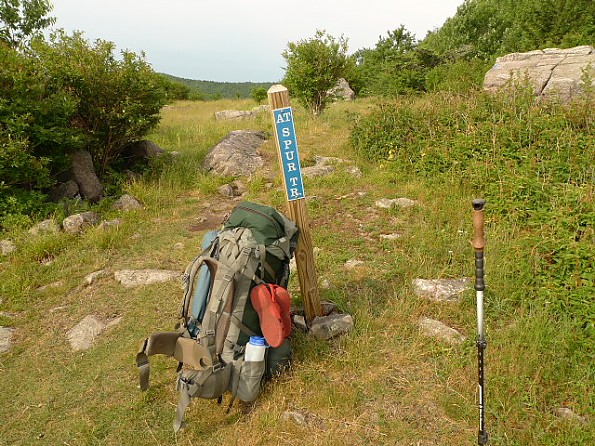 From Quebec Branch it's a moderate hump and then you start passing the pink-blue granite rocks of Wilburn Ridge east.  Near the top of the ridge you pass this AT Spur trail and it's a good place for a rest.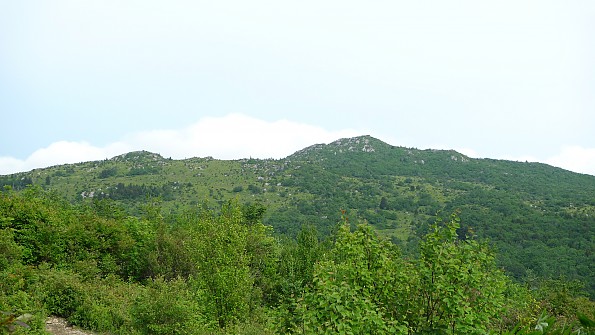 Right past the spur you enter a giant amphitheater of stunning views which show my day's destination on Wilburn Ridge north.  I'll be camping at the base of the little hill on the left, Maw Peak.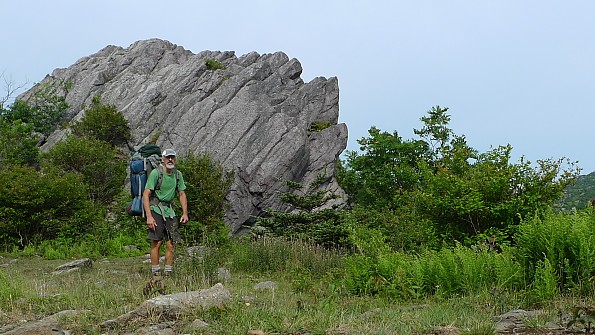 As the trail winds over to Wilburn north, I pass by many pretty rocks.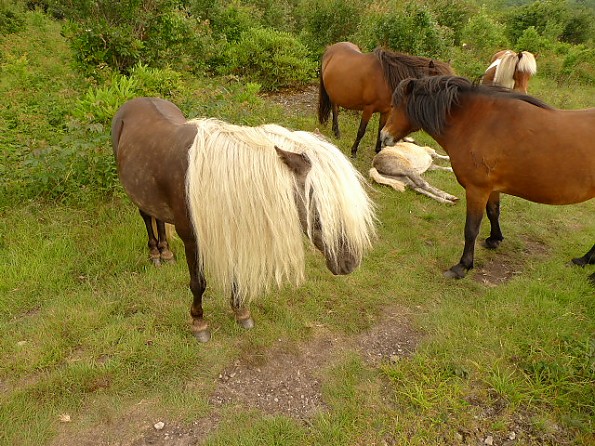 There's ponies here too and I pass by this hippie pony with the long hair.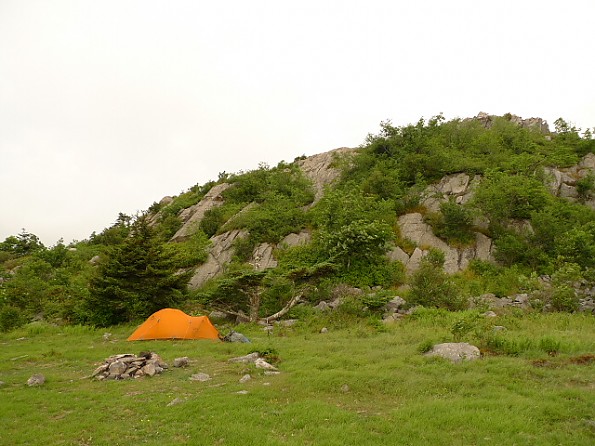 I reach the first peak and decide to set up camp in a howling windstorm.  A word of warning: Wilburn Ridge gets windy!  I had to put rocks down on the tent before poling it out and lost a pole bag in the gusts.  I didn't bring my winter kit number of pegs so I had to use six sticks I found as supplements.  I also whittled out four nifty emergency pegs, see below.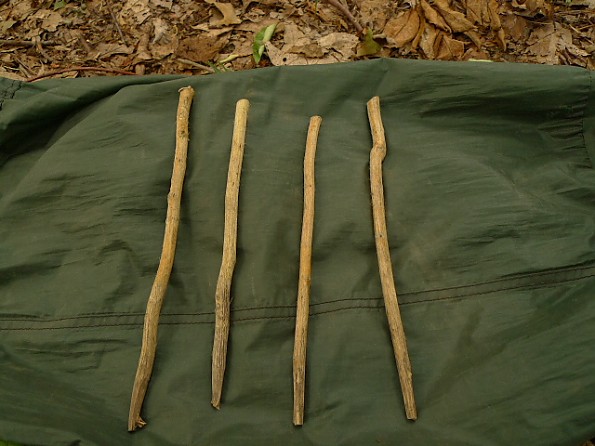 Here are my emergency tent pegs for the highlands---you'll need them.  I whittled them out of plant stems.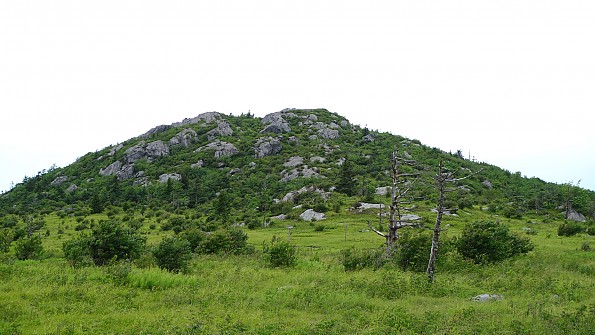 The next hill is the second peak and it is north of my camp and will be along my next day's route.
END OF DAY SIX AND MORE TO COME