6:32 p.m. on July 14, 2011 (EDT)
Patman

3,173 reviewer rep
2,261 forum posts
I've been to GM just to see the games for the last five years and this time I decided to work in more hiking than usual so I actually took off a Thursday and Friday to create a long weekend. I hadn't explored much more than the main touristy sections of GM before, and didn't take the time to make much of a plan. I pretty much just downloaded a map of the mountain, called about permits, loaded up and took off.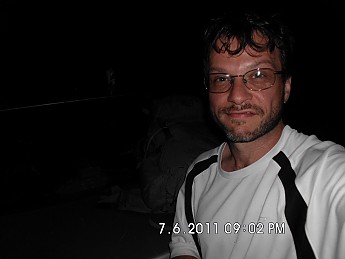 It was a three hour drive from Knoxville to the Profile Trailhead. I had started after work on Wednesday so I made my record "latest hiking start ever": 9:02 PM. I held out from using the flashlight as long as I could but after a few stumbles I gave in and turned it on.
In retrospect this was totally the wrong place to night hike; the trail was almost entirely covered with large slick rocks. Having never hiked that trail before I began experiencing some anxiety about finding the Profile campsite at night; I forgot to ask if it was marked. After the first mile, my headlamp began sputtering in and out and caused further anxiety when a battery swap didn't fix it. I think it was getting wet from sweat.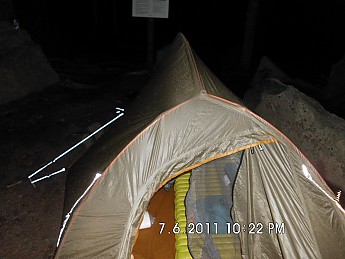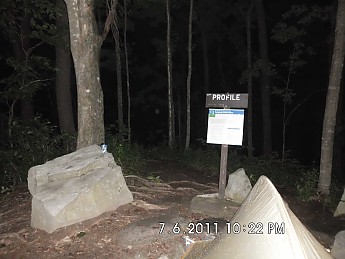 Well the campsite was marked after all and quite well at that, (thanks park- people, I appreciate you!).  Finding the most level tent spot by flashlight was a challenge.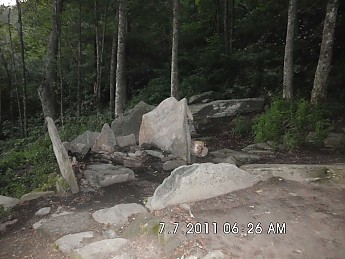 The next morning I snapped this pic of the site with some daylight. I think I had found the only level tent spot.
Heading up the Profile trail: this is an example of this super-rocky-stair trail.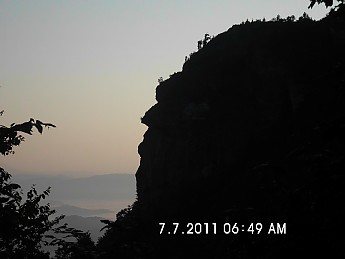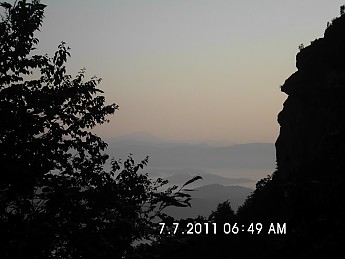 Right away I was treated to the Profile view of the Old Man looking out across the valley. It's funny that as many times as I've stared at this mountain from the ground I could never quite see the Old Man. You really have to get up here to this view to get the full effect.
Nice flowers on the way up…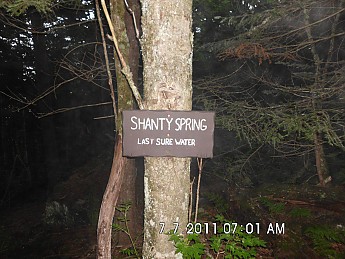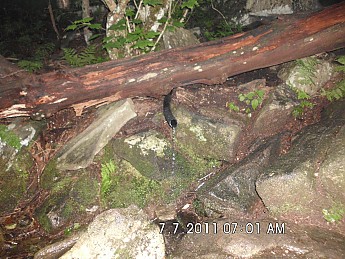 Well, if the sign says so I guess it was time to fill up the MSR 6L Dromedary and the Nalgene 1L bottle.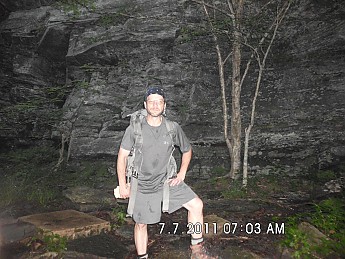 I like working out in the mornings so for me it's good thing to get all sweaty before 7:30 AM.
I slipped, jolted and slid my way on up the mountain. I took a left on the Grandfather trail and went towards Calloway peak; creating a plan as I ambled. I didn't get a picture but I passed a wonderful campsite called Cliffside that looked really comfortable.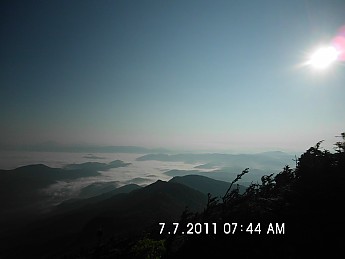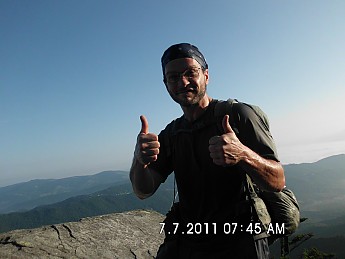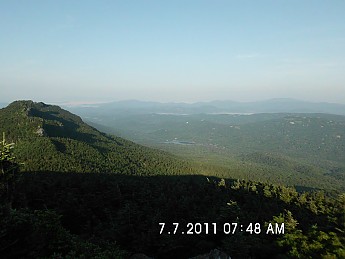 I turned off to follow a spur trail to the Watauga View before going on up. It was just awesome to perch there gazing at the misty valley below, feeling the heat of the morning sun being gently pulled away by the light breeze. (OK, I wanna go back right now.) 
I reluctantly moved on.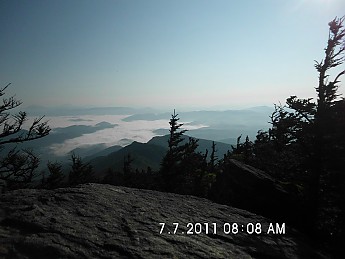 But just around the corner was this view. What a great mountain.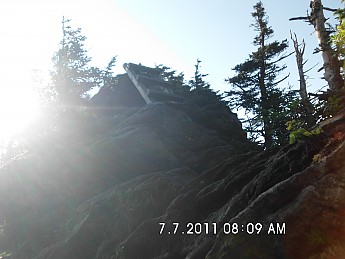 It was time to climb!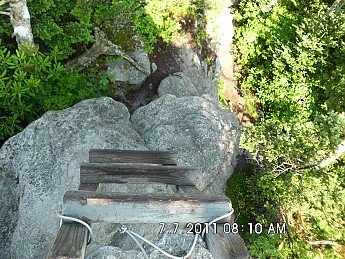 I turned around for a perspective pic of where I had just come from.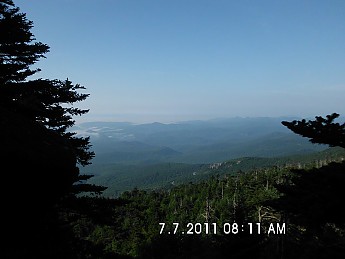 Approaching Calloway Peak.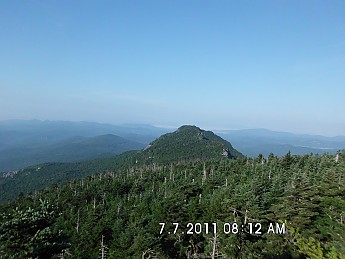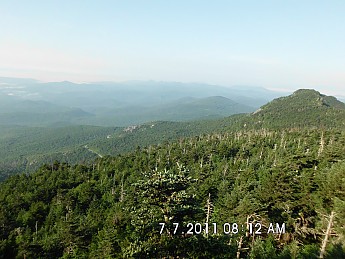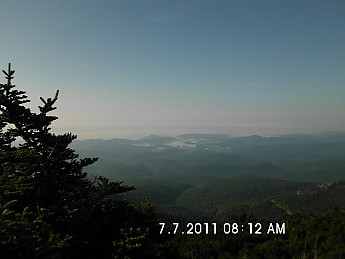 Views from the peak; man that place was great. I believe it's nearly a 6000 ft peak.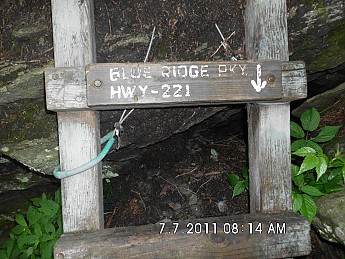 I headed out to explore further and went as far as this ladder before deciding to turn around and head back towards the other high peaks on the map.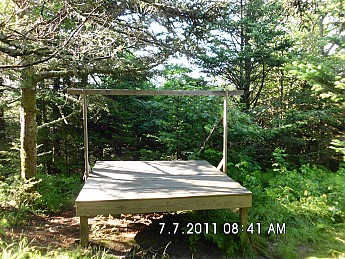 I stopped in to check out the Calloway Gap campsite. This is the first backcountry site I've ever seen with platforms. Very nice touch.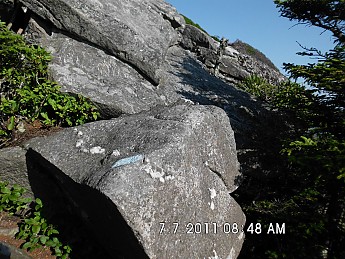 You may have to click on this picture to see the trail marker but the trail actually goes up this rock face! That kind of routing makes this such a special place to hike.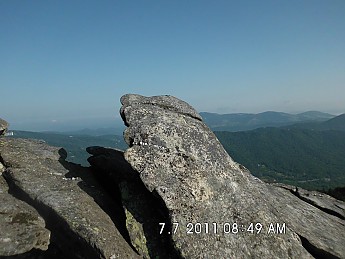 Again this is the trail.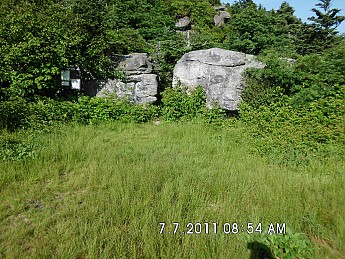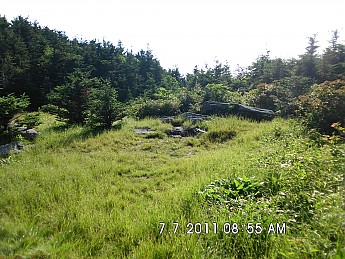 Again I stopped in to check out an established campsite. This is Alpine Meadow.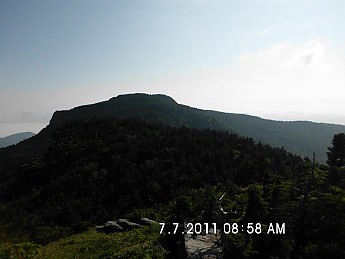 Another view from this most excellent trail.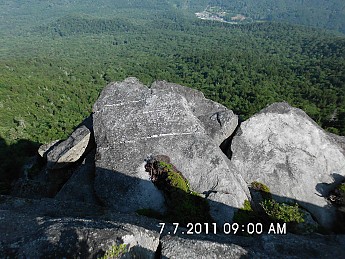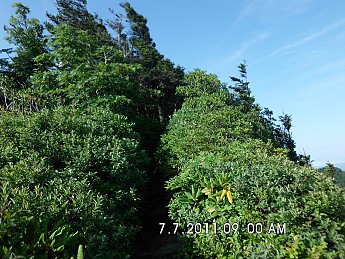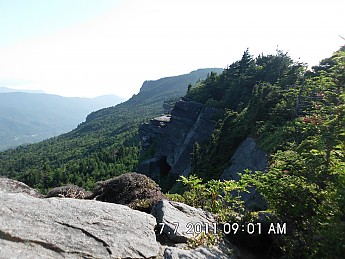 I found it very hard to decide which pictures to post. I've got so many good ones!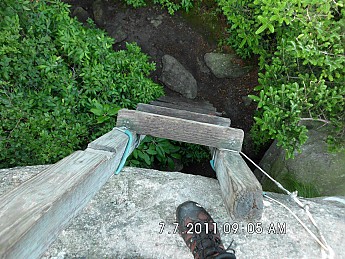 These ladders are so very handy.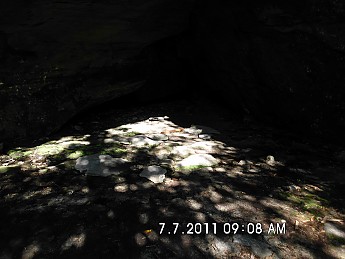 I took a spur trail down to see Indian Horse Cave.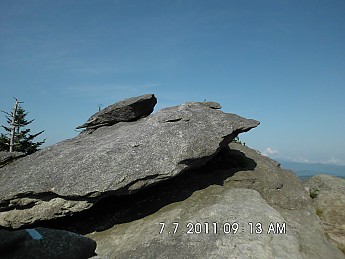 Yep just another part of the trail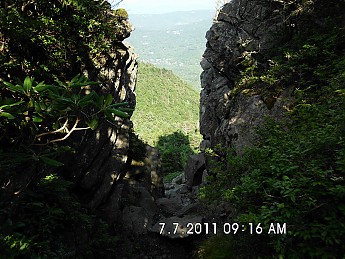 Looking down the Attic Window. It's hard to tell from the picture put this is at least a 100 foot "chute" with a pretty severe angle. This place is quite a workout with a backpack.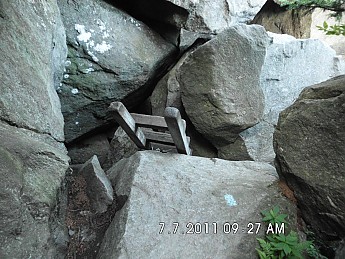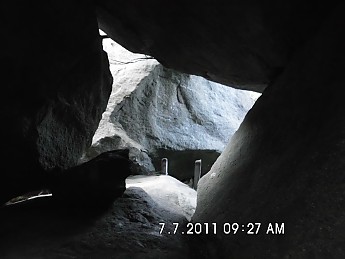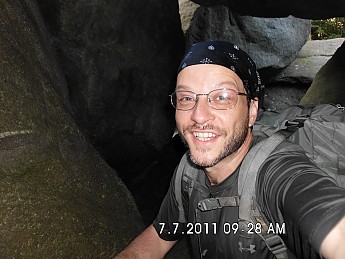 Chutes and ladders is more than just a game. To you climbers out there I'm sure these kind of trails are no great shakes, but for backpackers this place is like an adult jungle-gym! I'm 39 but I felt like a kid on this mountain.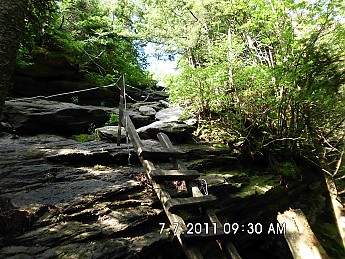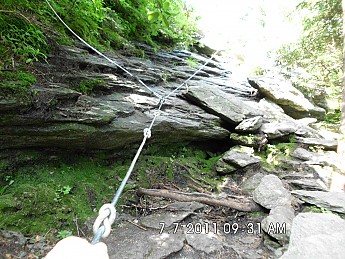 More assisted scrambling.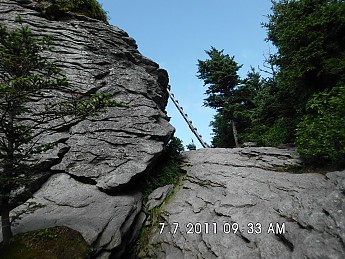 I recognize that ladder as the access to MacRae Peak( I approached it from the other direction last year).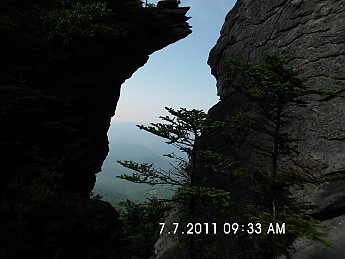 Nice peek on the way up to the ladder.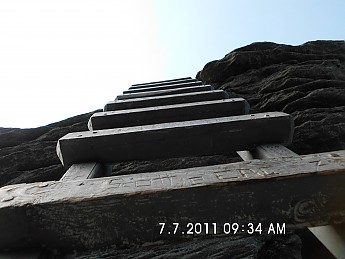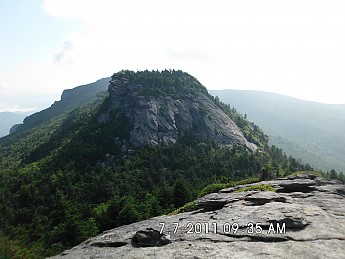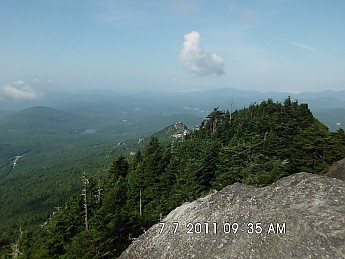 Views from MacRae Peak.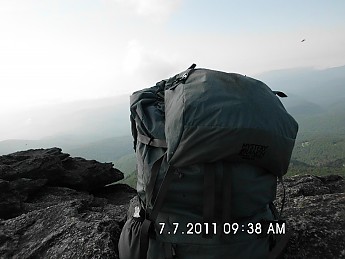 The pack had a view too.
I decided to head back down and hook up with extended family at MacRae meadow so I trekked back to the Profile trail. There will be a whole lot of folks car-camping and RVing for the next three days for the Highland Games. It's a very good time every time. I was tempted to be anti-social and stay on the mountain but hey the games are only once a year…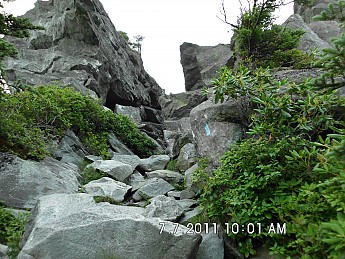 Here is an up-view of the Attic Window / boulder scramble of a trail on the way back.
My camera batteries died here so no more pictures until I got off the mountain.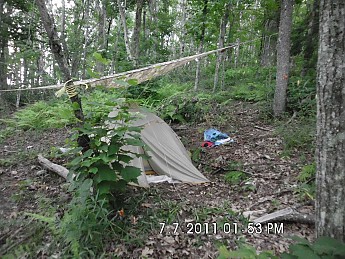 Here is the next pic after bumming some new batteries for the camera and making camp on a hill side near the meadow.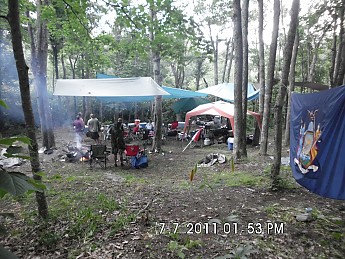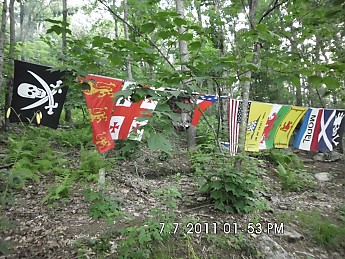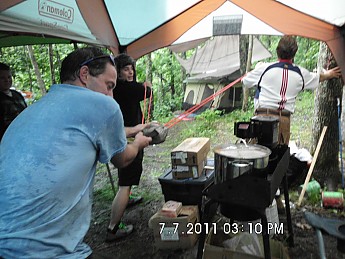 When camping with these Clans and you hear the cry of "Make Ready!" look out. Something is about to be hurled through the air at someone. In this case it was a bottle of ketchup at my cousin's tent (with him in it).  This is why I put my expensive backpacking tent way up on the hill. J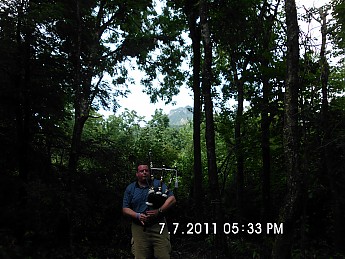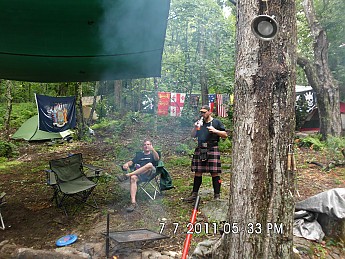 You know you're among Scotsmen when you see bagpipes and kilts, but the true sign is a beer in one hand a bottle of scotch in the other.
I'm sort of off forum topic from this point forward (although I did a bunch more hiking).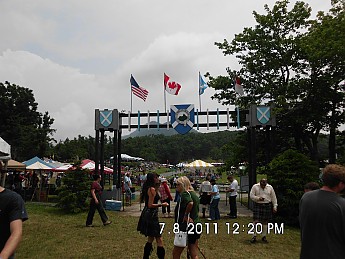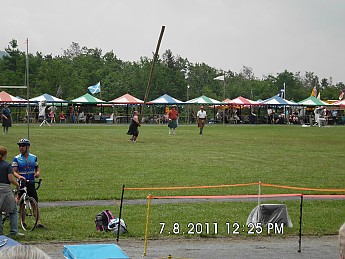 If you like Celtic Rock then this is the place for you! I love it, and Grandfather always has the "Groves" setup well. There are usually at least three stages for music; one traditional, one contemporary (or rock), and one for larger orchestral types groups.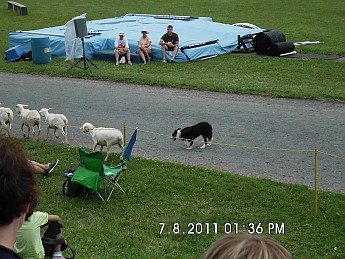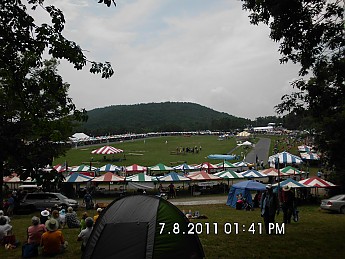 Some random game photos….notice the hill top in the distance on the last one. That's the next hiking destination.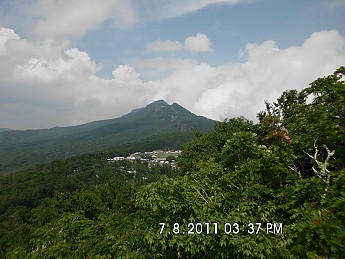 Several hours later, here is the view from that hilltop of MacRae Meadow with Grandfather in the distance. Those are the peaks I crossed the day before.
Shortly after this I dropped and broke my cheap Sanyo camera. The next several days were full of fun, fellowship, and more great hiking. It's just as well that the camera broke: like the Rose and Thompson Clans always say, what happens on the mountain stays on the mountain. See you next year Old Man!