10:49 a.m. on July 18, 2011 (EDT)
FromSagetoSnow

TOP 25 REVIEWER
REVIEW CORPS
6,158 reviewer rep
1,625 forum posts
"There is no such thing as bad weather, only inappropriate clothing."
Ethan and I (big sister stayed home) got to Cold Springs campground Friday (road is open) and melted water over a fire and slept in the car.
Saturday morning we stared out at 03:00 and hadn't gone too high before we were into the low clouds and getting soaked by horizontal rain.  Ya, I'm throwing away that softshell and never wearing another as long as I live!  I WRUNG water out of it!
People comming down said the summit was socked in and no one had summitted Saturday morning. 
We made it to about within ~1,200 vertical feet of Lunch Counter before we decided we were too soaked and pitched camp in the nearest flat-ish spot just up from the South Butte.  The rain and wind pounded the tent for a few hours as we ate, napped and tried to dry out in 100% humidity.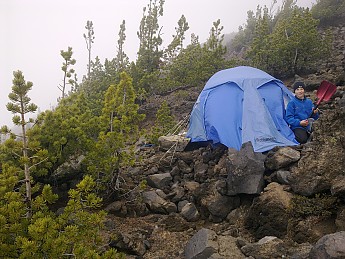 The sun came out and we lounged in it until the clouds came back and we retreated back to the tent to sleep up for the summit attempt.
Sunday morning coffee came at 00:30hrs and we walked up in clear-ish skies and a full moon.  At about 10,000ft up the false summit, in thirty secconds, the clouds rolled in and commenced pounding us with sideways ice. Visibility varried from 10-40 feet. We found the headlamps of Phil, Taylor and their two friends who were climbing to celebrate the impending marriage of one of their group and we decided to proceed up together.
Brag ahead: Ethan, my 10 yr old and I overtook a team of twenty-somethings.  He trooped through the sideways sleet/ice like a champ and never complained.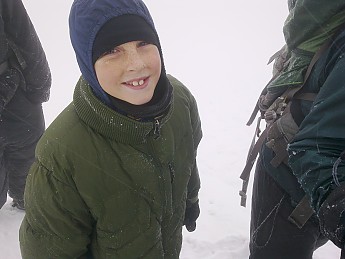 At the False Summit we came upon a nasty crevasse, which wasn't supposed to be there.  To the left the crevasse opened and closed intermittently into the distance.  To the Right, Taylor scouted around it and found it passable but very near to the corniced ridge on the right.  Our worry was that one could decend and not see the crevasse during the downclimb and almost zero visibility and go right in.  During our war council abour an inch or so of fresh icysnow accumulated before we decided to bail.   
Picture, of course, does not do it justice.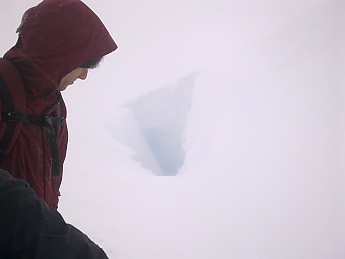 We side-stepped down to a place we were pretty sure was safe to glissade and slid down in a staggered pattern, stopping at intervals to let the team catch up. 
We glissaded back to Lunch Counter and helped Sam find his tent after he had gotten seperated from his team after they bailed from their summit attempt.  We followed the carins we made on the way up back to our camp.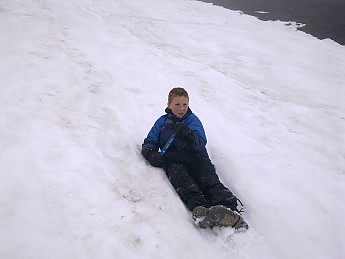 Packed up and went down.  Great adventure! We'll be back next year.