8:23 a.m. on August 16, 2011 (EDT)
Tipi Walter

295 reviewer rep
1,436 forum posts
INTO THE CITICO/SLICKROCK WILDERNESS  TRIP 124
On Friday, July 29, Little Mitten and I drive up the Tellico River road in Tennessee and near the Green Cove community we arrive at the Green Cove cabin which her dad Arrants gets about twice a year and I set up my tent nearby while Little Mitten arranges a bunk in the main room.
HIGHLIGHTS OF THE TRIP  July 29 -- August 15, 2011
**  18 DAYS IN THE TENNESSEE FURNACE

**  GREEN COVE CABIN

**  CAMPING ON THE SOUTH FORK WITH BRYAN DELAY

**  FIVE DAYS ON THE SOUTH FORK

**  THREE HORNET STINGS ON THE SOUTH FORK

**  HORNETS 5  UNCLE FUNGUS 0

**  HELL SLOG ON 54A NORTH

**  SICK ON THE BOB

**  18 DAYS WITH THE TENNESSEE YELLOW JACKETS

**  RON SHRIEVES AND THE HARVEY BROOME GROUP

**  BRYAN DELAY COMES INTO SOUTH COL CAMP

**  RANGERS DAKOTA AND CHRIS AT ELYSIUM FIELDS

**  TEN BOY SCOUTS ON HANGOVER LEAD SOUTH

**  SLICKROCK CREEK HORNET GAUNTLET

**  STIFFKINEE GAUNTLET AND NINE YEAR CAMP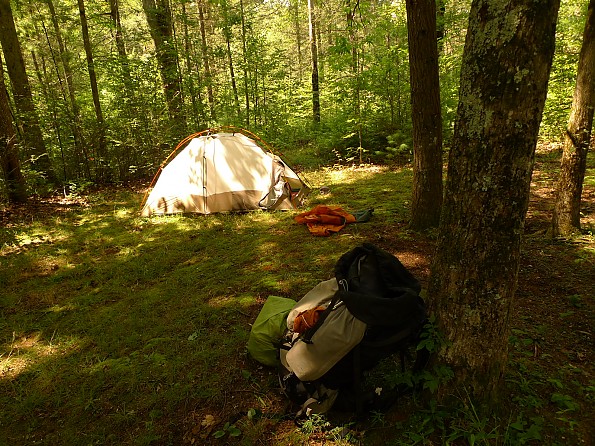 Here is my MSR Fury tent set up by the cabin.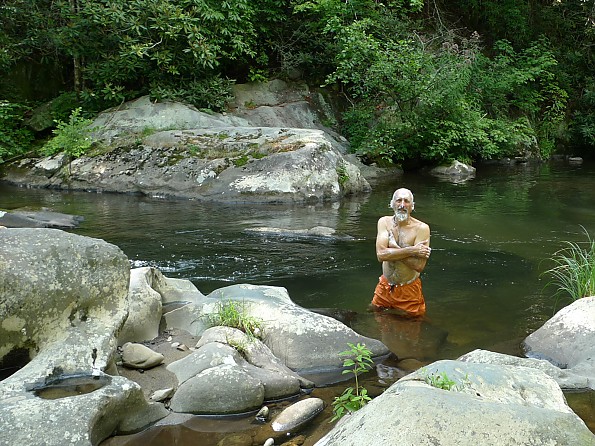 Uncle Fungus gets a sheepdip in the Tellico River, the best place to be during a Tennessee heatwave.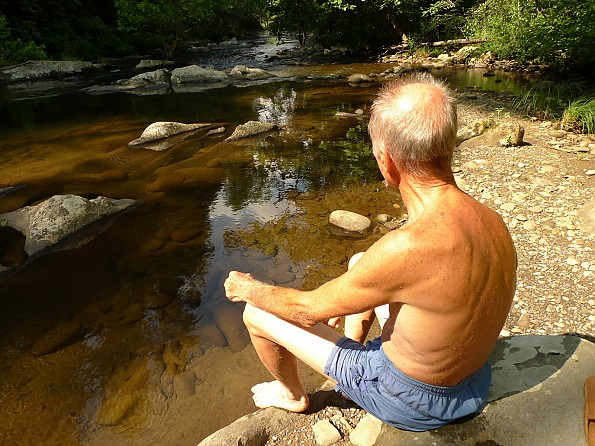 Little Mitten's Dad Arrants surveying the mighty river.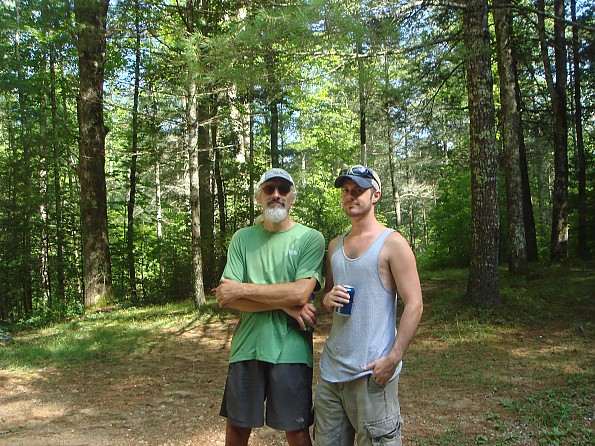 Here I am with Little Mitten's son Andrew "Blade" at the cabin.
HOW TO PUT ON AN 85 LB PACK:  On Day 2 Little Mitten and her son Blade drive me up the Skyway and drop me off at Grassy Gap and on the trailhead to Grassy Branch. I have the Mystery Ranch G6000 pack loaded down with five books and about 45 lbs of food for an 18 day trip.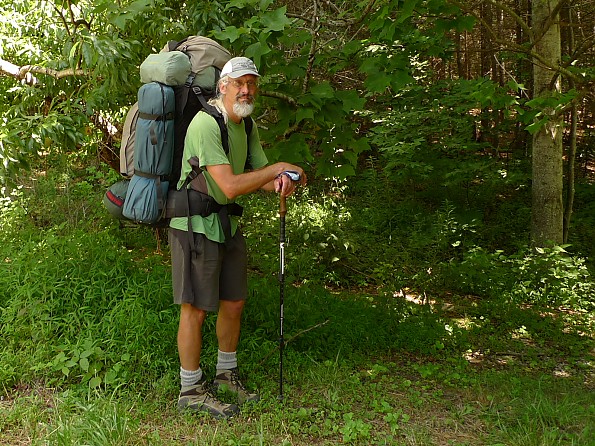 Here I am with my upgraded Mystery Ranch pack with the new shoulder yoke and the new hipbelt buckles and straps.  Tim from Mystery Ranch replaced all the old straps with cordura straps which are supposed to last longer and seem pretty tough.  They sent the pack back missing the hipbelt and I had to call to get my old one returned, so I hope I installed it properly.  I'll find out soon enough.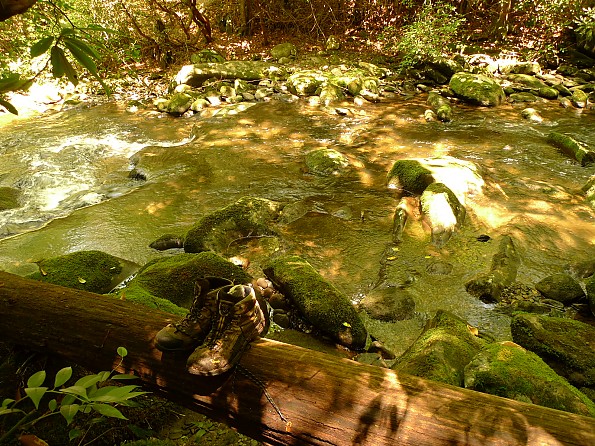 A NEAR DEATH EXPERIENCE: After a long downhill slog I reach South Fork Citico and deboot for the crossing.  My gut told me to watch out for yellow jacket nests and dangit if I didn't see two big ones right on the trail on the way down Grassy Branch to the South Fork.  They both were partially dug up and exposed and highly active and it's a wonder I didn't get nailed at the first one and hammered by the second one.  The anticipation of pain causes humans to move strangely and make very weird noises.  This trip will be a long slog thru the butt point gauntlet.
I set up a camp next to the South Fork at White Rock Camp and anticipate meeting a backpacker friend from Knoxville named Bryan DeLay.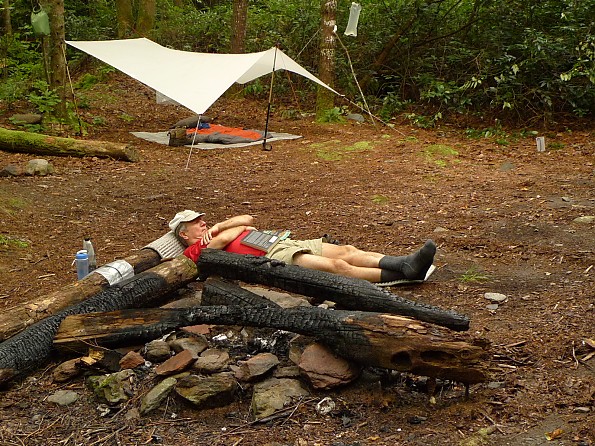 Later in the day I leave my camp and walk a hundred yards upriver where Bryan DeLay is set up and relaxing by his tarp.  He also took the Grassy Branch trail and just missed the two large hornet nests near the bottom.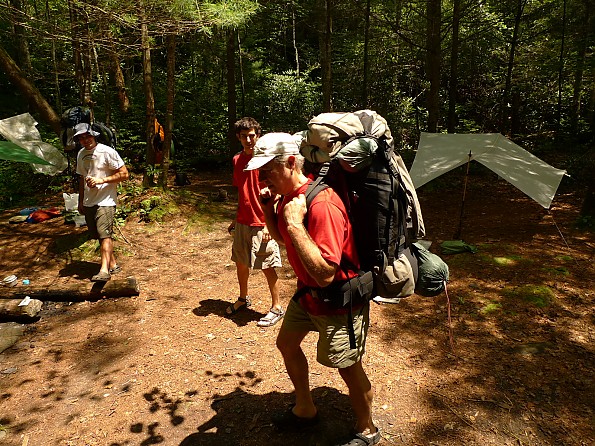 On Day 3 I load up my monster pack and decide to stay on the nine mile South Fork trail as it climbs 2,000 feet to Cold Spring Gap.  I pass thru Bryan's camp and find his son Nathan and a friend had arrived thru the night and we have a "pack party" as everyone gets to try on my kit.  Bryan says "That's gotta be 90 lbs!!" and I beam like an inbred retard.  Here's Bryan with the nylon anvil.  His son looks on in amazement.  From my journal:
"Bryan and the boys tried on my backpack and after several attempts got it hoisted and cinched and it was comical to watch.  LAWSUIT:  A flicker of fear crossed my face at the possibility of one of them suing me for bodily harm, assault-by-pack or terminal ruptures."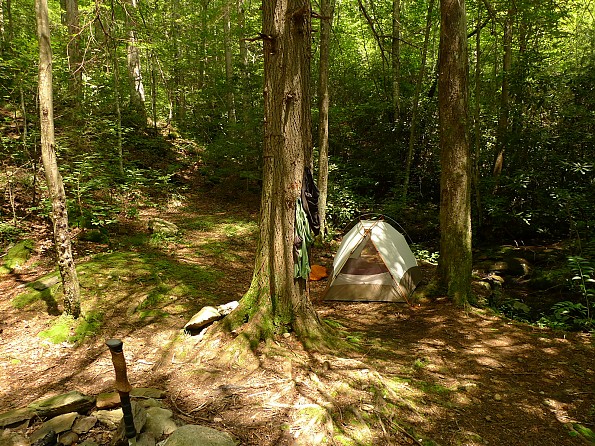 I leave Bryan's camp and haul the beast up to a fine little campsite next to the creek.  The South Fork trail out of this camp is a mini nutbuster but this happens the next day.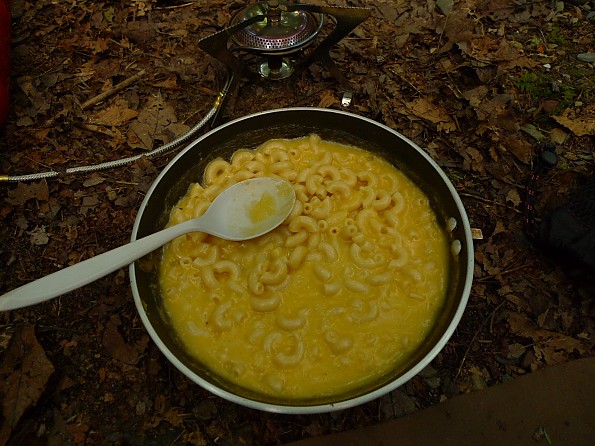 What's for dinner?  Mac and soy cheese ugh.  It's too hot for an appetite.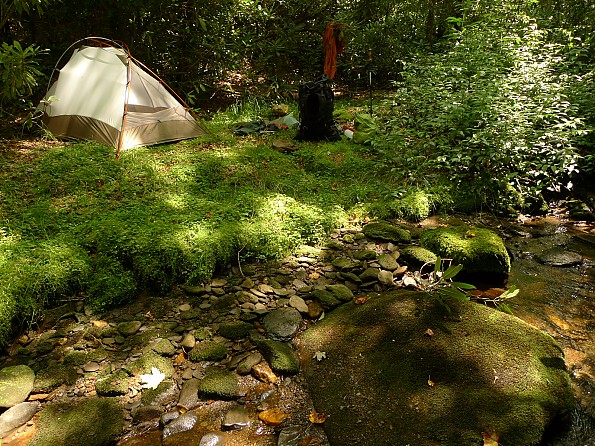 On Day 4 I pull the four pitches and get to the level logging cut "detour" which goes for about a mile on stony tread thru a few walls of briars and grapevine and stops at a large rock cairn made by early hominid hippies.  Ya gotta rest in this heat.  Eventually I tie back into the South Fork and find this campsite right next to the creek where I spend my fourth night.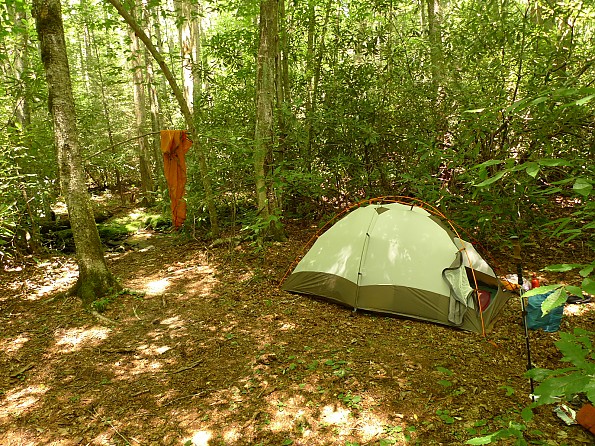 On Day 5 I keep ascending the South Fork trail and reach a higher site called Iron Camp where I find a new campsite right next to the upper part of the creek.  By morning I experience my coolest night at around 60F!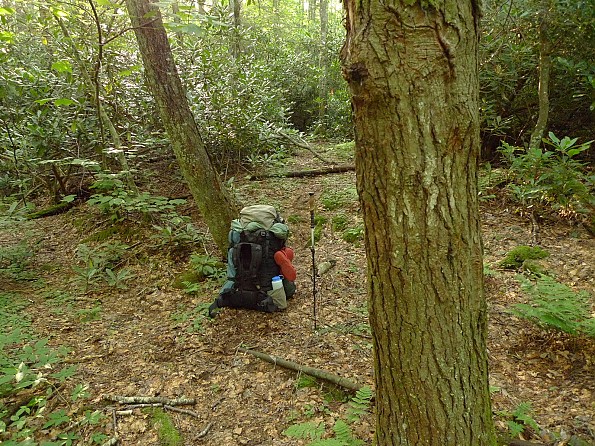 On Day 6 I leave Iron Camp and begin the steep thousand foot climb up the South Fork to the 4,500 foot ridge at Cold Gap.  Right past where this picture was taken the trail gets vertical and dangit wouldn't you know it but I stirred up a yellow jacket nest on the trail and they get me three times.  Have you ever tried to run uphill with an 85 lb pack?  It's crazy.  Hornets 3 Uncle Fungus 0.  From my journal:
"SOUTH FORK RANGER TAB:  The worst section got me slow and hot and Zap three yellow jackets nailed me by a swarming nest right on the trail.  Yes I ran uphill with weight and looked like a hippo with a surprise butt plug inserted.  A few of the bastardos followed me up the trail and I got my third sting after dumping the pack a hundred feet away and resting.  The Citico initiation is now complete.  They don't really want to kill you, they just want to hurt you.  The natural reaction is to run screaming."
"Hornets are sent by Miss Nature to test our perseverance.  They're like drill instructors and just want to see if we will quit."
"Everybody talks about bear spray.  Forget bear spray.  Bring hornet spray.  Some people think honeybee stings are good for arthritis.  I figure yellow jacket venom is good for helping us to be more like Neanderthals, a horrible thought to the texters and tweeters out there."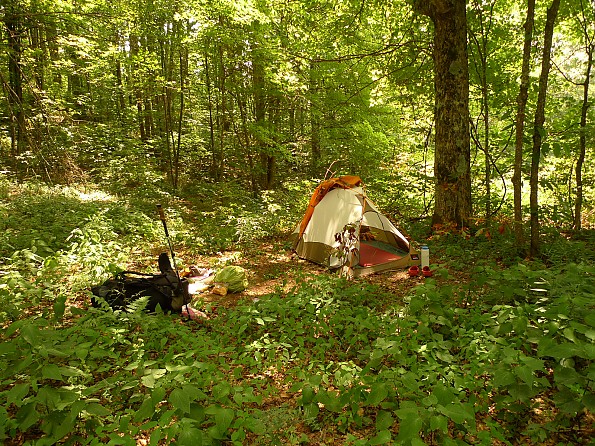 I finally reach Cold Gap and get on Trail 149 for a while where I stop to get water and then set up camp here at Barrel Gap.  While in camp I pull the orange fly off the tent and dangit if another yellow jacket isn't on it and it stings my right leg.  Hornets 4  Uncle Fungus 0.
TO BE CONTINUED ON DAY SEVEN