2:50 a.m. on September 7, 2011 (EDT)
Wolfman (Wolfgang Greystoke)

134 reviewer rep
456 forum posts
Hi all, this is my first trip report and my "Hike #1".  Not that I have done any other camping or hiking, but this is the first in what I hope will be a new passion and fun activity for me.
Hike 1;  West Cady Ridge, to Pass Creek to North Fork Skykomish trail.
Total miles 15+- (Not sure yet)
Elevation Start at 2500? (Trail Head) to high point 5816 (Benchmark Mountain)
Day 01; 
Got to the trail head at 10:00 AM, about 2 hours later than I had hoped but it was a slow morning.  I did not get finished packing until late the night before.  Work had been very busy all week. 
Finished loading the water (4 Ltr) and hit the trail at 10:40AM.  I don't know the exact weight of my pack but I think it was around 50 lbs with the food and water, maybe a tad over that.  How much dose 4 liters of water way??!!
The trail started off nice and easy but I knew that this was just the start.  In 3.8 miles the trail climbs from the trail head to the fist "peak" at 4761'.  I made it there in 3 hours, not bad for the climb, at least not bad for an old fat guy. :)  Took about an hour rest and explored the area.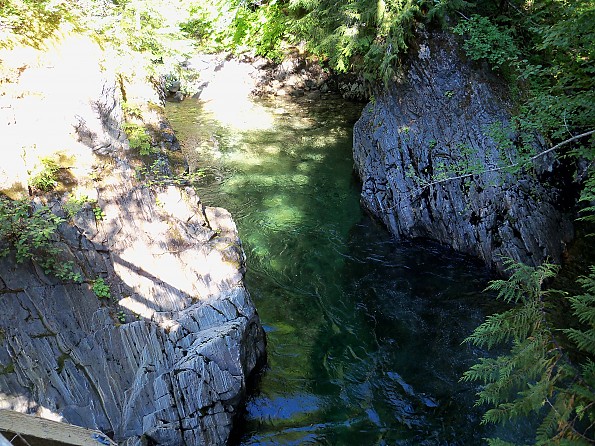 Looking down into the North Fork of the Skykomish River.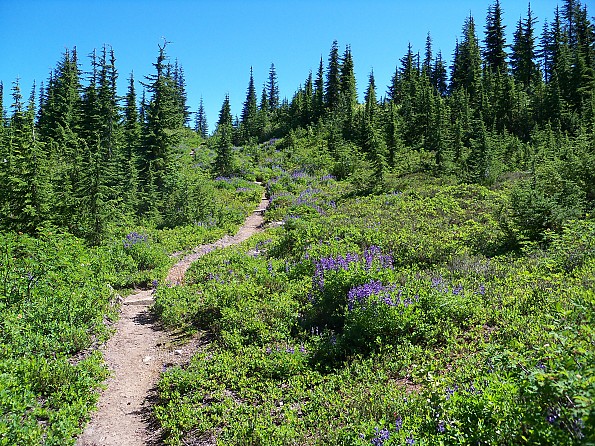 This is the last of the trail before the ridge crest and the following areas.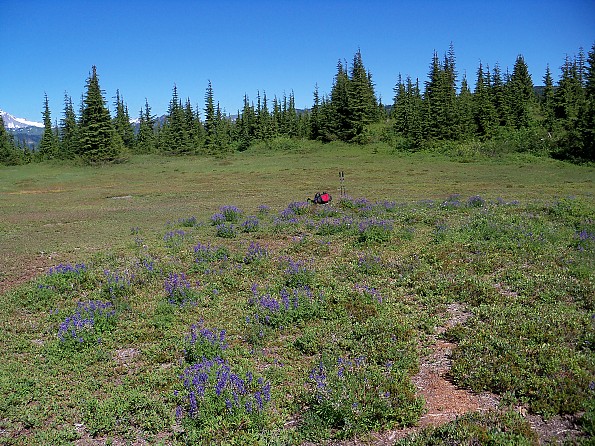 This is the first real meadow that you come to, that's my big red pack and poles in the center for reference, Huge Area!  Very nice with a steady wind to keep the bugs away.
The next few shots are of the views for this first area, the weather was great, and it was clear for as far as you could see!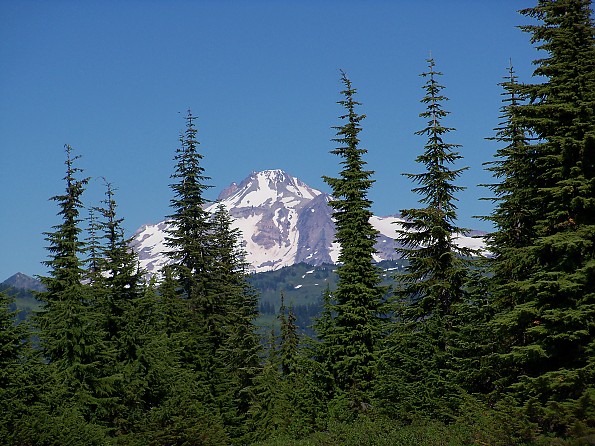 Mt. Baker through the trees.

This is Twin peaks, Columbia peak, and Monte Cristo peak, or I think it is. :)
After my rest here, I continued on the ridge trail.  I quickly realized that I was very tired and wanted to find a place to camp for the night.  I make it to the next "Peak" and there was a small camp site there.  So I stopped and set up camp.  I had drunk all but maybe a cup of the 4 liters of water that I had pack up and set about starting to pump more water. 
Did not eat very much that day or night, I think I was just to tried.  Heck of a lot of work out climbing that hill.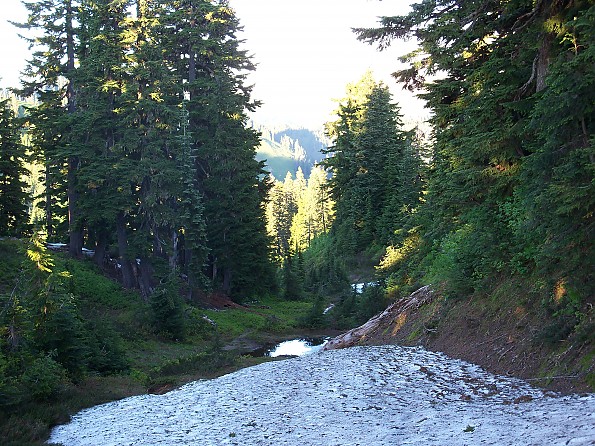 This was my water source and looking down from my camp site.  To close to the trail, but I was too tired to keep going. :)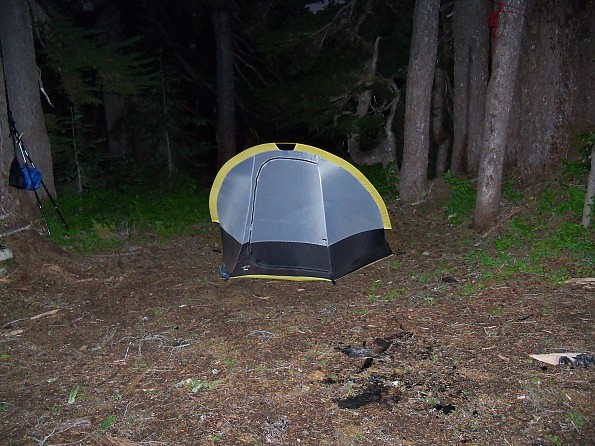 My little Walrus Arch tent, no rain fly.  Not much of a camp but it was partially sheltered from the wind.  I would find out in the morning that that was not a good thing. Bugs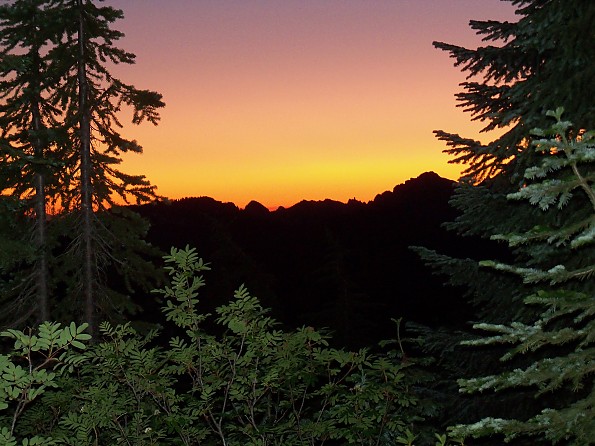 Sun Set looking back west over the mountains.  It actually about a half hour past but I had just finished pumping water.
Sleep was OK, wind blew all night but it was far from cold and quite dry, no moisture at all in the morning.  I finally got up about 8:30 and by the time I was packed backup and had some breakfast, I was on the tail at 10:00 AM.  Hay I am on vacation right!
Day 1: Miles 5.5 to 6, end time, 4:30 PM at 5375'
Day 2,
Continued on to Benchmark Mt. and along the ridge trail.  Legs did not want to move near as much as yesterday, and the pack seemed a LOT heavier?  Wonder why?? Started with the same 4 liters of water. 
Made it to the top of Benchmark Mt by 11:00 AM and the high point of the trail. 5816'  What a VIEW!!  Great area to be in, I hiked down the peak away from the trail and took some pics of Mt Rainer and Mt Baker.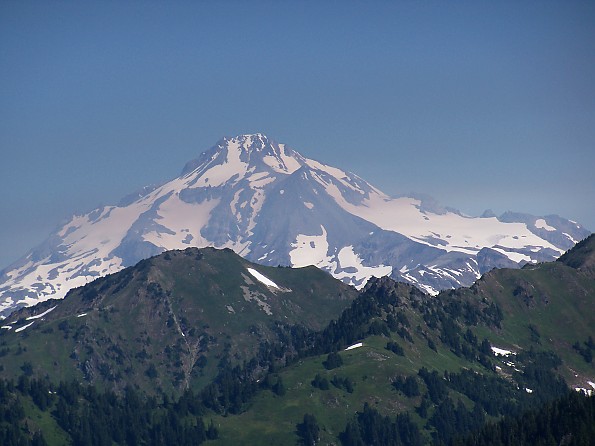 This is Mt. Rainer from Benchmark Mt.  Heck of a view!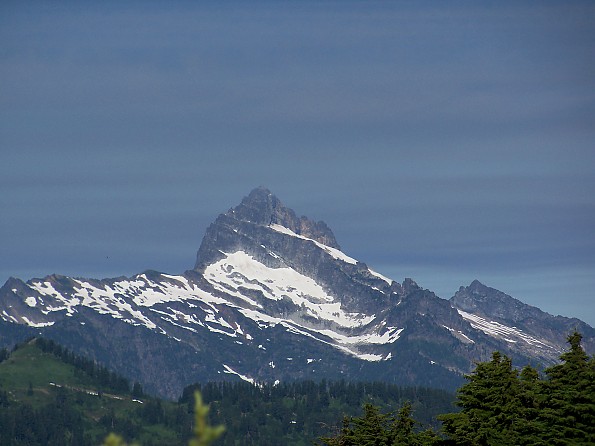 I think this is Sloan Peak, but I am not really sure.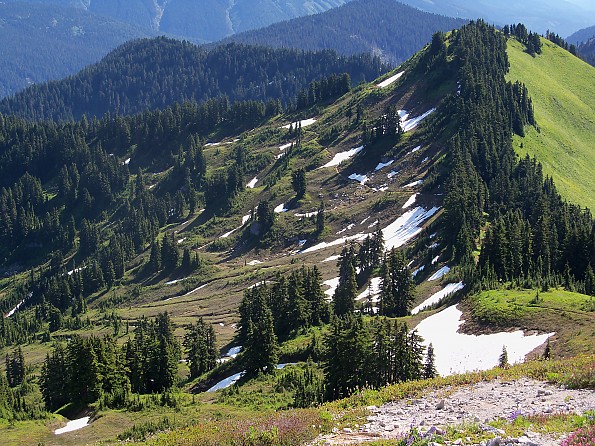 This is looking back south at the trail that I will soon be following heading down to the PCT and the Price Creek.
After spending about an hour on the summit I headed back down and pick up my pack 3/4 of the way up the trail.  Not really sure why I did not leave it at the bottom of the trail to the summit, I knew I had to come back down!?  Oh well.
Heading down I meet two people who were doing the original hike that I had planned, only the opposite way, Bald Eagle Ridge to PCT to West Cady ridge, it's about 30+ miles.   But I already knew that was not going to happen, the question was do I bail a Price Creek or head for dishpan gap?
By the time I got to the bottom, about a 1400' drop, it was a little after 1:00 PM and I knew that it would be dark before I made dishpan gap, if I made it at all, my legs did not want to go up at all.  So I bailed at Price Creek and headed down that trail.  It was OK, but the brush on the trail was heavy at times.  Once I was off the ridge and into the forest the bug issue was very bad.  I had DEET on and as long as I keep moving at a decent pace I was OK, it I slowed or stopped it was a swarm.  Dang nasty buggers! 
Anyway, I continued down Price Creek and had two river crossing, the first I was able to get across without getting my shoes wet, the second not a chance.  Calf deep wade across.  I though about stopping and trying to dry out my boots but the bugs would not let me, it was like running a gauntlet, if you stopped they attacked!  Funny now, not so then.
I found one camp site but it was occupied so I continued down the North Fork trail and out to the truck.  All told about 10 miles that day.  Over all a great trip.  I could have gone with out the bugs and the 40+ bug bites, but that is all part of camping.  I drank most of the 4 liters on day two also.
I am going to make some personal observations in part 2, tomorrow night.
I look forward to all your thoughts on my first "Hike" 
Wolfman