A3 Honey Graham S'mores Bar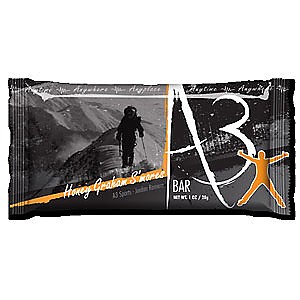 Don't expect to spear this with a stick and roast it over the campfire. While "s'mores" flavored, this is an energy bar and is more about nutrition than being an accurate representation of the campfire classic. Then again, for 110 calories, it's a nice way of getting your s'mores fix without maxing-out on the calories. Also a surefire way to have 'em even if you can't build a fire!
Pros
Highly packable (pocket-sized)
Crunchy texture
Who doesn't love chocolate? They even drizzle it on top!
Tastes like a S'More
Cons
Vague packaging
Small size
There isn't much I have to say contrary to what FromSageToSnow said in his own review. If for nothing else, this review goes to show support for his opinions and create something of a consensus.
Again, this bar was received courtesy of the fine folks at Trailspace.com. 
PACKAGING 
It packs small, that's for darn sure. It's an easy way to get 110 calories in without stopping, and this bar easily would fit into one of the small hip-belt pockets on my Kelty Coyote. Come to think of it, I could probably fit a couple into a single pocket. If you don't have hip belt pockets, heck, this thing could tuck into a shirt pocket easily without being cumbersome.
The wrapper doesn't say much about the product, and to be honest with y'all, you have to make an effort to even figure out what flavor this thing is. 
You want to bring in more sales? Well, when you offer anything in a "s'mores" flavor, you probably want to advertise it loudly and proudly. Size 72 font. Bold. Double underline. Triple exclamation marks. I think the packaging honestly hurts their sales, here, and was this not sent to me, I'd have easily passed it by in the store. 
HANDLING
Not terribly sticky on the hands at all, and I actually enjoyed this one without the wrapper. The drizzle of chocolate on the top is a nice touch, but avoid gripping both sides of the bar if you don't want to smear melted chocolate on your hands. Then again, it's small enough that some folks might knock this little guy out in a couple bites.
INGREDIENTS
Unlike my review of the Kind Fruit and Nut Bar, this energy bar has a grocery-list's-worth of ingredients on the backside of the wrapper. While I highly doubt any of those ingredients are carcinogens, I can't say this is the most natural bar. Again, though, this is "s'mores" flavored. When you find yourself some cruelty-free, free-range, vegan chocolate, marshmallows, and graham crackers, let me know. If you're buying "s'mores" flavored anything, you know what you're in for.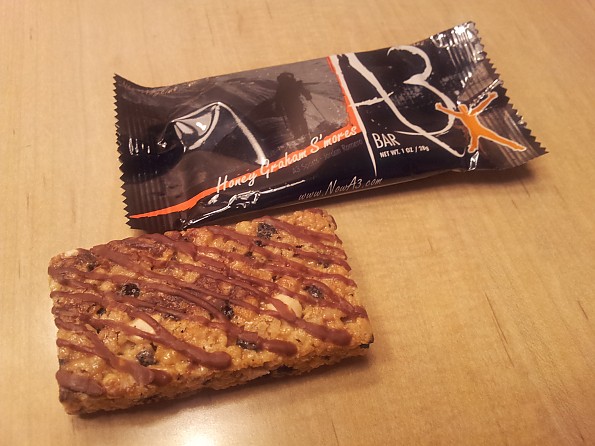 FLAVOR
Tastes like s'mores! Honestly does. First whiff I got out of the wrapper got me hungry enough to eat this and risk spoiling dinner for myself.
All the main players are there. The crunch of the graham crackers, the chocolate chips embedded between them, and the hint of marshmallow you can smell right out of the package. Although it is an energy bar, it isn't a mess of nondescript and unidentifiable items mashed into a paste. There is a definite and welcome crunch you don't always find in energy bars. I'm big on texture when it comes to my food, and this bar definitely had a nice crunch to it. 
SATIETY AND ENERGY
It's 110 calories. By no means a meal bar, but more than enough to satiate a pre-meal hunger pang, or a late-night sweet tooth. This would be a snack — at best — for me. It sits well on the stomach, though, and while this technically is an energy bar, it lacks the "gut bomb" effect some have on me.
BEST USE
I'd probably enjoy it most before bedtime as a little fuel to keep me warm throughout the night. 
Like I said, though, if ever you find yourself in a zone with a burn ban, well, here's your answer when it comes to s'mores.
Would I buy one for myself? Probably, actually. This is a nice way to satisfy a sweet tooth that packs small, is clean on the hands, and is still healthy enough that it won't leave you feeling guilty.
Source: received it as a sample, freebie, or prize (Trailspace.com)

A nice little crispy snack bar, good s'mores flavor.
Pros
Small
Crispy
Has s'mores flavor
Only 110 cal
Light on the stomach=eat on the go
Cons
Tad on the sweet side for me
A3 Action Snax Honey Graham & S'mores
I like S'mores. Anything s'mores flavored always grabs my attention. The A3 Action Snax S'mores bar was no exception. At 110 calories it was a low-risk option for a quick snack with the hopes of satisfying the craving for chocolatey, marshmallow-graham goodness without the time and mess of making a real s 'more.   
I get the feel that this is a smaller company just starting out.  I hope they stay with it.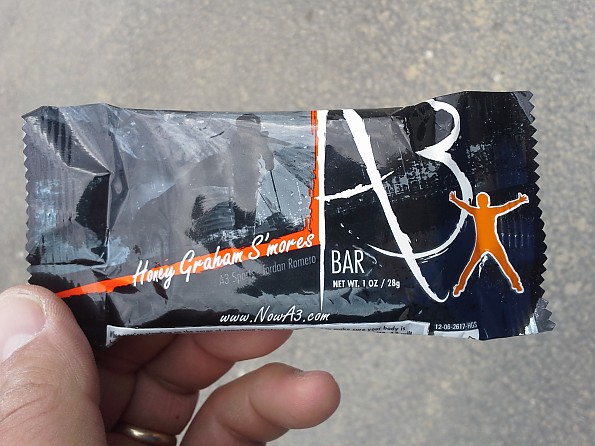 Ingredients:
Lots of organic ingredients, if that's your bag. I don't know what vegetable glycerine is but almost all the other ingredients on the label sounded like real food, so that's a plus. It's also certified gluten free which might also appeal to those who must or choose to eschew this ingredient. Like I said, at 110 calories it's the kind of thing that might fuel and satisfy without a big, filling lump in your belly to kill your rage.  
Texture/appearance:
The soy crispies give it a rice crispy-feel when chewed and not really a graham cracker feel but they did a good job of making it appeal to the eye with the drizzled icing across the top. You can see chocolate chips which is a must with anything claiming to be s'mores flavored. Don't discount eye-appeal, just try to feed your kids blue potatoes (a natural variety that tastes identically to normal ones) and you'll see what I mean. I'd give it the other 1/2 star if it resembled an actual s'more.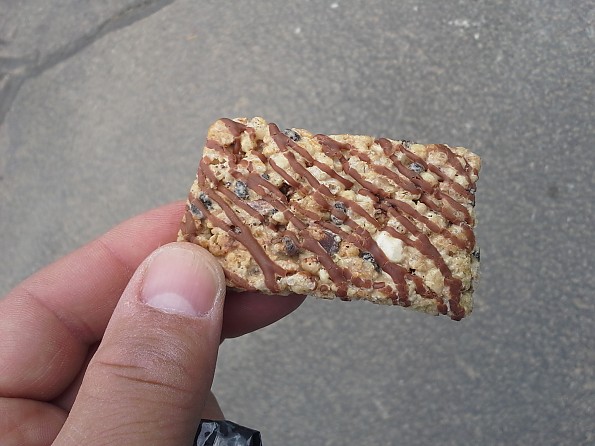 Taste:
Like I alluded to, it isn't just a s'more in a wrapper, it's a s'more flavored energy bar.  If you eat one knowing this you won't be disappointed. I did taste the required elements; I tasted graham, chocolate and something resembling marshmallow. I liked it.  The sweetness might be a bit over the top when you are really working hard since sweetness can taste magnified under exertion but during moderate exertion these are a fine treat. 
Conclusion:
If these are available and the price is right I will add them to the bag of snack bars I bring on trips with me.  While I might not go out of my way to find them I won't turn one down either. Life-changing? No. A good, small snack with lots of energy? Definitely. If you have a chance to get these and encourage a smaller snack maker give em a go.
Thanks, Seth for sending these!
Source: received it as a sample, freebie, or prize (Seth at Trailspace)

Your Review
Where to Buy
Help support this site by making your next gear purchase through one of the links above. Click a link, buy what you need, and the seller will contribute a portion of the purchase price to support Trailspace's independent gear reviews.
You May Like