Adidas Hydro Pro

Top 25 in men's Water Shoes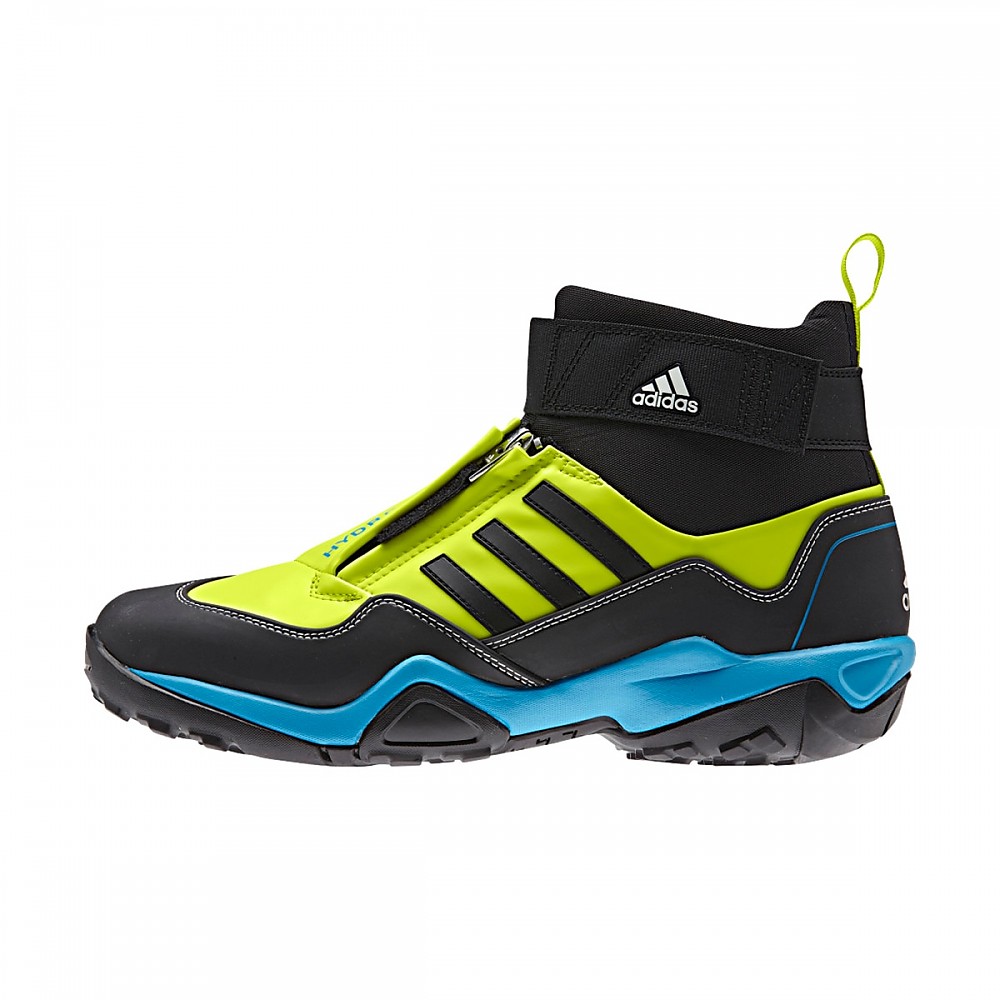 Specs
| | |
| --- | --- |
| Price | Historic Range: $125.97-$174.95 |
Reviews
1

review

5-star:

0

4-star:

1

3-star:

0

2-star:

0

1-star:

0
This is a quality shoe that is well worth the price if you can keep the sand out of the zipper. After months of use they show very little wear and have held their support and durability well.
Pros
The adida-prene assist with foot warmth
Abrasion resistance
Light when dry
Cons
No drains for water
Bon Jovi (Slippery when wet)
Zipper protector fills with sand and pebbles
Zipper and quick lace system jam insand
I had the opportunity last year to demo the Adidas Hydro Pro canyoneering shoe. With a price tag of $175 there was no way this bargain shopper was going to throw down that kind of money for a canyon shoe. I already owned some 5.10 Canyoneers and was quite happy with how they preform here in the desert.
On top of that, the Hydro Pro was not designed with us Southern Utah, Navajo Sandstone, loving canyoneers in mind. So when I had the chance to test them out for nothing I jumped in those shoes quick.
Gear Specs
The shoe weighs a mere 580g (1.2 lbs.) which I think is pretty lite for a well-constructed boot. They use Zeta- Thread which is a wet and abrasion resistant thread. A high abrasion rubber covers from the top of the toe all the way to the upper heel. They definitely came through on an abrasion resistant boot. There is a quick lace system and a zippered covered to protect the lace system. To top it off there is a Velcro ankle support strap.
 The tread system used is called Traxion. They used different tread patterns to try and provide for different conditions and foot placement in different conditions such as going downhill or slippery surfaces. The inner is constructed of adidaprene, a proprietary neoprene. There is a removable sock liner and the insole is quite stiff and waterproof which helps keep its shape and comfort in water.
The Goods
The best place I could think of to drag these through was The Narrows in Zion National Park. The walk to The Narrows is a paved mile long path. The Hydro Pros were very comfortable, more so than my normal canyon shoe. I left early in the morning as I knew that the shoe would keep my feet warmer than I wanted them, due to the Adidaprene 
While this shoe had great grip on the sand mud and concrete they were a little slippery walking on the mossy river rock. However they are constructed with good ankle support so there is no need to worry about rolling an ankle. I have bad ankles from years of skateboarding so ankle support is always a huge concern for me.
After 2 hours of walking in water it was time to really test them out by climbing a sandstone boulder. I stopped at Floating Rock in the Narrows for lunch. I slipped a little on the climb up with wet rubber soles but on the way down with dry rubber the grip had improved. Having a better feel of how the shoe preformed I was able to move a little faster on the return trip.
Due to the lack of drains in the shoe and the large quantity of Adidaprene the paved riverside walk was a little uncomfortable. After a half day of walking in water the extra weight in the shoe from the un-drainable water was a little unpleasant and would definitely get annoying on a long hike
Conclusion
After this initial test I found it wise to test on a couple canyoneering routes. I am overall happy with the shoe in its intended environment; water. I would advise against using these in dry canyons, or long hikes after being in water. The zipper tends to get jammed up when it meets sand; Using McNett Zipper Tech will help with this issue.
I have taken this boot on two trips through the Zion Narrow, 5 wet canyons, 1 dry canyon and a couple early morning hikes in Zion National Park. The only major issue has been keeping the sand out of the zipper. We now carry this boot at a rental shop I work for. Everybody I have talked to about their experiences have loved this boot; the majority has stated that the traction is better than their normal hiking shoe; they were comfortable and loved the ankle support. I conclude from this that if you have never used a shoe with stealth rubber you will love the Hydro Pro.
Everyone I have spoken with that has used the Hydro Pro all had the same 3 complaints: no drains, not as grippy as stealth rubber, and the zipper jams. Besides that they are a great canyon boot.
We have been renting these for about 6 months now and have not had any problem with the construction, beside one zipper jam that resulted in a broken zipper. There has been no issue with them coming un-stitched and the thread is still holding up well. When we ordered in new boots it was hard to tell which ones were old and which ones are new. They hold their color well and has very little abrasion.
Source: tested or reviewed it for the manufacturer

You May Like
Recently on Trailspace