Adidas Sport Performance Flex 360 Boxer Brief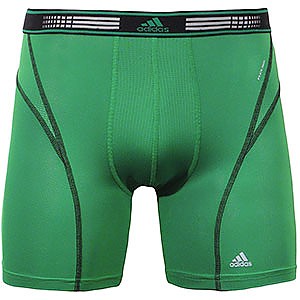 Let's talk about my underwear. Awkward, right? OK, let's talk about chaffing. Yea, not any better is it? On the other hand, there really isn't a lot of information available on this touchy and very important subject. So guys, here's my effort to weigh in on the subject with an outstanding option to help solve the issue.
Pros
"Medium Rise" construction may be at the heart of the superior performance design
Temperature control is great down to freezing temps
Men's support is well designed
Moisture wicking and breathability is outstanding above freezing temps
Cons
All good things come with a cost. As underwear goes, the cost is pretty high
Without thermal "bottoms" of some kind, these are not enough in freezing temps
Men's support design seems to force the buyer to purchase a size larger than normal
Breathability (a plus in hot weather) may be the culprit in lack of temperature performance at freezing temps
Summary: 
The Adidas flex360 Sport Performance Boxer Brief is comfortable and highly functional as it flexes to your body shape while (1) providing proper male athletic support, (2) providing protection from chaffing, (3) providing outstanding breathability / moisture control, and (4) they are easy to clean / dry in the field. I've said goodbye to Desitin and Bodyglide forever.
First, the basics.
Material:  Polyester/spandex
Fabric Cut and identifying this model:  It looks like there are two models of the flex360 line.  There is this longer length cut, and then there is the "trunk" cut which seems darn close to regular briefs.  I've seen some 9" measurements given to this model, though I also know there is another Adidas model out there (perhaps newer) that has the 9" designation in the name.  This is not the same thing, unless the 9" is specifically of the flex360 line.
Material Feature(s):  Adidas markets these as using CLIMALITE fabric for Moisture-wicking, and CLIMACOOL for optimal ventilation.  I don't know what makes these any more than Polyester or Spandex (weave pattern?), but they seem to work great.  These are marketed as being odor resistant.  In 2 years I have not been given any reason to disagree.
Size used:  XL (I would normally have looked at size L, but I bought a size up for optimal fit — see sizing and "how to wear" section for details below)
Gram counter's corner:  These weigh in at 2.51 ounces. Not super light, but certainly not heavy. I have no idea if there is a lighter option with similar performance.
My body size / shape:  For these purposes let's say athletic.  I'm 5'10" and have a broad-shouldered stance.  My thighs are muscular, which is important info for this review.  A thinner / lanky person may find these briefs having too loose of a cut in the lower leg portion.
Time and conditions of use:  I've been using these for two years and they've seen hundreds of miles of hiking, boating, wheeling and general (albeit outstanding) adventuring.  I've used them on many a day hike as well as multi-day overnight adventures.  I tend to stay away from > 90°F temps and < 15°F temps, so I can't say anything about their performance in those environments.
Along with typical "good" hiking weather, I have also used them in snowy climates and in more trying environments including NW rain forest climates with the drippiest and nastiest humidity. I was comfortable and non-chaffed in all situations.
Noticeable wear and tear: None. All four are all in great condition.
Color(s):  Urban Sky/Intense Blue, Thunder Grey, other
Use:  I have four pairs I like them so much. I only use them for athletic / outdoor purposes.
Misc:  There is no fly. This has had no negative impact on me.  I suspect this is part of the design to create the best Male Support possible.
Picture(s): Like other underwear reviews before me, I'm not including much in the way of pics on this one.  My apologies ahead of time to those that have tried to tell me to add more pics. In this case I think we can do without.
That said, here's a picture with two of the colors I have. I can't find this product at the Adidas website, so this Amazon link is the best I'll be able to do if anyone wants to know where to get them or what other colors are available. Note, I have also found and bought them at Nordstrom and Sports Authority. Amazon ASIN: B0083RLEPC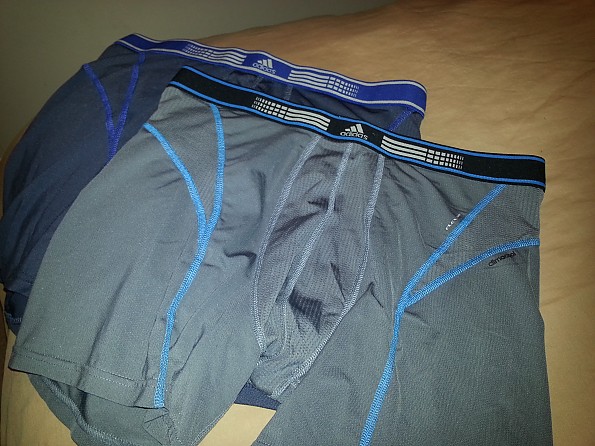 Beyond the basics.
What makes these great:
The mid-rise design (referring to the "droop" of material in the crotch) is pivotal for two parts of the garment's success. First, this part of the design is key to the Male Support they've designed, and it helps make these a viable replacement for a Jock strap (sans cup, of course). This earns "top marks" for Adidas in my book.

Second, because there's not a lot of extra material drooping in the crotch, the entire garment is essentially blocked from riding up any further since the crotch material is already almost as high as it will go. I should also mention, I do agree that these are a mid-rise cut. That said, and in regards to how the garment wears, I think Adidas cut these closer to a "low-rise" rather than strictly a "mid-rise" design.  As you'll read, I prefer this in how I wear them. It works well.
The leg portion of the brief was designed so they do not ride up the leg. I think Adidas accomplished this perfectly.
Choice of material maximizes moisture wicking via breathability.
Cut of material at the seams appears to mimic the body's sweat patterns, so the garment draws sweat away from the body where it accumulates naturally.
Choice of material maximizes material's ability to stretch with your most athletic movement and activities.  This is where the garment seemingly gets it's "flex360" name from.
These are just loose enough to be comfortable, and snug enough to ensure easy layering. As a smooth Polyester garment, it does not tend to create any bunching when layered. These work so well that when I am layering, these do not get involved in any of the adjustments.
What these are not:
These are not "wind pants".  In other words, if you are a cyclist in search of wind-proof 

solutions you should look elsewhere.

These are not compression shorts. While some people say these can be tight in the thigh, I think that's if you don't buy "up" a size as I outline later in this 

review

.
Chaffing:
Shoot, chaffing is the reason I went looking for something like this. This is why I bought these. This is also why I bought more, and why I'll get more in the future.  Adidas solves a real problem with this garment.


Desitin and Body Glide 

have

 not been needed.  Hoo-rah!
How to buy these, or "are these 'true to size'?"
General sizing, including the waist, seems to be a little on the snug side. In my book this is OK since it allows you to buy "up" a size.  This works out to your benefit... see the next point.

One of the typical review negatives I've read repeatedly about this garment is that the Men's Support is too tight.  I'm pretty sure this is because Adidas opts to sew in support (keeping things in place) rather than a pouch. Jokes aside, yes I agree with these reviews.  The solution I found is simply to buy the next size up. That's what I did, and it's worked like a charm.
Durability:
Materials and stitching are top notch. It looks like it's some kind of a multiple layered stitch pattern. Nothing has been "wearing through" in the time I've had them, so I'm confident that they'll last for some time to come.
How to wear these:
For best results, I think these require the user to wear their underwear differently than usual. Normally I wear loose boxers. I wear those on 

the hips, perhaps a little lower on the hips than most fellas. However, I don't use boxers during anything athletic due to chaffing.

That's where

 these boxer 

briefs shine.

When I put these on I'll get the waistband to the normal place on my hips, but then I hike the inside-leg material up the legs as far as possible without bunching. If you think about it, I'm covering the location where some of the worst chaffing happens (

inner

 thigh). Problem solved. To be clear, I'm not talking about giving myself a wedgie.  If you need further clarification, feel free to send me a PM so we can keep this site family friendly with 

those

 extra details.

The only time they do not protect me from 

chaffing

 is if I don't adjust them. This rarely, if ever, happens in the morning. However, sometimes I'll get in a rush after a restroom break and will forget to pay extra attention to hiking them up a bit. This has chaffing c

onsequences, so I can tell you I don't do this often.

Wear them in any temperature other 

than

 below freezing (unless you have other layers to address the cold).

These should be fine with the wind in general, but they are not designed as wind-proof 

barriers

 like some similar products 

that you'd find in bicycle specialty shops.  The front pouch is a double-layered mesh, so they do breath.  Plan accordingly.
Field Use:
I use these for everything that I do that is athletic in nature, especially including hiking / camping.

I bought these to 

solve the issue of chaffing. They work.

A hiker's reality check: I wear them without cleaning for two days max, though it seems they could go longer.  Instead of cleaning them, I typically bring a second pair along. If the hike is long enough, they are easy to wash and will dry very fast in camp or in an outside mesh pocket on a backpack (a good reason to bring two with you).
That's it. Happy Adventuring!
Source: bought it new
Price Paid: $20

Your Review
Where to Buy
Help support this site by making your next gear purchase through one of the links above. Click a link, buy what you need, and the seller will contribute a portion of the purchase price to support Trailspace's independent gear reviews.
You May Like
Specs
| | |
| --- | --- |
| Price | Reviewers Paid: $20.00 |
Recently on Trailspace