Alite Mayfly Chair

Top 50 in Camp Chairs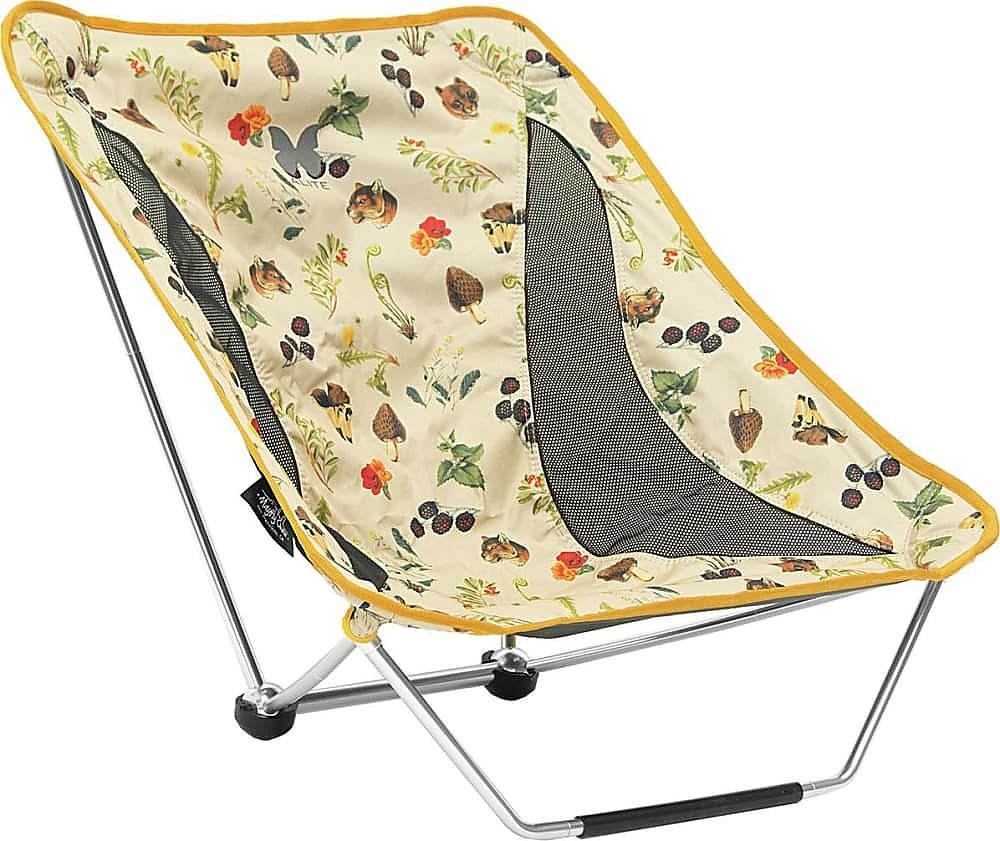 Specs
Price
MSRP: $100.00
Historic Range: $59.93-$104.95
Reviewers Paid: $45.00-$99.00

Weight
1.6 lb

Capacity
250 lb

Reviews
5

reviews

5-star:

0

4-star:

3

3-star:

0

2-star:

1

1-star:

1
Original (resolved by contacting Alite who sent a new frame): I really want to love these chairs, but they will fail on you very early on.

** UPDATE 3/17/14: Back from Big Bend. The chair did not fail, that's the good news. However it still remained wobbly on pretty much every initial sit down, requiring me to shift the seat's feet and my body weight around to stabilize it. This is the action that cause it to fail originally, although it did not fail with the new frame.

The other item is that for me, a forty-something y/o, I cannot get in and out of it without one hand on the ground. Maybe I would have kept this otherwise comfortable sling design chair if only one of these issues were present but with both I plan on returning it. I will admit that the successor is a heavier chair that take more space when packed up — although it's still lightweight and packs compactly.

I mention this because if size and weight are more critical to you then perhaps the Alite Mayfly (w/frame v2.0) is still your best bet. (I'm going with the Helinox Chair One.)

** UPDATE 2/28/14: New frame arrived as promised. In the new photo below you can see the dimples used to prevent the inserts from sliding back up into the main frame pole. I'll be testing it in Big Bend in two weeks and will do a final update following that trip.

** UPDATE 2/26/14: Took two days but Alite got back to me. They've acknowledged the issue with older frames that has been resolved and are sending a replacement frame that should arrive in 2 days. I will road-test it at Big Bend National Park over Spring Break and report back after the trip. **
Pros
Comfortable
Lightweight
Folds up very compactly
Support - they stand behind their product.
Cons
Fails early on rendering it useless and dead weight
Somewhat of a chore to set up and take down so only for an hour or longer at a stop
** UPDATE 3/17/14:  Back from Big Bend.  The chair did not fail, that's the good news.  However it still remained wobbly on pretty much every initial sit down, requiring me to shift the seat's feet and my body weight around to stabilize it.  This is the action that cause it to fail originally, although it did not fail with the new frame.  The other item is that for me, a forty-something y/o, I cannot get in and out of it without one hand on the ground.  Maybe I would have kept this otherwise comfortable sling design chair if only one of these issues were present but with both I plan on returning it.  I will admit that the successor is a heavier chair that take more space when packed up - although it's still light weight and packs compactly.  I mention this because if size and weight are more critical to you then perhaps the Alite Mayfly (w/frame v2.0) is still your best bet.  (I'm going with the Helinox Chair One.)
** UPDATE 2/28/14:  New frame arrived as promised. You can see the dimples used to prevent the inserts from sliding back up into the main frame pole. I'll be testing it in Big Bend in two weeks and will do a final update following that trip.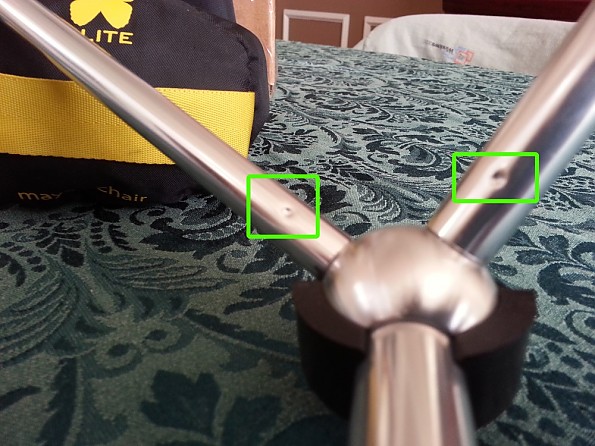 ** UPDATE 2/26/14:  Took 2 days but Alite got back to me.  They've acknowledged the issue with older frames that has been resolved and are sending a replacement frame that should arrive in 2 days.  I will road-test it at Big Bend National Park over Spring Break and report back after the trip. **
My first Alite Mayfly Chair failed on its first day of use and so has its replacement.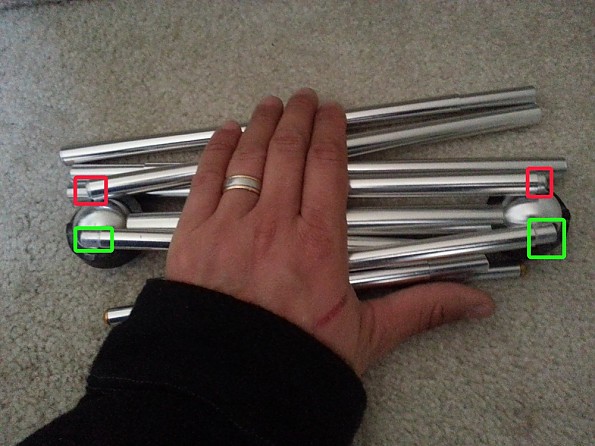 Chair #2 failed same as the one it replaced. Thankfully for me, purchased at REI. As other 1 star reviews on Amazon.com state, the part of the backrest rods that go into the foot/ball joints gets pushed up and then the chair is done.
It's my understanding these 'inner connectors' are held in place by glue and this is the weak link. I'm well under the advertised weight rating, and in both cases these chairs failed very early on after only the lightest of duty. What's the point if it is just going to fail on you in the field?
You've been warned.
__________________
_↓↓_[Alite's email]_↓↓_
Thank you for contacting us directly about this issue. Sorry to hear about the frame breaking on you and yes you are correct we do cover out items with a life time warranty. You are covered but need to know a few more things.Do you need to have 2 mayfly chair frames replaced or just 1? I am not clear about that.Also just as an FYI do not try to attempt to fix these chairs yourself. This may cause more problems and we cover out items so we either can fix it or send you a new chair frame. We have corrected the issue and I can only assume these are the older frame chairs that you purchased from REI.
Can you please send me an address to send you the replacement chair frame(s) to?thanks
Source: bought it new
Price Paid: $79.89

Trying to get Alite to respond to my warranty replacement for a failed/broken Mayfly chair has been futile by phone (never returns my voice mail...tried several times).
Don't buy...bad service/warranty support.
Source: bought it new
Price Paid: $99

Extremely compact chair. Easy to set up and break down.
Pros
Lightweight
Comfortable
Easy to set up and take down
Compact
Cons
Sits very low to the ground
Can be difficult to sit down in being low
I now have two of these chairs. I picked up a "broken" one from REI at first for my daughter, figuring it was an easy fix. After fixing the chair, we both like it very much. It is a snap to set up and just as easy to take down. 
The small/compact nature of this chair make it easy to take anywhere.
The only issue I can see with it, being as it sits so low to the ground, is having a difficult time first sitting in it.  I've found my technique to sitting in it and can say once you are seated, it's very comfortable. 
Source: bought it used
Price Paid: $45

Super comfortable lightweight chair, durability could use some work.
Pros
Comfort
Lightweight
Design
First off, I love this chair. My boyfriend and I have them for the more luxurious backpacking trips we go on where we are only packing in for a few days and aren't SUPER concerned about weight. They are by far the most comfortable lightweight chair I have ever sat in and put the fold up foam camp chairs to shame! Also doesn't weigh much more than one of the kits you can use with your sleeping pad (a little over a pound) though it is a bit more bulky.
When I am planning to set up camp well before dark and plan on having a good amount of time to sit gazing into the fire or out across a lake — beverage in hand — this chair is key. The height is perfect to stretch out your legs and recline or tuck them up and eat dinner. These chairs are also lovely for picnics, car camping, and the beach.  
The only drawback: I have had some issues with breakage. In the first chair I purchased, I was testing it out at home and when I went to stand up one of the cast aluminum connection points broke! Luckily I was able to return to the store of purchase.  My second one, after a few trips out, had the rubber ball come off the foot. An easy fix with some epoxy, but still. If you use some care sitting in and getting up and out of the chair, they should hold up fine.  
Overall, very happy with the purchase, hopefully will use these chairs for seasons to come!
Source: bought it new
Price Paid: $99

Weighing in at 1.4lbs, the Alite Mayfly 4 Leg Stable Folding Camp chair is a well-made and strong chair that collapses into an 11.5" long, 4.3" bag/package.
Pros
All metal frame
Small pack size
Lightweight (for a chair)
Cons
Slightly confusing assembly
Low to the ground
Unlike competing products, the Alite Mayfly chair's frame is all metal construction. The only plastic bits were on the bottom of the rear/central feet. This chair can be set up without the front legs so that it functions in the same way as Alite's Monarch chair as a rocker. Adding the front legs lends stability and keeps you from 'falling to the front' if you need to lean forward (say, when cooking).
The chair is rated to 250lbs and it seems to live up to that rating. I wouldn't trust BSA's Ultra-light camp chair or REI's Flex-Light chair in the same fashion thanks to their plastic joints. Unlike BSA and REI's offerings (or Alite's Mantis for that matter), the Mayfly is much closer to the ground.  The lack of the extra set of legs lowers it's overall height.  You do gain the option to leave the front legs home and use the Mayfly as a rocker though.
Saying the chair is collapsible is an understatement. Unlike usual camp chairs that hinge in on themselves, the frame of the Mayfly has more in common with tent poles. Each piece is joined to the next with shock cord helping to reduce confusion as you put it together for the first time. This is a good thing since the directions are sparse.
Overall I'm very impressed with the chair. Initial test show that it is comfortable without creaking or strain that the others show when tested with a ~200 lbs weight. You don't need to feel this chair will break if you sneeze while sitting in it! 
If you are an ultra-light backpacker, you will be leaving this home. If you are looking for a little bit of comfort and don't mind a little bit of weight, this is one of the best options out there! Far better than most of the folding camp chairs I've used (though nowhere near as comfortable as a good zero-gravity lounger!).
Source: bought it new
Price Paid: $69 + Shipping

You May Like
Recently on Trailspace