Alpine Start Original Blend Medium Roast Instant Coffee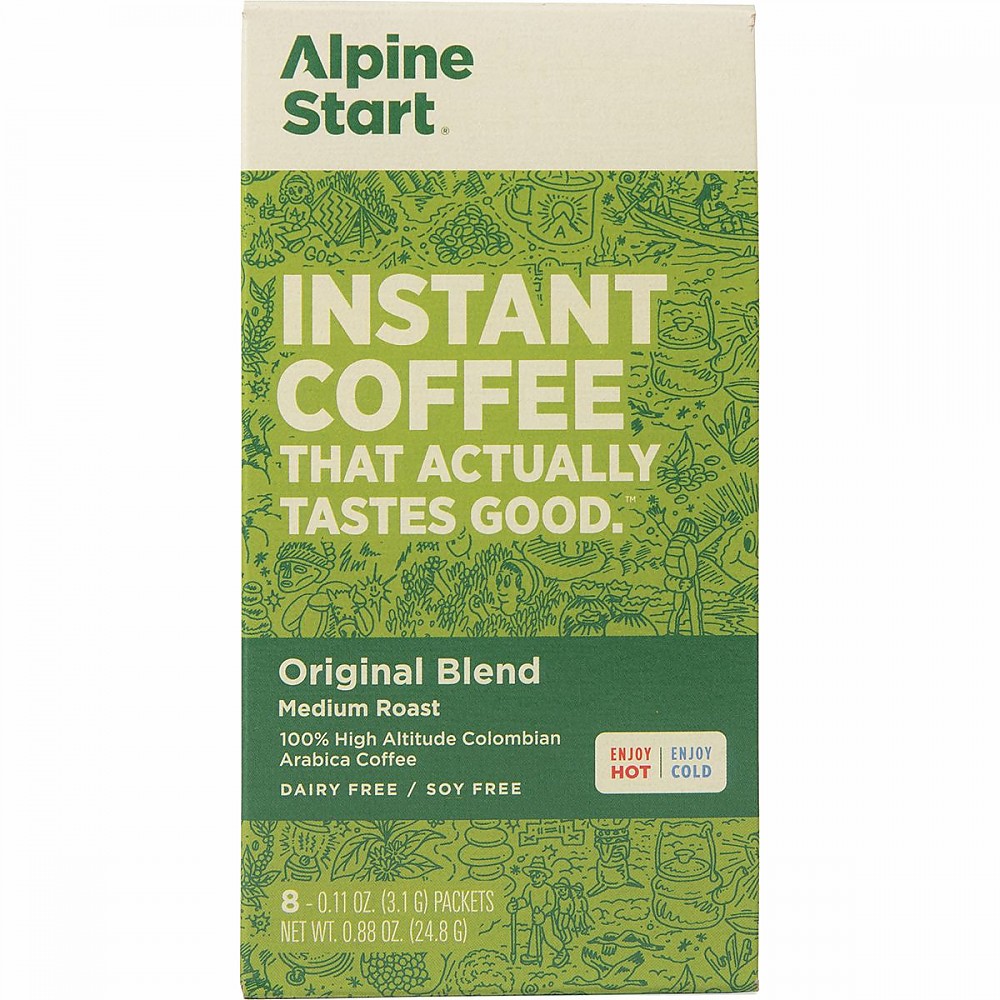 If you're looking for instant coffee you'll do well finding Alpine Start. Upmarket of center, Alpine Start offers a boldness, a complexity of flavor not often found outside of the fresh-ground-and-lovingly-brewed set. For those not married to the traditional method of coffee brewing, Alpine Start also allows a greatly reduced base weight and packed size in comparison.
Pros
Very good flavor
Instantized
Light and compact
More versatile than ground coffee
Best For: Well, you know—alpinists, apparently. Fast-packers, thru-hikers, college students, and commuters, also. All those who multi-task out of a desire to save time.
Design
Alpine Start is instantized (read: part micro-ground, part freeze-dried) coffee packaged into little sealed plastic pouches, sized to make an individual serving. The plastic pouches themselves are robust enough to survive loose in your food bag or bear can, and do not come with any starter tears to catch on things and accidentally tear open. A pocket knife or scissors will be helpful.
The coffee is powdered very finely, and is very uniform in color and texture. Nothing settles and so no special attention needs to be paid when emptying out a packet. Diagrammatic instructions on the packet provide assistance when needed.
Performance
The original blend is an Italian Roast made from 100% Arabica beans, and I find it quite true to style. That is, it is a darker than medium, with appropriately accompanying notes of carmel and chocolate. When made at the recommended strength it does not proffer any semblance of being over-roasted.
Being instantized, Alpine Start mixes up equally well with hot or cold water, with the added benefit of being able to mix in directly into your morning oats. I find myself chucking one into my protein shakes. In hot water a nice layer of crema immediately appears, though it disappears almost just as quickly. Indeed, though I had my camera at the ready multiple times, by the time it auto-focused—undulating liquid surfaces are difficult for my camera apparently—the crema was gone.
One thing to mind if preparing your coffee using steaming-hot water is that the steam can cause a kind-of clogging at the opening of the packet, especially so if only a corner is cut off. The fix is to simply dip the end of the packet in your cup of coffee after most of it has worked itself out; this will quickly dissolve the remaining powder.
The compact nature of Alpine Start coffee as compared to the bulk of (at least) a brick of coffee (and possibly a micro mill and brewing apparatus) is exponential. I like coffee. In many forms, I really like it. If I'm on a backpacking trip in the back-country and I want to brew it I will either go with cowboy coffee or I will bring my Cafejo press.
Eight packets weigh a bit over an ounce and pack down smaller than a candy bar. Eight two-rounded-tablespoon-servings of grounds per 8-oz cup of cowboy joe is about 9 ounces in a zip-lock. Adding my press, the weight and packed size doubles.
Quickly one can see that, even for just a weekend trip, bringing Alpine Start can be the difference between the big bear can and the small one, or the bear can vs the Opsak. It compounds from here; a lot of weight and space can be saved.
The catch is that to save that weight and space you have to spend more money. Maybe twice as much per serving versus an equal-in-flavor bag of whole beans.
Cleanup & Maintenance
Here too Alpine Start offers many advantages. The empty packets fold down to nothing, and then there's no grounds to dispose of. No brewing mechanism to clean means time is also saved on that end of things.
In truth the most involved part of making a cup of joe with Alpine Start is keeping track of the top bit you cut off.
Soapbox
Alpine Start was likely born when a couple dudes from the front range of Colorado brought Via on a mountaineering trip a few years back and were like "You know what? We can do this better!" And then they did, like full bosses.
I'm super glad they went for it, if only because I appreciate gumption and moxie; I imagine an exchange:
"So you want to make a product very similar to one which currently dominates its market?"
"Yes."
"And you want us to give you money to do this, because it will be successful?"
"Yes"
Personally, I appreciate having the option too. I mean, I backpack because I have expendable time and income. If I want to do an ultralight trip I now also get to have really good coffee.
Conclusion
I suppose most folks, at this point, are thinking "Yes, Vince...This is all well and good, but is it worth it? Does it taste good enough to be worth foregoing my locally-roasted mud?"
Well, yes. Of course. At times it's very much worth it. Alpine Start has done a very good job here, and if I see it on the shelf next to Via I'm likely going to prefer it every time. The original blend has a very satisfying flavor that is quite close to the best stuff that I can brew.
What I'm saying is that if you blindfolded me and put one cup of Alpine Start and one cup of my favorite Italian-roast, fresh-ground fresh-pressed mud in front of me I'm not certain I could taste the difference. That is good enough.
Testing Conditions: Hiawatha National Forest, Pictured Rocks National Lakeshore Trail, and Escanaba State Forest in Michigan's incomparable Upper Peninsula. And also, you know, just at my kitchen table 'cause sometimes I'm lazy.
About the Author: Vince Contreras has been working as a professional Forester and Ranger for various federal land management agencies since graduating with a Bachelor's Degree in Forestry from Southern Illinois University in 2010. He currently resides in Michigan's Upper Peninsula, a Forester for the US Forest Service. He enjoys rock climbing, backpacking, and debating nineteenth-century German Idealist philosophy. Other hobbies include leather-working, bushcraft, and really, just creating original things.
Source: received for testing via the Trailspace Review Corps (Samples provided by Alpine Start for testing and review)

Your Review
Where to Buy
Help support this site by making your next gear purchase through one of the links above. Click a link, buy what you need, and the seller will contribute a portion of the purchase price to support Trailspace's independent gear reviews.
You May Like
Specs
Price
MSRP: $8.99
Current Retail: $8.99-$25.00
Historic Range: $4.00-$25.00