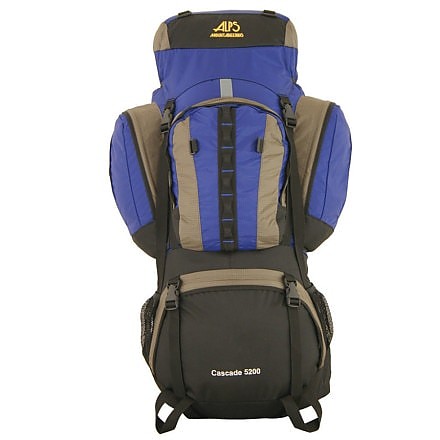 Specs
Price
MSRP: $189.99
Historic Range: $70.00-$189.95
Reviewers Paid: $52.00-$150.00

Weight
5 lb 8 oz

Capacity
5200 cu in

Fabric
Nylon Ripstop Top - 1000D Bottom

Fits Torso
16 in to 22 in

Access/Loading
Top

Sleeping Bag Compartment
Yes

Reviews
9

reviews

5-star:

2

4-star:

3

3-star:

4

2-star:

0

1-star:

0
I purchased the Cascade last year when my son moved up to Boy Scouts. I have been extremely happy with this backpack. I am able to carry all of the things necessary for the trips (4 now) and the side pockets make it very easy to access the smaller items. The padding and fit is comfortable on the hikes. The integrated rain cover has been handy two different times. That is one thing I would have forgotten the 1st time. One of the best things is that if your son is in Boy Scouts you get 40'sh % off everything from them.
Design: top/front loading internal
Size: 5200 ci
Number of Pockets: 3
Max. Load Carried: 45 lbs
Height of Owner: 5' 9"
Price Paid: $81

Nice pack for the price, roomy. Good for long term backpacking. Held all my gear for a 10-day trip plus 5 days food.
Pros
Roomy
Sturdy zippers
Top converts to a small day pack
Nice sized side pockets
Cons
No idea what the two mesh pockets on the side are for
Pack always leans to the left
In preparation for a 10-day trek to Philmont, the Boy Scout backpacking paradise in NE New Mexico, I purchased a Cascade 5200. We did two long weekend training trips in Kansas and finally our big trip in New Mexico.
The pack was roomy, held all my gear and at one time 5 days worth of food. The zippers were large and sturdy. The zippers held up well and didn't catch on the material. Two nice touches were the strap over the top pack opening and the waist belt built into the top so it could convert into a small day pack. The side zipper pockets were nice and roomy, carried a water bottle each, my camp shoes and several small items.
I never did figure out what the small mesh pockets on the side were for. They were too small for a water bottle so water bottles had to be carried in the side zipper pockets. The seams on each side of the bag just above the lower compartment each ripped out for about 1 inch. Not big enough to lose any gear, but still worrisome.
One big complaint was the pack always leaned to the wearer's left, no matter how I loaded it, adjusted it, or pulled on straps. Did this even with an empty water bottle on the left side and a full one on the right side.  I believe this was due to the method of attaching the hip belt to the back pad, just a 1" x 4' piece of Velcro.
Except for the leaning, a nice pack at a good price.
Source: bought it new

Comfortable pack with good storage.
Pros
Big side pockets
Rain cover
Handles the load well
Cons
Rain cover could be larger
Water bottle pockets are hard to reach
I have used this pack for a couple of backpacking seasons in the SW mtns about 4 to 6 weeks each time. It has been very durable and I plan on using it for many more trips.
It holds everything I need for a happy trip. The side pockets are great. I tie my sleeping pad on the bottom loops so the rain cover could be a bit bigger to cover that as well, it does but its a stretch. This is my first internal frame pack and I am happy with my choice.
I carry 50 to 60lbs and it handles the load well and sticks to my back for good stability. The last thing you need when crossing steams, rocks, logs is an unbalanced pack that flops around. The water bottle pockets are hard to reach so I strap on a qt holder and use the pockets for my extra water bottle and the fuel bottle.  I also like the blue.
Good pack.
Source: bought it new
Price Paid: $135

Owned for several years. It is very comfortable and can carry a lot of weight. Stitching tore on first use.
Pros
Comfortable
Good design
Top lid doubles as lumbar pack.
Built-in rain cover
Cons
Weak stitching
Rain cover is too small to cover pack when completely full.
Lack of external tie points
Honestly, about the only thing I have bad to say about this pack is that the stitching tore loose on one pocket the first time I used it. It could have just been my pack though.
I really love the pack. I carried 65lbs in it up into the mountains for a one week back country trip. It was very comfortable and rode very well. I had to scale some pretty steep terrain in uncharted territory where balance was critical and this pack did not disappoint.
You can cinch it up tight so that it is like a part of your body and it is still comfortable. I also loved that the top lid bag doubles as a lumbar pack. I used it as kind of a day hiking pack for short jaunts  away from my base camp. If I knew for certain that the problem with the stitching was just my pack, I would buy it again.
Source: bought it new
Price Paid: $149

I have used this pack for several years. It has plenty of room and is fairly comfortable. It rides well. 
The only real issue I have with it is that my back sweats more than it has with my last several packs.
Price Paid: $99

Picked up the 4200 for my wife and the 5200 for myself. After a couple multi-day hikes, we can honestly say that these are some of the most comfortable packs we have tried to date.
The 5200 carried 45 lbs. with ease. Good padding on the shoulder straps and easy to adjust to fit. The hip belt pads were wide and road well even after 5 plus miles. About the only complaint was the lack of attachment points on the bottom of the pack.
Overall for the price it's a great pack.
Price Paid: $119

Pack has a lot of room, TERRIBLE waist belt.
Pros
Lots of room
Well made
Comes with a cover
Cons
Waist belt
Waist belt
Waist belt
This pack has a lot of room, and I like the side and front pockets. The top of the pack doubles as a fanny pack and works well. I also like the internal hydration bladder area. Pack is fairly easy to adjust, and holds a lot of gear.
The reason that I give this only 3 stars is that the hip belt is terrible. It has very rigid edges that dig into your sides. I took this pack to Philmont Scout Camp last summer, and because of the poor design of the hip belt, it was not comfortable. To be fair to Alps, another adult had the same pack and found no issues. He is larger than me and has some extra padding around the middle.
This is a good pack for scouting, just a poor performer for extended (4-8 miles a day) hiking. I contacted Alps to see if they had updated the design, but alas, they have not. Too bad, with a decent hip belt, this could be a great pack.
Just a piss poor design. I have looked at their new packs, and they seem to have addressed this issue on the newer models. You can buy replacement waist belts from Alps, but I called them and unfortunately, they are not compatible with my pack.
Alps makes great stuff, they just didn't put any testing into this model. Why you would design a belt that has hard sides to dig into your kidneys I will never know. If you need a pack, steer clear of these (they are discontinued). The newer models look like they are an improvement. Just disappointing having a roomy pack that is useless for long hikes.
Design: Internal
Size: 5200CI
Number of Pockets: 4
Max. Load Carried: 60 Lbs.
Height of Owner: 5' 11"
Source: bought it new
Price Paid: $90

This is a well made, internal frame pack by Alps Mountaineering. Seams are tacked and #10 zippers on the lower access. I do monthly, forest trail hiking (4-10mi). This pack stays with my weight shifting and is comfortable with >50lbs. Solid belt and shoulder straps fit snug and no shifting. I have used Eureka, 6000cu and 4600cu. Both were too spongy belts and the load went to the shoulders.
The Cascade is a roomy pack at 5000cu, but the side/front pockets let me get at what I need on the trail w/o digging into the bag. This is a better multi-day pack, also comes in 4000cu for a 35lbs range. (I use another great Alps 3800cu for 1/2 day overnights.)

Lots of space for carabiners and straps for stuff. A great pack for a good price from a great company, Alps Mountaineering. I'm glad I kept looking for this pack.
Design: top loading - zippered lower access - integrated rain cover - top/fanny pack - internal divider - top compression strap
Size: 5000 cu
Number of Pockets: 5 +2 water
Max. Load Carried: 58lbs
Height of Owner: 5'10"
Price Paid: $150

I purchased this pack under the ALPS Pro Tester Program and saved 60% off cost (it sells for $149.99) and this weekend I finally got to test it on the Archers Fork Trail in hilly southeast Ohio. All I can say is this pack REALLY impressed me! It's far more comfortable than my REI Morning Star 75, thanks to the generous padding on the hipbelt and shoulder straps, twice as thick as my REI pack! There are three main pockets, a map pocket on the "lid" of the pack and two mesh water bottle pockets, which I found to be a little on the "smallish" side--nonetheless my bottles never fell out, inspite of how rough the trail was.
All I can say this pack is HUGE, at 5000 cu.inches. It held all my gear with room to spare. The fabric is very durable, being ripstop polyester with an "honeycombed" design. I really like the forest green color, it blends in with the trees! The fit of this pack is very good and easy to adjust. ALPS designed the Cascade with plenty of "air mesh" padding on the back that helped keep my back cool and a good PE framesheet which kept the items in my pack from bulging through and poking me.
What impressed me most about the ALPS Cascade is how comfortable this pack is, even after hours on the trail. My shoulders were not nearly as sore as with my other packs.
My advice: get this pack! It compares well with the other more well known brands. You will not be disappointed!
Size: 5000 cu. inches
Number of Pockets: 6 total
Max. Load Carried: 35-40 lbs
Height of Owner: 6ft 1in.
Price Paid: $52

You May Like
Recently on Trailspace