ALPS Mountaineering Lynx 1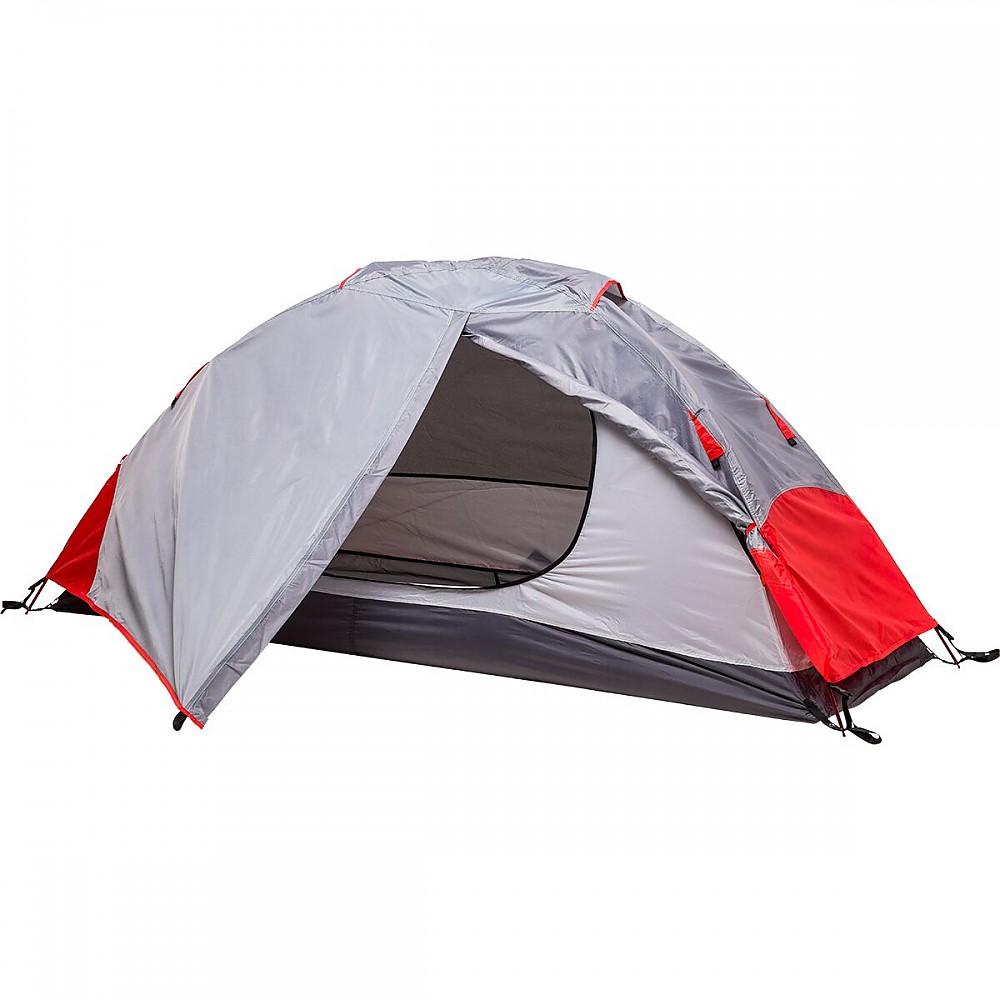 Handled 50 mph wind gusts during winter trip in the Sierras. Rugged / somewhat light /inexpensive/ simple enough for most backpacking trips. And it has windows. Glad I have it and would buy it again, even as a backup/loaner.
Pros
Very durable
'Reasonably' light
Windows are great
Simple standalone design
3.6+ season tent
Affordable!
I really like the subtle colors
Cons
Made in China may carry political baggage
Not the lightest option—Helix 1 as a low-priced example is lighter
I am an intermediate backpacker who was looking for a 'lighter' 1-person backpacking tent for my "collection," saw this and couldn't pass it up for the price (see pros above for list of what I was looking for).
I figured I could reduce weight with titanium stakes, fewer/thinner guy out lines, no footprint or stuff sacks, remove the hanging storage pocket and maybe carbon fiber pole replacements. Of course the cost/weight tradeoff is always there, but this is not far from the best package available IMHO if the priorities are 1-price 2-durability, 3-weight.
Setup is pleasingly simple from a simple design. Stability was tested with 50 mph gusts with snow straight at the vestibule. I didn't plan on that (!) when I took this winter backpacking in the Sierras. I did need to stack up branches at the bottom of the vestibule to prevent snowstorms blasting inside the tent. I also had an experienced partner show me how to use my snowshoes and trekking poles for stakes along with additional guy-out lines and larger sticks for winter stake down. I slept fine the whole night.
Interestingly the previous night at lower elevation in trees I beta tested an $800 expedition tent that had bad elastic in the poles making it useless. Lucky I just happened to throw my Lynx in the truck just in case! Did the job for 1/10 the price.
Ventilation is 'OK' with two small vents at the peak; half the tent is screen, the other side is material so vapor partially condenses on the inside.
There is little room for my pack and boots inside the tent, they sleep in the vestibule (on the ground/snow if no footprint) with most other sizable gear like cook set , etc. I am 5' 10" and 145 lbs and have plenty of room inside the tent even sitting up. There are useful storage pockets.
Packability and ease of use I would say are perfectly adequate. I pack the poles vertically in a side pocket and the tent in the sack at the top of my pack. There are so many tents on the market and I've only tried a few so this entire review needs to be read with that in mind.
Features are all solid and well thought out: simplicity, durability and I love the windows in the rain fly, wish more manufacturers did this.
I might have maybe 10-12 nights in this tent, the floor is dirty on the outside is the only wear I can see,  it is ready for many more nights. I use other tents with more mesh for hot weather.
Experience
My experience is pretty much excellent—very affordable, plenty durable, simple to deal with in every way, except lower weight as the only limiting factor.
Source: bought it new
Price Paid: $80

Robust but lightweight tent that massively overdelivers on value for money.
Pros
Quality manufacture and materials
Very low price
Lightweight - 1.8kg incl underfloor
Simple, strong design
Plenty of useable space for one person
Free standing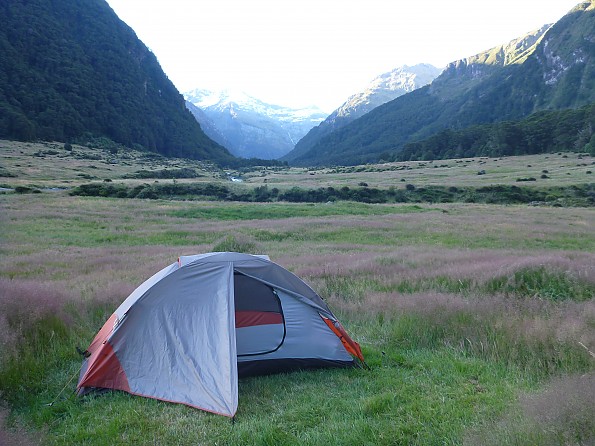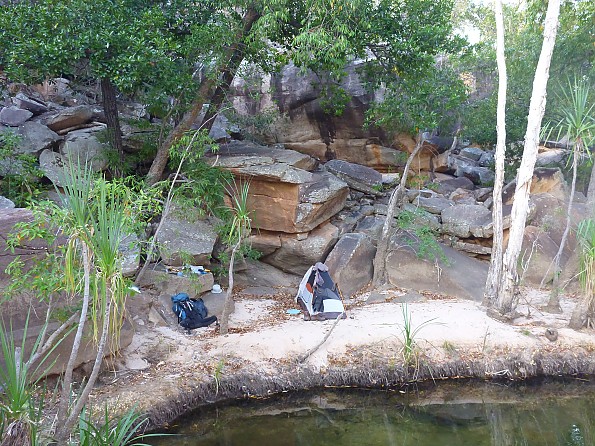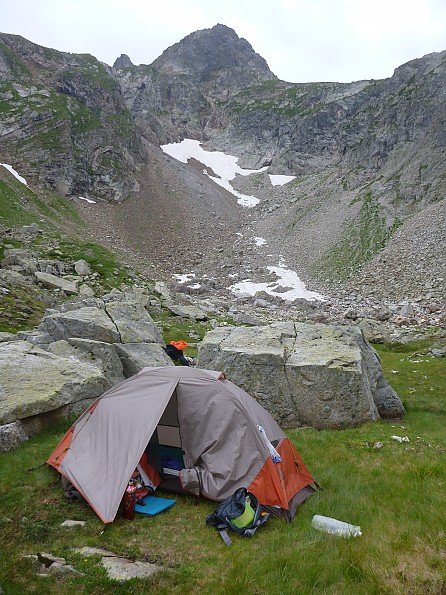 I am on my second Lynx 1 having retired the first after five years of solid use. I'd been looking for a lighter one-person tent and saw the Lynx1 online in 2014. It was very cheap so I decided to just buy one and try it out.
After five years, a few drops of water started to come through the seams where the poles cross over as the tape sealing started to wear. I gave it away to a friend who needed a one-man tent for less demanding trips, and bought another.
While I think that bit is an excellent design, it would be even better if Alps Mountaineering:
a) cut the fly closer to the ground (to reduce the chances of wind and rain getting under)
b) used more solid cloth on the inner rather than mesh as dust can blow through in dry windy conditions.
Experience
I used it for five years for around 50 days per year (mostly Australia, New Zealand, Pyrenees and USA) and was completely happy with it. It was lightweight and very strong with a simple robust design. I've had to spend more than 24 hours in it on three or four occasions due to extreme weather and it was comfortable and roomy. On one occasion in NZ, the wind was so strong that the wind flattened the tent onto my face for much of the night but it survived intact.
Source: bought it new
Price Paid: USD105

The best possible one-man tent on the market regardless of price.
Pros
Seams are water-tight
Good sit up height at 6'2" length
Cons
Must be staked out throughout for high winds.
Setup easy, no footprint. Stability is fair only due to the two-pole system and must be staked out with guide lines. Heavy rains for 15 hours, heavy to light, in the Wind River Range, Wyoming; did not detect any moisture, let alone water. The tent packed into an 85-liter backpack with eight days food and gear, with exception of my mattress which was outside.
The reason for my commit "regardless of price" is that one pays a premium for lightness and believe that is a falsehood. I've found out that the material used in this one-man tent is weather-worthy. By going and spending $400 for a 2lb versus 4.1 lb tent, one will not be protected due to the thinnest of both material and coating on both floor and fly, especially on a three-season tent.
Experience
Over two years with three other tents.
Source: bought it new
Price Paid: $89

This is a lightweight backpacking tent. It sets up easy...and should you decide to move your tent after setup it's easy to move it put together.
Pros
Lightweight
Easy setup and take down
Compact
Cons
Tight quarters
Not a lot of space for extras inside (nature of the beast for a single tent)
I purchased this tent for a backpacking camping trip to prepare us for part of the Appalachian Trail. It was lightweight, compact, and extremely easy to set up. I purchased the mat to go under it and loved that they clip together (highly recommend). I have only used it on two trips so far and will be using it again on my third.
I'm 5'5" and slept comfortably inside. I can sit up in the center, but being it's a hiking tent there isn't a lot of room to do anything else.
I haven't had to deal with any rain yet, but I keep the vents open at night and have had no issue with condensation.
It does have a small pocket in which you can place at either end. This is great for your flashlight or phone. Depending on how big your pack is will depend on whether or not you'll be able to keep it outside in the vestibule. I kept my shoes outside but my pack was kinda big, so I may have to rethink that in the event of rain.
Overall so far I've had a great experience with it. On our last trip, I decided late at night to move my tent and all we had to do was pull up the stakes and pick it up and move it.
I am a novice when it comes to backpacking and hiking, but am excited about learning more as I go. After our first trip to Mt. Greylock, I am already looking to minimize my gear to be as light as possible to prepare for our Appalachian Trail hike.
Source: bought it new
Price Paid: $70

Original Review: April 6, 2017

Good tent at a great price!!
Pros
Quick easy setup
Ample room in vestibule for gear
Well ventilated
Cons
It's a bit narrow
Doesnt come with a footprint
Love my ALPS Mountaineering Lynx 1-person tent. It's small, light, easy to set up, and keeps your gear dry.
I used this late last fall (end of October) on a breezy weekend. It sprinkled off and on all Friday when I was setting up camp. Luckily the tent goes up quickly and I had a short break in the rain. I was warm and comfortable even though the wind blew all night long.
Update: November 30, 2017

Great one-person backpacking tent!
Pros
Easy to set up
Easy to take down
Lightweight and easy to pack
Cons
A bit narrow (elbow to elbow)
Not for "larger" people
I needed a small, lightweight, easy to set up on the fly tent for backpacking and this fit the bill perfectly. I have had no problems with its zippers, fly, poles, stakes, or seams. Stayed warm and dry.
Had a couple trips this summer, rained a couple times and no leaks, woke up with frost/ice on the outside once this fall but stayed cozy and warm all night, didn't even realize how chill it was till I stepped outside.
I am 5' 8" and 230 lbs. It's a bit difficult to get into and out of, but tha'ts mostly due to my being old and out of shape. I don't bend as well as I once did!
Source: bought it new
Price Paid: Less then $100. I think around $70

Lightweight, packs small. Goes up easy. With vestibule, plenty of room for sleeping and your gear. Great for backpackers who don't share a tent.
Pros
Lightweight
Packs small
Good headroom
My first foray into the lightweight backpacking tent. It fit nicely into my pack as it was small enough to lie sideways right into the sleeping bag compartment. It has two poles with the simplest "X" setup design — no origami skills required. Inside I can lay down completely, AND, do a complete sit-up without touching my head on any part of the roof. I've tried tents where you can't even get a shirt on because you have to do everything lying down. 
The fly goes on with just four buckle-clips, and no random extra parts/angles/strings where you have no idea how to use them. The vestibule is the first one I've seen work perfectly. You put ONE stake in the bottom, out from the door, and zipped up, it hold secure.
Unzipped, you have full access to the tent door, while still keeping your gear under the shelter. Best part is you don't need any strings to pull the fly away from the tent, avoiding the trip-mines in the dark found next to many tents. 
There is literally NO way to fit more than one person in this tent, so it is only usable for the solo camper. But, in a group of adults, such as us Scout leaders, even camping together, it was nice to sleep alone. 
In the morning, my tent was down and back in the sack, fly and all, before the coffee was hot. Very easy takedown and packing, long after you forget the exact folding method that it originally came with. I did my best, eyeballing the stuff sack, and got it in there with no struggle the first time. That is a real plus for me. 
If you need something lightweight and packed small, but has everything you actually need in a tent, I would highly recommend this tent. 
And, as a Scouter, give Alps Mountaineering a call and ask about their prices offered as a discount to those in the program. 
FEATURES
Free Standing 2 Pole Design with 7000 Series Aluminum Poles
Easy Assembly with Pole Clips
75D 185T Polyester Fly resists UV damage and stays taut
Factory Sealed Fly & Floor Seams give best weather protection
75D 185T Poly Taffeta Floor with 2000mm coating
Extra Large #8 Zippers on Door and Vestibule
Vestibule for gear storage and extra weather protection
Weatherproof Fly Buckles on for maximum adjustability and protection
Half Mesh Walls increase ventilation
Mesh Storage Pockets, Gear Loft, 7075 Aluminum Stakes and Guy Ropes Included
SPECS
Base Size: 7'6 x 2'8 
Center Height: 3' 
Vestibule Depth: 32" 
Tent Area: 20 sq. ft. 
Vestibule Area: 10 sq. ft. 
Tent & Fly Weight: 3 lbs. 8 oz. 
Total Weight: 3 lbs. 15 oz. 
Packed Size: 6" x 17.5" 
Pole Diameter: 8.5 mm
Source: bought it new
Price Paid: $67.97

This tent is great. It's tough, easy to set up, and has yet to leak.
Pros
Tough
Easy to set up
Cheap
I have used this tent about once month year round in the Adirondacks for the past two years and on an 8-day hike of the Northville Placid Trail. It has never let me down. Summer it vents nicely, spring and fall keeps the rain out and holds up to some mild winter snow and wind.  
I got it because I wanted something inexpensive in case my dog ruined the floor, and two years later my 45 lb dog has yet to pop a hole in the floor. The vestibule for gear storage is also nice.
I gave it 4.5 stars because it is heavy by today's standards for a single person tent. 
Source: bought it new
Price Paid: About 100$

This tent is the perfect size, fits my Big Agnes bag and pad perfectly with room at the head or foot for whatever items you need in your tent with you (headlamp, jacket, etc). Setup is quick and easy and I really like that you can sit up in it, so if you need to hunker down for a while and wait out the rain it is much better than other solo tents.
Pros
Warm
Dry
Free-standing
Lightweight
Quality all the way around, especially noticeable in the zippers
Windows in the rainfly at either end
I used this tent on a multi-day trip last week in the Wind River Range in Wyoming. The tent went up easy, was lightweight, and felt like everything was good quality. We had two pretty good rainstorms and I stayed bone dry.
This is my first one-man tent. I am transitioning from my sort of entry level Sierra Designs bivvy sack, so this tent feels big and nice. I really appreciated being able to sit up inside it. It was also fairly inexpensive.
Source: bought it new
Price Paid: $99

Your Review
Where to Buy
Help support this site by making your next gear purchase through one of the links above. Click a link, buy what you need, and the seller will contribute a portion of the purchase price to support Trailspace's independent gear reviews.
You May Like
Specs
Price
MSRP: $139.99
Current Retail: $83.96-$139.99
Historic Range: $77.99-$139.99
Reviewers Paid: $67.97-$105.00

Base size
7'6 x 2'8"

Center height
3'

Vestibule depth
32 in

Tent area
20 sq ft

Vestibule area
10 sq ft

Minimum weight
3 lbs 8 oz

Total weight
4 lbs 4 oz

Packed size
6 x 17.5 in

Pole diameter
8.5 mm

Recently on Trailspace