ALPS Mountaineering
Meramac 6
Specs
Base Size
10 x 10 ft

Center Height
6 ft

Tent Area
100 sq ft

Tent and Fly Weight
14 lb

Total Weight
14 lb 14 oz

Packed Size
8.5 x 26 in

Pole Diameter
11 mm

Reviews
Very good for a low price tent. I've used this tent…
Rating:


Source: bought it new
Price Paid: $159 USD on sale

Summary
Very good for a low price tent.
Pros
Very roomy, simple to set up, usually exceptionally low priced
Nice gear loft and ample side pockets
Lots of places to stake out the tent, making it very stable in high winds
Two doors
Cons
Leaks a little through floor, also from walls if not carefully set up
Guy lines get in the way if not used.
Very heavy. Does not fit back into the carrying bag after being unpacked.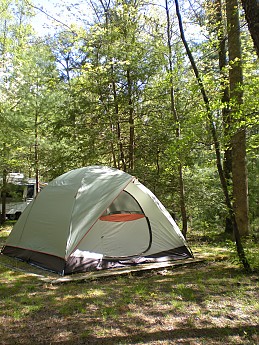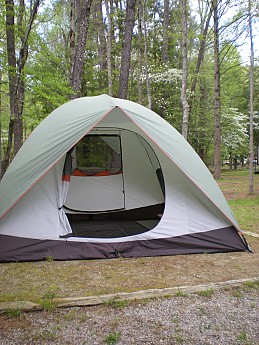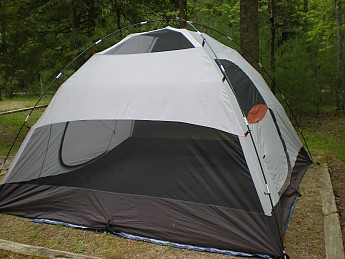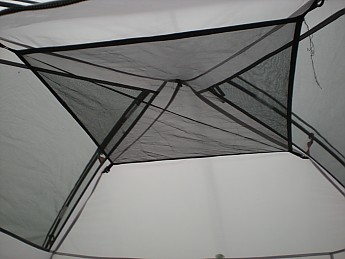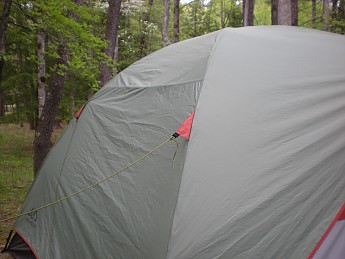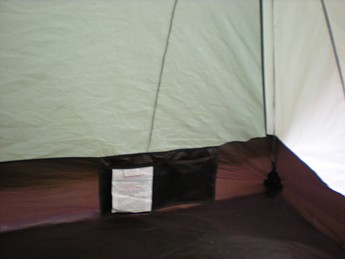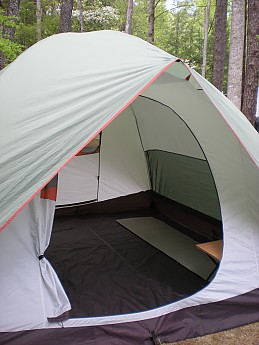 I've used this tent for camping for one fall and winter so far. I thought it was the best low price tent available. The ones from the big box stores may be a little cheaper, but they are too flimsy and shoddy to use at all. The Meramac's tent material is comparable to that of other tents available from outdoors stores.
I have two smaller tents tents for backpacking and plan to replace the Camp Dome 4 that was destroyed in high winds a couple of years ago, for weekend car camping. I bought the Meramac 6 for luxurious extended stays in one place and for traveling across country.
For one person, needless to say, it's huge, and would be quite roomy for four. Setup with one person takes a bit of working out, but can be done easily enough. For two or more people, it would be very easy, given the simple two-pole construction.
The things I like best about it are:
The two doors. For a tent this large, this is a necessity, since the things you alway find you need just after you've stepped outside are always on the other side. The fly overhang over each door is adequate to keep rain out for a tent of this type, i.e. without a vestibule.
The size, of course. I bought one this large so that I could stand up in it. I found after a few days of bending over even slightly in my REI Camp Dome 4, my back started to feel it. I'm 5'9" and have plenty of headroom in this one. Also it's nice to be be able to have just about anything I want inside the tent. The square shape makes arranging things simple.
The gear loft and side pockets. The loft comes with the tent, and is very simple to attach (although it does come off every time it's taken down and packed up). The side pockets are large and conveniently placed.
The number of places to stake the tent and the added security of 4 extra guy lines. I gave all these a work out the first time I used it: I set it up in Shenandoah National Park this past fall when a hurricane had just hit the coast. Winds were 50+ mph but with all eight loops on the tent floor plus all four guy lines staked out, it held up just fine. I never felt like the tent would collapse or blow away. It was also amazingly waterproof for that first night of sideways rain.
The things I don't like (but still consider reasonable tradeoffs for the price):
The floor leaks through wherever there is not a ground cloth underneath. I didn't buy the expensive footprint and have made do with a footprint from another tent and a large tarp. The foot or so that's left along one wall always has a small amount of dampness leaking through the floor. It's not the seams, but the floor itself that's leaking. It's not enough to wick into things, but will dampen anything left there. I'm looking into buying Tyvek and making a ground cloth to take care of this.
There are leak-points in the walls. These are the most problematic, since the water does pool and will soak into anything that comes in contact with it. These seem to come from the mesh seams and the door tie-backs, the places where all my tents tend to have problems. I have found that if I don't stake the sides pulled out in the middle and allow the fly fabric to rest against the tent walls, this cuts out most of the side wall leaking. Counterintuitive, but there it is.
For someone without a merit badge in knot tying, those guy lines are a problem when not in use. They hang from the side of the tent and tend to get in the way. Some kind of cord retainer would be nice.
Overall, I am very satisfied with this tent. I wanted a less expensive tent for my largest size, since I'll use it least often, and so far it's done very well.
Edited to add: It may be too late for this, but the 5-person tent might be better for fewer than four people.  I saw that it was available after I'd bought this one and set it up a few times. The advantages would be: fitting more easily into the smaller tent pads like those in Smokemont, Tyvek comes in 9 ft rolls so no ten X ten foot problem with making your own footprint, and it's slightly cheaper. 
Otherwise, it looked like the exact same tent, including the 6 foot ceiling height. May not be available anymore though.
UPDATED June 18th, 2017: Per Alicia's suggestion, brought this update up from the comments:
The elastic in the poles breaks easily. Exactly one year after purchase (really, that very day!), the elastic in one of the long poles broke. REI considers this a wear item and won't restring without charge, so I got some cheap stuff from Walmart and restrung that pole. This last weekend, almost two years later, the elastic in the roof pole broke. I don't know how to restring that, since the ends have fixed caps on them, but that pole is the most bothersome to use without elastic. It can be done, just irritating. Still a good tent for the price, even with this.
UPDATED January 28th, 2018:  Just one more update, to give major applause to Alps Mountaineering. 
I recently came across the insert that had come with the tent over two years ago and noticed Alps 100% guarantee. I was on the point of just getting rid of the tent.  Over the last year, the elastic broke in the remaining pole and that roof pole was especially problematic.
Two plus years for a tent this cheap wasn't bad, but I was very glad to find out when I called the number on the insert that Alps Mountaineering honored the guarantee 100%. They simply sent a whole new set of poles that week, no questions asked and no charge.  The elastic in the new poles even looks like a much stronger type.  Thanks, Alps  Mountaineering!
Best bang for the buck. Great car camping design.
Rating:


Source: bought it new
Price Paid: I don't remember. But I was happy with the price.

Summary
Best bang for the buck. Great car camping design.
Pros
Simple to set up
Excellent ventilation
High ceiling
Good value
High quality materials
Windows can remain open in rain
I've owned my ALPS Meramac 6 about 13 years. I'd guess I've used it on at least 15 camping trips, several days each trip. I have used the tent May through September in the Midwest US. I even took it to Bonnaroo in sweltering Tennessee heat. This tent has never let me down. I think the design and materials are excellent.
Quality: This is not a low quality family tent you might find at Target. This is more of a high quality tent you'd find at REI. The fabric is polyester. No polyethylene floor. Full fly. Quality zippers. Aluminum pole ferrules.
Floor Space: The tent specification is six-man.  However I think only four could fit comfortably. I often use a queen size mattress in the tent. Even then there is still plenty of room for gear, shoes, and movement of two people. I think the tent is a little too large. If I were buying again I would choose the Meramac 5.  The Meramac 5 is still large enough to hold a queen size mattress.
Shape: One flaw of all two-pole dome tent designs is slanted walls. The pole structure creates a bit of an A-frame. Due to the slanted walls the entire floor area is not fully useful. I have never been bothered by the slight slant of the walls in this tent. I can store items right up to the floor edge. However it is not feasible to sleep right next to the floor edge. It might be an issue if using cots.
Height: I am 5'10". I can stand and move comfortably in the tent.
Weight: The tent is a little heavy, probably due to the thick fiberglass poles and steel stakes. But weight is not really a concern with car camping tents. I have no trouble carrying the bagged tent.
Ventilation: The tent breathes well. Two walls, under the fly, are primarily mesh. The mesh extends low to bring in cool air. The ground level fly opening is somewhat adjustable. The fly can be staked open at the bottom for extra air in hot weather.
Rain: The roof overhangs the doors significantly. This allows the windows to remain open in rain. A great feature in the summer.
Leaks: I haven't had any occurrence of significant water penetrating the walls or floor. I do use a coated nylon tarp under the tent. I did experience a very small leak in the roof but some Seam Grip repaired it. The problem was a sewn-in tie strap for the roof pole. The tie strap pulled the factory seam tape loose allowing a dripping seam leak. An acceptable manufacturing or design flaw in my opinion. The fix was easy.
Wind: I camped on a very windy lake point. Had to guy out the tent well. But the tent held up in strong whipping wind.
Storage: A mesh gear loft is included. A couple of gear pockets hang from the walls near the floor. Lots of floor space.
Setup: Setup is easy. The tent design is simple to understand. One person can do it alone. Two long structural poles and one short roof ridge pole.
Packability: The tent needs to be rolled with some care to keep it compact. But I can always fit it back into its bag, with even a little extra room for the ground cloth. The bag zipper opens all the way across the top and down one side for convenience.
Ground Cloth: A footprint or "floor saver" is not included. They are available specifically for this tent. I use a nylon tarp. I definitely recommend some sort of ground cloth. The bottom of the tent is too large to easily wash after use. It is much simpler to clean a muddy ground cloth.
Flaws: The one thing I dislike about the tent is the pole to floor connectors. A pin fits inside the end of the pole. The hollow pole ends can get clogged with dirt. The shock cord is sometimes in the way of the pins. The plastic hollow end caps do not fit well. It is a small issue, but could be improved.
Brand: ALPS Mountaineering is a reputable brand in my opinion. Their stuff is not cutting edge or fashionable. But it is usually a good value and of decent quality. Do not let the lack of marketing dissuade you. ALPS products are available online, at outlets like Sierra Trading Post, and at Campmor. I purchased my tent from REI's outlet.
Recommend to a friend?: I have actually recommended this tent model to a friend. However I recommended the Meramac 5 instead of the Meramac 6.
I am able to put this tent up by myself. There is…
Rating:


Source: bought it new
Price Paid: I don't recall but it was on sale - I do remember it was a good price.

Summary
I am able to put this tent up by myself. There is plenty of room in the tent. The tent doesn't leak. I would highly recommend this tent!!

Love this tent. 
Where to Buy
sponsored links
Help support this site by making your next gear purchase through one of the links above. Click a link, buy what you need, and the seller will contribute a portion of the purchase price to support Trailspace's independent gear reviews.
ALPS Mountaineering Meramac 6
currently retails for:
$142.99
MSRP: $269.99

Recently on Trailspace