ALPS Mountaineering Shasta 3600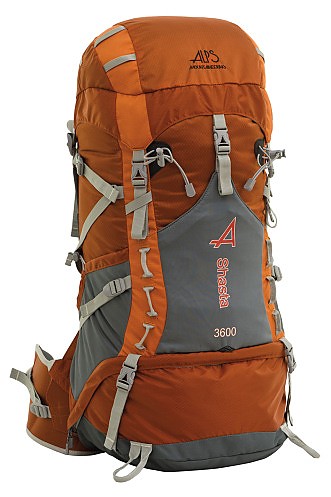 This pack is rock solid durable. I would trust it every day of the week and twice on Sunday. The extensive adjustabilty, including the torso harness and especially the well designed load lifting straps and side compression straps, made configuring a heavy load easy.
Pros
Very durable
Excellent adjustability
Detachable top pocket for daypack
Cons
Waistband material too rigid
Water bottle pockets too small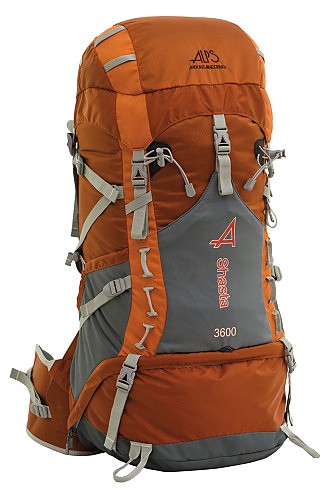 I have been a lifelong loyal supporter of external frames backpacks for a variety of reasons, most of which have nothing to do with performance. As a younger hiker, the lack of disposable income meant that all of my gear was particularly bulky and the ability to hang, strap, and bind bulky items on the outside of a pack was an absolute necessity. And indeed I did hang, strap, and bind… spectacularly enough to send my Feng Shui sensitive hiking buddies into, as they put it, a "Qi coma". Whatever that means.
Another side effect of being a younger hiker is that the extra weight that comes with the extra bulk of less, uh, "performance concerned designs" is of little consequence. However, as this hiker himself becomes less of a "performance concerned design", the equipment he carries has had to compensate. It was time for me to try doing things a little lighter.
The trek that I would be guiding was 106 miles over ten days starting at around 6,500 feet in elevation and rising to about 12,500 feet in elevation, thereafter rising and falling to end at about 7,000 feet. The trail, or lack thereof, would include uneven terrain, confined trail widths, periods of bushwacking, and a section of near-bouldering up a stream bed to gain 750 feet of elevation in one-quarter of a mile.
The old external frame pack I owned mocked me and dared me to give it a go. I told a friend that if he listened closely he could hear its sinister laughter. He suggested that I give one of his internal frame packs a try. He brought over an Alps Mountaineering Shasta 3600 backpack which I promptly parked in the corner beside my old external.
The Shasta joined the mockery for entirely different reasons. I could see no way I would ever be able to get 10 days worth of stuff in 3600 cubic inches. Nope, wasn't going to happen. Wait, what was I thinking? This was a perfect excuse to upgrade gear, even the wife would certainly agree, but I still bet on forgiveness rather than permission.
The lower compartment, with a huge lower door access, on the Alps Shasta 3600 turned out to be roomier than a clown car. I was able to just keep shoving gear in, including my (new) tent, (new) sleeping bag, (new) sleeping pad, a ground cloth, and a trail pillow. The front neoprene pocket proved to be the perfect place for the frequently accessed rain-suit. In the main compartment I added two small stuff sacks of clothing and a stuff sack containing a large backpacking isobutane stove, three 8 ounce canisters, and an ultralight mess kit. To the top pocket was added a small first aid kit, flashlight, GPS, a small camera, compass, maps, hygiene kit, and a small knife.
Including the Shasta backpack, which tips the scales at just under 5 pounds, the total weight of my pack without water or food was 22 pounds. Add a 2-liter hydration bladder in the interior pouch and two 1-liter standard water bottles in the tightly fitting side pockets and the weight jumped to 31 pounds total. Certainly not impressive for the gram-weenies in the various ultralight backpacking forums, but for me a milestone.
Then reality set in and like they always do, plans had to change. Due to last minute group changes, my new solo tent had to come out and a heavier (and bulkier) two-person tent went in. The solo tent had been laying horizontal in the bottom of the lower compartment, but the two person tent was too long. Thankfully, the Shasta 3600 has an easily configurable compartment divider that allowed the pack to function as one large compartment.
With up to 4 days between food drops, we ended up carrying enough for 14 meals for each person, adding 8 more pounds to the pack. Then came the crew gear. Since I was the only member of the group Wilderness First Aid certified, guess who got to carry the ridiculously and unnecessarily large group first aid kit? Adding in an 8 quart cooking pot, bear bags, ropes, and a large tarp for the group dining fly resulted in the final pack weight of a whopping 48 pounds.
Where did it all fit in a 3600 cubic inch pack? I am not sure, but the Alps Shasta swallowed it all and still had a few crevices to shove keys, wallet, and cell phone while still maintaining a Zen-like appearance of tranquility not equaled in the history of my backpacking adventures. An over the top compression strap helped gain control of an overstuffed spindrift collar.
I had mostly resisted the urge to take advantage of the awesome multiple lashing points. Only a pair of "camp shoes" were on the outside of the pack, held fast by lacing a length of shock cord through the lashing loops.
The lightweight tubular steel frame carried the weight exceptionally well. The fabric connection points seemed to hold up to the grueling load and trek better than I did. This pack is rock solid durable. I would trust it every day of the week and twice on Sunday. The extensive adjustabilty, including the torso harness and especially the well designed load lifting straps and side compression straps, made configuring the heavy load easy. Load configuration is especially important to get the majority of weight on your hips when carrying a heavy load.
Did I mention it rained? … and sleeted? Well, it did and did often. Therefore, another feature that is really nice about the Alps Shasta was the rain cover with the integrated shock cord that held firmly around the pack. This feature is much better than the cinch cord found in many packs.
On this trip, 35 miles of the 106 miles were side hikes. The top pocket of the backpack converts into a handy fanny pack. While others in the group had either carried an extra day pack or just tossed out their gear into a jumbled chaos under the dining fly, I simply detached the top pocket pack and slung it over my shoulder like a tumpline. What? I don't do fanny packs and I don't wear Crocs, I am not secure enough to pull either off with style. However, the Shasta 3600 top pocket made an excellent tumpline day pack.
My quibbles with the pack are limited to just a couple of factors. The rigid material in the waistband, while providing excellent support for carrying the large load, proved to be quite uncomfortable at the beginning of the hike. During pre-hikes with around 30 pounds, this was not the case, the waistband was fine at the lighter loads.
As I lost weight throughout the trip, the waistbelt became progressively more comfortable as the heavy load was borne more and more on my hips instead of being carried on a roll of adipose tissue. That's FAT for those of you who aren't. Interestingly, by the end of the trip, the 26" waistbelt was just barely cinching down tight enough to carry the load.
The other quibble is that the water bottle pockets seemed too tight for the ubiquitous 1-liter standard bottle unless you inserted before filling the pack. If you then removed them it would be impossible to re-insert without unpacking and repacking the main compartment.  Both bottles ended up clipped via carabiners to the totally awesome lashing loops.
Both of these complaints have more to do with the fact that I had seriously over packed a 3600 cubic inch pack. In spite of this, the Alps Mountaineering Shasta 3600 performed amazing well overall. Winter hiking is coming up and I just can't help but think how much I would like to get my hands on a Red Tail 4900 or a Caldera 5500.
Source: borrowed it

Your Review
Where to Buy
Help support this site by making your next gear purchase through one of the links above. Click a link, buy what you need, and the seller will contribute a portion of the purchase price to support Trailspace's independent gear reviews.
You May Like
Specs
Price
MSRP: $169.99
Historic Range: $110.49

Weight
5 lb 0 oz

Capacity
3600 cu in / 59 L

Recently on Trailspace