ALPS Mountaineering Triton 1.5

The Triton 1.5 has been discontinued. It was replaced by the ALPS Mountaineering Mystique 1.5.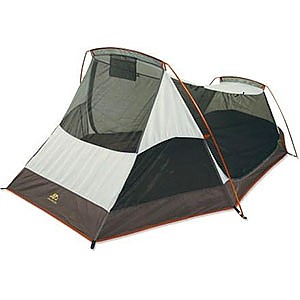 Reviews
1

review

5-star:

0

4-star:

0

3-star:

1

2-star:

0

1-star:

0
Version reviewed: Mystique 1.5
I want so badly to love this tent! I do love the design, the amount of room, the double doors/vestibules, and the price. But I just don't like the weight, the constant re-staking to get a taut pitch (wash, rinse, repeat), and the number of stakes required.

BUT... if they would make a "NEW, version 2.0" with newer (lighter) materials and construction techniques, and fix the alignment issue with the footprint and tent body/fly, and make smaller more practical storage sack/bags... then I would buy it in a heartbeat!!
Pros
I love the design/shape
2 doors AND vestibules
TONS of room for 1 person
Inexpensive
Durable materials throughout
Headroom!!
Condensation is a non-issue
Cons
Weight—it's as heavy as most 2-person tents
Poor craftsmanship (see explanation below)
No attention to details (see explanation below)
Constant re-staking required to achieve a taut pitch
Takes too long to put it up in inclement weather
Fly color makes the inside gloomy
This is a typical, simple, non-freestanding, double-wall tent design, with the tent main body being mostly mesh, and a separate rainfly, or flysheet, covering the main body. The tent uses two (2) pre-shaped, standard, sectional, aluminum poles—one at the the head end and one at the foot end.
I have the REI only (?) version of this tent, which goes by the name "Triton" rather than "Mystique". Same tent, different model name. As a matter of fact, as far as I can tell, this is still the same tent as the old Alps Mountaineering "Comet 1.5".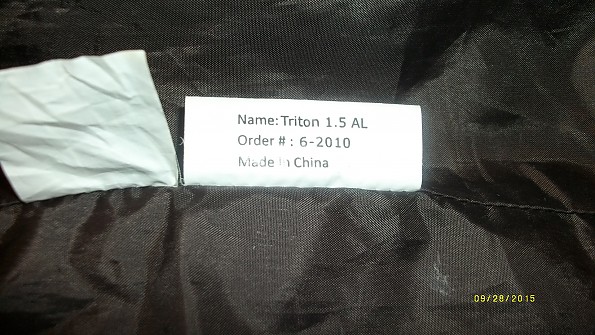 As you can see, mine is called a Triton 1.5, rather than Mystique 1.5.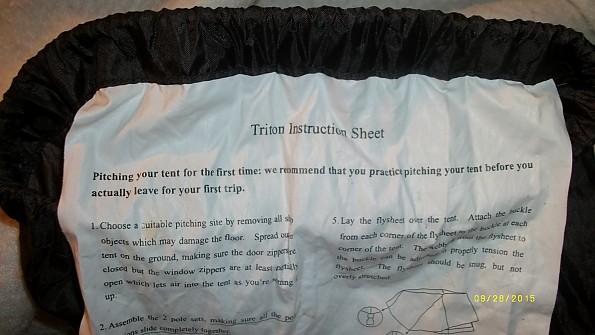 Again, "Triton", not "Mystique". But the point of the photo is to show you that the instructions are sewn in to the main stuff sack, and printed on some type of water and tear resistant paper/fabric. This means that they won't get lost, and are much less likely to fade or otherwise be damaged.
That may not mean much to you, because I'm sure you are thinking that you won't need them again once you have set it up a couple of times. But what if you end up passing it down through the kids/grandkids? Or loaning it out? Or selling it? It sure would be nice to have everything that originally came with it. Anyway, it's a very nice feature, in my opinion.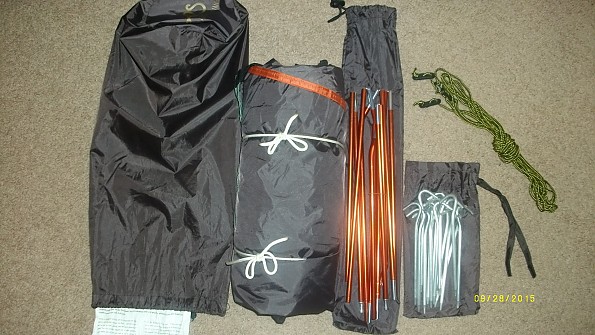 From left to right are: 1) Main stuff sack with instructions; 2) Tent fly, body, and footprint rolled together; 3) Tent poles and pole storage bag; 4) Tent stakes and stake storage bag; 5) Guy out lines for very windy conditions.
The tent comes with everything you need (except the footprint, which I had to buy separately) to get the tent up, and get it to stay up in any kind of weather.
In the above picture, you should be able to see that there is a large number of stakes—14 to be exact. That is one of my dislikes—the number of stakes required to get this thing set up.
I ended up using all 14 PLUS 2 more MSR Groundhog stakes.
There are eight (8) stake out points that the footprint and tent body/fly have in common, plus two (2) more uniquely for the furthest points of the vestibules, AND two (2) more for the optional guy out lines (which I did NOT use).
That's twelve (12) total stake points, for those who are counting. 
So WHY did I have to use sixteen (16) stakes??
The problem is, that at the eight (8) points where the footprint and tent body/fly SHOULD line up and share a staking point, the footprint, tent body, and tent fly don't exactly match in size and shape, therefore six (6) of those eight (8) locations required more than one (1) stake.
Obviously the manufacturer knew—or at least suspected—this ahead of time, because they included two (2) more stakes than you should ever need even when FULLY staked/guyed out. Being in manufacturing myself, that, to me, screams poor tolerances/craftsmanship/quality control.
It may seem to you to be a minor issue, but I assure you that it is not. Consider this very possible—and probable—realistic scenario:
You are out backpacking, and reach your camp destination in the pouring down rain. While you are busy staking and re-staking the tent body and footprint, trying to get it all to line up, the inside of the tent is filling with water before you can even get the fly in place. (kinda gives the term "bathtub floor" a whole new meaning, huh?)
NOW how big of an issue is it??
A double wall tent (separate body and rainfly) is not the best choice for setting up in the rain.
A non-freestanding tent is not the best choice for setting up in the rain.
Combined—a non-freestanding double wall tent—the chance of keeping the inside of the tent dry while setting up in the rain is almost non-existent.
With THIS tent, and all the staking and re-staking, you might as well just forget about camp and keep walking.
It's a very fussy setup process for one person, that is only suitable for fair weather, which ends up making the fly totally unnecessary! And, obviously, this setup process fiasco is a deal breaker for me.
(I'm hoping that this issue with the size/shape/fit/stake points not lining up, is just an isolated instance, that maybe it was just the tent/fly and/or footprint that -->I<-- ended up with.)
If you think I'm being too hard on this tent, or too picky, then let me tell you this for comparison: my Tarptent Moment DW tent has just as much (if not more) room as this tent, is a double wall construction like this tent, but uses only ONE (1) pole and only TWO (2) stakes. And it weighs less than two (2) pounds! Okay... and it cost me 5 times as much... [shrug] Lol 
Alright, enough bashing. There are plenty of GOOD things about this tent. Back to the rest of the review...
In tent construction, manufacturers typically have to choose between weight and/or durability. That's because durable materials are usually heavy, but cost less. Conversely, lightweight materials are expensive, and typically less durable. Of course, most companies try to balance it all as well as possible.
In the case of this tent, and most of their other tents, Alps Mountaineering has given its customers durability and low cost. Yes, there are lighter tents out there—MUCH lighter. But they are also MUCH more expensive, and the fabrics are far more fragile than these tents.
This tent should last for many many years. The zippers are big (and heavy) and work flawlessly. The fly is super tough (and heavy), and should easily handle almost anything mother nature can throw at it. The entire setup (fly, tent, footprint) uses straps for the stake out points, rather than string/cords/lines. That means more strength (and weight... see a pattern? Lol).
Even though I have yet to use it in inclement weather, just based on the way it is designed and the materials used, I can confidently say that I have NO doubt that this tent will stand up to any 3-season weather you might encounter (with the obvious exception of a tornado or hurricane), and not only continue standing, but also keep you dry.
It's a good looking tent. I just wish it had a window. Why else do you go outdoors, but to SEE the outdoors?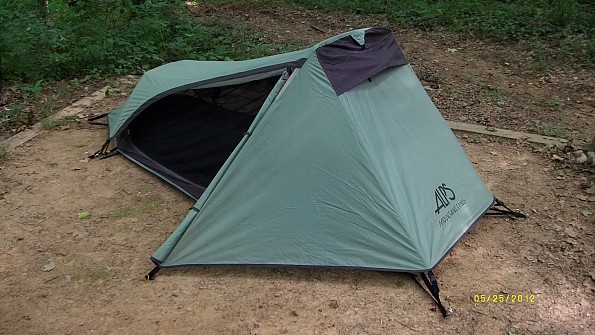 See? It looks good! And I love the vent! Simple and effective.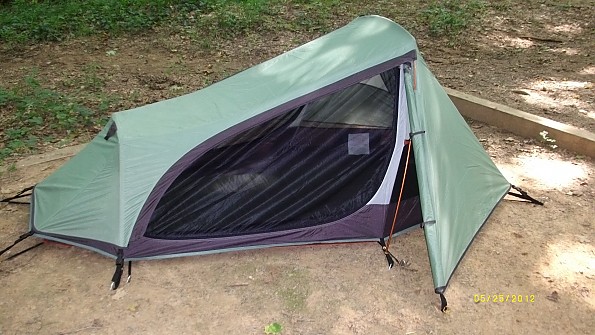 Nice big dual doors (yes, plural!) for easy entry/exit! Tons of mesh for air flow.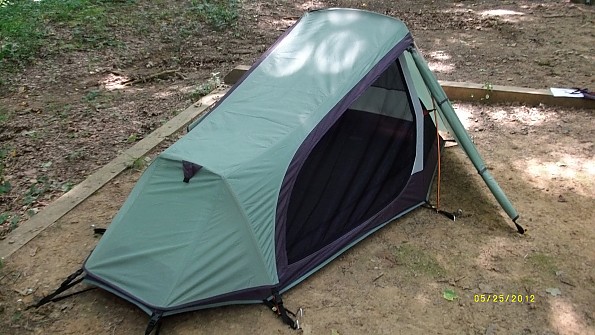 Plenty of protected space under the TWO (2!!) vestibules!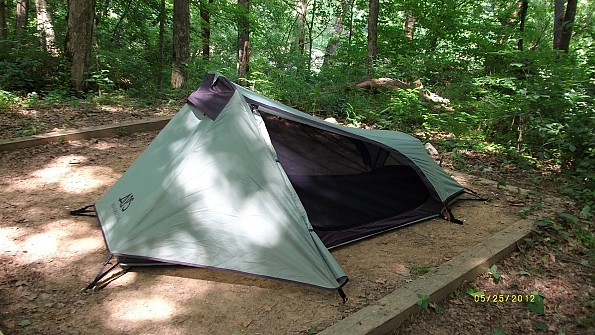 It has good lines... the fit of the fly, and the spacing between it and the ground, a good compromise between weather protection and ventilation.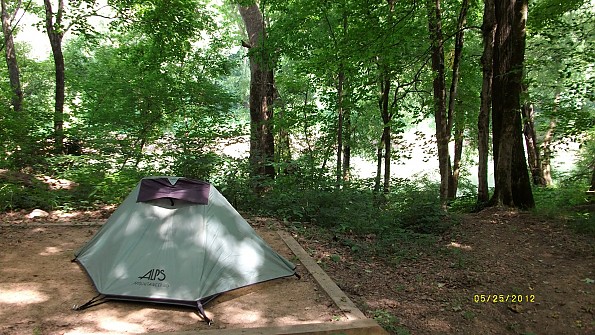 Again, good lines. And the colors blend with the surroundings, rather than clash with them. The downside is that the inside is rather dark and... Dreary? Gloomy? Oh well, there are always pros AND cons!
As for attention to detail, I have another nitpick against Alps—the overkill on the storage sacks/bags, and guy lines. Let me again refer you to the following picture...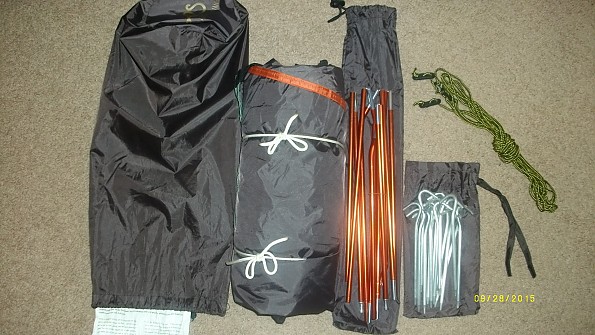 As you can see, ALL of the storage sacks/bags are too long and too big. The pole and stake bags will each hold twice what is needed, and the main stuff sack has about 1.5 times as much capacity as is needed.
They were smart enough to design the poles to fold up to the same size as the tent body/fly, so why does the pole storage bag need to be larger than the main stuff sack?!? And the guy lines are the biggest things I have ever seen on ANY tent! (and I have had well over a dozen tents of my own. I still have ten of them.) This is a complete waste of materials and money, not to mention the excess bulk and weight that users are carrying.
There are two (2) things that matter most when it comes to using (not buying) backpacking gear—weight, and space/compressibility. Most manufacturers know this. And even if they don't care about it from that angle, there is always the angle of COST SAVINGS. What company doesn't care about THAT?!? Lol
Oh, another nitpick: there is nothing reflective on this tent. Nothing. Anywhere. As mentioned earlier, the colors (brown and green) blend fairly well with with the typical surroundings of a backcountry campsite, SO... if you happen to be up and about outside of your tent in the dark, you are more likely to trip over it than you are to see it. So add something reflective. You've been warned.
And after all of this, I still have this tent, I still won't get rid of it, and I still WANT DESPERATELY to love it! But I don't.
It's NOT a "bad" tent... it's just not a "great" tent. Not to me, anyway. And yet I would never try to dissuade anyone from getting one, and—as I mentioned in the summary—if Alps would redo this tent with the same basic design/shape/size, but with newer (lighter) materials and build methods, make sure everything matches/lines up, and fix the excessive storage sack/bags, I would buy one in a heartbeat!
So, if you think this might be a good tent for you—go for it! But shop around first, as the price has gone up quite a bit. As of today (9/29/15), the price listed on Alps website is $189.99. 
(OH, I forgot to mention that I've had this tent since 2010 or 2011. I can't remember.)
Source: bought it new
Price Paid: Less than $100

You May Like
Recently on Trailspace