Amok Draumr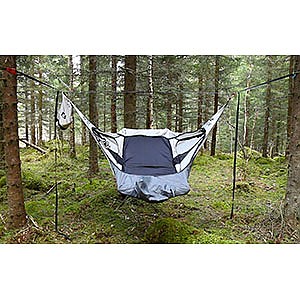 Specs
| | |
| --- | --- |
| Price | Reviewers Paid: $379.00-$400.00 |
Reviews
2

reviews

5-star:

0

4-star:

1

3-star:

1

2-star:

0

1-star:

0
Camp in a bag, setup in less than half the time of any other tent I have seen. Extraordinary breakthrough in hammock design. There is a learning curve.
Pros
Brilliant new way to look at hammocks
Super fast, super easy setup
Really comfortable once you are in it
Best keep it together setup/breakdown system I have seen
Integrated mosquito net
Backpacking/cycle touring lightweight compact shelter system
Cons
Designed by men who have balance in shoulders rather than hips (only a con to us women)
You do have to read the directions to avoid undue strain on carabiners
Getting into this is a bit more difficult than the athletic young man makes it look in the video
Requires trees (what hammock doesn't?)
Sleeping mat not included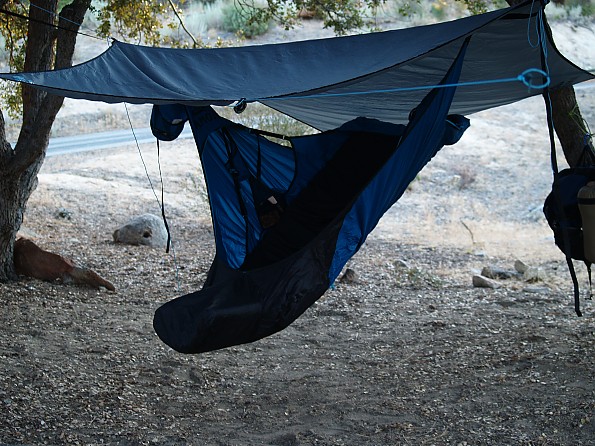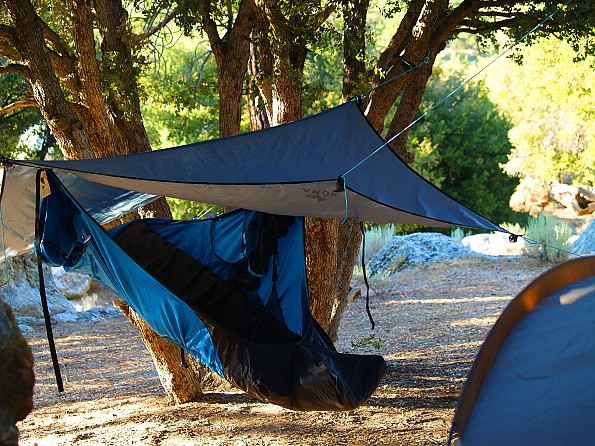 This is a limited first edition Draumr by Amok. 
This is a new start up company out of Norway that has come up with a revolution in hammock camping. First shipped end of July 2014. While the overall design is brilliant, there are a few issues that need to be considered before investing in this camp system.
Compared to setting up a standard two-person (smallest in my arsenal) with the usual shock corded poles, set up took about a third of the time, and at several points a second person was needed on the standard tent where none was actually needed on the Draumr (it was just too exciting not to check out how it worked).
The designers were obviously men whose balance is in the shoulders rather than the hips as it is with women... which means I may need to work on an alternate entry method. Now in my 60s, I had pretty much decided sleeping on the ground was not a preference ... not only do I prefer more padding now days, I also appreciate the head start on standing up that being up off the ground gives you. This shelter system looked to be the perfect lightweight solution.
There is also a certain amount of agility that is required to put oneself into the proper placement of buttox to "bag" (not really a bag)...balance and holding onto the ridgeline you sort of lift yourself onto the "bag". So you fold up the foot, sit above that, then bring your knees to your chin (not even possible with my right bad knee thank you) and bring your feet into the hammock.... this is where there is what I am calling a learning curve.  Finding the sweet spot for being able to actually get a knee into this that does not bend very well anymore required more shifting and scooting, eventually I figure I will get this down.
The Draumr is rated to hold 260 lbs, and I admit I am 230 currently (really gotta work on this) and I can tell you after a short time I noticed stress on some of the seams. While they seem to be holding, I will be keeping a close eye on the seams that go under me... it was assembled in China.
Having read the instructions, and knowing I would need to invest in an inflatable sleeping mat (I have a narrow one that I got in the UK many years ago before they had any with insulation factors, something I thought important with an off the ground setup.) It needs to be noted that if you get the wide pad, you should not get the long, but you can get the long one that is not wide and it will fit far better and not curl around your feet creating less foot room in your shelter.
The rocking is very nice, but you can tether the shelter if the slight sway is unwanted. Having ridge lines and tie down lines all being part of their respective parts of the shelter is long overdue as this way you don't end up missing parts and having to improvise.
I found I did not have the strength to adjust the lower straps that put the "bag" part of the shelter into a sitting position by raising under the knees, it was not easy to adjust the upper straps for the same position, but with shifting I was able to raise the back/head.
There is only room for one person in these, and while it says you can pick trees 10 to 20 feet apart, this is only true with trees of about a 4" diameter trunk. Larger tree trunks cut dramatically into the distance trees can be apart. I will also in future be putting down a tarp floor to leave my shoes on.
To summarize:
innovative new design stable off the ground shelter

lightweight fast deploy single person shelter

integrated bug netting

long and wide mat does not fit well
With all the pros and cons, and any modifications I end up feeling I need to make to make it perfect for my needs, this is by far the most progressive design in lightweight compact shelter since the pup tent.
Source: bought it new
Price Paid: $400

Love it BUT!
In the month that I've had mine, three times now I've landed on the ground in the middle of the night when rolling on to my left side. Each time the right side buckle would let go! Second time the buckle cut the strap a third of the way through. Third time it cut it bad enough I won't use it.
Contacted Amok. New straps on the way. I am starting to question the material the straps are made of. Maybe too smooth for the buckle system. Amok stated they had this happen before, claims it's due to twisting of buckles. How do you prevent twisting when the slightish movement causes it to rock end to end or side to side?
Source: bought it new
Price Paid: $379

You May Like