Appalachian Mountain Club White Mountain Guide Online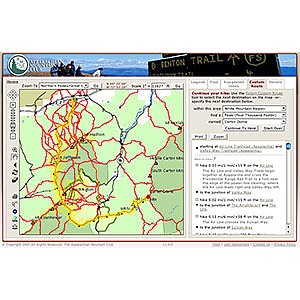 If you've done much hiking in the Northeast, you're probably familiar with the Appalachian Mountain Club's guidebooks. The venerable White Mountain Guide – continuously published for 100 years and now in its 28th edition – is the standard reference for hiking in New Hampshire's high peaks.

For the centennial edition, the AMC has added an online companion guide that pulls from, and even improves upon, the original. The centerpiece of the White Mountain Guide Online is an interactive trail map that allows users to explore more than 500 trails in the White Mountain National Forest and nearby areas.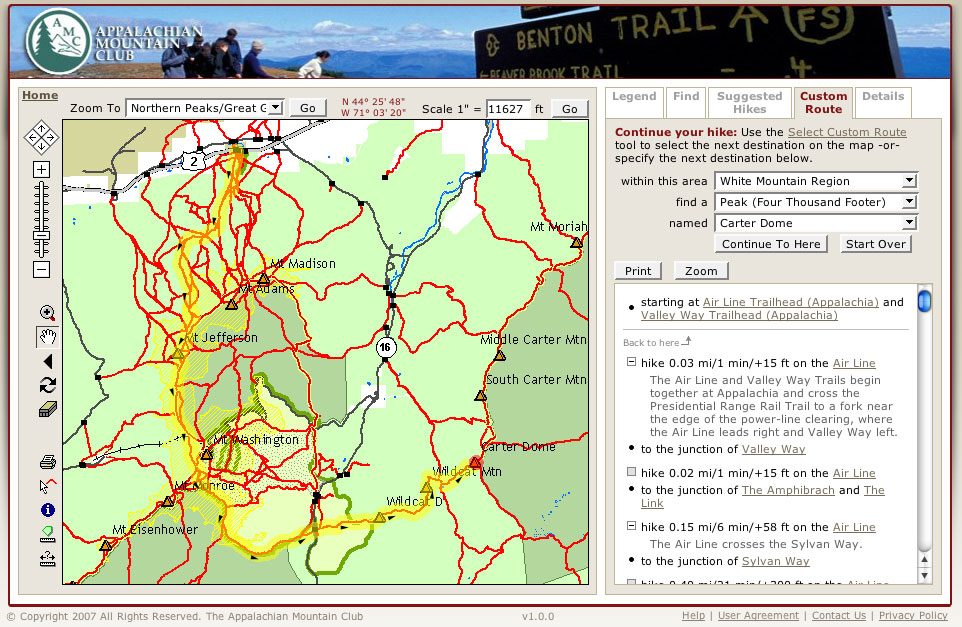 The White Mountain Guide Online interface.
Using the old paper guide, planning a trip that links more than one or two trails often requires flipping back and forth between several different pages to keep track of mileage, trail descriptions, etc. With the online guide, you can create a route by selecting trail segments from the map. Relevant trail descriptions are then displayed in the proper order and with mileage, elevation gain/loss, and "book time" automatically calculated. Points of interest and trail junctions are all clearly laid out.
The online edition offers some obvious advantages over paper-based guides: it can be updated to reflect trail relocations, closures, and other changing conditions that can make printed guidebooks obsolete even before the ink is dry.
The depth of specialized hiking information available and the ease with which it can be accessed is impressive, despite an interface that can be a little clunky – panning, zooming, and selecting aren't as intuitive as, say, Google Maps. (In a tacit acknowledgement of this shortcoming, the White Mountain Guide Online does provide a one-click shortcut to visualize your selected route in Google Earth.)
The online map display itself is customizable — you can toggle different map elements on and off as needed. Unfortunately, some land ownership elements can't be turned off, which can be a problem when printing maps covering areas of the national forest: contour lines are barely visible against the green background used to denote national forest land.
The entire guide is keyword searchable. It also offers users the ability to select a trailhead and a destination and the online guide will automatically plot the most direct route. Or you can select just a starting or destination point and let the guide suggest several pre-defined routes of varying difficulty. Using the advanced search feature you can find trails by distance, elevation gain, and more. The search interface also allows you to find points of interest including peaks, campsites, huts, lakes, and ledges.
The online guide links into user-submitted trip reports and trail condition reports, and up-to-date trail safety warnings posted by land management agencies, the AMC, and other trail-maintenance clubs. While there are only a few such reports available right now, expect the numbers to grow as more people begin using the site.
Two major missing features mar this otherwise excellent product. Most glaring is the lack of any function allowing users to save the routes they've created. When I'm planning a trip, the process may play out over several weeks or even months. The ability to easily go back and tweak an itinerary without starting from scratch is essential. It also would be nice to be able to browse back through hikes that you've already completed, revisiting favorite trips, or easily sharing directions with friends.
Another area that could use some major work is the ability to print out maps and trail descriptions once you've created them. In the Firefox web browser, the print button didn't work at all until I disabled the pop-up blocker. Then it confusingly brought up a window titled "Create Trip Report." Only after entering a name for the trip was I able to download a printable PDF with the map and turn-by-turn trail directions and descriptions.
Printed route descriptions devote two pages to Leave No Trace principles, the HikeSafe Hiker Responsibility Code, safety tips, "essential gear," disclaimers, and general information about designated wilderness areas and alpine zones. While this is important information, it's bound to be wasted paper for frequent users of the service. It also would be nice to select the level of descriptive detail included in the printouts in the same manner you can do on screen when creating a route. Trail history is interesting, but sometimes it's nice to hit the trail with just the turn-by-turn directions.
In a nod to GPS users, the printed descriptions include the latitude and longitude for each trail junction and point of interest. Oddly, they do not include the elevation – a more useful data point for those of us who do not routinely carry a GPS receiver. The scale used on both the on-screen and printed maps is also less than useful for most navigation purposes. For example, one map was printed with a scale bar labeled with the odd distance of 7,805 feet. As a matter of safety and ease-of-use, the maps should instead include a scale bar showing a common, recognizable distance (such as one mile, and even quarter-mile subdivisions, as on most printed maps).
Despite these few obvious shortcomings, the White Mountain Guide Online is a huge leap forward for accessible technology in trail information and trip planning.
At the present time, the service is limited to the White Mountain National Forest and nearby areas, from the Vermont border to just east of the Maine border. But one can imagine this technology applied on a broader regional or even national level. AMC already publishes paper guides and maps covering Maine, southern New Hampshire, Massachusetts, and the Catskills.
Unlimited access to the White Mountain Guide Online is available for an annual subscription fee of $15 ($12 for AMC members). A free trial is available by signing up on the AMC web site at www.outdoors.org/WMGOnline.
Source: received for testing via the Trailspace Review Corps

Your Review
Where to Buy
Help support this site by making your next gear purchase through one of the links above. Click a link, buy what you need, and the seller will contribute a portion of the purchase price to support Trailspace's independent gear reviews.
You May Like